Background and Thesis
Micron (MU) stock has come under pressure in recent months as a perfect storm of an oversupply of inventories, pricing pressures, trade wars with China and a gloomy outlook for Apple (AAPL) iPhone sales have sent the stock down nearly 40% from its high earlier this year. More recently, a slew of reactive analyst downgrades has put further pressure on the stock price.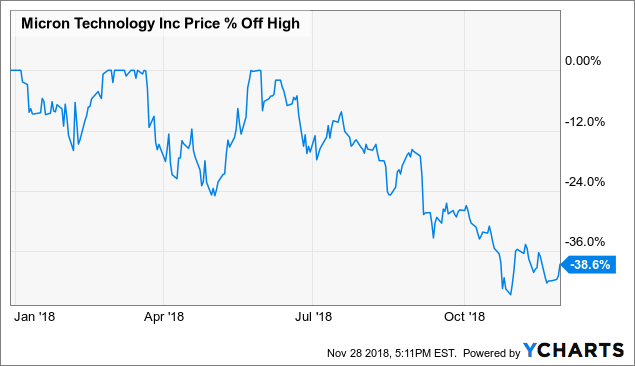 The slew of negative news has taken the entire industry by storm, and many companies in the space are looking attractive again. While analysts are expecting ASPs to decline going into 2019, Micron has built a substantial financial position for itself in which the company will be able to absorb pressures on pricing and continue to build margins as prices bottom out.
Micron has a substantial cash position, which has been built while deleveraging the balance sheet. The significant cash flow positions it possesses allow it to be flexible when prices bottom, will allow the company to buyback more shares and invest more heavily in higher-margin segments of the memory markets.
The short-term volatility has come as a result of an idiosyncratic effect of the trade war with China - one that the company has addressed and is prepared to work around. The perfect storm of negative news flow has made this stock a bargain at current levels and a screaming buy.
Median price target: $46, based on a 3% terminal growth rate, implies a 5.4x P/E on 2019 estimated EPS.
1Q19 Guidance and Outlook Moving Forward
CEO Sanjay Mehrotra said while speaking at the Credit Suisse Technology Conference that 1Q19 is tracking toward the lower end of revenue guidance ($7.9-8.3 billion), while EPS was tracking toward the higher end of the range ($2.95 +/- $0.07).
Margin Concerns
The company issued margin guidance of 57-60%. Coming off of a solid quarter with gross margins of 61%, this downward guidance took the air out of the stock. After the conference call, the impact of tariffs was only expected to be 50-100bps. Being conservative, that would mean a 1Q19 margin of 57% would imply further margin pressures of ~300bps. The majority of margin pressure is coming from continued falling Trade NAND and peak DRAM pricing heading into 2019. What's important to note is that this is not different from previous cycles, and the outlook for growth is much more robust than in previous cycles.
Historically, gross margins have declined ~72% and ~48% in 2010 and 2014, respectively. The company has managed to effectively cut costs and increasingly maintain margins as of late. Evidence of this comes from the decreasing drops in gross margins in cyclical downturns.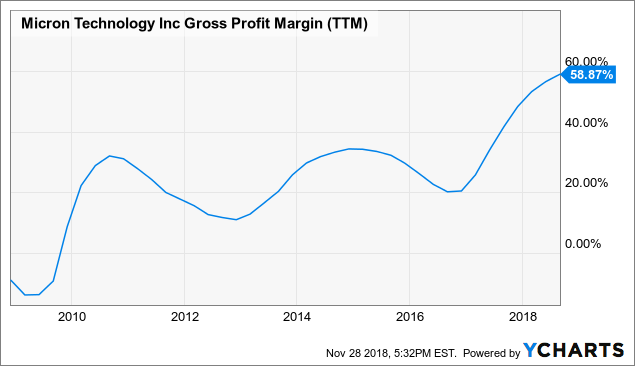 Operational Execution
Given the cyclical nature of the chip manufacturing business, Micron management has been proactive in creating and utilizing operational synergies to bring down operating expenses to maintain EBIT margins. With increasing capital intensity, firms are tasked with bringing down other operating expenses spending in order to allow for R&D spending.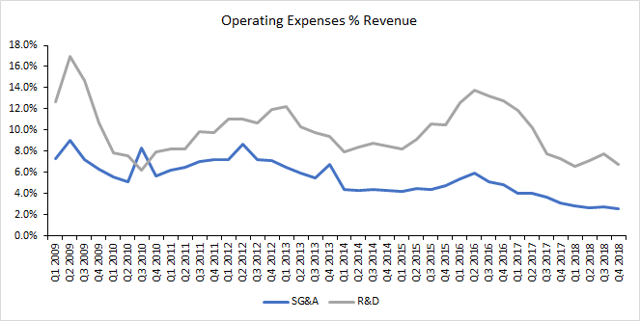 (Source: Company data, internal calculations)
Cost-cutting will help to absorb the continued slowdown in Trade NAND and the peak in DRAM pricing. The company is currently in one of the strongest operating cash positions in its history.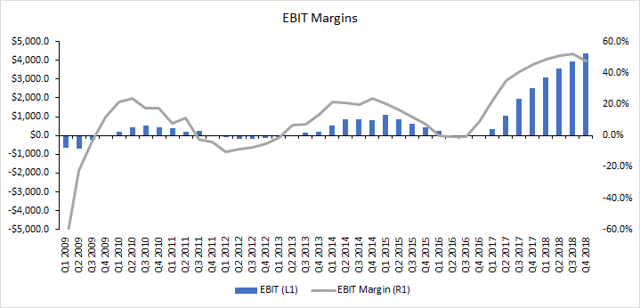 (Source: Company data, internal calculations)
Deleveraging of the Balance Sheet
While the company continues to grow operating cash flow, currently ~68.5% of revenue, it has also managed to continuously pay down debt, taking leverage off of the balance sheet. This decrease in operating and financial leverage offers a much larger cushion for the coming downturn in pricing. Micron has managed to be proactive in paying down debt and plans to continue doing so moving into 2019 and 2020.
Its liquidity base is higher than it has ever been, with the company now covering its interest expense more than 125.0x EBITDA less CAPEX.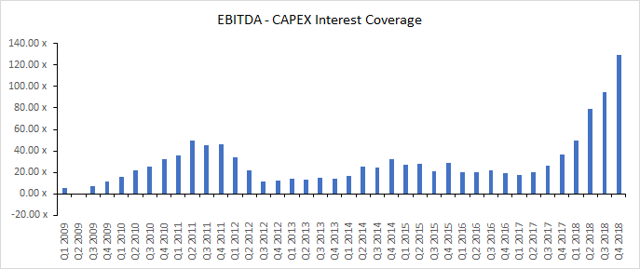 (Source: Company data, internal calculations)
The balance sheet is one of its strongest growth prospects. The company now has ~$1.10 in cash per dollar of liabilities. Its strong balance sheet positioning will allow for continued and accelerated investment moving forward past the pricing downturn. Micron has shown a strong commitment to investment in research and strategic acquisition or joint ventures. This strong cash position will allow it the liquidity and the flexibility to make quick and actionable decisions as the chip cycle bottoms out.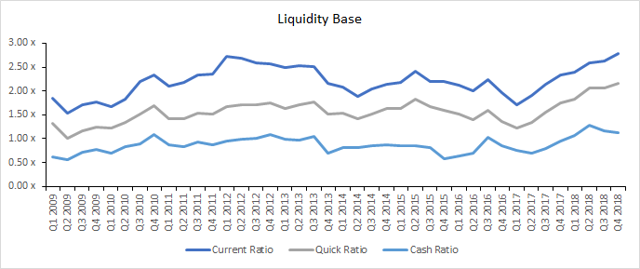 (Source: Company data, internal calculations)
Chip Outlook
According to a report from DRAMeXchange, the global DRAM industry revenue grew ~9% sequentially with PC, server and mobile contracts up ~0-2%, with DDR3 consumer DRAM experiencing the first price declines. Expectations moving forward are for prices to continue a decline, as an oversupply of inventories have flooded the market in the short term. Over the next few quarters, ASPs are expected to decline in DRAM. The expectation is that 4Q gross margins were likely the peak, and analysts expect cost-cutting to not be able to absorb a majority of the declines.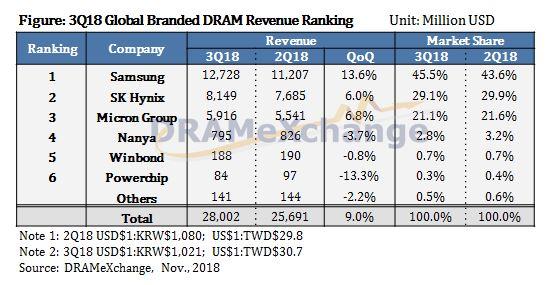 For Trade NAND, DRAMeXchange reported sequential increases in global revenues of ~4% on lower-than-expected demand. Intel (INTC) CPU shortages and lower-than-expected iPhone sales have stunned the market. Further, continued trade tensions are maintaining downward pressure on Trade NAND prices. This perfect storm has led to average declines of ~10-15% in contract prices.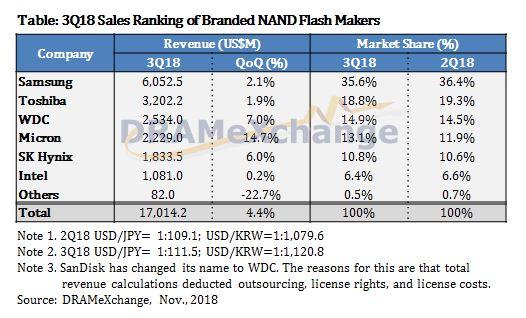 Model Assumptions and Price Targets
The model includes a steep drop in DRAM pricing, causing a peak-to-trough decline of 50% from the 4Q18 high. It also includes a strong rebound when pricing resets in 2H19-1H20, where strong investment in R&D will help to drive increased margins and DRAM revenue expansion. Slight declines in Trade NAND revenue are also modeled in 2H19-1H20, with slowing growth based on the premise of declining iPhone sales.
Overall, forecasted CAGR from FY19-FY22 is ~20%, slightly lower than the 2015-2018 revenue CAGR of ~23%. The growth is coming from increasing market share in higher-margin DRAM projects and a stable Trade NAND presence.

(Source: Company data, internal estimates)
Margins are modeled to decline ~18% from peak to trough and are modeled to recover in late 2019-early 2020, as pricing pressures from the inventory glut and from trade tensions should be mitigated. This decline would be the smallest margin contraction in recent cycles - it comes as a result of a stronger market presence and greater pricing power, combined with effective cost-cutting and operational synergies, which will allow the firm a greater flexibility in this downturn compared to previous ones. These assumptions in the short term are also consistent with the more conservative side of company guidance of 57-60%.
Following the trough of the cycle, expect Micron to continue its margin expansion as the company invests in higher-margin projects which will allow for further economies of scale and greater expansion. Margins are modeled to expand to about ~63% by 2022.
Capital Expenditure and R&D Spending
Higher capital intensity in the short term will lead to higher spending levels, but it is expected that increased investment in higher-margin businesses will allow for economies of scale, lowering capital intensity moving forward.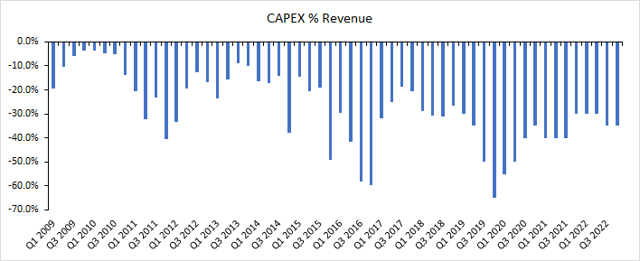 (Source: Company Data, internal estimates)
Cash Flow Machine on Clearance
Micron has consistently delivered in growing its operating cash flow and EBITDA. The company's operational execution will help it absorb the impacts of pricing pressures in the coming quarters, and it will allow the company to hit the ground moving forward from the cyclical downturn.

(Source: Company data, internal estimates)
Operating cash flow has grown to ~68% of revenues in the last quarter. Micron's continued operational execution is expected to continue the growth in operating cash flows, allowing for more CAPEX, equity buybacks and debt repayment.

(Source: Company data, internal estimates)
Recently, short-term pessimism regarding tariffs and downward pressure on prices have brought the shares to trade at record low levels. The following conversation on valuation will disregard the current P/E ratio of ~3x. For a company with secular multi-year growth catalysts, cyclical earnings will be of little importance, and steadiness of cash flow will be the ultimate driver of business success moving forward. Therefore, this conversation will be based on EV/EBITDA.
In terms of EV/EBITDA, Micron is at record low valuations, which offers an interesting opportunity to purchase the company for ~2.2x. In the time period since 2009, which has seen two chip cycles, median EV/EBITDA multiples were ~5.3x. Given the corporation's superior balance sheet and operational performance as of late, it is illogical to assume that the entire enterprise is worth ~2x EBITDA.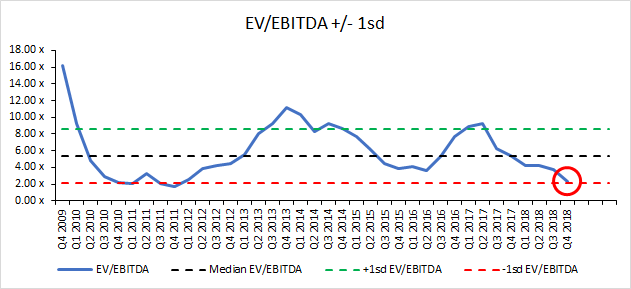 (Source: Company data, internal calculations)
Discounted Cash Flow Analysis
Throughout the operating assumptions, the low end of guidance was used to offer a more sober look into Micron. With a lot of negative news coming out as a result of a more idiosyncratic situation with the trade wars adding pressure, this model's goal was to offer a sober look into the value of the company.

(Source: Company data, internal estimates)
In a levered discounted cash flow model using a terminal growth rate of just 3% - a conservative estimate for a semiconductor company - using a discount rate of 15%, and assuming no change to the current share count (another conservative estimate considering stock repurchase plans), Micron is worth ~$46. This implied a 5.4x on 2019 earnings.
This price target implied a median upside of ~22% from current levels. Assuming the stock will continue to be hurt short term on pessimism, dollar-cost averaging would be useful for those investors already long the name. In the long term, Micron is likely to be a winner as a result of its preparation for cycle downturns by effectively cutting costs and maintaining/expanding cash flow growth.

(Source: Company data, internal estimates)
Relative Value
In terms of relative value, Micron is discounted not only in terms of its own history but in terms of its historic multiples relative to competitors. Using EV/EBITDA and EV/Revenue, the company is undervalued relative to peers by an average discount of ~65%.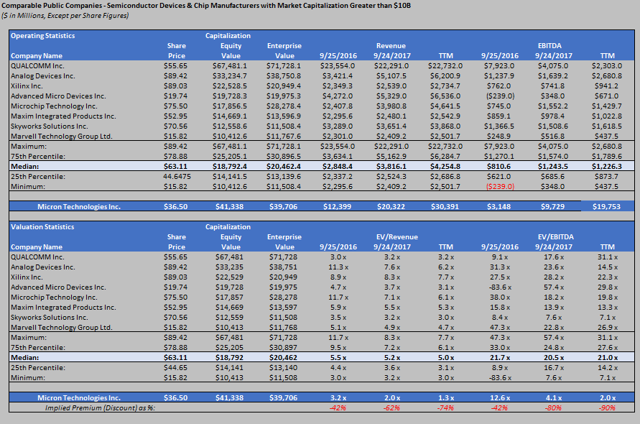 (Source: Bloomberg, internal calculations)
Key Risks
Of course, with semiconductors being so involved in emerging markets and investing in China, it is important to know that there are key risks involved in a name like Micron. The stock has underperformed both the S&P (SPY) and its sector (SOXX) as of late, and trades with a high beta of ~1.7. This will increase volatility in a portfolio and is to be expected. For investors looking to take a long-term view on the secular shift toward Big Data and the continuously increasing demand for memory storage, this is an investment to take seriously.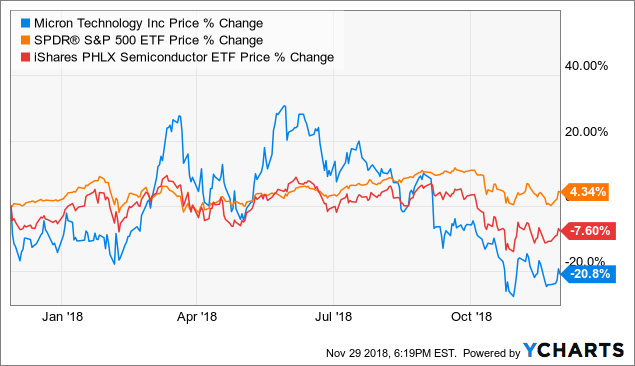 Key risks include:
The news flow coming from the upcoming G-20 between President Trump and Xi Jinping.
Other semiconductor company earnings and company guidance.
More severe price declines in DRAM and Trade NAND.
Further disappointing iPhone sales.
Conclusions
With the negative news that has come for the name, I wanted to offer a sober look into the company's fundamentals to form an opinion and offer some facts. The fact is that Micron is a leader in the memory market - a market that is driven by data - and in an economy that is now driven by data, the company is in a place of extreme opportunity. Micron has the chance to expand into higher-margin businesses that will offer margin expansion as the company continues cost-cutting, paying down debt and buying back stock.
The stock current trades at just 2.2x EBITDA. While it is expected to remain under pressure in the long term, we have seen money flow into the stock at ~$35. Given that and a book value near ~$27 per share, the risk/reward picture is pointing in favor of Micron being a winner if investors are able to absorb some volatility in the short-to-medium term.
Disclosure: I am/we are long AAPL.
I wrote this article myself, and it expresses my own opinions. I am not receiving compensation for it (other than from Seeking Alpha). I have no business relationship with any company whose stock is mentioned in this article.