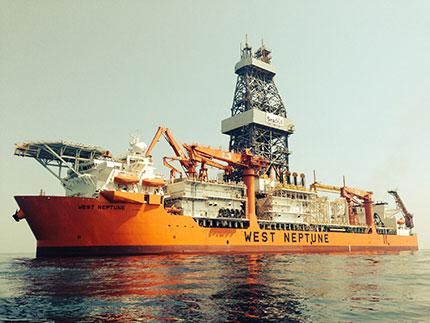 Image: The ultra-deepwater drillship West Neptune (Courtesy Seadrill)
Investment Thesis
The new Seadrill Ltd. (SDRL) successfully emerged from Chapter 11 bankruptcy on July 2, 2018. CEO Anton Dibowitz commented:
Having restructured our business, we are now well positioned to capitalize on the recovery. The combination of a strong cash position, no near-term amortization payments or debt maturities and light financial covenants alongside a large modern fleet and continued focus on cost reduction will ensure we remain competitive.
Seadrill is a complex financial structure associated with four non-consolidated entities (Seadrill owns the North Atlantic Drilling (OTCPK:NADLQ) subsidiary:
Seadrill Partners LLC. Seadrill is considered as a minority holder now; it owns 42,819,100 total common (26,275,750 shares) and subordinated shares (16,543,350 shares) of Seadrill Partners, or 46.6%.

Also, SDRL has direct ownership stakes in two operating companies that are Seadrill Partners subsidiaries:

49% stake in Seadrill Capricorn Holdings
42% stake in Seadrill Operating LP

SDRL's combined interest in SDLP is about 65%.

Seamex Ltd. which is a 50/50 JV between Seadrill and FinTech.
Seabras Sapura which is a 50/50 JV between Seadrill and Sapura Energy.
Archer Ltd., in which Seadrill owns 15.7%.
According to the November fleet status, Seadrill counted seven floaters working for the full quarter at an average daily rate of $241k/d and two floaters completing contracts during the quarter.
Also, seven jack-ups were working for the entire quarter at an average daily rate of $99k/d, and two jack-ups started their gig during the quarter. Please read my article about the November fleet status.
I consider the new Seadrill as a potential trading opportunity but not yet as a long-term investment. Even if we are assuming a full recovery soon, with sufficient contracting and decent daily rates generating proper free cash flow, I am still not confident enough to turn long until the offshore drilling market has solved its severe rig oversupply and starts to show substantial improvements regarding daily rates. The recent fleet status was encouraging.
Anton Dibowitz said in the Q3 conference call:
Since the end of the second quarter, we signed almost $300 million in new business made up of new contracts, exercised options and extensions to existing contracts and I'd like to highlight a few of those.
The new Seadrill is now well-capitalized to compete in this challenging market and can freely focus again on maximizing the utilization of its marketed fleet.
The potential for improvement is real, and the primary reason is that after under-spending in oil exploration for over three years now, most of the oil operators are facing an urgent need to replace production with discoveries. It is especially true for the offshore segment, which is still profitable even at the reduced oil prices that we have experienced recently and can produce a large oil reserve. Seadrill owns a modern rig fleet - one of the best amongst its peers.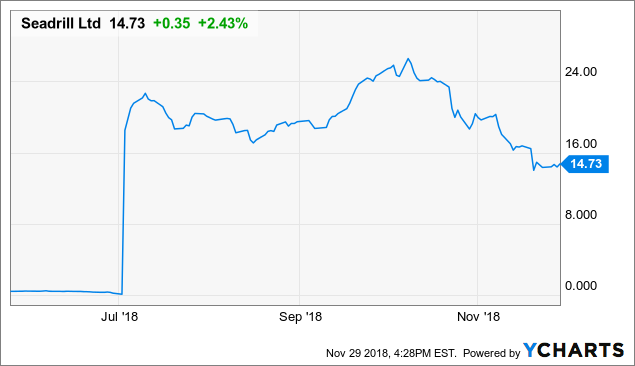 Seadrill - Balance Sheet 3Q'18: The Raw Numbers
New Seadrill

3Q'17

Predecessor

2Q'18
3Q'18
Total Revenues in $ million
511
-
249
Net Income attributable to SDRL in $ million
-229
-
-242
EBITDA $ million
-26
-
13
Adjusted EBITDA in $ million
-
-
46
Profit margin % (0 if loss)
0
-
0
EPS diluted in $/share
-0.45
-
-2.40
Operating Cash Flow in $ million
-84
-213
-59
CapEx in $ million
34
49
10
Free Cash Flow in $ million
-118
-262
-69
Unrestricted Total Cash $ billion
-
930
1,694
Total Debt in $ billion
-
1,240
7,292
Shares outstanding (diluted) in million
504
100
100
Source: SDRL filing and Morningstar
Trends and Charts: Revenues, Earnings Details, Free Cash Flow and Backlog.
1 - Revenues were $249 million
It was Seadrill's first earnings report since the company re-emerged from bankruptcy.
Subsequently, there is no real comparison with the same quarter a year ago, and what I have indicated in my table above is just an indication but cannot be compared, because the new Seadrill is different than its predecessor due to a complete restructuring. One element that has not changed is, of course, the company's fleet, which was discussed in part I of my analysis.
Seadrill posted a more-significant-than-expected net loss for the third quarter of $242 million, including $2 million in income tax expense.
CFO Mark Morris said on the conference call:
The key takeaway here though for our first quarter post emergence is that there were no comparables. So this is our first clean quarter.
2 - Free Cash Flow was a negative $69 million
Operating cash flow was minus $59 million, and CapEx was $10 million.
3 - Net Debt
The revised capital structure includes:
$1.08 billion of new capital;
Extending and reprofiling of $5.7 billion of secured bank debt; and
The conversion of $2.6 billion of unsecured liabilities to equity.
Total cash - excluding the restricted cash - was $1,694 million, and total debt is now $7,292 million (including short-term debt). Net debt is $5.598 million.
4 - Backlog
Seadrill was able to secure about eight contracts or contract extensions. These additional gigs increased the company's backlog by $296 million to a total of $2.1 billion stretching beyond 2023. However, the fleet status report is not encouraging. Mark Morris said:
So now, turning to the financials, out of 35 rigs, 16 were working on average throughout the quarter. Seven floaters have an average dayrate of 240,000 per day with 97% uptime and nine jack ups at an average dayrate of 98,000 per day with 98% uptime. It was a strong quarter operational for us.


Total Rigs for SDRL Group:
| | | | | | |
| --- | --- | --- | --- | --- | --- |
| | Idle | Working/contracted | Under-construction | Managed by SDRL | Total |
| Tender | 0 | 3 | 0 | 0 | 3 |
| Jack-ups | 7 | 14 | 8 | 0 | 29 |
| Floaters | 13 | 14 | 0 | 2 | 29 |
| Total | 20 | 31 | 8 | 2 | 61 |
5 - Outlook for Q4'18 and 2019
Seadrill expects adjusted EBITDA will drop from $46 million this quarter to $35 million in Q4'18. The company sees the outlook for the next quarter and 2019 as generally weak. The CEO said in an interview:
We've always known that, given significant oversupply of rigs, 2019 is going to be a challenging year, and our opinion hasn't changed,
However, Dibowitz is not entirely negative and said that he is already observing rate improvements for contracts starting in 2019/2020, from $100-150K/d to now $200K/d for deepwater drilling rigs.
Conclusion and Technical Analysis
Seadrill is now officially out of bankruptcy with the first full quarter released. The company is delivering a mixed message concerning its business outlook and seems to warn investors that while some progress has been made regarding daily rates and contracting, the road to recovery is still a long and difficult one ahead which could last a couple more years. It is confirming my strategy regarding SDRL.
The stock may have established support with the release of the first quarter pre-bankruptcy. From this new price support, we may eventually trade SDRL within the channel $14.75-18.50, as I have explained below.
Technical Analysis - Short Term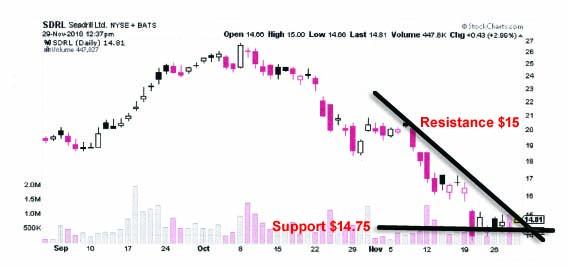 Source: Finwiz as a background
SDRL is forming a descending triangle pattern after establishing first plausible support at around $14.75. (I see this support as a possible starting point for an accumulation midterm, but it is risky.)
The line resistance is very close now and estimated at $15, which indicates that we are already at the end of the pattern (apex) and should experience a decisive breakout soon. My guess is a positive breakout and a re-test of the next resistance at $18.50 depending on the future price of oil, which is paramount for SDRL.
Author's note: Do not forget to "Follow" me on the oil sector. Thank you for your support, I appreciate it. If you find value in this article and would like to encourage such continued efforts, please click the "Like" button below as a vote of support. Thanks!