This article was first published on Trend Investing on October 29, 2018, therefore all data is as of that date.
For some background on the vanadium miners, you can read:
Back when I first wrote on the vanadium boom in March 2018, the vanadium China spot price was rising and had already reached USD 14.10/lb. As you can see below, it is now more than double that at USD 33.10/lb.
Vanadium oxide spot price history
China Vanadium Pentoxide [V2O5] Flake 98% Price - USD 33.10/lb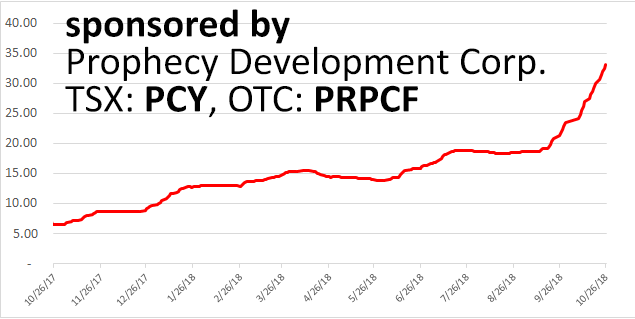 (Source: Vanadiumprice.com)
Why vanadium spot prices have been increasing
Vanadium demand
The main reason for the China vanadium spot price increase has been the country's rule changes to strengthen steel rebar, hence requiring vanadium. The enforcement of China's new rebar standard and the central government's special action to cut down on low-quality steel comes into effect next month (November), which should further support the vanadium market. The second, and much smaller, factor is the new vanadium demand for vanadium redox flow batteries (VRFBs). So essentially, the vanadium market is experiencing a strong demand pull.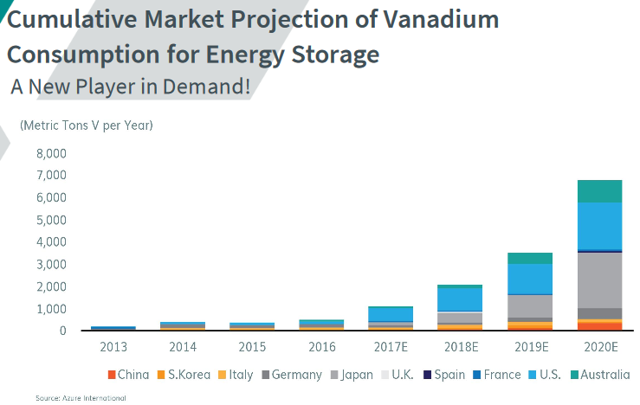 (Source: Australian Vanadium presentation)
Vanadium supply
From a supply point of view, it is important to note that most vanadium is produced as a by-product of steel slag. This can often be more costly, and has the side effect of pollution, hence China has been trying to cut back steel production. Vanadium 2018 projected cash costs from steelmaking slag range from USD 3.23/lb to USD 9.47/lb.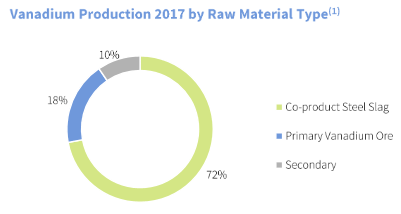 (Source: Largo Resources investor presentation)
New supply from existing producers is constrained, and new supply from juniors will take time. The proposed Bushveld expansion should bring some new supply to market in the nearer term.
New vanadium supply forecast to come from Bushveld Minerals, Largo Resources and Windimurra (Atlantic Pty Ltd.)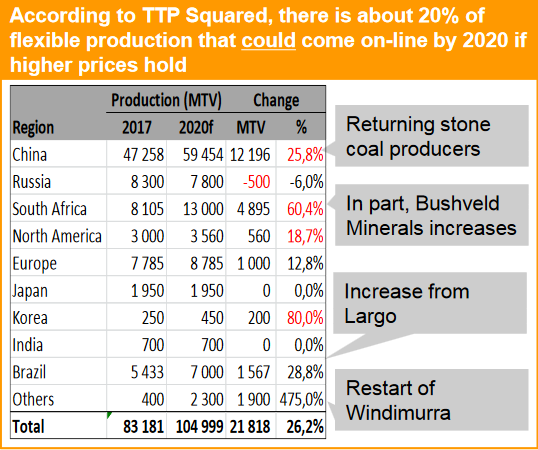 (Source: Assessing Market Drivers for Vanadium Redox Flow Batteries, Bushveld Energy presentation)
Vanadium demand forecast to outstrip supply 2018-2025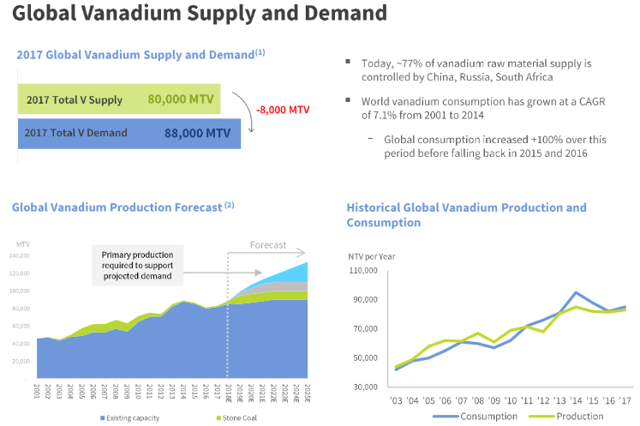 (Source: Largo Resources investor presentation)
Vanadium miners to consider
Vanadium producers (the purer vanadium plays)
Largo Resources (LGORF, [TSX:LGO], [GR:LR81])
Largo Resources is a pure play vanadium producer from its 99.84%-owned Maracás Menchen mine in Brazil. The company states: "The Maracás Menchen mine possesses the world's highest grade vanadium deposit - P&P reserve grade of 1.17% V2O5." Forecast mine life is 10 years (based on reserves), with an additional 12 years (based on resources). 2017 production was 9,297 tonnes of V2O5. 2018 production is forecast to reach 8,950-9,950 tpa, 11,500tpa in 2019, and ~13,000tpa in 2020. Costs of production are in the lower quartile and forecast at USD 4/lb in 2018.
Market cap is CAD 2.12 billion, with a 2018 P/E of 16.9. Analysts' consensus price target is CAD 5.50, representing 36% upside. I view the stock as a Hold, or an accumulate if you think current high vanadium prices will remain for a few years.
Bushveld Minerals Limited (OTCPK:BSHVF, [LN-AIM:BMN])
Bushveld is a diversified AIM-listed resources company with a portfolio of vanadium, tin and coal assets in Southern Africa and Madagascar.
On October 26 the company tweeted: "Bushveld Minerals Ltd. intends allocating as much as $170 million over the next three years expanding its capacity to produce and process vanadium."
Its market cap is GBP 310 million, with a 2018 P/E of 16.9. Analysts' consensus price target is GBP 0.34, representing 21% upside. I view the stock as a Hold, or an accumulate if you think current high vanadium prices will remain for a few years.
Note: Glencore (OTCPK:GLCNF, [LSX:GLEN] [HK:805]) and AMG Advanced Metallurgical Group NV (OTCPK:AMVMF, [NA:AMG] [GR:ADG]) are both significant vanadium producers, however vanadium makes up only a relatively small percentage of their revenues.
Near-term vanadium producers
Energy Fuels Inc. (UUUU, [TSX:EFR])
Energy Fuels states it is "the No. 1 uranium producer in the U.S. with a market-leading portfolio." Regarding vanadium, it states it has "32M lbs M&I vanadium resources at La Sal & Whirlwind Mines (1% avg. grade)." In 2013, the company produced 1.5M lbs of V2O5, and due to the price recovery, it is resuming vanadium production in 2018
On September 27, Energy Fuels Inc. announced:
Energy Fuels Inc. is pleased to announce that the Company expects to resume vanadium production at its 100% owned White Mesa Mill (the "Mill") in mid-November 2018, producing significant quantities of salable V2O5 product by the end of December 2018. When production begins, Energy Fuels will be the newest vanadium producer in the World and the only primary producer of V2O5 in North America.
Its market cap is USD 256 million and no P/E. Analysts' consensus price target is USD 3.48, representing 19% upside. I view the stock as a Hold, or buy on dips.
Vanadium juniors
Technology Metals Australia ([ASX:TMT])
Technology Metals Australia's flagship is its 100%-owned Gabanintha Vanadium Project located 40km south east of Meekatharra, in the mid-west region of Western Australia.
The company's Updated Global Resource - Consistent high grade core of 55.0Mt at 1.1% V2O5 within a global resource of 119.9Mt at 0.8% V2O5, containing maiden Indicated Resource of 21.6Mt at 0.9% V2O5 (Northern Block only).
On June 21, Technology Metals Australia announced: "TMT delivers robust Gabanintha Pre-Feasibility Study."
Highlights below: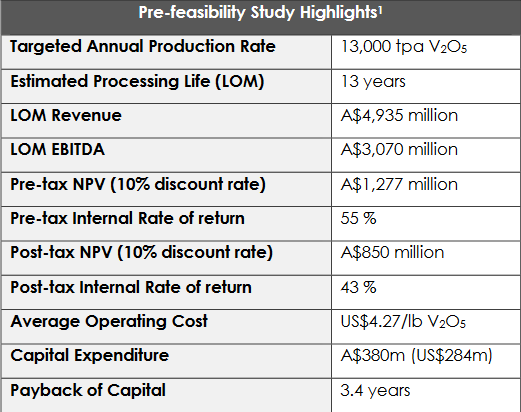 (Source: Technology Metals Australia ASX announcement)
On July 12, the company announced: "Technology Metals Australia's new tenement adds to billion-dollar vanadium potential. Technology Metals Australia Ltd has acquired additional tenure adjacent to the Northern Block of tenements at its 100%-owned Gabanintha Vanadium Project in Western Australia."
Its market cap is AUD 36 million. There are no analyst target prices yet that I could find. My updated price target for end 2022 is AUD 3.55 (7x higher), based on 13ktpa production, AUD 380 million (USD 284 million) CapEx, vanadium cost price of USD 4.27/lb and a selling price of USD 10/lb. Note, I have been very conservative by assuming only USD 10/lb, given current China spot prices are USD 33/lb.
You can read more in my article "Technology Metals Australia Offers Excellent Upside With Strong Near Term Catalysts." Updated catalysts include a DFS by April 2019 and a possible 13ktpa producer by 2021/2022. Strong speculative buy for long-term investors.
Australian Vanadium (OTCQB:ATVVF, [ASX:AVL] [GR:JT71])
Australian Vanadium is an emerging vanadium producer focused on the Gabanintha deposit in Western Australia. Gabanintha hosts a declared Mineral Resource comprising 179.6Mt at 0.75% Vanadium Pentoxide (V2O5).
On September 26, the company announced:
Gabanintha presents robust base case for Pre-Feasibility Study. The NPV is estimated at US$1.1B using a Life of Mine V2O5 commodity price forecast of US$13/lb. At current V2O5 market prices of US$20/lb, project NPV is US$2.4B, highlighting the project's upside potential. At a US$8/lb V2O5 price, the NPV is US$191 M, indicating a robust project. 22.5Mlb V2O5 (10,100t) per annum over an initial mine life of 17 years. Average operating expenses estimated at US$4.13/lb V2O5 equivalent (±35%), competitive with the world's lowest quartile producers. Capital costs of approximately US$360M (±35%). This includes owner's costs, contingencies and gas pipeline investment.
Pre-Feasibility Study summary and sensitivities

(Source: Australian Vanadium ASX announcement)
Its market cap is AUD 64 million. There are no analyst target prices yet that I could find. My updated price target for end 2022 is AUD 0.15 (3.75x higher), based on 10.1ktpa production, USD 360 million CapEx, vanadium cost price of USD 4.13/lb and a selling price of USD 10/lb. Solid speculative buy for long-term investors.
TNG Ltd. ([ASX:TNG] [GR:HJI])
TNG is an Australian resources company focused on the evaluation and development of its Mount Peake Vanadium-Titanium-Iron project in the Northern Territory of Australia.
TNG's November 2017 Definitive Feasibility Study (DFS) for Mount Peake resulted in a pre-tax IRR of 44% and an NPV8% of AUD 4.7 billion, with up-front capital estimated at AUD 853 million.
On October 11, the company announced:
TNG confirms execution of the landmark native title agreement for its Mount Peake vanadium-titanium iron mine. Major step towards securing grant of the Mineral Lease and the development of a major new resource project for Northern Australia... Both Northern Territory and Federal Government environmental assessments were finalised earlier this year.
Its market cap is AUD 97 million. There are no analyst target prices yet that I could find, however you can view a March 2018 analyst report here, with a price target of AUD 0.51. Investors would need to also be positive on titanium (~60% of forecast revenue) and iron ore. Also, the high CapEx does provide some funding challenges; however the very large NPV can justify this. Vanadium grade is lower; however, this can be offset by other metals. It is a solid speculative buy for long-term investors.
Prophecy Development Corp. (PRPCF, [TSX:PCY])
Prophecy Development Corp. is a Canadian junior miner with a 100%-owned Gibellini Black Shale primary vanadium project in the Battle Mountain region in northeastern Nevada, USA. Gibellini aims to be the first active primary vanadium mine in North America.
The company has 23 Mt of M+I Material @ 0.286% V2O5 or 85.3 million lbs of 98% Pentoxide recovered all near surface and with exploration upside.
May 2018 PEA summary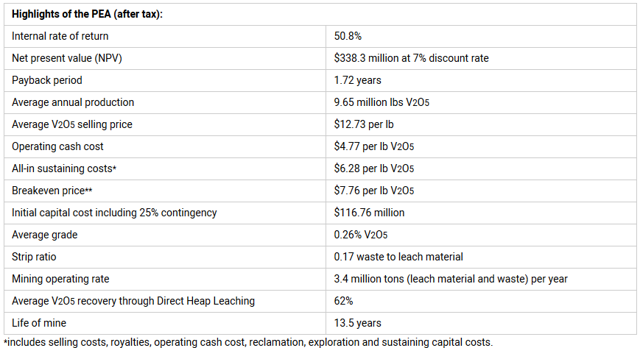 (Source: Prophecy Development)
Its current market cap is CAD 37 million. I like that the company is located in Nevada, USA, and that it has a low CapEx to get into production. Grade is a bit low, but location can make up for that to some extent. This is a company to watch.
King River Copper (OTCPK:KRCLF, [ASX:KRC] [GR:34N]) (planning to change to King River Resources Limited)
King River holds 785 square kilometres of mineral leases covering a unique geological feature in the Eastern Kimberley of Western Australia called the Speewah Dome. The company states on its website: "The focus of King River Copper Limited is the exploration for Gold, Silver and Copper." However, its deposits also contain vanadium.
On October 15, King River Copper announced:
Vanadium update. King River Copper Limited is pleased to provide this update on its 100% owned Vanadium-Titanium-Iron Project at Speewah, located in the East Kimberley of Western Australia. Vanadium Scoping Study due for release in October. Vanadium metallurgical testwork has continued on several fronts to identify the most optimum and commercially practical process routes to pursue.
Its current market cap is AUD 68 million. We will know more after the release of the scoping study due very soon. It looks promising.
Other juniors to consider
Aura Energy (OTCPK:AUEEF, [ASX:AEE] [GR:VU1])
First Vanadium Corp. (formerly Cornerstone Metals Inc.) (CCCCF, (TSXV-CCC))
Neometals (OTCPK:RRSSF, OTCPK:RDRUY, [ASX:NMT])
Tando Resources ([ASX:TNO])
VanadiumCorp Resource Inc. (APAFF, [TSXV:VRB], [GR:NWN])
Graphite miners with vanadium
Syrah Resources (OTCPK:SYAAF, OTCPK:SRHYY, [ASX:SYR])
Triton Minerals ([ASX:TON], [GR:1TG])
Battery Minerals ([ASX:BAT])
Risks
Vanadium oversupply, spot prices may fall. The steel industry is still the main driver of vanadium prices.
The energy storage boom may not materialize.
Technology change - new energy storage technologies may replace the Vanadium redox flow batteries.
Investors should understand that investing early in any new disruptive technology carries much higher risks as well as rewards.
The usual mining risks - share dilution, funding, and production risks.
Liquidity risk for smaller caps. Best to buy on local exchanges.
Sovereign risk and management risk.
Conclusion
Vanadium is the best-performing metal in 2018, having increased about fourfold. This has resulted in the purer-play vanadium producers' stock prices doubling (Bushveld) and almost tripling (Largo Resources) since I wrote on them back in April 2018. Whilst there is still opportunity there provided vanadium prices remain strong, the larger upside potential lies with the most promising juniors. Among the producers I still like Largo Resources and Bushveld, and see they can benefit from any near-term production expansions while vanadium prices are high. Similar is the case with Energy Fuels, which is about to re-start its vanadium production. Overall, I do see better value in the juniors right now.
Ironically, the vanadium juniors in 2018 have struggled, which therefore opens up some good asymmetric risk versus reward opportunities. I continue to favor Technology Metals Australia, Australian Vanadium and TNG Limited. I also see excellent value and potential in Prophecy Development Corp., King River Copper and several of the juniors.
The risk for the producers is mostly if vanadium prices fall back, and for the juniors' issues around project funding.
As usual, all comments are welcome.
Editor's Note: This article covers one or more microcap stocks. Please be aware of the risks associated with these stocks.