The latest edition of Deloitte's Commercial Real Estate Outlook has been newly released for 2019, and we find a wealth of information in the report that applies to our REIT investment strategy.
The outlook surveys up to 500 global commercial real estate investors on the factors that will drive their investment decisions in the year ahead. The biggest takeaway for us as REIT investors is that more than 97 percent of those surveyed indicated they would increase their capital allocation to real estate in the next 18 months, despite all the concerns about interest rates, trade tariffs, tax reforms, and Brexit.
It is very interesting because it essentially shows a strong disconnect between:
Real estate investors who are overwhelmingly bullish; and
REIT investors who are much more bearish.
On one hand, real estate investors indicate that they plan to increase their allocation to real estate to new all-time highs, while at the same time, REIT investors are increasingly worried and running for the exit - causing the REIT market to drop by about 10% since July 2016: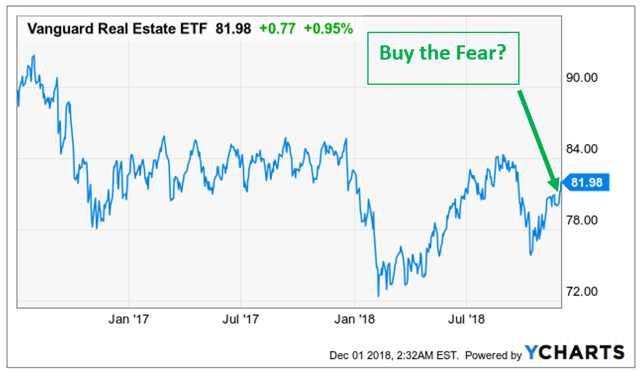 Real estate investors see the glass as "half-full" with strong NOI growth on its way and further asset price appreciation potential. REIT investors see it "half-empty" with growing fears over interest rate hikes and other macro events such as trade wars.
Which group of investors should you listen to? Or, put differently, is it still a good time to invest in real estate in 2019?
We take sides with real estate investors, noting that REIT investors are excessively focused on short-term news and fail to see the bigger picture. Real estate remains one of the most opportunistic asset classes in our view going into 2019, and we are taking advantage of the low REIT market prices to buy undervalued companies at historically high dividend yields.
REIT investors focus on interest rates. We instead focus on:
Property price appreciation
NOI growth
Real estate market cycle
Pricing relative to other asset classes
Escalating inflation risk
In each case, real estate scores favorably and we expect REIT investors to eventually take note - resulting in upside to contrarian investors who bought the latest drop.
1) Property Prices Are on the Rise
Commercial real estate prices continue to rise on the back of steady economic and employment growth. This is a direct result of continued NOI growth in an environment where cap rates have remained steady amid strong demand for property investments: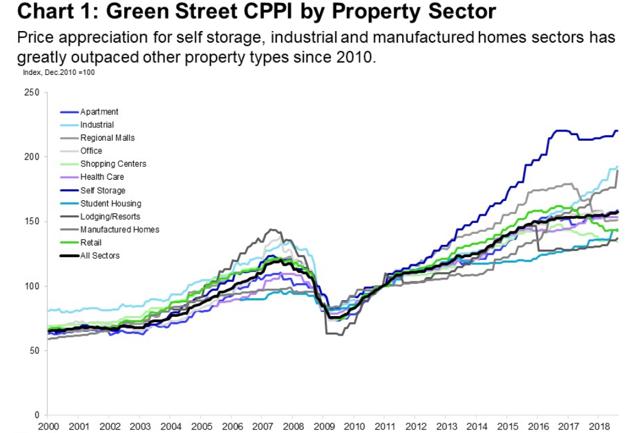 Source: NAREIT
Most property sectors are higher today than at the start of the year. Leading the pack in terms of price appreciation and total returns, we have Self-Storage, Industrial and Manufactured Housing - three sectors that we overweight within our diversified Real Estate Portfolio.
With the economic expansion likely continuing in 2019, and strong property market fundamentals, we expect the appreciation to continue in the coming year.
2) NOI Growth Remains Favorable
Price increases in commercial real estate become unsustainable if they continually exceed the growth of net operating income (NOI). This is not the case today, as property fundamentals remain strong, with demand outpacing supply in most property sectors - allowing landlords to keep raising rents and achieving NOI growth.
Rent growth of apartments, office, retail and industrial are all positive: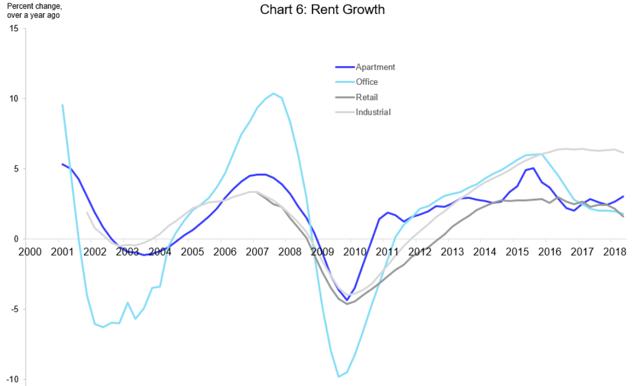 Source: NAREIT
The vacancy rate is also at a historically low level for most property sectors, with a continued trend towards even lower rates.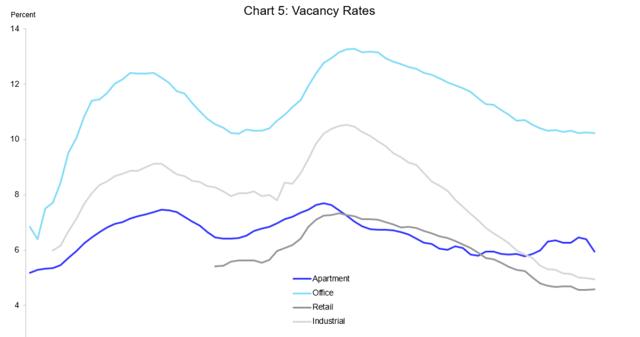 Source: NAREIT
It is then not surprising that properties continue to appreciate. The lower the vacancy rate, the less bargaining power tenants have and the more rent increases can be enforced - pushing property values higher and higher.
Today, this is exactly what is happening, and it is well reflected in the REIT market, which continues to post record results:
Current operating performance for the REIT industry is right in its "sweet spot": over the last four quarters, same-property NOI growth averaged 3.2 percent, consistent with the industry's long-term norm. Same property NOI growth greater than about 4 percent can be "too much of a good thing," stimulating so much new construction that it results in oversupply that reduces occupancy rates and rents, eventually suppressing same-property NOI growth to its "soft" range of 2.5 percent or less."
3) Real Estate Cycle Has More Room for Expansion
Historically, the complete real estate market cycle has had an average duration of about 18 years, and the current one just marked 10 years recently.
Moreover, compared to the two previous real estate cycles, the current one has been very mild in magnitude, with historically low annual returns in its expansion phase.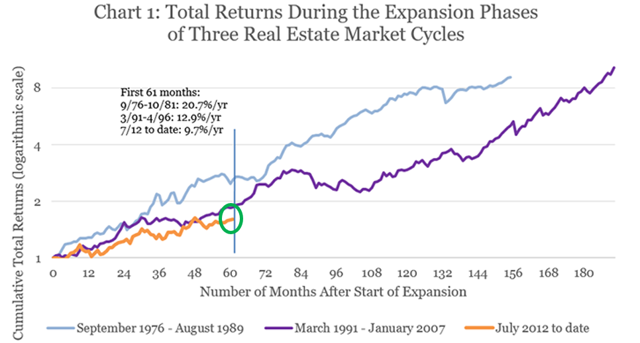 Source: NAREIT
Brad Case notes that:
For investors in the 1970s and '80s, the expansion phase that ran 155 months from September 1976 through August 1989 gave them total returns averaging 18.7% per year.
For investors in the 1990s and 2000s, the expansion phase that ran total 190 months from March 1991 through January 2007 gave them total returns averaging 15.8% per year.
In comparison, today's investors haven't reaped the same rewards that they would have ordinarily expected from a REIT market expansion:
For today's investors, the expansion phase has run only a total of 61 months from July 2012 through August 2017 and given them total returns averaging "only" 9.7% per year.
It leaves us optimist that (1) the current real estate cycle could still have a long way to go, and (2) the REIT market is set for solid gains in the coming years as it recovers from the currently negative market perception. To reach the historical averages, the real estate market would need to keep rising for another 7 years, and with much sharper annual appreciation.
4) Attractive Pricing Relative to Other Asset Classes
Almost every asset is historically expensive today, and this is true of many real estate markets as well. That said, in comparison to stocks and bonds, real estate remains relatively attractive with sizable spreads to interest rates and strong NOI growth prospects.
When you buy a property at a 7% cap rate, with half of it financed at a 4% interest rate, the outcome is a very attractive cash-on-cash return, and little appreciation is needed to generate high total returns. On the other hand, when you invest in large-cap tech stocks Amazon (AMZN), Alphabet (GOOG) or Netflix (NFLX), which may in some cases trade at very aggressive valuations, the same cannot be said.
The broad equity market trades at all-time highs with a P/E ratio close to 22.5x, or up to a 30% premium to its historical average.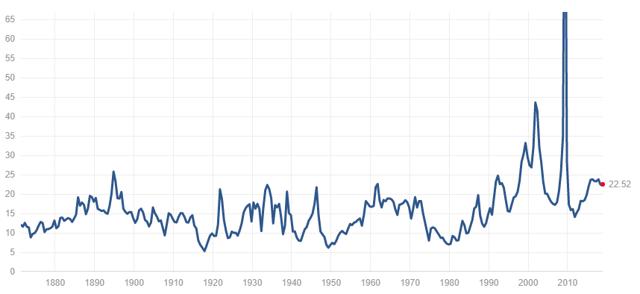 (Source: Multpl.com)
Real estate appears to have significantly less optimism and growth priced into their valuation, providing greater margin of safety. According to Lazard, REITs are today priced at a historically high discount to NAV of 10% and just 15.5x cash flow.
5) Protection Against Escalating Inflation
Real estate investors note that the risk of escalating inflation is largely underestimated today, and this is one of the main reasons why they are increasing their allocation to real estate, which provides a natural protection against it.
Interest rate hikes are generally correlated with increasing inflation, and real estate is one of the main beneficiaries, as rents and values tend to increase with inflation. In fact, most leases are today directly tied to an inflation index, and rent increases can be automatically enforced.
Research from NAREIT demonstrates that REITs' dividend growth has outpaced inflation as measured by the Consumer Price Index in all but two of the past twenty years.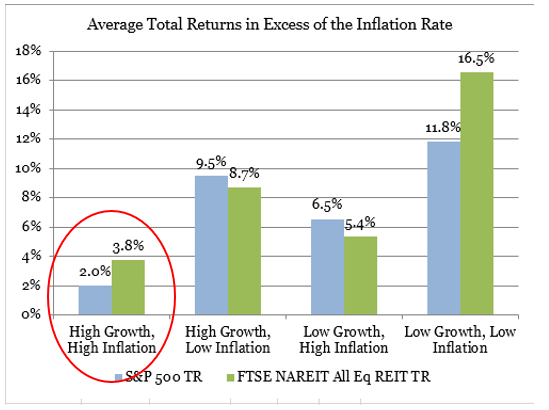 (Source: NAREIT)
Not surprisingly, NAREIT also finds that REITs outperform in times of high inflation when combined with high growth such as we are experiencing today. Stocks also protect against inflation shocks, but often less so than real estate.
Investor Takeaway
Real estate investors are today increasing their allocation to real estate, and rightfully so. Property prices remain relatively low in comparison to stocks and bonds, appreciation is pushed by strong NOI growth, and the inflation protection benefits are very popular in today's uncertain times.
We plan to continue to invest in real estate through REITs going into 2019. The reason why we favor REITs over real estate is because they appear to be even more opportunistic following the latest market sell-off.
There are today many quality REITs that trade between 8 and 12 times FFO with 6-9% dividend yields, including W.P. Carey (WPC), Iron Mountain (IRM), Medical Properties Trust (MPW), Spirit Realty Capital (SRC), Kimco Realty Corp. (KIM) and Brixmor Property Group (BRX), to name just a few. If you own any of these REITs and earn a mid-to-high single digit dividend yield, you really do not need much growth to get to double-digit returns. Even if interest rate hikes cause the FFO multiple to contract a bit, your long-term returns would still look very compelling.
Our diversified REIT portfolio is very well-positioned for the long run with mostly high-quality companies trading at deep discounts to peers or NAV. The 7.5% dividend yield is covered with a low 68% payout ratio, and we expect new dividend hikes to be announced in the coming quarters.
If you enjoyed this article, scroll up and click on the "Follow" button next to my name and choose "Get email alerts" to not miss my future articles on other REIT opportunities.