IPO investors know that the first time a company reports earnings is often a strong indicator of near-term trading momentum, and this is a test that Anaplan (PLAN) passed with flying colors. The connected planning software company dazzled investors and Wall Street with its Q3 results, managing to maintain >40% y/y revenue growth while showing an even stronger billings picture. Like many high-growth software companies, Anaplan showed vastly widening losses - but the bottom line is almost an afterthought in the face of rapid growth.
In response to these strong results, investors bid up shares of Anaplan another 5%, putting the stock within spitting distance of its all-time highs: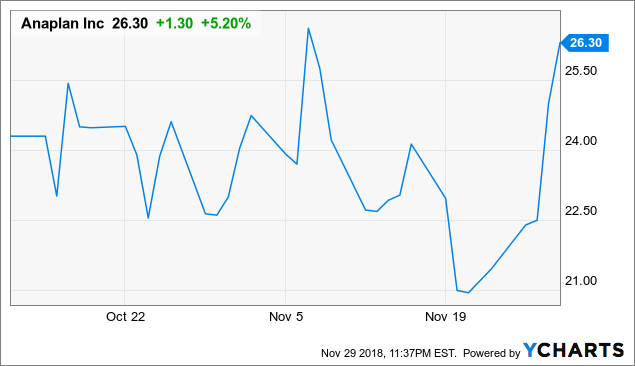 The question for investors now is: can Anaplan's rally keep going? In my view, investors would be wise to back off. Shares have risen nearly 20% over the past two weeks alone, and are up 55% since the IPO. To me, the stock has reached a rather full valuation - despite its strong fundamentals.
A quick check on where Anaplan is currently trading: at its current share price of $26, the company now has a market cap of $3.24 billion. After netting off $374.2 million of cash on its balance sheet, the company has a market cap of $2.86 billion.
For the current fiscal year (of which just one quarter is remaining), Anaplan is guiding to a midpoint of $235 million in revenues, representing 40% y/y growth:
Figure 1. Anaplan FY18 guidance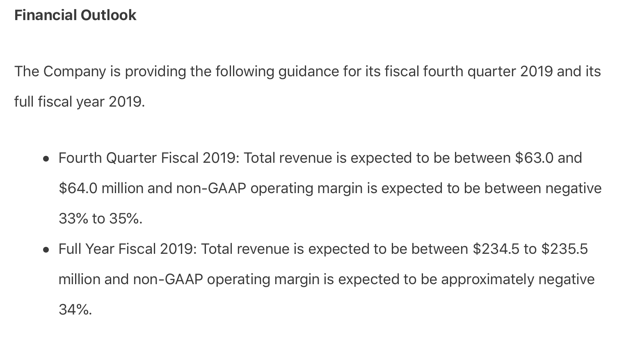 Source: Anaplan earnings press release
We haven't seen Anaplan's forecast for FY19 yet, but let's assume the company's growth decelerates five points to 35% y/y for the full year. This gives us a revenue estimate of $317.2 million, putting Anaplan's current valuation at 9.0x EV/FY19 revenues.
The October and November pullback has decimated many SaaS companies' valuations. Recent IPOs like Dropbox (DBX) and DocuSign (DOCU) now trade well below their prior heights, and older SaaS companies like Instructure (INST) and Box (BOX) are hovering around 4x forward revenues. Amid compressed valuation multiples in the SaaS sector, buying into Anaplan at its current levels means there's little room for upside. If growth stocks come back into fashion, funds will likely flow into the names that are still well below highs.
It's important to recall as well that Anaplan hasn't yet passed its lockup expiration date. Per NASDAQ, these shares will free up in April of next year. At that time, many insiders and early investors will be eager to take gains off the table, which in my view will drastically limit Anaplan's potential to rally through April.
The bottom line on Anaplan: while it's a solid software company tackling a largely greenfield market opportunity, it's valued at a premium while many peer SaaS stocks are still struggling to shake off a recent pullback. Upside for this stock is probably capped until it passes its lockup expiration date.
Q3 download: strong growth, but losses weigh
Here's a look at Anaplan's third-quarter results:
Figure 2. Anaplan 3Q18 results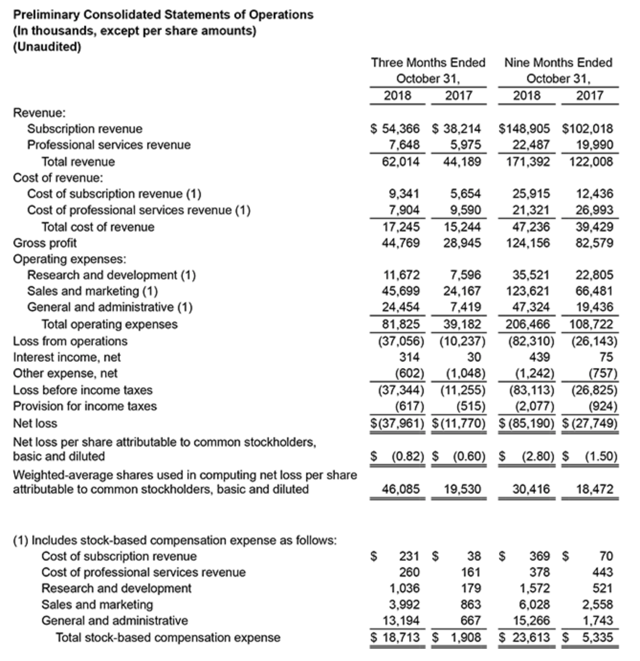 Source: Anaplan earnings press release
Revenues grew 40% y/y to $62.0 million, continuing the 41% y/y growth pace that the company set in the first half of FY18. It's useful to note as well that Anaplan had grown at a 40% y/y clip in FY17 as well, so the fact that it's been able to maintain a consistently strong growth rate is a testament to its broad market opportunity.
Anaplan's billings of $72.0 million also clocked in a 43% y/y growth rate, growing the company's deferred revenue balances. As with all SaaS stocks, a billings growth rate that is faster than revenue growth typically indicates that near-term revenue growth will maintain, or even accelerate.
The company also managed to hold onto a strong 124% dollar-based net retention rate, indicating a high capacity for upselling into its existing installed base. This quarter's net retention rate fell roughly in line with net retention in both FY17 and FY18, as shown in the chart below:
Figure 3. Anaplan net retention rates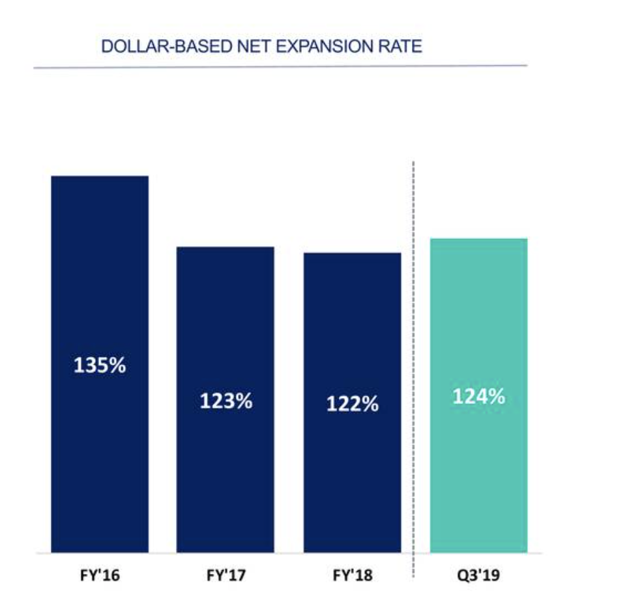 Source: Anaplan Q3 earnings deck
Continuing the volley of top-line strength, Anaplan's pro forma gross margins also hit 73% in the quarter, up seven points from 66% in the year-ago quarter. A mid-70s gross margin puts Anaplan squarely in line with most of its application SaaS peers. The company is gradually shifting more of its lower-margin implementation and support work onto third-party IT services firms, freeing up Anaplan's resources and helping to boost its overall margins.
Unfortunately, this is where the good news ends. Despite the strong top-line growth and expansion of gross margins, Anaplan's heavy spending dramatically deepened its loss profile.
Per CFO David Morton's comments on the Q3 earnings call, Anaplan's management made a conscious decision to accelerate operating expenses to invest in Anaplan's growth:
"With that context, beginning in the second-half of fiscal 2018, we saw an opportunity to accelerate investments in our go-to-market strategy, customer success and technology. We are seeing the fruits of these investments increasingly in our financial performance."
Sales and marketing expenses (Anaplan's largest expense category, as is the case for most high-growth SaaS stocks), for one, nearly doubled to $458 million, which on a GAAP basis represents more than 70% of Anaplan's revenues. As a result of the company's elevated expense profile, pro forma operating margins dipped more than ten points on a year-over-year basis to -29.5%:
Figure 4. Anaplan operating margins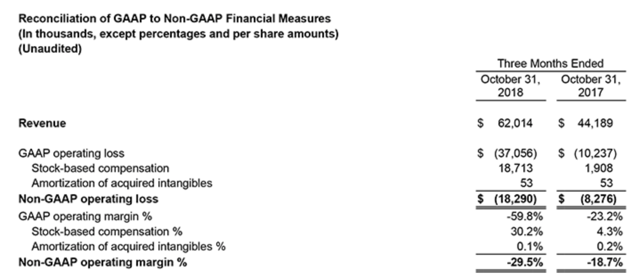 Source: Anaplan earnings press release
In addition, the company saw its free cash flow burn widen to -$17.3 million in the quarter, up from -$14.6 million in the year-ago quarter. Thankfully, Anaplan is still cash-rich from its IPO, with $374.2 million in total cash as previously mentioned, and no debt. This gives the company plenty of flexibility to finance its continued losses and keep investing into growth without having to worry about a capital raise. Still, in my view, the market's appetite is shifting toward more stable SaaS stocks with positive free cash flow profiles, and Anaplan's growing FCF burn will be a black mark on its track record.
Final thoughts
There's a right price for everything, and at the moment, Anaplan's valuation appears to be disconnected from its fundamentals as well as its peers. Anaplan isn't alone in the SaaS space for its ~40% growth profile and -30% operating margins - in fact, this gives the company a rather poor "Rule of 40" score of just 10 points. Yes, Anaplan is growing quickly, but at great expense - and this should factor into its valuation.
Stepping aside from Anaplan's results, we also recognize that the stock has risen sharply over the past few weeks and is still a few months away from its lockup expiration date. In my view, this will put pressure on Anaplan's current rally as investors continue to be wary of overbloated valuations in the tech sector.
Disclosure: I/we have no positions in any stocks mentioned, and no plans to initiate any positions within the next 72 hours. I wrote this article myself, and it expresses my own opinions. I am not receiving compensation for it (other than from Seeking Alpha). I have no business relationship with any company whose stock is mentioned in this article.