(Image credit: 2018 earnings slides, page 27)
2018 looks to end on a high note
Abercrombie & Fitch (ANF) has had an eventful 2018. The stock soared at the tail end of 2017 and continued that strength into this year. However, autumn hasn't been kind to the company, and shares were nearly cut in half before the selloff ended. But end it has, and after the Q3 earnings report, shares are up ~35% from the bottom in the space of a few trading days. I recommended selling Abercrombie back in May, but before the Q3 earnings report, I was out with a buy recommendation. I've been fortunate enough to get those calls right, but what do we do now? Given the momentum the business has, it looks to me like Abercrombie is still a buy after the Q3 report.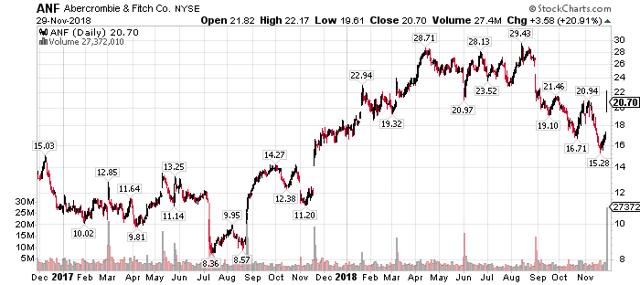 Q3 was another strong quarter
Total sales were about flat with the quarter from last year, as comparable sales rose 3% but a calendar shift negatively impacted sales. The comparable sales number was on top of a 4% gain in the year-ago period, continuing strength we've seen from the company in the past several quarters. As part of the comparable sales strength, digital sales rose 16% to account for 28% of total revenue, up from 24% of revenue in last year's Q3.
Abercrombie has invested heavily in its digital sales channel in recent years, not unlike other retailers, but it is clearly working. As a part of this strategy, the company closed some stores that were underperforming, instead reallocating resources to the best stores and the digital strategy. Results thus far in 2018 unequivocally prove this strategy is working, and evidence suggests it will continue to work. Abercrombie's core customer is comprised of younger generations, which makes its business ripe for a strong digital strategy. The company is taking full advantage, as evidenced by its huge digital channel sales growth.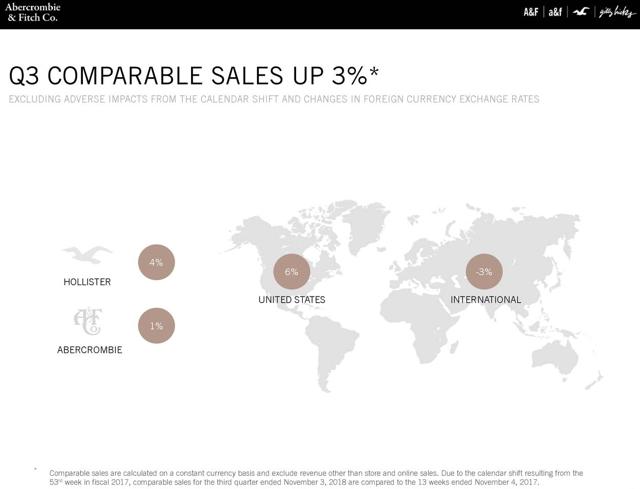 (Source: Q3 earnings slides)
This slide from the Q3 earnings presentation shows that strength continues to come from the Hollister brand, which makes up about 60% of total sales. Abercrombie is seeing slight increases in comparable sales, but Hollister has been and continues to be the crown jewel and the source of the company's future growth. Particular strength was seen here in the US, as the international business has been struggling a bit, although the latter makes up only about one-third of total sales.
Gross margins were flat with last year's Q3 as well, coming in at 61.3%. That's quite a strong number for Abercrombie, as it tends to stay slightly below 60%, but its strong merchandising is leading to fewer markdowns and better margins. In addition, operating expenses fell 180bps against the year-ago period, falling to 56.9% of revenue. Stores and distribution expense fell just over 1% but marketing and administrative costs declined more meaningfully, shedding about 6% year over year. While that doesn't sound like much, it helped operating margins soar from 2.6% to 4.6%, an increase of 74%. This is the operating leverage we've been waiting for from Abercrombie, and given strong guidance, it appears there is more where that came from.
Guidance for Q4 is for low-single digit comparable sales gains, while total revenue will be lower thanks to a calendar shift and some forex impact. In addition, gross margins are expected to rise slightly from last year's 58.4%, reflecting continued strength in pricing and markdowns. Operating expenses should fall 1-2%, which, combined with the increased gross margins, should lead to some meaningful operating leverage in Q4.
Lots of cash is available for dividends and buybacks
Abercrombie ended the quarter with $520 million in cash and equivalents on its balance sheet, compared to $459 million last year. The company also decreased its gross borrowings from $268 million to $253 million this year, despite paying out $41 million in dividends thus far in 2018 as well as repurchasing $69 million worth of stock. It is generating lots of cash thanks to its improved profitability, and that cash will continue to serve shareholders well in the coming years. Keep in mind also that the company's market capitalization is only $1.4 billion after the 35% rally in the past few days, meaning more than a third of its market capitalization is cash on hand.
Abercrombie also has 3.6 million shares remaining on its current repurchase authorization, good for about 5% of the current float. The company could theoretically purchase all of those shares today, so I suspect it will not take long to get through them. Hopefully, management was out buying in force when shares were $15, but we'll have to wait for the Q4 report to determine that. Still, this should remain a low-single digit tailwind to EPS growth in the coming years at a minimum.
The valuation is still reasonable
Analysts have Abercrombie earning 81 cents this year, putting its valuation at ~25 times this year's earnings. However, keep in mind, this year doesn't include the 53rd operating week that last year did, and that Abercrombie's operating leverage should continue into 2019 unabated. In other words, the valuation into next year will look much better than it does now given analysts have the company earning about a dollar per share in 2019, putting the forward P/E multiple at 20-21. This is a very reasonable multiple for Abercrombie based on its historical norms. In addition, the company is still very much in the midst of its efficiency improvements, so earnings growth shouldn't slow down into 2019. That should keep upward pressure on the multiple in the coming quarters.
Putting all of this together, even after the huge rally we've seen in the past week, the yield is still 3.9% and the forward valuation is quite reasonable. As a result, I still see Abercrombie as a buy, and I think the stock will make a run at $30 in 2019 on better earnings, improved investor sentiment and a rising P/E multiple.
Disclosure: I/we have no positions in any stocks mentioned, and no plans to initiate any positions within the next 72 hours. I wrote this article myself, and it expresses my own opinions. I am not receiving compensation for it (other than from Seeking Alpha). I have no business relationship with any company whose stock is mentioned in this article.