Top Gold Mining News for November 2018
I am here to provide you with the top news in the gold mining sector for November 2018, as well as provide some analysis on gold prices and a few words of encouragement.
I think we can all agree that November has been a month to forget for gold and gold mining stocks. Sentiment in the sector is currently so low, that I have to believe that right now is the buying opportunity of the year. After all, you're supposed to buy gold stocks when there is blood in the streets, and not when things are going well.
In fact, after hitting a top in my subscriber base back in April (when gold was $1,350/oz), I'm now seeing less demand for my marketplace service. Ouch! This is further evidence to me that investor sentiment is very low.
But I do believe gold will reward patient investors and I remain heavily invested in various gold stocks. If you look at gold's performance at the end of 2017, it went from $1,240/oz to $1,340/oz in practically the blink of an eye.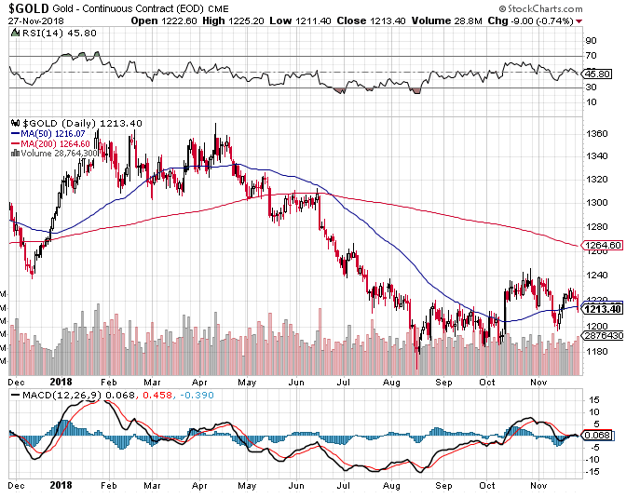 (The price of gold has had a rough few months and may see another drop in December, but should fare much better next year. Chart Credit: StockCharts, posted on Nov. 28)
The U.S. economy appears to be losing a lot of steam and is at risk of falling into a recession in 2019, especially if the Fed raises rates in December and a few times throughout 2019 (which is its current plans).
I believe we're going to see U.S. stocks sell-off at least 10% from the current levels in early 2019, and we'll see a rush to safe-haven assets as this unfolds. Once the market realizes the economy is in trouble and can't withstand higher rates, I believe you're going to see a lot more buying activity in safer investments like utility stocks (XLU), and safe-haven assets like gold.
Gold continues to be deeply undervalued compared to stocks in my opinion. The Dow to Gold ratio shows us this, as it takes 20 ounces of gold to buy one share of the Dow. During the top of stock bull markets, the ratio goes higher than 20X.
The ratio has seen a low of 1.29 ounces in 1980, but a more normal level is around 10-15X, meaning gold would trade between $1,600-$2,400 with the DOW at 24,000. You'll see below, the ratio peaked at 42 in late-1999 during the dot-com bubble.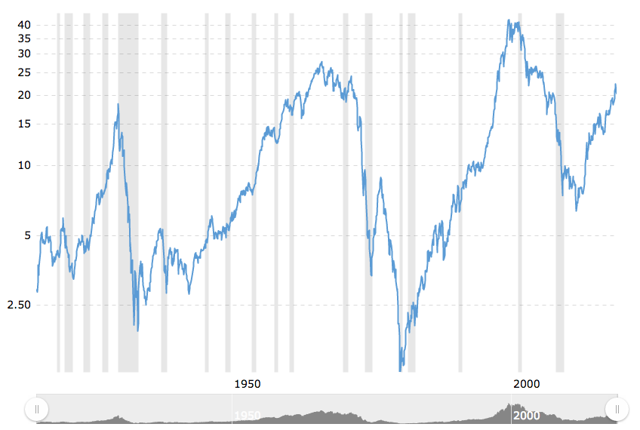 (Credit: MacroTrends)
I also want to point that while investor sentiment is low, we are seeing a surge in buying in the SPDR Gold ETF (GLD) lately, which is the largest investment vehicle for physical gold.
CNBC reported that GLD has brought in $600 million in assets over the past month alone, which could be a sign that investor interest in gold is rising and could rise further in 2019.
Central bank demand also remains very strong, as reported by Money Metals Exchange.
Here's a look at the top news in the gold mining sector for November (listed in no particular order). Subscribers of my marketplace service received early access to this article and more detailed analysis.
10. Red Eagle Mining Defaults on Debt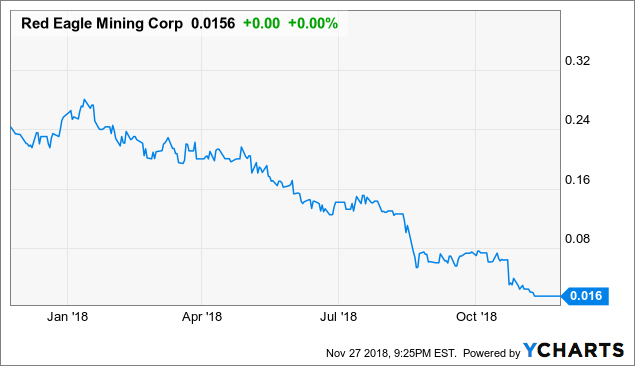 Colombia-focused gold explorer Red Eagle Mining Corp. has defaulted on its debt after the company failed to raise the necessary funds to meet its lender's demands. The website for the company is down or not functioning, and it appears all is lost for shareholders.
Back in 2015, I argued that Red Eagle Mining carried too much risk to make the stock worth an investment, and that the company needed $1,500/oz gold prices to make it worth investing in based on the economics of its project.
My main issue was that the company took on too much debt, and at unfavorable rates, to finance a risky project. A pat on the back for this pick.
9. Kirkland Lake Gold Raises Production Guidance for Fosterville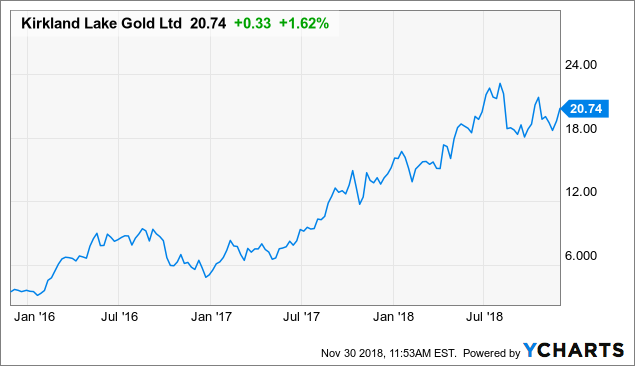 Kirkland Lake Gold (KL) recently announced positive news that sends shares soaring higher.
On Friday, Nov. 30, Kirkland Lake announced that it has increased its annual production guidance for the Fosterville mine, with gold output expected to exceed 330,000 ounces compared to guidance of 300,000-310,000 ounces. Gold grades have averaged a ridiculously-high 35.0 g/t this quarter.
The stronger performance is attributed to higher than expected grades and the advancement of two additional stopes in the high-grade Swan Zone, the company says. Full-year total production will also now exceed the target range of 655,000 - 670,000 ounces.
8. El Dorado Releases Updated Reserves, Shares Tank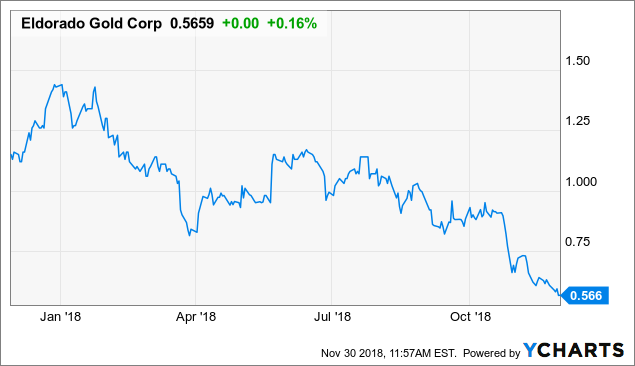 El Dorado Gold (EGO) just cannot catch a break. Shares may have looked like a bargain at $1.00, but keep falling and now sit at $.566.
On Nov. 26, the company reported an updated reserve and resource statement. The company reported total gold reserves of 16.9 million ounces at 1.35 g/t, which represents a decline of 390,000 ounces from the previous year.
More importantly, El Dorado Gold apparently wants $877 million in payments from Greece for damages it says it has suffered from delays in the issuance of permits for the Skouries project. The project was suspended last November and the delay has been dragged on for years. I highly doubt Greece will end up paying the company anywhere near that sum.
7. Sandstorm Gold Announces Unprecedented Share Buyback Program
Sandstorm Gold (SAND) really surprised me this month when it announced that its board has approved a share buyback program of up to 18.3 million shares. This is unprecedented news because no other royalty or streaming company has bought back its shares (as far as I'm aware). I'm especially surprised because Sandstorm is not a huge company, with a market cap of approximately C$1 billion.
The timing of purchases will be determined by Sandstorm. Ideally, the company will buy its shares when the stock price is down and not up. It can wait for a dip in gold prices and its stock to make larger purchases.
Share buybacks make sense only when a company's stock is undervalued, which is currently the case with Sandstorm. It introduces a big new buyer of shares into the market, reduces the company's share count, and boosts the company's key financial ratios (cash flow per share and net income per share).
This shareholder-friendly announcement has been well received by shareholders, as Sandstorm's stock rose by 5% on the news.
6. Yamana Ramps Up Production at Cerro Moro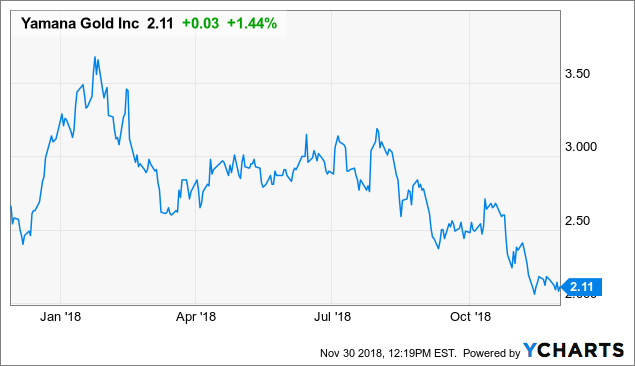 Yamana Gold (AUY) reported a solid quarter recently and continues to ramp up production at its flagship gold-silver Cerro Moro mine.
According to the company, commercial production was declared in June and Cerro Morro had its first full quarter of commercial production in Q3 2018, producing 38,083 ounces of gold and 1.656 million ounces of silver.
This is also good news for Sandstorm Gold, which is set to receive 20% of the silver produced at the mine, up to 1.2 million ounces per year, until 7 million ounces have been delivered (falling to 9% of the silver produced thereafter), at 30% of the spot price of silver. The stream commences in Q1 2019.
5. Wheaton Precious Metals Reports Lackluster Results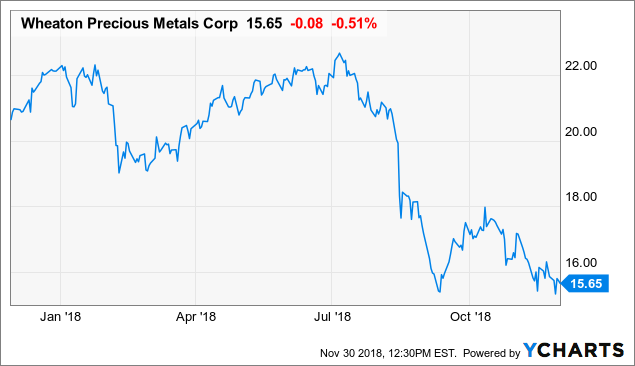 Wheaton Precious Metals (WPM) had a poor quarterly earnings and I believe more downside could be coming for the stock, as I recently explained in coverage.
Operating cash flow was $108 million in Q3 or $0.24 per share, down from $129 million or $0.29 per share, reported in Q3 2017. This also resulted in a cut to its quarterly dividend to $.09 per share, as Wheaton's dividend is linked to its operating cash flow.
I believe Wheaton's poor operating performance, combined with its ongoing tax dispute with the Canadian Revenue Agency, will likely continue to weigh on its shares in the near future.
4. Corvus Gold Releases Strong PEA Study for North Bullfrog and Mother Lode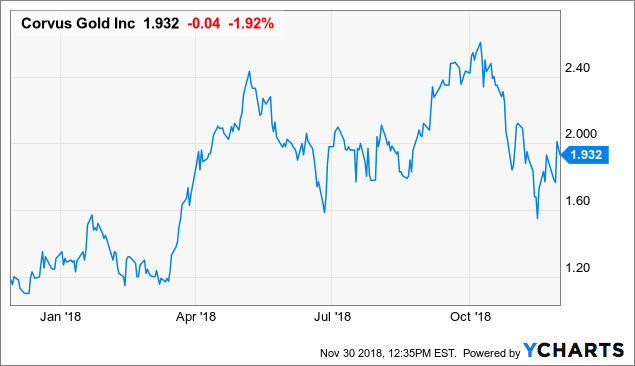 Junior gold miner Corvus Gold (OTCQX:CORVF) announced the results of a new preliminary economic assessment report for the North Bullfrog and Mother Lode deposits in Nevada.
The report outlines favorable economics, including estimated pre-tax cash flow of $970 million, and a post-tax value of $586 million (5% discount), compared to initial capex of $424 million.
Corvus was a big win for the Gold Bull Portfolio, as I sold out of my remaining position with gains of 300%+.
3. IAMGOLD Updates Feasibility Study for Cote Gold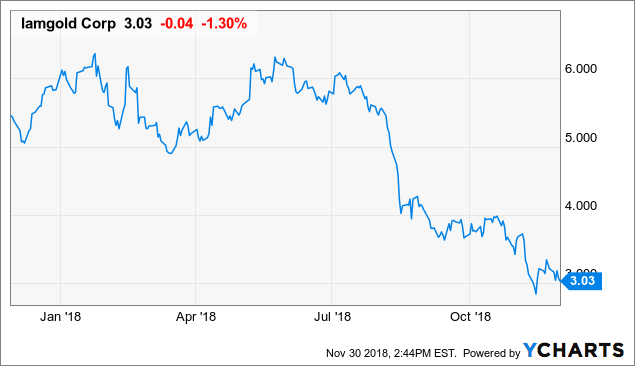 Earlier this month, IAMGOLD (NYSE:IAG) reported on the results of an updated feasibility study for its Cote gold project in Canada. The results are based on a 7.3 million ounce reserve base.
The results saw slight improvements from the pre-feasibility study. Post-tax value rose by $92 million to $795 million, using $1,250 gold prices. Life of mine all-in sustaining costs are just below $700/oz.
Initial capital expenses do remain very high, however, topping $1.1 billion. The economics of the study improve under a new extended mine plan, which would add an additional $110 million in value with initial capital remaining the same.
IAMGOLD previously sold a 30% interest in Cote to Sumitomo Mining for $195 million and could look to sell an additional interest.
2. Hudbay Minerals to Buy Mason Resources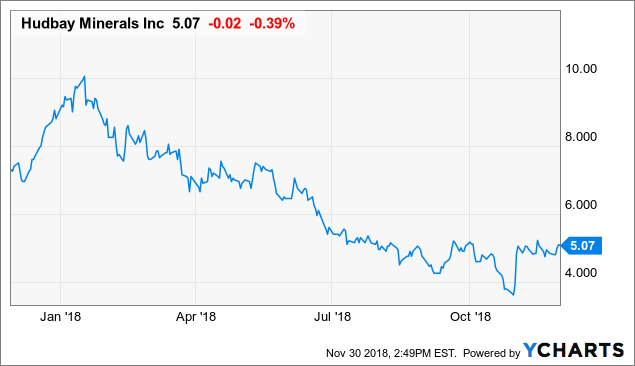 Hudbay Minerals (HBM) announced it will acquire copper explorer Mason Resources in a deal valued at $31 million. Hudbay already owned 14% in Mason, so the total cash consideration is worth $15 million.
Mason is the 100% owner of the Ann Mason deposit located in the Yerington District of Nevada, which contains a large copper and gold resource base. Results of a PEA study highlight a 21-year mine life with 5.1 billion pounds of copper production at $1.57/lb all-in costs, but also a significant upfront investment of $1.35 billion.
Sandstorm shareholders should also be pleased by this news, as the company owns a .40% NSR on Ann Mason, which was acquired as part of its streaming deal with Entree Resources (EGI). Mason is a tiny company that likely wouldn't have been able to raise the capital to develop Ann Mason much further, so getting the project in stronger hands is a major plus.
1. Pan American Silver to Buy Tahoe Resources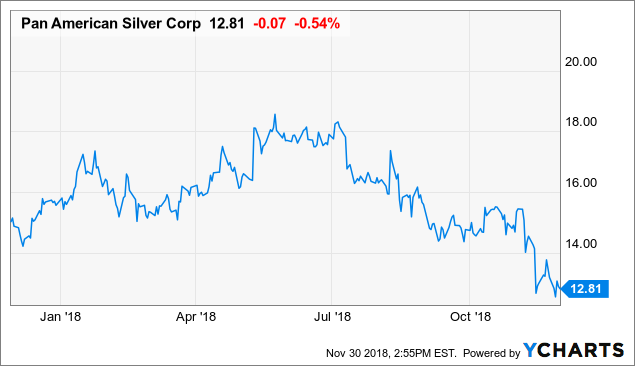 Pan American (PAAS) said on Nov. 14 that it has agreed to acquire Tahoe Resources (TAHO) for $1.07 billion to create a large, primary silver producer based in the Americas. The deal will see Pan American's silver reserves double to 576 million ounces.
I personally am not a fan of this deal at the moment, and the market seems to agree as Pan American shares have been falling since the deal was announced. Pan American is buying Tahoe when it is trading at a low valuation. However, I think adding a very troublesome mine in Escobal is a risky move for Pan American. Once it is back in operation, the new Pan American will see 22% of its revenues tied to the Guatemalan mine.
I'll take another look at the new Pan American Silver once the deal closes.
Please check back soon for more of my top gold stock picks for 2019 and other coverage.
What news did I miss this past month? Please let me know in the comments.
Disclosure: I am/we are long SAND, KL. I wrote this article myself, and it expresses my own opinions. I am not receiving compensation for it (other than from Seeking Alpha). I have no business relationship with any company whose stock is mentioned in this article.
Editor's Note: This article covers one or more microcap stocks. Please be aware of the risks associated with these stocks.