The Travails of the Consumer Staples Sector
In a year that has seen the broader market move sideways, the shares of major consumer staples producers have hardly distinguished themselves: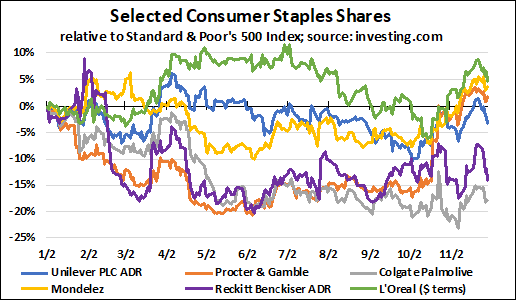 The economic challenge facing these companies is well-known: brands seem to be losing value, which results from various causes. Their markets are fragmenting on class, demographic and geographic lines. Retail channels - always difficult for these companies to manage or even influence - have only become more demanding at the same time that generic/own brand offerings have become ever more competitive. Small, nimble producers that are quick to market and can command the caché of (alleged) innovation cream off some of the most attractive margins. Local producers in developing economies are becoming increasingly effective competitors.
None of this is especially new, however, and at least some of the consumer staples giants - Unilever (UL, UN) among them - seem gradually to be adapting to these conditions. Adaptation is slow and seemingly halting - a simile involving glaciers, dinosaurs and egg-stealers or supertankers is more or less obligatory at this point - but anyone familiar with these companies and the environments in which they operate cannot be surprised by that. With the equity market trading at generous valuations and moving sideways all year, companies like these, which did not see their valuations rise significantly in the torrid markets preceding 2018, might ordinarily be expected to outperform, if only by a modest ten percentage points or so.
Granted, they are multi-nationals and their share prices have not benefited from the prejudice that such companies tend to suffer in periods of trade tension. This is a misperception: virtually no consumer staples are subject to tariffs because almost all of them are manufactured locally. The few exceptions are products exported across borders within a tariff union (e.g., the EU or NAFTA) or are specialized, high-value products whose customers can tolerate a tariff if they must. Even so, these companies are affected by economic conditions in end markets - thus, trade controversy affects them, but only indirectly and not to any great extent. Given the resilience of demand for their products in the face of all but the most drastic economic uncertainty, concerns that trade tensions will dampen their earnings are probably overdone. However, this controversy has affected the exchange rates of many developing economies, where some of these companies - especially Unilever - have a large presence.
While demand might not be affected, the translation of local earnings into the company's currency of account (in Unilever's case, the euro) certainly will be, and investors may have been spooked by some currencies' behavior earlier in the year. However, within Unilever's geographies, the effects have not been dramatic, and some of them reversed in Q3: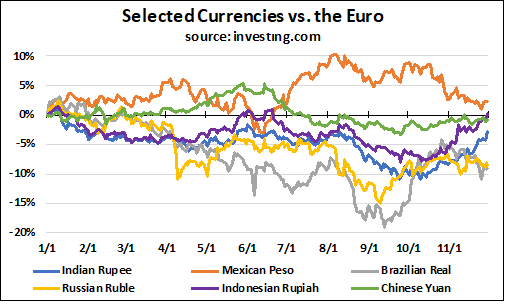 With the exception of L'Oreal (OTCPK:OTCPK:LRLCY), each of these companies has attracted investor activism or faced shareholder opposition to proposed acquisitions. This is not surprising given protracted underperformance and attempts to purchase supposed innovators at multiples well in excess of their own. In L'Oreal's case, activist objections to Nestlé's (OTCPK:OTCPK:NSRGY) 23.3% interest in it raised the possibility that it might be freed of Nestlé, accounting for L'Oreal's several months of good relative performance. In Unilever's case, it was pretty much "all of the above," as well as the company's mishandling of its attempt to change its capital structure and incorporate solely in the Netherlands.
Continuity amid Change at the Top
Although it was expected that Unilever's CEO would retire in 2019, the latter debacle precipitated his departure. The company announced on November 29 that he would be replaced by the current head of Beauty & Personal Care effective January 1. In choosing Alan Jope, Unilever returned to finding its leaders internally. His predecessor, Paul Polman, marked a departure from tradition, having spent twenty-seven years with Procter & Gamble (NYSE:PG), followed by a three-year stint as CFO and CEO of Nestlé Americas. Some commentators (e.g., here and here) take Jope's current assignment and his histories with China and online marketing as significant for Unilever's future direction. But it has always been Unilever's practice to give its promising executives wide experience within its many and varied operations - Jope is by no means a Beauty & Personal Care lifer. What his appointment does clearly signal is a desire to return to the company's traditions, including the appointment of a marketer rather than a finance person as CEO.
With the sale of spreads, Beauty & Personal Care is Unilever's largest division at 41% of nine-month sales. Yet, an indication that, even under Jope it is unlikely to come to dominate Unilever is its apparent willingness to bid aggressively for GlaxoSmithKline's (NYSE:GSK) Horlicks malted milk business. At the same time, the deal may involve a departure for Unilever: it seems as though it will buy the business directly rather than through Hindustan Unilever, in which it holds a 51.6% interest. This may simply be because of the deal's size - Horlicks could cost as much as $3 billion - and the fact that, although India accounts for most of its business and growth, it does operate elsewhere. But it may also suggest that, traditionalist or not, Unilever has tired of the post-colonial legacy that forced it to divest large stakes in its important Indian, Indonesian and Nigerian operations.
It was predictable that the new CEO would be a Briton - sourcing alternately from the UK and the Netherlands is also a Unilever tradition. But given the failed capital restructuring, the Board probably deemed the choice of a Briton as essential, not only for company morale but as a necessary sop to the UK institutions that scuppered the capital restructuring. Jope is familiar to Unilever's institutional shareholder base, having made numerous presentations to them, and is said to be well-liked within the company. He is probably regarded as a "safe pair of hands" by the Board, staff and at least the British minority of Unilever's investors.
Investors may wonder whether a "safe pair of hands" is what Unilever - and they - really need. Granted, the period since February 2017 has been somewhat traumatic for the company, but responsibility for only a part of this can be blamed on the departing CEO. He was brought in from Nestlé in 2009 precisely to bring fresh perspective to a company that many have seen as lumbering, navel-gazing and overstaffed.
Arguably, Unilever still very much needs new ideas at the top - perhaps not all of those of Mr. Polman, whose eco-preachiness had become tiresome, but a leader who can accelerate the company's adaptation to a competitive landscape that has permanently changed. Cozying up to staff and making nice to a minority of shareholders that, purely from its own self-interest, destroyed a major and potentially very far-reaching project of reorganization, are unlikely to be priorities from the majority of shareholders' perspective.
It should be noted that the proposal did not merely involve unification of headquarters functions in Rotterdam, but the unification of the share registry and of control over the many subsidiaries that PLC and NV share between them. It would have allowed less cumbersome use of Unilever shares as an acquisition currency, reduced costs and taxes and resulted in more liquid shares. Based purely on the shares' price action (see chart below), it appears that the majority of those who follow Unilever favored, or at least could tolerate, the proposed reorganization: shares rose on the announcement of the decision and fell on its retraction. Alan Jope's career history does not suggest that he is a hidebound Unilever-ite, but whether he can accelerate the pace of change remains to be seen.
Directionless
For US investors, Unilever has offered a poor risk/return bargain this year. Its U.S. PLC ADRs have underperformed the Standard & Poor's 500 Index by 3.4 percentage points year to date, yet their annualized standard deviation has exceeded the Index's by 2.6. US investors primarily trade the PLC rather than the NV ADRs, but arbitrageurs ensure that their local currency returns (excluding dividends) are virtually the same regardless of which vehicle they employ. The picture is rather different for Unilever's European investors. Unilever PLC has outperformed the FTSE 100 Index by 13.6 percentage points, while exhibiting 5.0 percentage points higher volatility, while Unilever NV has outperformed the AEX Index by 10.1 percentage points, but with 7.4 percentage points more standard deviation.
These figures tell a couple of stories. One of them is that sterling has lost 5.6% of its value relative to the dollar year to date, while the euro has lost 5.8%. Although these currencies tracked each other pretty closely, sterling was more volatile in the first half of the year: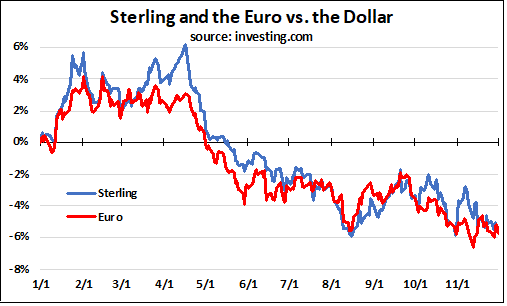 The other is the weak performance exhibited by the indices European investors are likely to use as comparators: the FTSE 100 is down 8.7%, and the AEX by 4.7% year to date. European markets have struggled to remain above water this year, and barring a massive increase in US investor interest in Unilever, Europeans' sentiment will continue overwhelmingly to dictate its price.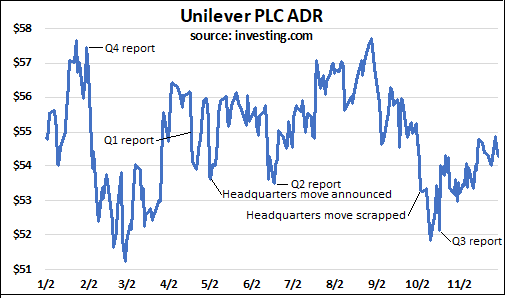 Unilever shares have performed reasonably well since the market absorbed the implications of its failed restructuring, helped by a fairly strong third-quarter trading statement (the company releases full financials only at the half year and annual stage). That statement implied that it has been able to gain some pricing leverage over its distribution channels, and that its strategy of expanding its offering of products that can command a price premium is succeeding. However, Unilever's history of false dawns on this front suggest that investors use caution: a report on revenues that does not discuss earnings gives few clues as to the cost at which the sales increases were purchased. It would be risky to chase the shares upward from current prices, although news on the China trade front over the weekend may extend the current rally. I am inclined to be neutral on the shares on a three-month view.
Disclosure: I am/we are long UL.
I wrote this article myself, and it expresses my own opinions. I am not receiving compensation for it (other than from Seeking Alpha). I have no business relationship with any company whose stock is mentioned in this article.