Midstream Snowmaking Underway
Midstream traded up this week but underperformed the best week for the S&P 500 in years. Of the three main buckets of North American midstream, U.S. midstream corporations performed best, MLPs worst. Midstream also underperformed utilities. Midstream didn't outperform much of anything, outside of oil and NGL prices. Powell's not hawkish comments on Wednesday sparked a broad market rally and a decline in interest rates.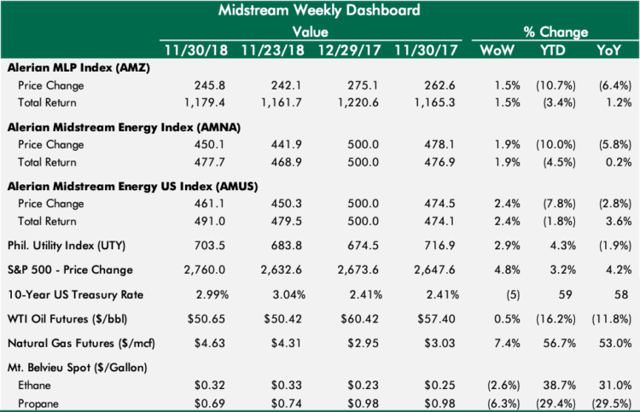 In addition to news of a potentially more accommodating Fed on Wednesday, other positive macro signals are emerging, including Russian openness to participating in a production cut with OPEC and positive rhetoric on potential de-escalation of trade war with China following President Trump's meeting with China's leadership over the weekend. In energy news, Canadian oil prices and differentials got a boost after Alberta stepped up to invest in rail transportation efforts.
Next week should be busy for energy and midstream. OPEC will meet late in the week, with chatter likely moving the market ahead of the meeting. The Wells Fargo conference in New York will provide another opportunity for midstream companies to get the word out on the strong fundamental backdrop and the progress they have made on improving their financial situations. Also next week, MPC will host its investor day, which will potentially provide some guidance on its go-forward plans for its multiple MLPs.
Trust the Dust Settling Process
After what seems like incessant snow globe shaking this year across midstream, with simplifications and rollups coming nearly every week (EQGP this week), some of the snow will settle in the coming weeks when the rollups of EEP and SEP close. WPZ, ETP, TEP, BWP buyouts (among others) have closed, but several remain pending (SEP, EEP, AM, ENLK, WES, EQGP, VLP, DM, TLP).
With the exception of the expected MPLX/ANDX combination or some future LNG/CQP combination, there are no meaningful simplifications left. There will soon be no more publicly-traded general partners. The universe of 8 such entities at the beginning of 2018 has all completed or announced simplifications (TEGP, AROC, AHGP, ETE, AMGP, ENLC, WGP, EQGP). This is remarkable clean-up progress looking back now, even if during the process it felt very slow.
As these pending deals close, the universe and the passive money that chases that universe should see technical trading spurts around re-balances, potentially offering opportunities in other stocks that are not the focus of technical buying. In any event, midstream should continue to be very dynamic as the snow settles and a new universe comes into view…
Snowmaking Season
A huge positive of living in the Philadelphia suburbs is proximity to ski slopes in the winter. There are many mountains in the U.S. with better skiing than the Poconos, but for my kids (3 under 12) and my annual travel budget (undisclosed), a 90-minute drive in the family truckster is hard to beat. We ski as much as we can in the winter and have season passes to a mountain nearby. So far, we've had no major injuries, and everyone seems to enjoy it (when temps are above 15 degrees, at least).
This is the first weekend our mountain will be opened this year. The storm a few weeks ago created just enough snow to build a base and then they use snowmaking machines from there. There were 3 trails open this weekend, out of 20+ at full capacity.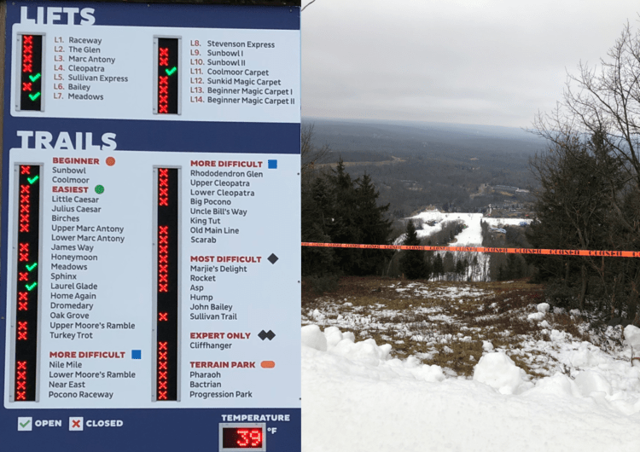 Because my family is all-in for the season, we're eager to kick things off and we'll probably go a few times before the mountain is 100% operational. We're the die-hard crowd. It won't be the best ski conditions in mid-December, but we can get comfortable, get back into the groove and look forward to post-Christmas when the mountain is covered in snow and all the trails are open.
Those of us who care about midstream and who have a positive outlook on the sector are like the die-hard ski bums. We're there for opening day when no one else is. We've passed through 3Q ex-date season and probably the bulk of tax-loss season, and we're into snowmaking season. We know eventually the conditions across the sector will be too good to ignore and by MLK weekend, there should be crowds flocking, just not yet…
Still Here
Finally, while one energy hedge fund in Dallas closed up shop this week, citing "truly bizarre stock action in the energy sector" (Bloomberg), we remain engaged, pumping out our weekly review of the action in the midstream sector, which has also seemed "bizarre" at times this year…
Status Update: November
This Friday marked the end of another month. November was slightly negative for the MLP Index, its third negative month in a row. If December is flat, this quarter would rank ninth worst of all time and not even the worst quarter of this year. If December is flat, the full year total return would be negative for a second straight year, which has only happened once before (1998 and 1999).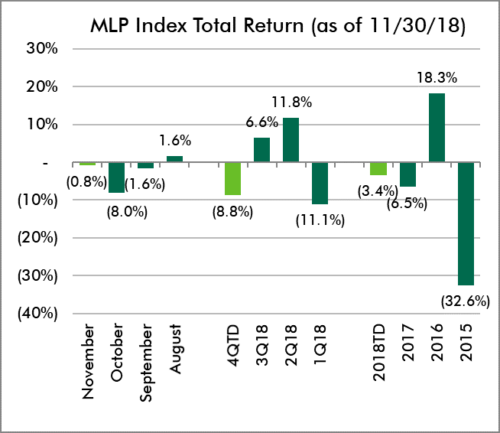 Looking ahead, MLP Index average return for December is positive over the last 22 years, and December's average return is 250 basis points higher than November. Each of the last two years, December has produced 4%+ return for the MLP Index.
AMNA finished November slightly positive, breaking a streak of 3 straight negative months. AMNA has outperformed the MLP Index for two consecutive months, which has the AMNA ahead of the MLP Index by 250 basis points this quarter. AMNA still trails the MLP Index for the year overall.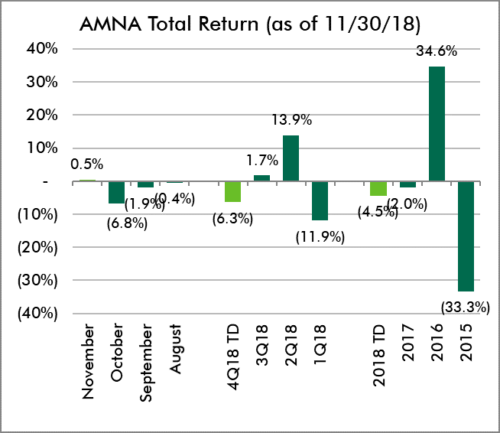 Winners & Losers
TLP was the biggest MLP winner this week, following the cash buy-out agreement announcement on Monday. PAA was the second-best performer, perhaps on some oil relief, but also probably the result of New York marketing meetings this week that led to sell-side analyst chatter, and building buzz on the Capline reversal potential. HMLP was up on 3Q results announced this week. USAC and DKL were just up. On the downside, lots of more obscure MLPs in the bottom 5 this week. NBLX continues to trade poorly after the initial post-election bounce.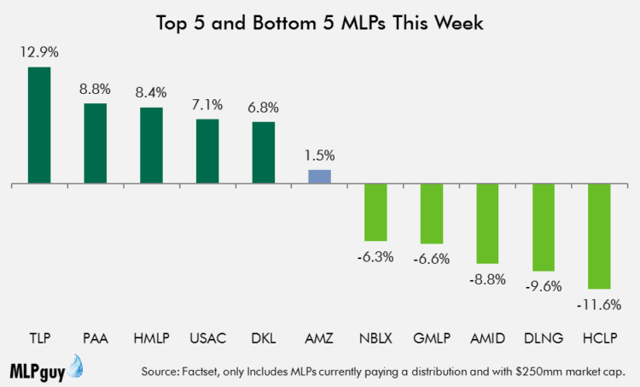 HCLP and DLNG repeated in the bottom 5 this week, no repeats in the top 5. On the YTD leaderboard, as we enter the home stretch of the year, there is still some movement. CQP climbed into the second spot, while HCLP joined the bottom 5 after a few bad weeks.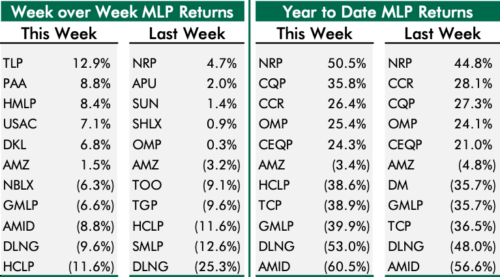 Midstream Corporations & General Partners
This group outperformed MLPs and Canada this week, up 3.4% median. The last un-simplified pure-play general partner, EQGP, was up 25% this week, including 17.5% on Friday after the big simplification announcement. ETRN was up earlier in the week, and it finished in the top 5 as well, despite falling sharply Friday. PAGP, LNG, and AMGP rounded out the top 5 this week. Only 2 in the group were negative this week, with ALTM as the standout loser again this week.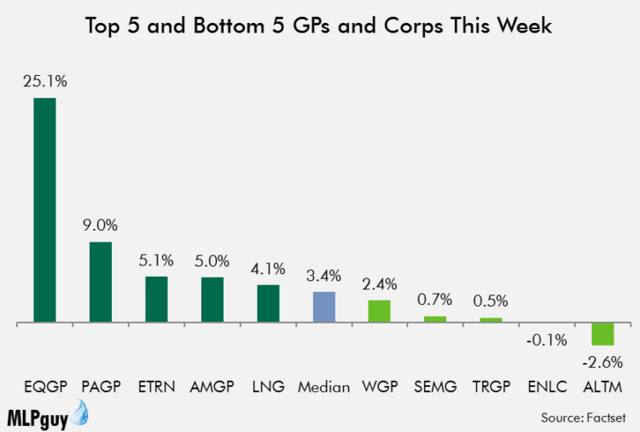 ETRN and EQGP repeated in the top 5, AMGP and LNG bounced back from last week. On the YTD leaderboard, OKE is still in the lead, but LNG closed the gap. PAGP leapfrogged TRGP into the 3rd spot. EQGP made a huge jump from 2nd to last up to 4th to last, with SEMG holding on to the bottom spot.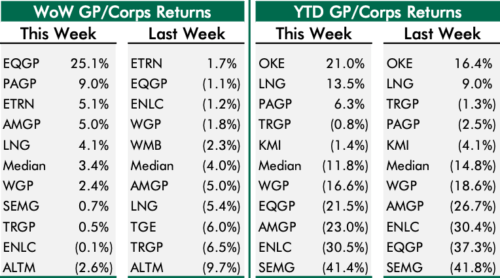 Canadian Midstream Corporations
Canadian price action was more subdued (as usual), with a tight range of performance across the group. Pembina and TRP led the way, while IPL was the standout loser in the group.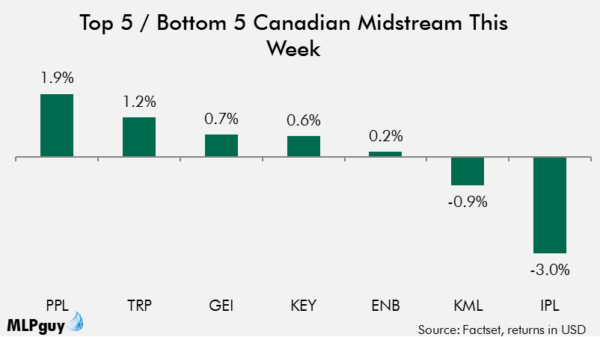 IPL repeated near the bottom of the group and TRP repeated close to the top of the group, continuing to have positive momentum coming out of its analyst day a few weeks ago. On the YTD leaderboard, just one stock is positive, followed by small negative from Pembina, then the rest of the group down double-digits.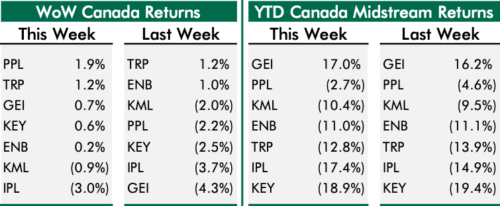 News of the (Midstream) Week
Midstream clean-up continued this week with two roll-up agreements edging closer to completion (TLP and DM) and another IDR simplification that eliminates the last pure-play GP standing (EQGP). In addition, news outlets are chattering on a few packages of midstream assets for sale.

Capital Markets
Growth Projects/M&A
Other
This article was written by
I serve as Portfolio Manager on the Listed Infrastructure Team at CBRE Clarion Securities, a global asset management firm based in Radnor, PA. My primary focus is on investing in Midstream companies, including Master Limited Partnerships (MLPs), as well as transportation companies (rails, airports) for larger infrastructure investment team.