Though Workday (WDAY) suffered alongside the majority of the SaaS sector during a volatile October and November, it seems that the worst is behind it. The leading HCM company posted yet another beat-and-raise quarter, with a re-acceleration in growth thanks in large part to Workday's well-placed acquisition of Adaptive Insights, a planning software company that competes directly against recent IPO Anaplan (PLAN).
In managing to lift its growth above 30% y/y again, Workday has proven yet again that just because it's king of the hill in the HCM space doesn't mean it has no growth opportunities left. True, HCM is a heavily competitive field now, and new, greenfield sales opportunities for Workday are largely limited - but the company has shown a surprising agility at pivoting into new products at just the right time.
Workday's investment into financials software is now proving to be an incredibly smart move. Workday's CEO called out that this quarter's Financials subscription revenue grew more than 50% y/y, far faster than total top-line growth. The addition of planning tools that can be used by executives and FP&A (financial planning and analysis) teams alike through Adaptive Insights is another natural extension of the Workday Financials brand, not to mention a huge cross-selling opportunity into Adaptive Insights' installed base. Yes, Workday is large, but it's not slowing down.
In recognition of a brightened growth outlook for the company, Workday also lifted its full-year outlook for subscription revenues to 33% y/y growth to $2.375-$2.377 billion in revenues. It's important to note that Workday is about 10x the size of some recent IPOs that are showing a similar growth rate. Though Workday, along with Salesforce.com (NYSE:CRM), constitute the "blue chip" of the cloud software sector, it's still exhibiting startup-like growth thanks to its innovation in new product categories.
Naturally, investors took Kindly to this quarter's beat and guidance lift. Shares of Workday rose nearly 10% in after-hours trading after announcing Q3 results, helping to reverse virtually all the decline that Workday suffered over the past two months.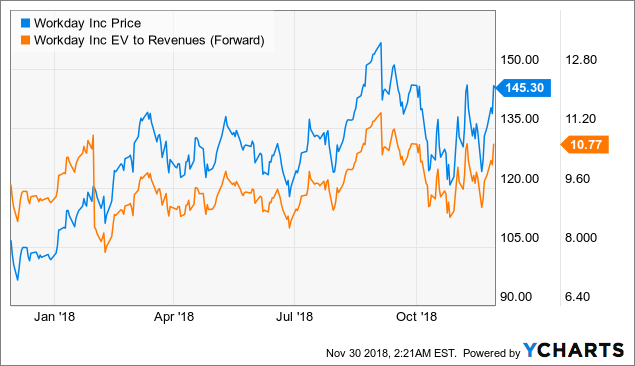 Can Workday keep rallying? In my view, Workday is a stock for the long haul, a viewpoint I expressed last quarter. Yes, it's true that the company carries a rich valuation, and especially after the recent sector-wide pullback, there are far cheaper names to invest in. However, Workday has become a cornerstone of two giant categories of cloud software: HCM and Financials. It keeps finding ways to extend its considerable brand into new categories, and like Salesforce, Workday is one of the companies that can continue at a 20-30% y/y growth clip for the foreseeable future. In short, Workday's premium valuation is a well-deserved one (and notice from the chart above that it has consistently traded at a double-digit revenue valuation, and it's currently not far from its year-to-date average).
Workday is also immensely profitable - unlike some fast-growing tech titans like Snap (SNAP) that continue to show hemorrhaging losses. Folding in Adaptive Insights' loss profile into Workday's financials may impact near-term margins and cash flow, but over the long haul, Workday has also consistently generated strong free cash flows and margins. Workday's relatively strong financial position - and clear path to breakeven GAAP profits - should also give investors comfort during volatile times when loss-leading, high-risk tech stocks are being shunned.
Stay long on Workday - this rebound will turn into a full-blown rally in 2019.
Q3 download
Here's a glance at Workday's third-quarter results:
Figure 1. Workday 3Q18 results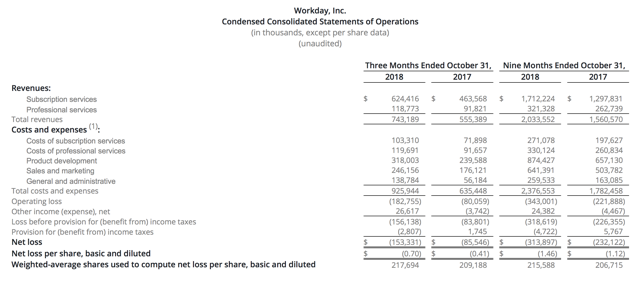 Source: Workday investor relations
Revenues grew 34% y/y to $743.2 million, far surpassing Wall Street's expectations of $723.0 million (+30% y/y) by a wide four-point margin. Workday's CFO, Robynne Cisco, also quantified the portion of the outperformance that traced back to Adaptive Insights on the Q3 earnings call:
"Our Q3 subscription revenue was $624 million, up 35% year-over-year. Approximately $4 million of the over-performance is attributable to the finalization of the deferred revenue haircut related to the Adaptive Insights acquisition. The remaining upside was driven by very strong performance across our product suite."
Regardless, it's fairly clear that it's not just Adaptive Insights alone contributing to the huge beat. The company generates quarterly revenues in the mid-$30 million range, which in its entirety accounts for only five points of growth for Workday. Wall Street was already expecting Adaptive Insight's revenues to be folded in, so a good portion of the beat to consensus estimates must have been sourced organically.
The company also achieved strong international growth, which is key at a time when Workday is hitting a saturation point among its domestic clients. International revenues jumped 47% y/y and represented 23% of Workday's overall revenues. Alongside new product extensions, Workday's relatively low penetration in overseas markets also presents another important growth channel.
Workday also retained its best-in-class gross margins. Subscription gross margins clocked in at 83.5%, essentially flat to last year's 84.5% subscription gross margins, and impacted again by Adaptive Insights' contribution.
Though Workday's pro forma operating margins slipped 230bps to 6.7% (versus 9.0% in the year-ago quarter), Adaptive Insights presented a very much expected near-term headwind. Stronger-than-expected top line growth, however, still allowed Workday to churn out $), Adaptive Insights presented a very much expected near-term headwind. Stronger-than-expected top line growth, however, still allowed Workday to churn out $0.31 in pro forma EPS, more than double Wall Street's expectations of $0.14.
Early FY20 view suggests further strength
On the Q3 earnings call, CFO Robynne Cisco also gave investors an early peek at the company's expectations for the next fiscal year. Per Cisco's prepared remarks:
"While we are early in our FY 2020 planning cycle and still have an important Q4 to close, we would like to provide a preliminary and high level view of FY 2020. We remain confident in our ability to sustain strong long-term revenue growth, given the secular market trends towards cloud adoption and our established leadership position.

We are currently planning for FY 2020 subscription revenue of approximately $3.0 billion to $3.01 billion. We continue to expect pronounced and compounding seasonality towards Q4 with our Q1 being the seasonally slowest in terms of net new bookings."
The midpoint of this range would represent 26.5% y/y growth over this year's expected subscription revenues - again, a robust growth rate for a company that is at a $3 billion revenue scale.
It's also worth noting that Workday is expecting a 200 bps improvement in pro forma operating margins in FY20 relative to FY19. The company expects margin headwinds from Adaptive Insights to normalize in the tail end of the year.
Possible risks to the rally, and key takeaways
Workday's third-quarter results suggest full steam ahead. Even so, there are some cautions that investors should be wary of. The most pressing one at this juncture is fourth-quarter results: given the strength in Q3, it's likely that Workday might see a tapering off in the fourth quarter, especially as the company acknowledged that some deals originally expected to close in Q4 were instead pulled into Q3.
Analysts addressed this point directly on the Q&A portion of Workday's earnings call, and sales head Chano Fernandez acknowledged that there had indeed been a pull-in of demand. At the same time, however, he noted that "we're positive about the outlook" and that "we have similar levels of pipeline coverage as of last year," suggesting that Q4 may still be strong regardless.
The other major risk is Workday's profitability levels in FY20. Workday has often enjoyed a superior reputation relative to Salesforce thanks to its premium margin profile, but if the recovery from the Adaptive Insights acquisition takes longer than expected, and if Workday doesn't achieve the 200 bps operating margin improvement that it promised, the company could see its valuation compress down closer to Salesforce's. For years, Workday has maintained a two-turn premium or larger (see chart below), but this gap could close if Workday's profitability begins to turn sour.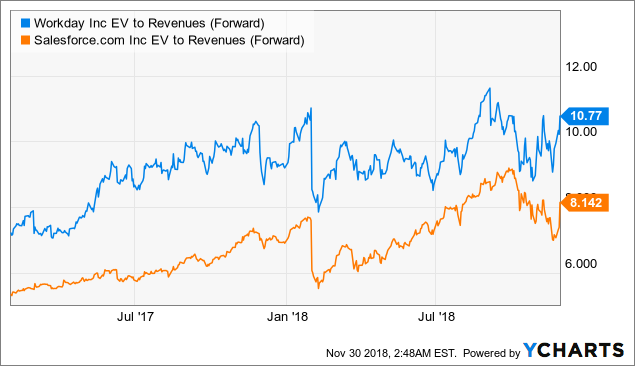 All in all, however, investors should be pleased with Workday's direction. It's executing well on the sales front, while keeping its product portfolio broad and positioning itself for growth overseas. There's no doubt that Workday still merits a long-term bullish position in any tech portfolio.
Disclosure: I am/we are long WDAY. I wrote this article myself, and it expresses my own opinions. I am not receiving compensation for it (other than from Seeking Alpha). I have no business relationship with any company whose stock is mentioned in this article.