While Best Buy's (BBY) recent quarter once again highlighted its strong execution, BBY is a classic example of a good company in a bad industry. With BBY operating in a low growth, product-dependent category with thin margins, expect inconsistency of results with the stock price trajectory depending heavily on the outcome of the upcoming holiday season. We remain on hold as we do see some derating in the stock as we believe (1) market sentiment in general and the retail sector in particular can be a dampener; (2) the company's lacklustre EPS growth is likely to persist and risks a derating; and (3) the company has generally traded in a 10x-15x PE range, and idiosyncratic factors are yet to justify a higher-than-the-range multiple.
Healthy comps
Best Buy's results for the quarter were driven by steady comparable sales rates (comps) and the current challenges on the margin front may soon be a thing of the past due to efficiency drives in place. Also, a higher guidance and the company's ability to top its own guidance (as displayed historically) makes us optimistic. On the flip side, lacklustre growth in the bottom-line can act as a dampener to the stock's performance in near future.
BBY declared adjusted EPS of $0.93 compared to the Street estimate of $0.85. The beat can be explained by the lower tax rate, with domestic comps playing a big part. Higher margins and lower than expected gross profit margin decline was slightly counteracted by SG&A deleverage.
As we can observe below, the company has, in the recent few quarters always guided on the conservative side, and has managed to beat both its own guidance and bullish analyst expectations (vis-à-vis company guidance). We do not see any reason why that should not repeat in future.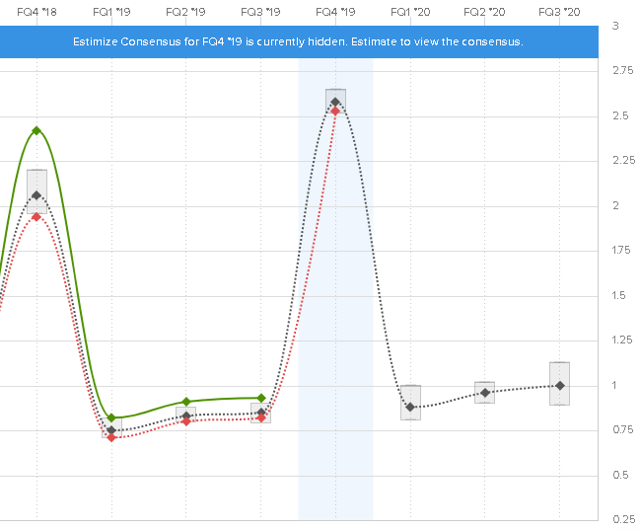 Source: Estimize
The company witnessed growth in same store sales of 4.3%, beating the consensus of 3.4%. On the domestic front, the important drivers were mobile, gaming, appliances, wearables, headphones, and smart home. In this quarter the outperformance is the result of a number of product cycles that are working in its favour.
Mobiles drove the results, TV and tablets show lacklustre performance
If we go into the details, it can be observed that mobile sales pushed same store sales in 3Q so much that it took care of 4Q sales as well. The games division has always been strong. Mobile, wearables, and smart home exhibited very intense and consistent growth as expected. In contrast, demand for TV has been medium and tablet demand is on the downside for the second consecutive quarter due to less promotions on the company's part. With all these the factors the company is still of the opinion that there would be flat to 3% comps in 4Q. Since 2Q17 the company has experienced 5%+ same store sales growth.
Holiday season will add to traction
Further analysis points out that BBY gains in sales was roughly flat in this quarter. Few store closures of competitors like Sears Holdings (OTCPK:SHLDQ) and Bed Bath and Beyond (BBBY) will further help the sale of large and small appliances go up in the forthcoming quarter.
The surge in the ASP of products decreased the per unit volume but this gain in the market share will offset the decrease in the future. The gaming division's sales is mainly holiday-oriented and is comprised of console and accessories (headsets and controllers) sales. We believe that the sales of these products will be pulled by a set of key titles like Fortnite, Red Dead, etc. Though Switch consoles faced a down year last year, the division will continue to perform well now. BBY has modest comp expectations in 4Q18 as BBY is expected to have strong comps followed by the launch of the Nintendo Switch and iPhone X.
Comps steady, Best Buy 2020 to reap benefit in near future
BBY's enterprise level comparable sales growth (4.3% for 3Q18) was almost flat (10bps lower than the growth rate experienced by the firm in the same quarter last year). This is similar to that of the first half of the year backed by customer's response to their unique and outstanding business strategies. The company's "Best Buy 2020: Building the New Blue" program aims to explore various plans to improve growth opportunities and optimize cost, including focusing on areas like appliances, In-Home Advisor, health space, smart home and Total Tech Support and also the acquisition of GreatCall, a leading connected health services provider.
Online sales up, offsetting store closures
BBY reported a domestic revenue of $8.76 billion which increased 3.1% compared to last year, resulting in a comparable sales growth of 4.3% as well. However, this growth is slightly offset by the loss of revenue from 287 Best Buy Mobile and 19 large-format store closures over the past year.
Domestic revenue from online sales is $1.21 billion which increased 12.6% on a comparable basis. The contribution of online revenue to domestic revenue is 13.8% versus 12.7% last year, which was 110 basis points more.
Domestic gross profit rate performed slightly less i.e. by 30 basis points from last year due to higher supply chain costs, including both investments and higher transportation costs, and the national rollout of the Total Tech Support offer. Gross profit optimization initiatives led to high product margin which slightly neutralized this negative effect. We believe that the margin squeeze theme may be temporary.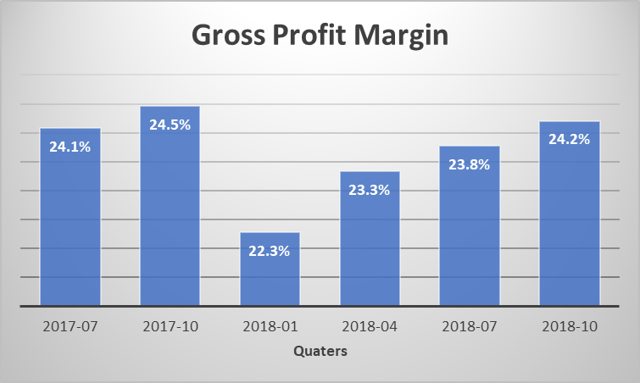 Source: Morningstar and BBY releases
On the basis of GAAP, SG&A expenses were $1.82 billion, or 20.8% of revenue, compared to $1.75 billion, or 20.6% of revenue, last year. On a non-GAAP basis, SG&A expenses were $1.81 billion, or 20.6% of revenue, compared to $1.75 billion, or 20.6% of revenue. The main reasons behind higher domestic selling, general and administrative expenses are specialty labour and depreciation expense, higher incentive compensation, operating expense of the newly acquired company, GreatCall, and increased revenue led high variable cost.
The international division attributed to $834 million to revenue, an increase of 0.6% compared to 2017. The primary reason being 3.7% comparable sales growth in both Canada and Mexico together with sales from six new large-format store in Mexico last year. The gross profit rate of 22.2% was flat compared to last year. The international SG&A decreased by 0.5% due to favourable impact of foreign exchange rates.
Derating is more systemic


Source: Seeking Alpha
BBY's PE has derated to c17x TTM earnings as compared to c25x four months earlier. We do see some further derating in the stock as we believe (1) market sentiment in general and the retail sector in particular can be a dampener; (2) the company's lacklustre EPS growth may enable derating; and (3) the company has generally traded in a 10x-15x PE range, and idiosyncratic factors are yet to justify a higher-than-the-range multiple. For now, we remain on hold.
Disclosure: I/we have no positions in any stocks mentioned, and no plans to initiate any positions within the next 72 hours. I wrote this article myself, and it expresses my own opinions. I am not receiving compensation for it (other than from Seeking Alpha). I have no business relationship with any company whose stock is mentioned in this article.
Editor's Note: This article covers one or more microcap stocks. Please be aware of the risks associated with these stocks.