In a market where most stocks are trying to hold their head above water after sharp pullbacks the past eight weeks, many of the REITs have managed to hold their own. Not only have these REITs been a store of value during the past two-month correction, many of them have put up a positive gain for the quarter. Four Corners Property Trust (FCPT) is one such company, and it's incredibly put up a nearly 8% return for the quarter in the midst of the market weakness. I have started a new position in the stock at $27.37 and may look to add to my position if it sets a new buy-point.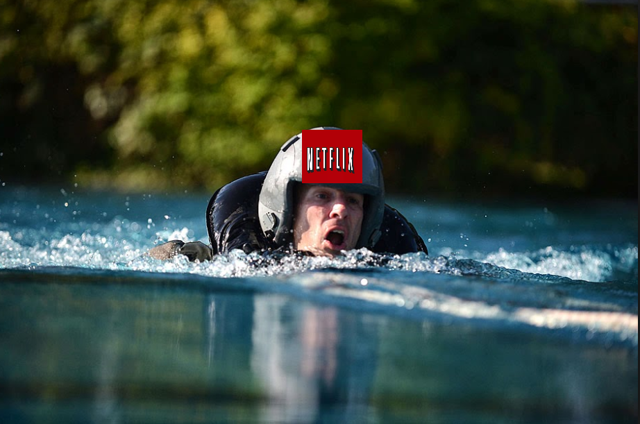 Four Corners Property Trust started as a spin-off from Darden Restaurants (DRI) over two years ago, and is a REIT primarily engaged in the ownership, acquisitions and leasing of restaurants. The company has grown its portfolio from just over 400 properties at the time of the spin-off, to just below 590 properties currently. Most impressive about this growth is the fact that the company has diversified away from strictly Darden Restaurants and has added several more brands to their portfolio. As we can see below, this growth has also seen the company add over $25 million in annual base rent in the process. The company's brand breakdown is now made up of several new names like Denny's (DENN), Starbucks (SBUX), Del Taco Restaurants (TACO), Chili's, and Panera Bread. Overall, I am very pleased with this diversification into some QSRs (quick-service restaurants), as this makes the company less reliant on its original brands of primarily Olive Garden, Texas Longhorn and Bahama Breeze.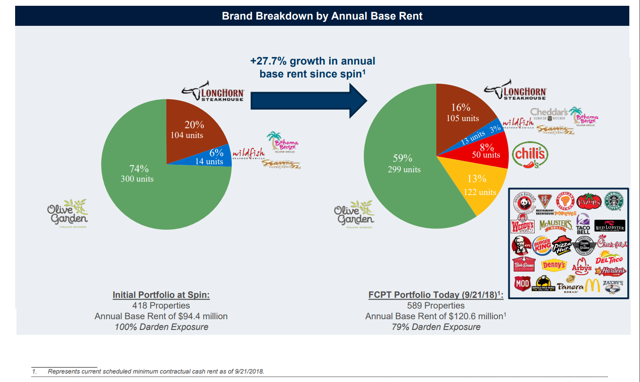 (Source: Company Presentation)
The company's more recent deals have included a dual-tenant Starbucks and Noodles & Company (NDLS) transaction, two Texas Roadhouse (TXRH) properties, Applebee's (DIN), Panera Bread and Sonic (SONC).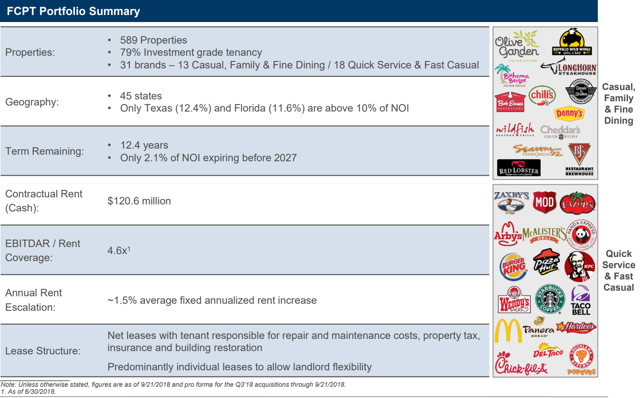 (Source: Company Presentation)
One of the benefits of being in the restaurant group is that they're much more Amazon-proof (AMZN) than other more traditional retailers. As we can see from the below chart, food and beverage retail groups are significantly more insulated to e-commerce presentation compared to other groups. While consumer electronics retail has seen penetration of nearly 50% and books and magazines in close second at over 30%, food and beverage retail has seen penetration of less than 1%. The emergence of new internet companies over the past few years has in fact helped many quick-service restaurants, with GrubHub (GRUB) actually making it easier for some restaurants to drive sales. This is definitely a plus to owning a restaurant REIT as they seem to have staying power in a world that is turning increasingly digital. We can see proof of this in Darden's same-store sales growth last quarter of 5.3%, and 3.1% across Olive Garden and Texas Longhorn.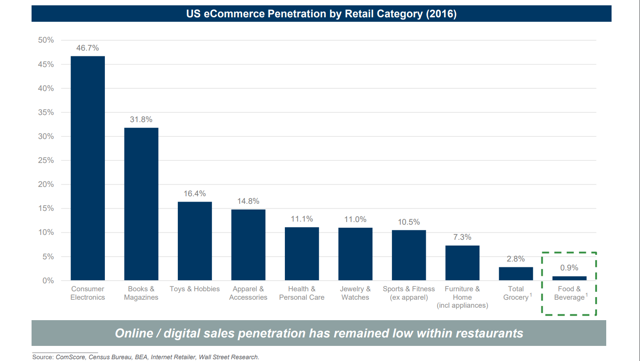 (Source: Company Presentation)
Digging into funds from operations and the company's numbers, we can see that the company is clearly doing something right based on their growth. The company has seen AFFO (adjusted funds from operations) grow from $1.21 to estimates for $1.47 in 2019, with high single-digit to low double-digit growth each year. The company has $27 million in cash, and full availability on its $250 million revolver and remains well capitalized.

(Source: YCharts.com, Author's Table)
So why buy now?
Taking a look at a long-term chart of Four Corners Property Trust, we can see that the stock is breaking out above its 1-year range that has been built between $21.00 to $26.00. It's impressive that the company is heading to new all-time highs well ahead of its sector (XLRE), and this is showing signs that the stock is likely a leader in the group. The fact that the stock is at all-time highs means that all shareholders are pleased as no one is at a loss, and there is no supply issues to chew through from shareholders that may want to sell due to being down on their position. The same is not true of many other REITs as many are still trading 10-15% below their all-time highs.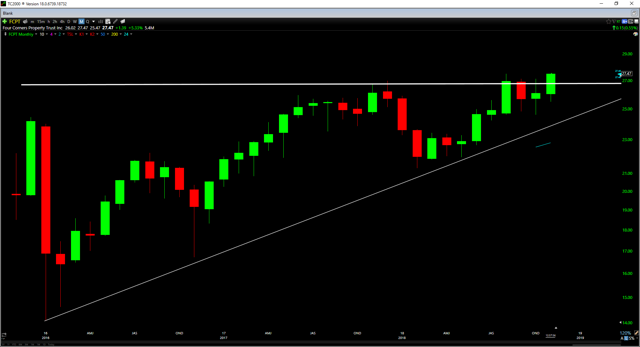 (Source: TC2000.com)
Looking at the monthly chart below of the Real Estate Sector, we can see that the ETF is trading in a large range but has been unable to make much real progress in terms of new highs. The fact that Four Corners Property Trust is marching to new highs ahead of the sector is giving an indication that it does not need the Real Estate Sector to perform for it to continue to perform. This is a great sign as it shows that it is uncorrelated.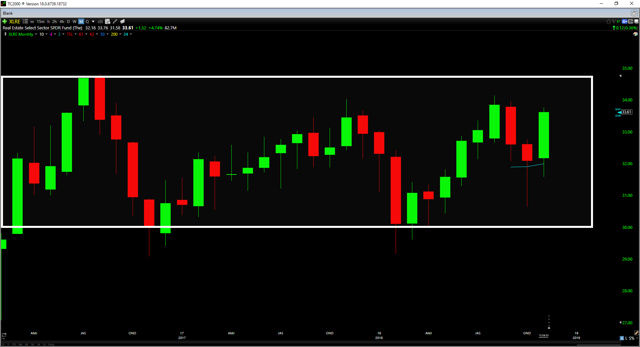 (Source: TC2000.com)
Moving to a more zoomed-in look at Four Corners Property Trust on the weekly chart, we cab see that it continues to make higher lows and higher highs since inception, but was having a tricky time getting through the $27.00 level. As of Thursday of this week, the stock looks to finally be gaining some traction above this level as it attempts to put in a new all-time high monthly close. This would trigger on a close above $26.94.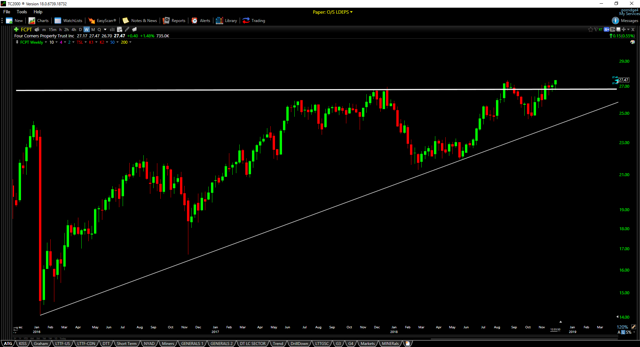 (Source: TC2000.com)
Finally, looking at the daily chart from a trend following perspective, there is certainly a lot to like. The stock is trading above a rising 200-day moving average (yellow line) and the 200-day moving average is attempting to start a new uptrend. This is the sign that the stock may be starting a new short-term uptrend here, and I would expect any dips of 4-5% to be bought if this is the case. The 50-day moving average (blue line) is also attempting to turn higher, which suggests the stock may be finally ready to leave the $25.00 - 27.00 level in the rear-view mirror.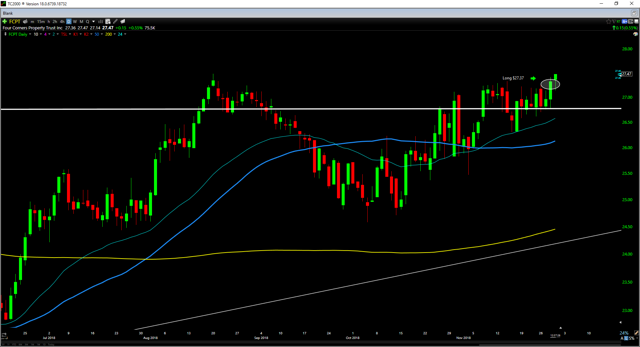 (Source: TC2000.com)
Based on the recent breakout, I have gone long the stock at an average price of $27.37. The stock pays a nice annual yield of over 4%, the board has shown that they are committed to increasing dividends as the quarterly yield has jumped from $0.24 in 2016 to close to $0.29 currently, and most importantly, the stock is trending higher. Not only does the stock stand a good chance of share price appreciation given that it's breaking out to new all-time highs, but shareholders are also being paid to wait if the stock decides to spend a little more time around this level before resuming higher.
Four Corners Property Trust is one of my favorite ideas in the REIT space, in addition to Essex Property Trust (ESS) where I disclosed a position a few months ago. I see Four Corners Property Trust as a buy at $27.45 or better, and believe that the stock can head to the $30 level by Q4 2019 if we can see a continued bid in the REIT space.
Disclosure: I am/we are long FCPT, ESS. I wrote this article myself, and it expresses my own opinions. I am not receiving compensation for it (other than from Seeking Alpha). I have no business relationship with any company whose stock is mentioned in this article.