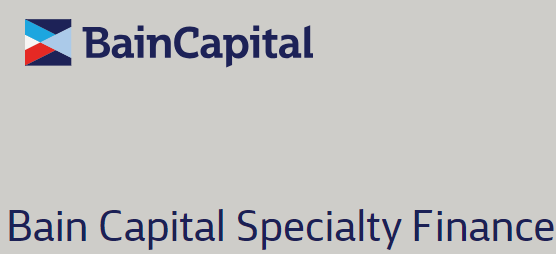 Williams Equity Research's work on Bain Capital Specialty Finance (BCSF) is a great example of our Institutional Income Plus market service's focus and unique value proposition. Leveraging my experience working for large financial services companies (>$100 billion in AUM) in multiple capacities, our service provides an institutional approach to income investing incorporating several silos one of which is Business Development Companies ("BDCs").
Working at a previous employer, I led the research on this investment opportunity when it was only available to a select group of institutional investors. Just as I do in my current role at a large publicly traded financial services firm, it gave me the invaluable opportunity to meet Bain's team and obtain a deep understanding of the potential upside and downside to the strategy.
Only market subscribers are able to take advantage of the full extent of this experience no one else on Seeking Alpha likely has. This is a shortened version of what was already provided to our marketplace subscribers and does not include specific entry and exit targets. Subscribers receive 2-3 real-time alerts and all supporting analysis per week on average.
To their credit, Bain committed to bringing the then private fund public in approximately three years (which would be 2018) when they pitched the idea to many firms like mine, pensions, endowments, as well as sovereign wealth funds. Sure enough, the BDC went public approximately two weeks ago.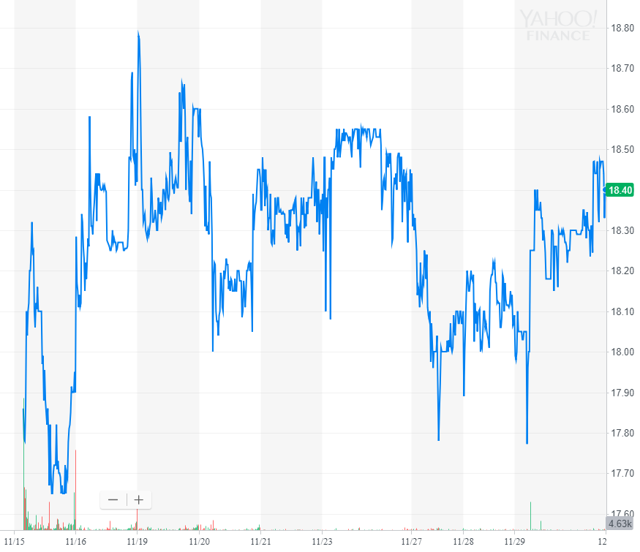 Source: Yahoo! Finance
There are zero articles on this BDC on Seeking Alpha to date. To BDC Buzz's credit, he's performed some analysis of the fund but only for his subscribers.
Background
The Fund's primary focus is capitalizing on opportunities within its Advisor's Senior Direct Lending Strategy, which seeks to provide risk-adjusted returns and current income to its stockholders by investing primarily in middle-market companies with between $10 million and $150 million in EBITDA.
Born as a blind-pool offering only available to institutional investors in 2015, Bain Capital Specialty Finance is now a publicly traded BDC with $1.56 billion in assets and a current market value (netting out debt and adjusting for the premium/discount to portfolio NAV) of approximately $930 million. With essentially zero coverage by the traditional investment community, including Seeking Alpha, it's completely off the radar to most investors including those active in the BDC and REIT sectors.
We are going to succinctly breakdown how the Fund has performed in the past, including distribution levels, the contents and quality of its asset pool, cost efficiency of its leverage, and project where its premium or discount to NAV will likely settle. This is derived not just from tediously going through SEC filings (Bain hasn't posted any investor presentations or fact sheets to its website so there is no help there either), but personal experience of working with Bain for several years. Many of these insights, however, are reserved for marketplace subscribers.
Bain Capital Specialty Finance - BCSF
Formed on October 5, 2015, Bain initially gathered capital from institutional investors globally with the objective of building a smaller BDC yet sufficiently large to obtain a favorable valuation from the public markets. Very small BDCs don't tend to trade well. Bain's first publicly traded entity, we presume they are cognizant of how much brand equity, not just financial capital, is invested in this fund. Per the Fund's latest 10-Q, Bain previously charged a 75 basis-point (0.75%) asset management fee and a 15% incentive fee above a 6% hurdle rate.
Per the same filings, Bain also waived a significant portion of its management and incentive fees to the benefit of investors. It's not uncommon to provide private capital, which faces blind pool risk (no existing assets to analyze), less transparency, and little to no interim liquidity, marginally more favorable terms than public investors. This case is no different with the now public entity charging a 1.5% management fee and a 17.5% incentive fee over the 6% hurdle.

Source: 10-Q
It's unknown if Bain will continue to support the fund through fee waivers but the practice is not uncommon in the early stages of a BDC's life when managed by a quality company.
Key Portfolio Statistics And Leverage
The Fund has $1.56 billion in total assets against $681 million in liabilities and a $930 million market cap. BCSF's asset coverage was 247% as of the end of the last quarter. BCSF, like many other BDCs, has significant potential to increase leverage toward the maintenance minimum coverage ratio of 150%. BCSF has significant capital on tap if needed.

Source: 10-Q
The combined weighted average interest rate for the first nine months of 2018 was 4.23%. This is acceptable but significantly higher than 2017's average weighted interest rate of only 3.40% as the 2018-I notes weren't applicable in prior periods. This is an area we'll continue to monitor closely as this new BDC finalizes its debt structure.
The portfolio NAV has been stable at $20.30 per share on December 31st, 2017 and $20.17 as of 9/30. Because this BDC was a blind pool and spent its first couple of years calling down capital and building the portfolio, the Fund's statistics prior to this are not overly useful.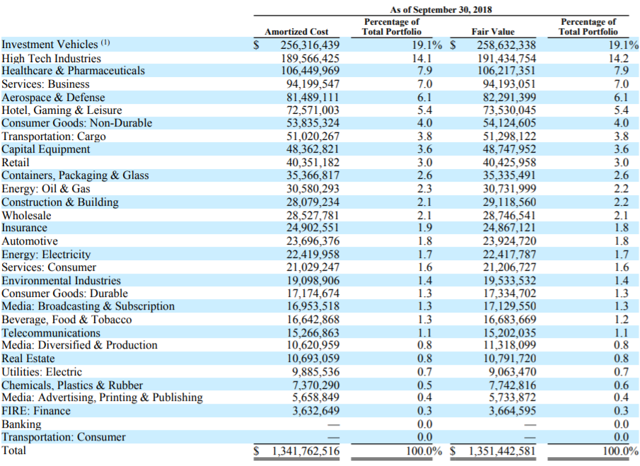 Diversification is strong across industries with only the "High Tech" segment above 7.9% of the portfolio. Energy exposure is among the lowest of the peer group at 2.3% (excluding electricity at 1.7%) which is another plus. We'll get to that first item "Investment Vehicles" momentarily.

At first glance, the portfolio consists of 73.0% senior secured first and second lien loans. For those unfamiliar with the second line item "First Lien Last Out Loans," it refers to loans that would otherwise be traditional first lien loans except that the loan has another tranche of first lien loans ahead of this issuance. It often occurs on asset-backed loans or when lenders issue a new loan on top of existing first lien loans but with different terms than previously.
As an example, a lender originally decides LIBOR+ 500 is appropriate but six months later, when asked to loan more cash to the portfolio company on the same terms, the lender decides to charge LIBOR+ 550 due to new interest rate expectations. These loans are better in quality than comparable mezzanine loans but are not necessarily the first paid in the event of a default. The other complicated variable here is "Investment Vehicles" totaling a substantial 19.1% of the portfolio. We need to dig into this to fully understand the portfolio so we consult the latest 10-Q:
We have entered into a limited liability company agreement with Antares Midco Inc. ("Antares") to invest in ABC Complete Financing Solution LLC, which makes investments through its subsidiary, Antares Bain Capital Complete Financing Solution LLC (together with ABC Complete Financing Solution LLC, "ABCS"). ABCS, an unconsolidated Delaware limited liability company, was formed on September 27, 2017 and commenced operations on November 29, 2017. ABCS' principal purpose is to make investments, primarily in senior secured unitranche loans.
ABCS is an affiliated entity identical in size to BCSF with $1.5 billion in assets. This entity has significant undrawn capital at its disposal so it will likely be using equity, rather than debt, to expand in the near to medium term.

We have significant transparency into the investment vehicle's individual holdings, leverage profile, and financial performance. Diving deeper into the filings, I also confirmed that ABCS has zero loans on non-accrual status. The portfolio is effectively entirely first lien senior secured loans bringing BCSF's true first and second lien secured portfolio weighting to 93%. This is among the best in the sector.
As of September 30, 2018 and December 31, 2017, 95.6% and 98.4%, respectively, of BCSF's debt investments, based on fair value, bore interest at floating rates. This is also among the best in the sector in terms of portfolio level floating rate exposure because of the Fund's strict focus on debt rather than equity investments.
In terms of distributions, the per share amount for BCSF has been rising quickly.


Source: 10-Q
Keep in mind how these are reported in SEC docs in that they are for comparable nine-month periods rather than a full year. As the fund grew and absorbed called-down capital, the distribution per share increased linearly from seven cents per share in May of 2017 to $0.41 for Q3 of 2018 or $1.64 annually not accounting for gains from reinvestment.
At current market prices, that's a distribution yield of 8.9% which we will put into context in the next section. Important Note: BCSF has not declared any distributions nor has it indicated what those distributions are expected to be since going public. This is for the Board of Directors to decide. We can only use past data and extrapolate into the future.
Comparison And Recent Performance
Based on the 9/30 portfolio data, shares are trading at an 8.4% discount to NAV. In terms of portfolio quality, here is a random sample of firms ranked Highest to Lowest (9/30 data with current stock prices):
Golub Capital BDC (GBDC) = 6.9% yield, 20% premium to NAV
Main Street Capital (MAIN) = 6.1%, 55% premium to NAV
Solar Capital Ltd. (SLRC) = 7.8% yield, (-4%) discount to NAV
Gladstone Investment Corp (GAIN) = 8.3% yield, (-21%) discount to NAV
Bain Capital = 8.9% estimated yield, (-8%) discount to NAV
Apollo Investment (AINV) = 11.3% yield, (-19%) discount to NAV
Franklin Square (FS) (FSIC) = 10.7% yield, (-30%) discount to NAV
BCSF is still being evaluated by the public markets. Based on its current yield and discount to NAV, coupled with its asset quality and zero non-accruals (this is extremely rare among publicly traded BDCs but also a function of its limited operating history) in the portfolio, the Fund should be priced between par and a slight premium to NAV with a yield of 7.5-8.5%. The market is not overly consistent in how it prices BDCs which is a primary reason we see so much volatility in the sector.

A much lower than average 0.7% of the portfolio is categorized as level 3 and 4. These indicate under-performance relative to initial expectations so the minimal amount is a strong plus for BCSF.
Total investment income for the third quarter of 2018 was $26.7 million, NII of $13.9 million after fee waivers and $13.4 million without that support. Total net gains in the quarter were $5.01 million which equates to $0.33 in net investment income ("NII") and a $0.46 increase in net assets from operations per share. The Fund issued $365.7 million in 2018-1 notes to solidify its capital structure and also paid $6.5 million in interest and financing expenses during the quarter.
Conclusion And Price Levels
In terms of positives, BCSF has low coverage by investment community, an 8.9% estimated potential yield, strong institutional backing through Bain Capital and its institutional investors, multiple years of portfolio NAV stability and growing distributions, 93%+ first and second lien senior secured loan weighting, and 94%+ floating rate loans. Those last two stats are far superior to the BDC average.
On the negative side, BCSF has limited trading and distribution history as a publicly traded company and the fees applied to the public BDC are higher than those of the private version; this potentially impacts income available for distributions among other things. The existing institutional investor base is unlikely to sell for liquidity compared to the investors in retail-focused BDCs such as Corporate Capital Trust (CCT) and FSIC, but these investors will seek some liquidity in the coming quarters which will be magnified if BCSF under-performs.
In addition, while we have significant clarity into ABCS's portfolio, affiliated company investments should generally be avoided and will likely make the public market's investors nervous and subsequently discount the stock's value marginally.
BCSF is likely moderately under-valued at today's price levels but that is based on assumptions we don't know to be true. To account for this uncertainty, I believe this BDC provides appropriate risk-adjusted returns below $18.0. Institutional Income Plus subscribers will receive live alerts when I decide to initiate a position with the exact target entry and exit prices and updated analysis.
EXCITING NEWS: Williams Equity Research is launching its Institutional Income Plus market service in December after many months of development. Thanks to the help of my business partner and fact I've completed the CFA, we will be providing detailed yet succinct coverage of REITs, BDCs, Preferred stock, Global Dividend stocks (larger cap, not speculative, and subject to certain minimum requirements), Closed-end funds (primarily fixed income), as well as less followed income-oriented areas of the market. This includes real-time recommendations and specific entry and exit points which Williams Equity Research has been unable to provide in the past. The strategy mimics what I have done as an investment and due diligence professional at multiple publicly traded investment firms for over 10 years: utilizing an institutional investing framework focused on risk-adjusted returns and durable, diversified income. Our goal is to provide retail income investors a true one-stop shop not available anywhere else. Our track record in the areas encompassed by this service has been very strong to date which we are dedicated to maintaining for years to come. As always, thank you for reading!
Disclosure: I am/we are long GAIN.
I wrote this article myself, and it expresses my own opinions. I am not receiving compensation for it (other than from Seeking Alpha). I have no business relationship with any company whose stock is mentioned in this article.
Additional disclosure: The author may enter into long or short positions in any part of the capital structure of any of the firms mentioned in this article. Readers should always conduct their own independent due diligence and not rely upon information or opinions provided by the author.