Skyworks (SWKS) is a really interesting company: although not that well known by the general population, it has a tremendous impact on the performance of our technological devices. Their wireless chips and RF components enable mobile phones and a multitude of IoT devices to have data connectivity.
Increasingly their components are being used in new applications in industries like automotive, broadband, cellular infrastructure, connected homes, industrial, medical, and wearable devices. In fact, their vision is "Connecting Everyone and Everything, All the time," and they seek to capitalise on wireless ubiquity. According to one of their recent investor presentations, global data traffic is expected to grow at ~45%.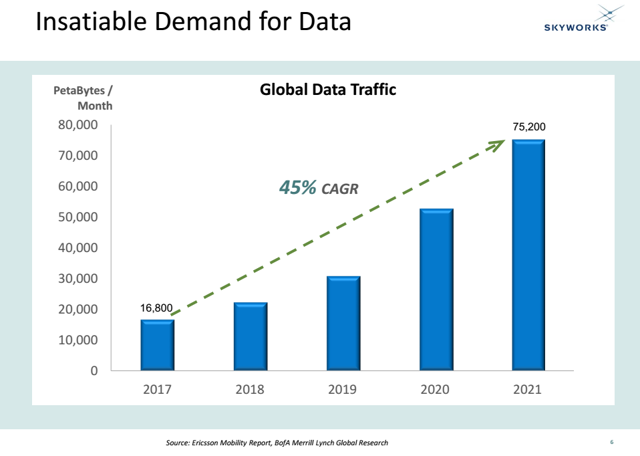 Source: Skyworks Investor Presentation
As a result of this growth backdrop, Skyworks has rarely traded at a cheap multiple to earnings. As the graph below shows, the current P/E is one of the lowest in the last ten years, and if analysts are correct about next year's earnings, the forward P/E looks quite attractive.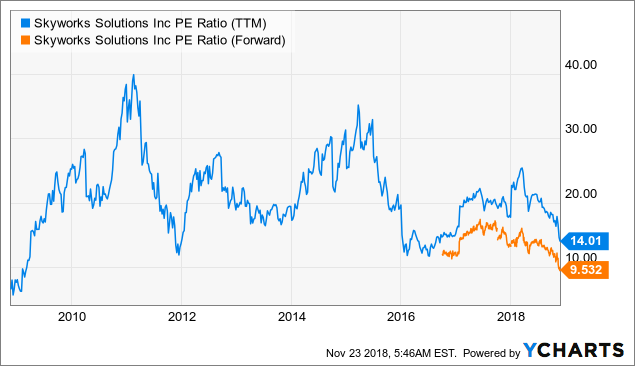 It is important to know why a growth company like Skyworks is suddenly trading at an attractive valuation, and it has a lot do with one of its most important customers.
There has been a lot of talk recently of iPhone demand peaking, as Apple (AAPL) pursues a strategy of raising prices and betting more on services. Concerns mounted after Apple said in its latest earnings call that it would stop disclosing how many iPhones, iPads, and Macs they would be selling.
It is difficult to gauge the exact impact an iPhone slowdown would have on Skyworks since this revenue appears under Foxconn (OTC:FXCOF) in the annual report. It is likely that most of the revenue that appears under Foxconn is related to Apple, but not all, given the fact that Foxconn also assembles phones for other brands.

Source: Skyworks AR 2017
In any case, we believe investors are wrong to sell Apple suppliers indiscriminately. The impact will vary significantly from one supplier to the next, and we believe Skyworks should not be as affected as the price decline seems to imply. For one thing, the price has been under pressure for most of the year, while earnings and revenue have been holding quite well.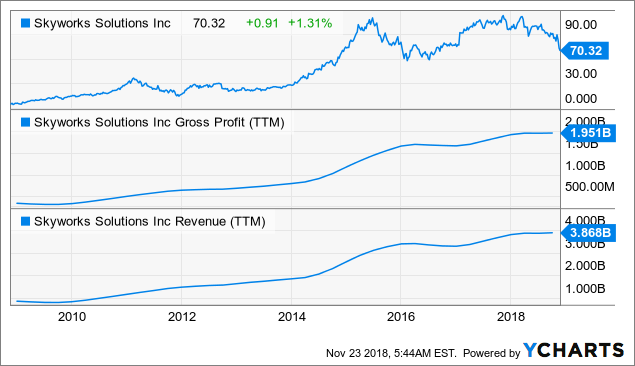 Guidance for the coming quarter was below expectations; however, management did sound a lot more upbeat about next year, particularly the second half. For example, this was the response to an analyst's question concerning expectations for the next year:
Bill Peterson - JPMorgan Securities LLC

Yeah. Hi, thanks for taking the question. I guess, when we think about the full-year growth that you're talking about next year, and implied it's going to be stronger in the second half. What is this driven by? Is it 5G? Is it more content in China? Increased content in some of the flagships? What type of products? Is it tuning plexing? More diverse to receive? If you can help us understand what's going to drive this growth next year, that'd be helpful.

Liam K. Griffin - Skyworks Solutions, Inc.

Yeah. I mean, there's certainly there's new developments across multiple parts of the business. In the mobile side, we're continuing to drive a content move across all parts of the portfolio. So, we talked a little about the high end, but also in the mid tier. There's an equally important opportunity to take mid-tier players in China and other markets and even some of the Samsung portfolio, to take mid-tier phones up a level to advance their technology in 4G.

And we are starting to see, and we are developing right now, 5G solutions that we know are going to market and they're going to create a meaningful catalyst. We talked about that in the prepared remarks. There will be meaningful new technologies in 5G product. That's an opportunity for everyone in our space to pursue and I certainly like our opportunity, given our experience with customers, the manufacturing assets that we have, the technologies that we have, and the ability – and I'll use the word crafty again – the ability to do very, very hard things with very high demand from customers and be able to have the flexibility to make it work for each and every one.

The more you go long in the technology and you move into 5G, people do it differently. Customers do it differently. They select different bands. They have different performance budgets, current budgets, and it makes it more challenging for the suppliers. And having that know-how and that broad breadth of experience with baseband providers and multiple customers puts us in a good position.

So, we'll start to see that in the second half of this calendar year, more and more complex engines. The IoT space continues to move up. The Avnera opportunity, we're getting our first year of that. That's going to be incrementally positive for us as well. So, there's a number of very positive catalysts going on here as we get through the Q1 and Q2 periods.
We also found the strength of the "broad market" segment reassuring. It should help compensate weakness with mobile demand. This is the segment that includes a lot of IoT devices. During the same call, management mentioned expectations of double-digit growth for this part of the business which is now close to a third of the total.
Liam K. Griffin - Skyworks Solutions, Inc.

Thanks, Kris. Skyworks delivered record results in fiscal 2018. Despite the near-term market weakness, we have a clear path to deliver our 10th consecutive year of revenue and earnings growth in fiscal 2019. This outlook is driven by sustained double-digit growth across our broad markets business, a powerful and expanding design win pipeline encompassing a wide range of customers and applications, world-class operational execution and scale, and finally, our unwavering commitment to creating shareholder value.
Broad markets refers to a lot of the IoT and emerging applications such as connected cars, smart homes, wearables, drones, etc. Growth in this segment should be further accelerated after the acquisition of Avnera. This company specialises in wireless audio systems-on-chips (SoC), which are key components for many of the increasingly popular voice assistants.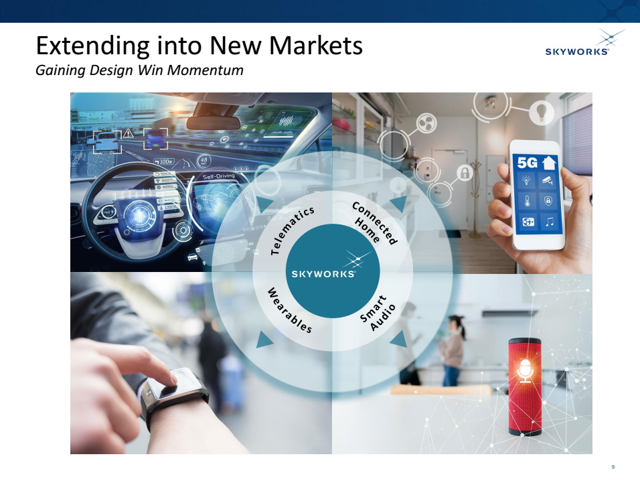 Source: Skyworks Investor Presentation
Skyworks seems to have big growth expectations for many of these applications, thinking some could deliver 15-25% growth for the next few years.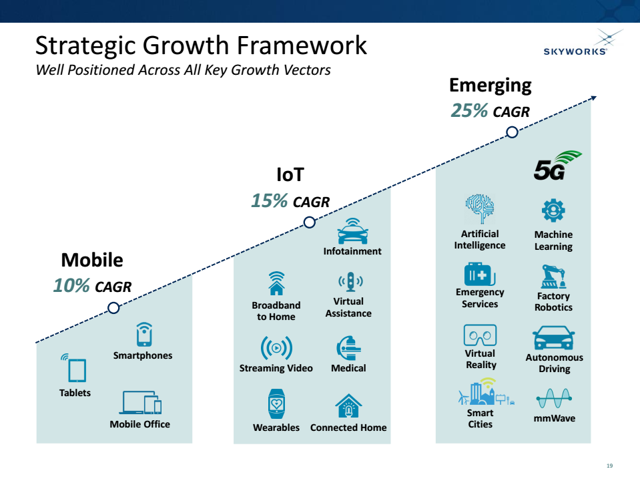 Source: Skyworks Investor Presentation
Something that we believe sets Skyworks apart from other mobile phone suppliers is that they are well placed to capture a much bigger share of content in the coming years. Therefore, even if there isn't much mobile unit growth in the coming years, the fact that the dollar content of Skyworks parts is expected to significantly increase for 5G phones, Skyworks should see very healthy revenue and profit growth. Even before considering the faster growing "broad market" segment.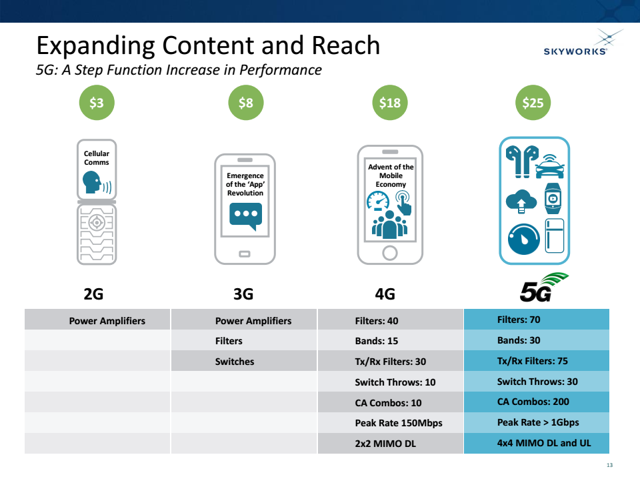 Source: Skyworks Investor Presentation
Skyworks has also been successful winning designs from mobile phone manufacturers that are growing quickly in emerging markets, such as Huawei, Oppo, Vivo, Samsung (OTC:SSNLF), and Xiaomi (XI).
Valuation
Historically, buying close to the 10y median sales prices has been a good entry point for investors in Skyworks.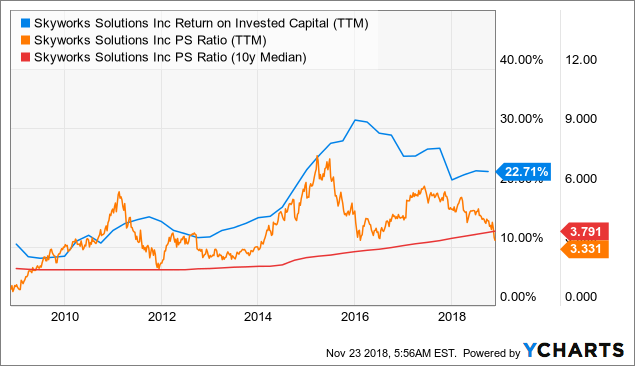 The median price/sales ratio has been trending higher in the last few years as margins have increased. Higher gross profits are likely the result of a more efficient operation and strengthening competitive position. Operating margins have increased even more noticeably thanks to the operating leverage from higher revenues.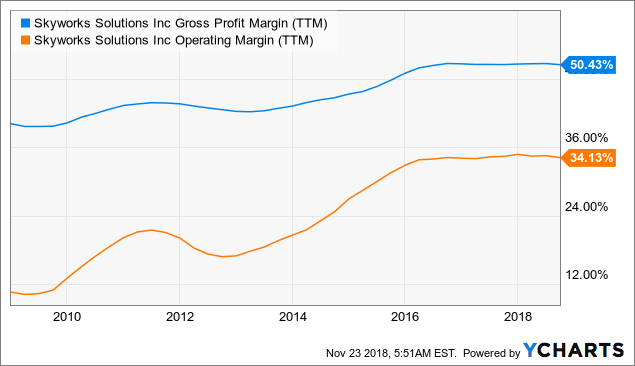 The balance sheet is quite strong and has a net cash position. Cash has gone down recently due to the Avnera acquisition and share repurchases.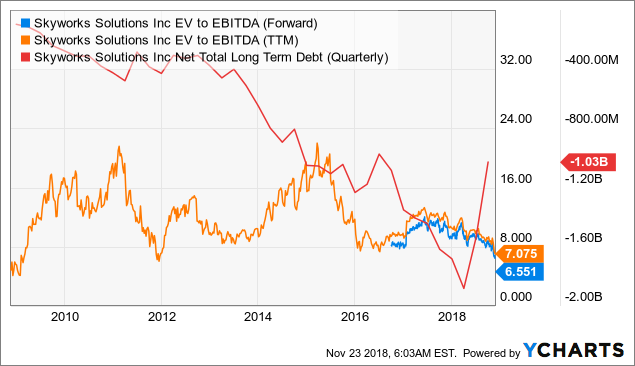 Risks
The main risk we see is a more dramatic slowdown than currently expected in the mobile segment. One potential trigger for a significant drop in mobile phone sales would be an intensification of the trade war, and an increase in more protectionist policies.
Takeaway
Skyworks has an enviable track record delivering attractive returns to shareholders, and is currently offering a rare opportunity to invest at a discounted valuation.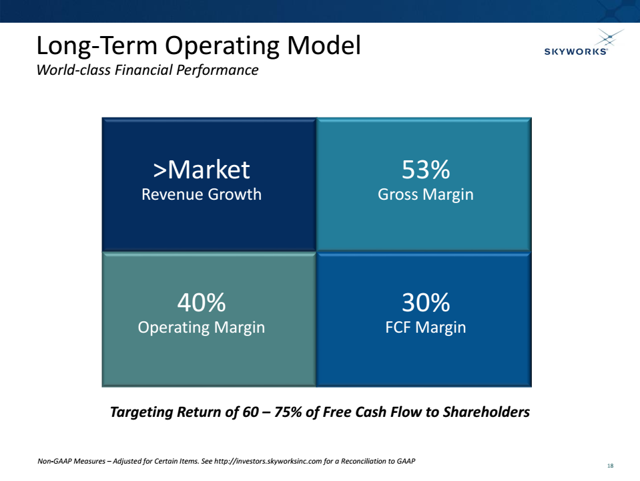 Source: Skyworks Investor Presentation
Management is committed to returning most of the free cash flow to shareholders in the form of dividends and share repurchases. Shares have been pressured due to weakness in the mobile phone segment, and geopolitical concerns such as worries of an intensification of the trade war.
We believe that the long-term fundamentals outweigh these current risks. Especially when considering tailwinds from 5G, IoT growth, and the flexibility that comes from a strong balance sheet.
(Tipranks: SWKS: Buy)
Disclosure: I am/we are long SWKS.
I wrote this article myself, and it expresses my own opinions. I am not receiving compensation for it (other than from Seeking Alpha). I have no business relationship with any company whose stock is mentioned in this article.
Additional disclosure: The information contained herein is for informational purposes only. Nothing in this article should be taken as a solicitation to purchase or sell securities. Before buying or selling shares you should do your own research and reach your own conclusion, or consult a financial advisor. Investing includes risks, including loss of principal.