Investors Should Vote 'No' On ContraVir's Stock Incentive Proposal
Summary
ContraVir Pharmaceuticals has filed for a DEF 14A, in which the BOD proposed a 1.5 million share increase for management bonuses.
The proposal comes on the heels of the company's stock reaching all-time lows.
The proposal is nothing short of a insult to the company's investors and should be answered with a resounding "NO".
Investors are urged to attend the company meeting in Edison, NJ in order to demand answers from the management and BOD.
Introduction
On November 29, 2018, ContraVir Pharmaceuticals (CTRV) released their latest DEF 14A proxy filing to the general public. The DEF 14A serves as an official notification to ContraVir Investors, as of the November 28th record date, of matters to be brought to a vote during the company's annual meeting on January 15, 2019. The Board of Directors has set forth two proposals: [1] To elect six (6) directors for a one-year term to expire at the 2019 annual meeting of stockholders and [2] To approve an amendment to the Company's 2013 Equity Incentive Plan (the "2013 Plan") to increase the reservation of common stock for issuance thereunder to 2,837,500 shares from 1,337,500 shares.
A Crashing Stock and Investor Furor
ContraVir's stock has continued to slide to all-time lows despite a new CEO taking the helm in October 2018. Wall Street does not seem to be too optimistic about James Sapirstein's seasoned replacement as the stock recently cratered an all-time low of 37 cents per share on November 28, 2018. With 16,343,920 shares outstanding as of November 12, 2018 and a stock price of $0.49 per share, the company's market cap is approximately $1 million below its cash on hand ($9 million cash as per Q3 2018 10-Q filing). While the management explores the possibility of entering the NASH market with CRV431 and continues to search for strategic partnerships in order to secure non-dilutive funding, the stock has lost 87% of its valuation from one year ago. The company is once again in violation of the NASDAQ price listing requirement and faces a possible delisting at the end of Q1 2019. ContraVir investors are undoubtedly furious and rightfully so.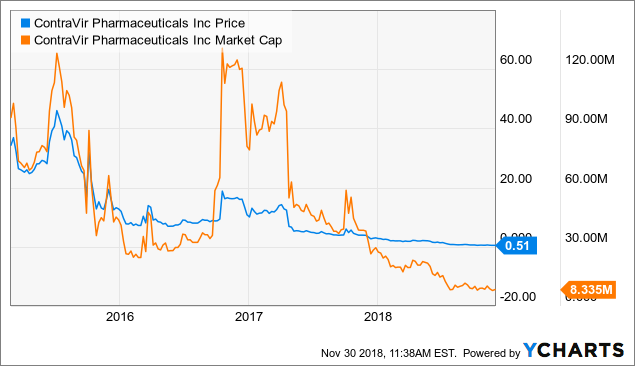 Chutzpah
While ContraVir's top brass have overpromised and under delivered in terms of partnerships and continues to sit on their hands while its stock and cash continue to dwindle into the abyss, the Board of Directors has audaciously proposed the addition of 1.5 million shares to the outstanding share count as part of the company's equity incentive plan. This Chutzpah is incredibly demeaning to Investors and only serves to pour salt on their wounds. It is beyond comprehension how any board of directors can ever justify stock dilution for management bonuses when the management has allowed the company's market cap to slip from $150 million to $8 million in just 1.5 years. And while unfortunately ContraVir investors are at the mercy of the plurality vote rule for board member elections, the stock bonus incentive proposal requires a majority vote for approval. Proposal #2 is an insult to every ContraVir investor and should be met with a resounding "NO". The management should not be rewarded until the investors are rewarded. Furthermore, as the company is on the verge of a delisting and running out of cash, it is imperative that ContraVir investors make their presence known at the annual meeting on January 15th. Investors seeking to recoup their losses should demand answers from the company's management and from the Board of Directors.
The Annual Meeting of Stockholders of ContraVir Pharmaceuticals, Inc. will be held on January 15, 2019, at 9:00 a.m. local time at the Company's offices located at 399 Thornall Street, Edison, New Jersey 08873.
For Investors who are unable to attend the annual meeting in person are urged to vote through proxy online.
Our letter to Dr. Foster, CEO of ContraVir
Dr. Foster,I am writing to you with concerns about the recent DEF14A filing in which the board of directors has proposed increasing the number of outstanding shares by 1.5 million. This proposal comes at a time when the market cap is at $8 million, which is one million less than cash on hand. We are once again facing a delisting violation. We have been promised partnerships and funding for well over 1.5 years. The investors have lost a substantial amount of money on their investment in this company and are furious with your team. Despite all this, many in our group were optimistic about you taking the helm until the recent DEF14A.Needless to say, we are all left dumbfounded by the sheer audacity of your management team and board of management to propose any kind of "incentive" after taking this stock from 150 million to 8 million in a matter of less than 2 years. Have you no shame in asking us to vote on such a preposterous thing? Diluting our outstanding shares so that you can be rewarded for a job well done? Not only will our activist group vote collectively with a resounding "NO" but I will personally ensure you that we will make every attempt to publicize this scandalous attempt to enrich yourselves on the backs of your investors. These are the same investors who will be present at the annual meeting and demand answers from what remains of this company.If you wish to leave a good legacy behind you, do not follow in James' footsteps. ContraVir has no credibility in the market and any attempt to partner ourselves with any kind of entity will be chewed up and spit out by wall street. Pay off the debt and sell the company for anything you can get so you can walk away with your head held high. At least that will end the misery for investors and will allow us to recoup a portion of our losses. Sincerely,BZ Equity Research on Behalf of the ContraVir Activist Group
Editor's Note: This article covers one or more microcap stocks. Please be aware of the risks associated with these stocks.
This article was written by
Focused on exploring massive upside opportunities in small/micro/nano cap biotech companies specializing in small-molecule antiviral therapies for chronic diseases.
Analyst's Disclosure: I am/we are long CTRV. I wrote this article myself, and it expresses my own opinions. I am not receiving compensation for it (other than from Seeking Alpha). I have no business relationship with any company whose stock is mentioned in this article.
Seeking Alpha's Disclosure: Past performance is no guarantee of future results. No recommendation or advice is being given as to whether any investment is suitable for a particular investor. Any views or opinions expressed above may not reflect those of Seeking Alpha as a whole. Seeking Alpha is not a licensed securities dealer, broker or US investment adviser or investment bank. Our analysts are third party authors that include both professional investors and individual investors who may not be licensed or certified by any institute or regulatory body.