One of the most active sectors of the energy economy has been midstream companies, many of which are structured as master limited partnerships. Many might remember this as a sector that got into trouble a few years ago when the oil bear market happened but they have since seen a revival as the recovery in oil prices has caused production of both oil and gas to surge upward.
As midstream companies are in the business of moving these products to the market, rising production will result in rising demand for their services. One of the most popular ways for investors to profit off of these companies is a purchase of the ALPS Alerian MLP ETF (AMLP).
About The Fund
The fund's website states that the fund seeks investment results that correspond generally to the price and yield performance of the Alerian MLP Infrastructure Index. This index consists of 27 companies that generally operate in the midstream energy space, although a few of these companies operate in other parts of the energy space.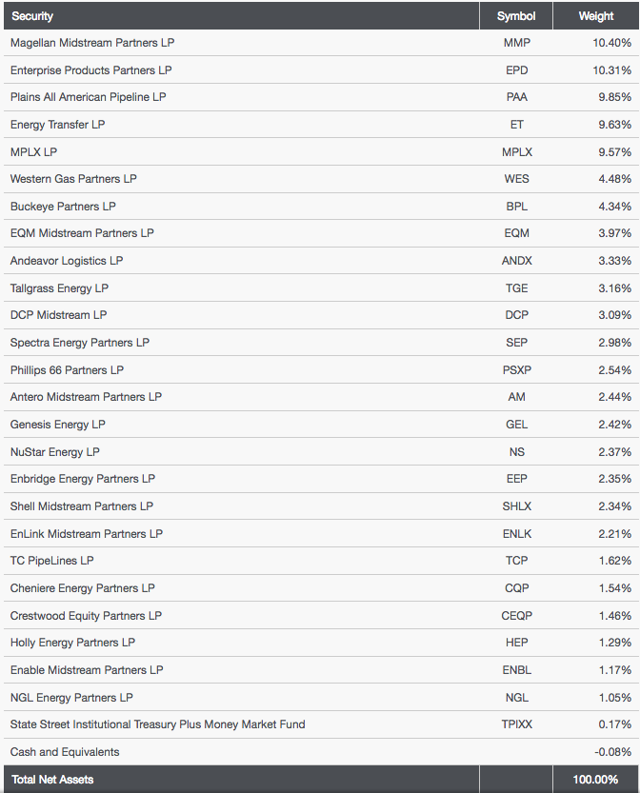 Source: Fund Web Page
As we might expect from a fund that only holds 27 companies, a few of the companies have outsized weightings in the fund. As I have stated in several previous articles, I generally consider anything over 5% of total assets to be an outsized weighting as this is about the level where a single position can open the fund up to idiosyncratic risk. Basically, if some event happens that causes the unit price of a heavily-weighted company to decline, it will end up dragging the portfolio as a whole down with it.
Here we can see that five companies have such outsized weighting, although they are not perfectly weighted by market cap as Enterprise Products Partners (EPD) is substantially larger than either Magellan Midstream Midstream (MMP) or Plains All-American (PAA).
This is due to the index using what Alerian calls an "Investible Weight Factor" to determine the weighting of a given company in the overall index. This investible weight factor is a factor of the shares outstanding and the index also includes downward adjustments for three of the top four companies, which is presumably meant to prevent the index from being overwhelmingly dominated by two companies. With that said though, Energy Transfer (ET) has the highest weighting in the actual index, so AMLP does not follow the index perfectly.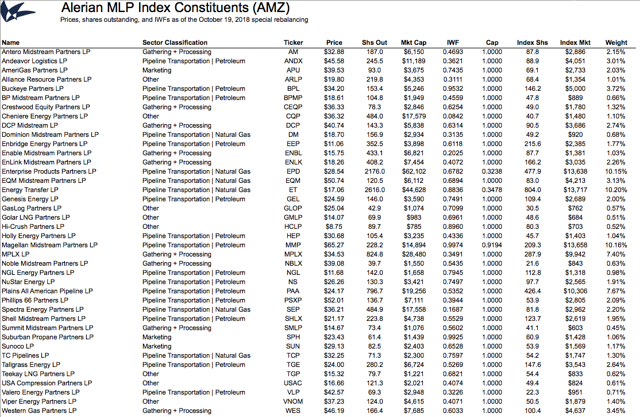 Source: Alerian
It is worth noting though that market fluctuations may explain why AMLP's weightings do not perfectly match the index. The most important takeaway here is that the index is not perfectly aligned with market capitalization, although it does play a role. AMLP mostly tracks it by purchasing the companies in the index in relatively similar weightings to the index itself.
One of the most important things to note here is that AMLP is not actually an ETF that provides pass-through income to investors. Instead, the ETF is actually structured as a C-corporation, which means that it has to pay corporate taxes on the distributions that it receives before making distributions to investors. This eliminates one of the biggest reasons for investing in master limited partnerships - the fact that distributions are tax-advantaged.
For some investors, this may be a benefit though since AMLP can be safely held in an IRA or similar account without having to worry about UBTI or any other tax issues. Some investors may also prefer receiving a 1099 instead of a K-1. This does unfortunately have the effect of imposing very high expenses in the ETF, which results in it trailing the index by a fairly significant amount: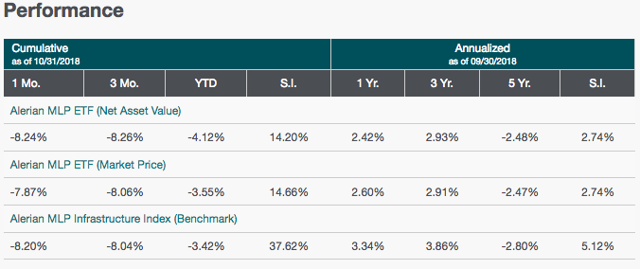 Source: Fund Web Page
The reason why the fund is structured as a C-corp is due to the Investment Company Act of 1940. This law defined registered investment companies, which is how most funds are structured. It also placed constraints on what these entities can invest in. One such constraint is that they cannot have more than 25% of assets invested in master limited partnerships.
The financial industry came up with the idea of using a C-corporation structure to get around this rule but the aforementioned tracking error due to taxes makes it an imperfect solution at best. Personally, I think that exchange-traded notes like the JPMorgan Alerian MLP Index ETN (AMJ), which tracks the same index as AMLP, is a better way to invest in this index for this reason. I discussed this in a previous article.
Why Invest In MLPs?
In the introduction to this article, I stated that master limited partnerships are currently a very appealing segment. This is due to the fact that most of them, including most of the ones that are held by the fund, are midstream companies. The midstream sector involves the transportation, storage, and marketing of crude oil, natural gas, natural gas liquids, and refined products. In addition, natural gas processing and crude oil refining are sometimes considered to be midstream activities.
One of the biggest stories in the energy industry over the past year or two has been the rising production of both oil and natural gas. According to the Energy Information Administration, the production of both oil and natural gas have increased year-over-year in every single resource basin in the United States:

Source: Energy Information Administration
One of the most prolific of these resource basins is the Permian in West Texas. This basin has seen surging oil and gas production over the past two years:

Source: Energy Information Administration
As I discussed recently with subscribers to Energy Profits in Dividends, the Permian basin is a pool of more recoverable oil than anywhere else in the world except for Saudi Arabia's Ghawar field and is currently producing in excess of 3.5 million barrels of crude oil per day. It is predicted that this will increase to 5.0 million barrels by the end of the decade and to 8.0-10.0 million barrels per day by 2028. Admittedly, this may be somewhat optimistic but the point remains that the region is likely to see further production growth going forward.
We have also seen tremendous production growth on the natural gas side out of areas like the Marcellus and Utica shale.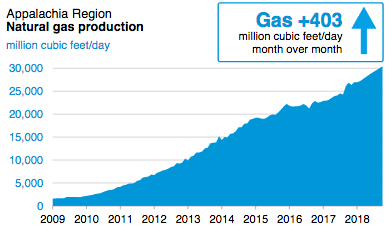 Source: Energy Information Administration
With companies like Range Resources (RRC) and Cabot Oil and Gas (COG) planning to increase their production in the region, it seems likely that this figure will continue to grow.
As midstream companies make their money by moving this produced product to market, this production growth should result in rising profits and cash flows for the companies in this index. This is why we have seen so many companies in the midstream space unveil ambitious growth programs meant to meet this surging demand.
In addition to this, midstream companies are largely insulated from commodity price fluctuations as they make their money solely off of volume. Thus, as long as we keep seeing production growth, midstream companies and master limited partnerships should prosper. This makes these companies a good way to play the North American energy production growth story.
Distributions
The general reason why people invest in master limited partnerships is for income as many of these companies have distribution yields in excess of 7%. Thus, we might expect AMLP to boast a fairly hefty dividend yield. This is indeed the case. As we can see here, AMLP has paid out a total of $0.8111 per share over the past twelve months:

Source: Fund Web Page
As shares of the fund currently trade for $9.55, it has a TTM dividend yield of 8.49%. As is the case with many energy ETFs though, the dividends typically vary from quarter to quarter. This is due to the shares outstanding varying as money comes into and out of the fund. For the most part though, this should not affect an investor's total return. Overall, this is a good fund to own for income-seeking investors.
Conclusion
In conclusion, master limited partnerships have a very bright future due to rising oil and gas production in the United States. AMLP is one way for investors to gain exposure to the sector as a whole, although I personally think that an ETN like AMJ may be better due to a lack of tax-related tracking errors. It can certainly be a good way for retirees to get income though as AMLP can be used in an IRA without problems. All investors should consider gaining some exposure to this fast-growing sector and this fund is one way to do it.
At Energy Profits in Dividends, we seek to generate a 7%+ income yield by investing in a portfolio of energy stocks while minimizing our risk of principal loss. By subscribing, you will get access to our best ideas earlier than they are released to the general public (and many of them are not released at all) as well as far more in-depth research than we make available to everybody. We are currently offering a two-week free trial for the service, so check us out!
Disclosure: I/we have no positions in any stocks mentioned, and no plans to initiate any positions within the next 72 hours. I wrote this article myself, and it expresses my own opinions. I am not receiving compensation for it (other than from Seeking Alpha). I have no business relationship with any company whose stock is mentioned in this article.