We have consistently stated that equity markets will usually use a binary event or announcement to confirm a top or bottom on their charts. As there was $616+ million of selling volume in the Spiders last Friday, many thought that volatility would continue in equity markets this week. However, with news of the trade truce between the US and China, S&P futures were up almost 50 handles on Monday morning, which should now put an end to the debate whether the October lows will get tested once more.
Markets rallied on the news that the two superpowers would hold off against tariffs for the time being to see if fresh talks could pave the way for better deals going forward. We wrote recently though that we failed to see how trade tensions could be the trigger for the next bear market. Why? Because the numbers we are talking about here pales in comparison to the full global trades figures. With the S&P 500 rallying above 2,800 on Monday morning, we now can update our weekly cycle count number. Also, other key areas which we feel will keep markets elevated are housing and China. Let's dig in.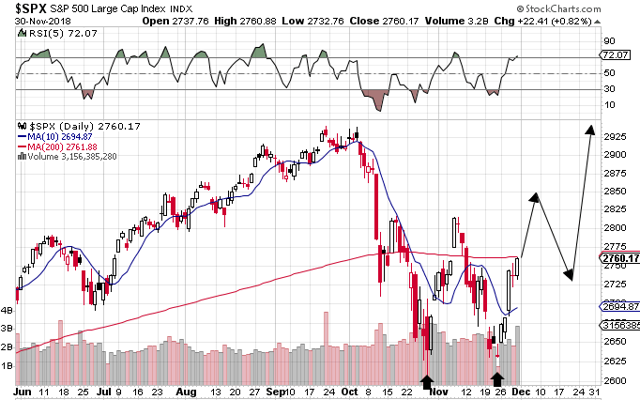 If we look at the daily chart, we can see that price will now break back up through the decisive 200-day moving average (2,761) as a result of the trade truce rally. This will bring technical traders back into the market on mass as this moving average is probably the most used metric for traders and trend followers alike. This means we can label the low on the 23rd of November as a clear daily cycle low. Therefore, since we are in the early innings of this daily cycle (day 7), there is plenty of time in this daily cycle to take out the all-time highs. Remember we are entering a time of the year when stocks have been seasonally bullish. This will act as another tailwind here. What I have drawn above is what I believe may happen, which is an initial thrust followed by a drop into a half cycle low before rallying to new highs. This week will be week 6 of this intermediate cycle which started in late October. Again, this gives equities plenty of time to make higher highs as we go into the new year.
It would be something like a housing bubble which would trigger a bear market, but we do not believe we are anywhere near those types of conditions at present. Prices in the US at present are being driven up by higher demand and not by much looser credit conditions which we had prior to 2006. We can see this in the housing start numbers. Historically, the US has needed around 1.6 million new starts to ensure supply keeps up with demand. We are nowhere near that level at present (still about 300k down on trailing numbers), but the kicker is that numbers have been well short of a million per year over the past decade. Suffice it to say, the market has a lot of catching up to do still. No matter how you do the math, if less stock is available for more willing buyers, prices will continue to be pushed up naturally.
Many bears also have alluded to China as being the market which will trigger the next bear market in US equities. However, the iShares China Large-Cap ETF (FXI) is down well over 10% year to date, whereas the S&P is now in positive territory for the year, so no big correlation there. With the Chinese markets now ready to rally in tandem with the S&P, this should add more fuel to the fire. You can bet the recent market action in FXI prompted the Chinese to engage somewhat with Trump over this past weekend. China's debt is another reason which may put the country in a position of weakness. Yes, the US's debt to GDP is staggering, but it is there for everybody to see, and its bond yields fully reflect this situation. China's exact debt numbers on the other hand are not well known due to how the government both borrows and lends money. Recent estimates though leave a lot to be desired with the Institute of International Finance for example stating that the country has a whopping 300% debt to GDP ratio. If this number is anywhere in the ballpark, this puts China in a much weaker position at the negotiation table.
Therefore, to sum up, we reiterate our point that we would not be surprised for the S&P to take out its all-time highs and go well beyond them. We will stay the course here.
Disclosure: I/we have no positions in any stocks mentioned, and no plans to initiate any positions within the next 72 hours. I wrote this article myself, and it expresses my own opinions. I am not receiving compensation for it (other than from Seeking Alpha). I have no business relationship with any company whose stock is mentioned in this article.