Introduction To Ellie Mae
For those of you who have bought a house, you've experienced the vast complexity of all the documents, signatures, and approvals required before you're handed the keys. Ellie Mae (NYSE:ELLI) is looking to fix the chaotic and broken workflow of the mortgage process with its Encompass platform.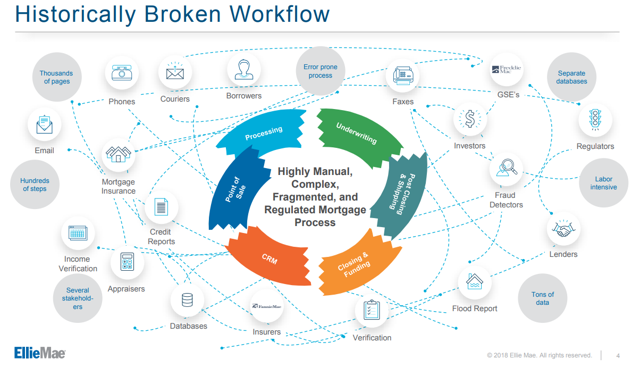 Source
For lenders that are familiar with the process, perhaps it's not as bad as we perceive it to be – especially if they are utilizing Ellie Mae's Encompass platform. The software allows mortgage professionals to streamline the mortgage process including leads, origination, and financing.
The Short-Term Concerns
In the most recent quarter, revenue and adjusted profits to grow 15% and 22% respectively, but management dialed back full year guidance citing decreased loan volumes as a result of rising interest rates. This is not what The Street wanted to hear and as a result, the stock price was slammed 13% in after-hours trading. The housing market is cyclical and the situation therefore temporary, but even so, share prices still remain suppressed on the relevant, but short-term concerns.
Long-Term Opportunity
I remember my parents exclaiming how lucky I was to have a mortgage rate at 3.5%, where their first mortgage rate was almost triple that. With rates at historical lows since the great recession, the good times had to come to an end eventually and now that the writing is clearly on the wall, investors have been looking elsewhere to make a buck. For long-term investors such as myself, the above scenario represents an opportunity as people will always be buying homes – though not in consistent, predictable volumes. If Ellie Mae continues to grow their market share at anywhere near current rates, this stock has great potential for long-term returns for investors willing to ride through the trough of the cycle.
While guidance has been reduced to a range of $477.0 million to $480.0 million, a decrease from the prior range of $495.0 million to $505.0 million, estimated earnings of $1.84 to $1.88 per diluted share place current trading valuations at around 36x this year's earnings – which given the aforementioned growth rates is a bit high, but reasonable for my investing timeline and management mapping out 20% year-over-year growth for the next 4-5 years, today's price is a bargain.
Thesis – Long-Term Gains Will Outweigh Short-Term Pains
The Encompass platform has been growing at a remarkable pace, from 36,000 in 2011 to almost 270,000 today.
This subscriber growth is translating into market share growth in the mortgage origination space with Ellie Mae experiencing growth at 2-4% annum, and projections for 50-55% market share by 2023.
Furthermore, Ellie Mae has a customer retention rate of 95%. Combine this with the fact that total revenue per loan has also been climbing, I am quite optimistic as to the company's future being bright.
Risks
Profitability is important, but I am more concerned about growth and Ellie Mae's success sits squarely on its Encompass platform's growth maintaining its current trajectory as well as the housing cycle rebounding sometime in the future. While the latter does not raise concerns as housing is a cyclical industry, the former is something to be watched in quarterly reports. Investors will want to ensure that subscribers grow and retention rates stay high.
In addition, investors will want to monitor the company's progress on total market share and keep an eye out for any other platforms that may compromise Encompass's current position. Management is confident that free cash flow should increase in the coming years due to reduced capex and increasing margins and while I will be monitoring these as well – I am more concerned with the growth of the Encompass platform.
Conclusion
While Ellie Mae has benefited favorably from the low interest rate environment, it was not dependent on it for its survival or success. Ellie Mae's value lies in its Encompass platform and its ability to provide costs savings via automation which has led to strong retention rates of subscribers as the seamless process provided is most effective if all parties are on the platform. If growth rates continue, Ellie Mae stands to become a monster in the mortgage lending space and should rebound nicely along with the next housing cycle.