It was just a few days ago when the market was panicking again, as it has done so periodically since early February. This has usually been a characteristic of market tops, but it is also another characteristic of market tops to ignore the past and find all kinds of excuses that "this time is different."
I wrote in early February about my pessimistic views for 2018, and one thing that few looked at back then - real estate - has already entered the early stages of panic in some markets. A recent WSJ article documents the panicky high-end New York housing market, but the situation is similar in many other frothy markets all around the world. Back in February I had written about falling rents, because of oversupply in major US cities, which were the earliest signs of a weakening housing market. Weakness in the housing market has accelerated and it is spreading.
Last time when the US reached its housing peak was in 2006. The stock market continued to surge back then for several more quarters before it started to lose steam in the last quarter of 2007. This time around the stock market is less likely to be that sanguine about a weakening housing market, as the memory of the 2008-2009 financial crisis is relatively fresh.
But it is not just the housing market. All sorts of economic troubles are brewing, perhaps not so much in the US but in pretty much any other part of the world. These troubles do not seem to be catching up to the US just yet, but they are strengthening the US dollar (I have written about this in more detail) and a too powerful dollar is not, fundamentally, good for most US stocks. Almost half of S&P 500 sales come from overseas. The strength of the dollar is not critical yet, but there is room for further dollar appreciation as China and Europe continue to weaken while the Fed is bent on raising their benchmark rates again in December.
China's economy is nothing short of the world's biggest and scariest Pandora's box, and there will be a moment of reckoning when we will all see, probably in horror, what sorts of surprises it has been hiding. The reckoning has been delayed for years, but it may not hold for much longer. All indicators are pointing to significant weakness in China, though little signs of worry, unsurprisingly, surfaces out of Chinese official reports or data. One recent important sign of weakness is the unexpected fall in China's new loans. Commodities have also seen dramatic weakness in the past few months, particularly oil (chart below). Last time when commodity prices crashed, in 2014, was just before a serious slowdown in China became apparent, which required massive intervention by the state to stimulate the housing market, and lending in general. The oil price was a good indicator of troubles for China just a few of years ago. The Chinese managed to stage a quick recovery back then, also causing their already sky-high housing prices to go even higher. This time around, with a much tighter interest rate environment in the world and higher inflation, it is going to be a much more complicated matter to do the same without crashing their currency, the yuan.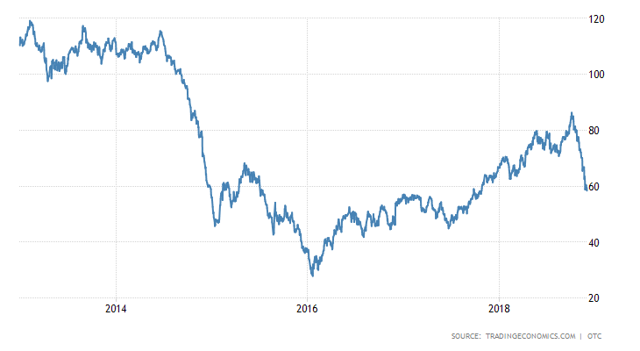 Not many are paying enough attention to the fact that China has reported a current account deficit for 2018 so far. Normally, because of this, the yuan should be tanking against the dollar. Europe's euro and Japan's yen, with massive current account surpluses, are not able to stand up to rising interest rates in the US, while the Chinese yuan is doing relatively OK with a current account deficit. I believe the yuan should have so far fallen to a level at which China too would be reporting a significant current account surplus. And that would probably be something like 8 yuans or more for a US dollar. The current, apparently abnormal, strength of the yuan may be up to the Chinese leaders showing some signs of goodwill to president Trump in order to reach some kind of a reasonable trade deal with the US. However, no matter how you look at it, China's main problem is not the trade with America but rather its domestic market. China's economy seems to have reached saturation again, and it needs another round of easing, but that is not simple at all to do this time without crashing the yuan as there is no more current account surplus to act as cushion for the currency. House prices in China are already very high too, at record levels (similar to the US though more egregious), while the consumer doesn't seem to be able to handle the situation well. This wasn't the case back in 2015-2016, or earlier times of economic weakness. Officially consumer debt has risen significantly in recent years (chart below) while consumption is losing steam.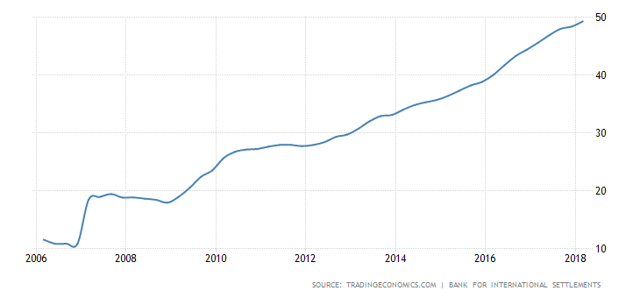 Car sales in China have crashed. This can be considered another important sign of consumer health in a country which is still far from the levels of car ownership prevalent in Developed economies. Add to this the fact that a fifth of China's homes are empty, bought for the purpose of preserving value and/or speculation, and you get a very toxic consumer environment that has only been kept going because of repeated and brutal government intervention, and not market forces. These empty homes have created a lot of economic activity, and contributed to a lot of debt accumulation, while offering no real economic benefit. And of course that is not the only wasteful investment encouraged and orchestrated by the Chinese authorities.
Let's now look at the more immediate issue facing the world's finance and economy - December's Fed rate hike. Is the world ready for further monetary tightening? I would think that it is not, but inflation is mostly near, or above, central bank targets while unemployment is very low in most of the world. This is normally not the time for monetary loosening anyway. However the Fed has its credibility at stake, to deliver its promised rate hike in December. Can the world economy handle another rate hike? Looking at the US housing market, and much deeper problems in China, Europe and other smaller economies, the clear answer is NO. The world economy doesn't even seem to be handling the current monetary environment well. The world economy rather seems to be on the verge of needing deep interest rate cuts soon. Central banks cannot cut rates while there are still strong inflationary pressures. However, I believe, as housing and consumer spending are showing clear signs of having passed their peaks in the current economic cycle, there won't be much inflationary pressures soon.
The real problem will remain though - what will central bankers do when they don't have much interest rate to cut to stimulate the economy for the future?! And this seems like a horrifying question for me, but it doesn't seem to bother many investors yet. Nonetheless financial markets, as it has been obvious in 2018, are starting to wake up to the possibility that the current economic cycle is near its end. The Fed is going to raise rates again in December and I believe that stocks will wake up to the fact that the economy is not prepared to handle higher rates and they will crash. Whether investors will realize this before, or after, the rate hike is another matter. But I wouldn't bet on anything rosy for the markets in the near future. Adding the massive corporate debt bubble in the US to the potential nasty surprises in China and a slowing housing market, a significant rate cut would be required to turn things around again, but the real question remains - what rates will central banks cut? 2.5% in the US and none in Europe? Back in 2001, and 2008 (or even in earlier times), the Fed cut rates at least 5 percentage points in order to stimulate the economy. Those interest rates are no longer there to be cut. I have been asking this question since 2016, but I have been among the few who have done so and missed on quite a strong bull run for two more years since then.