We are all in the gutter, but some of us are looking at the stars." ― Oscar Wilde, Lady Windermere's Fan
We finally saw a deciding positive week for the market here in the fourth quarter. Potentially dovish comments from the Federal Reserve ignited the largest one-day rally for equities in some eight months on Wednesday. Impressively, the market held on to those gains Thursday and Friday despite worries about potential impacts from this weekend's G-20 meeting in South America.
Even the beaten down biotech sector rose with the overall market despite a continued and noticeable lack of M&A activity in the industry, a consistent theme since early in the first quarter of the year.
Theravance Biopharma (TBPH) rose six percent on the week. I think the shares could rally further in the weeks ahead. Recent events have 'derisked' the company's prospects somewhat and analysts' opinion is becoming more positive. We revisit this promising biotech concern in the paragraphs below.
Company Overview:
Theravance is a small cap biotech concern that came public in 2014. It is focused on creating novel and potentially best-in-class therapeutics to address the unmet needs of patients being treated for serious conditions in the acute care setting. The stock currently sells for just under $28.00 a share and sports a market capitalization of just over $1.5 billion. Despite this week's rise, the bear market has gripped small biotech in the fourth quarter is offering a much lower entry point than a few months ago.

Recent Events/Upcoming Milestones:
The company's compound Yupelri or (revefenacin) inhalation solution was approved a few weeks ago. Yupelri is an anticholinergic (or LAMA) for the maintenance treatment of patients with chronic obstructive pulmonary disease (or COPD). This product is partnered with Mylan (MYL) and will be jointly marketed. A recent article on SA projected the net present value ((NYSE:NPV)) of this now approved product to be in the $400 million to $600 million or roughly a third of the stock's market cap.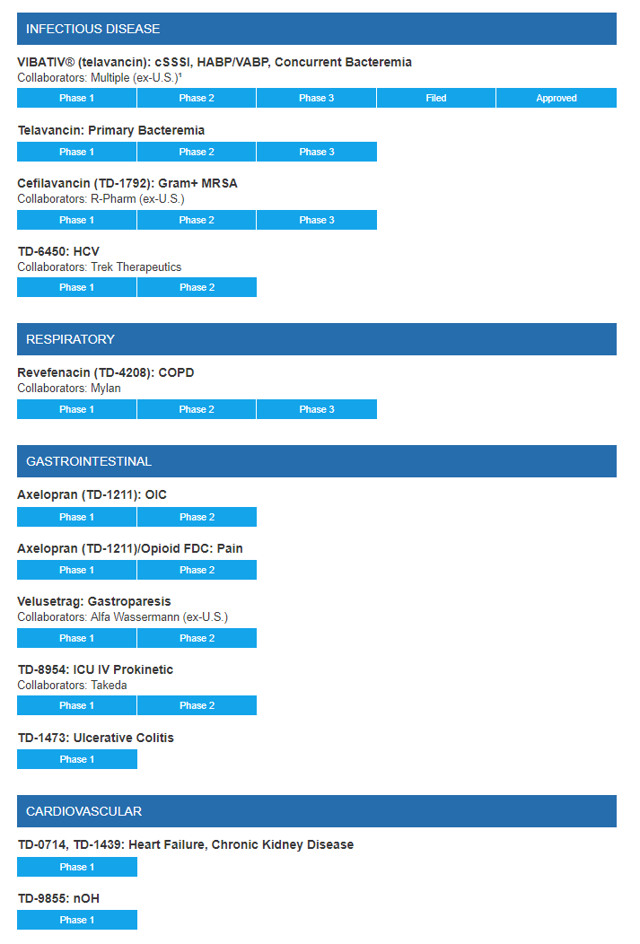 Source: Company Website
As can be seen above, Theravance has a pipeline with multiple 'shots on goal'. Approximately 10 days ago, the company announced the dosing of the first patient in a Phase 2 clinical trial of TD-1473 in patients with Crohn's disease. This compound is one of most important in the company's pipeline and is an orally administered and gut-selective pan-Janus kinase (JAK) inhibitor in development as a treatment for multiple inflammatory intestinal diseases.
Successful development of this drug candidate which is partnered with Janssen could net the company up to $900 million of development and commercialization milestones. This would be in addition to an approximate one third share of U.S. net profits and double-digit royalties on ex-U.S. sales.
Analyst Commentary And Balance Sheet:
Currently, the median analyst price target on Theravance is just north of $45.00 a share. After being somewhat dormant in 2018, analyst commentary has picked up recently. Cantor Fitzgerald reiterated its Buy rating and $55 price target on the name last week with the following commentary:
We rate TBPH 12-month price target of $55. We believe the Street is underestimating the peak sales potential of its key development programs. Valuation Summary We use a blend of DCF and multiples (EV/EBITDA) analysis to get to our 12-month price target of $55. We use a blend of DCF and multiples (EV/EBITDA) analysis to get to our 12-month price target of $55."
Just over two weeks ago, Leerink Partners maintained its Buy rating but lifted its price target three bucks a share to $38. On October 23rd, Piper Jaffray reissued its own Buy rating on the stock after Theravance presented four-week data from the Phase Ib ulcerative colitis study of TD-1473, a gut-selective pan-JAK inhibitor for the treatment of inflammatory bowel disease, at the United European Gastroenterology Week.
Jaffray's analyst stated 'data provides substantial proof of concept and shows the "disruptive potential" that could lead to "multi-billion" global sales for Theravance and partner Janssen.' Theravance ended the third quarter with approximately $320 million in cash and marketable securities on the books. This will be bolstered by the sale of VIBATIV® to Cumberland that was announced in early November.
The sale provided Theravance with a $25 million upfront payment as well as tiered royalties of up to 20% on future sales. VIBATIV® had product sales of $3.8 million in the third quarter. The company has maintained guidance of an operating loss of between $180 million to $200 million in FY2018.
Verdict:
There continues to be much to like about the company's story and pipeline development. Theravance has multiple 'shots on goals' and strategic partnerships with some major players in the industry. Recent events have helped 'derisk' its pipeline and positive analyst support is picking up as well. With the stock down some 20% from recent highs, the risk/reward profile continues to appear favorable.
Option Strategy:

One way to add exposure to this name is via a Buy-Write option strategy. Using the June $30 call strikes, fashion a Buy-Write order with a net debit in the $25.00 to $25.20 range (net stock price - option premium). This mitigates some downside risk and sets up a more than solid potential return for its approximate seven and a half month hold period. Option liquidity is decent in this strike price.
Even the darkest night will end and the sun will rise." ― Victor Hugo, Les Misérables
Bret Jensen is the Founder and author of articles on The Biotech Forum, The Busted IPO Forum, and The Insiders Forum. To receive these articles as published on Seeking Alpha, just click the appropriate link and hit the orange follow button.
Disclosure: I am/we are long TBPH. I wrote this article myself, and it expresses my own opinions. I am not receiving compensation for it (other than from Seeking Alpha). I have no business relationship with any company whose stock is mentioned in this article.