As we know, the volatility that stepped up weeks before the U.S. midterm elections has continued. Many quality names are being decimated and several trades we have pegged with tight stops have been stopped. The flip-side is that those who are using the opportunity to build a position in quality names are set to be rewarded handsomely unless this is indeed the "end of times" and a new recession is brewing. It is too early to make that call. In the short run, we believe that supplanting your long calls with some protective puts is the way to insure against heavy losses. We still think this selloff is temporary, and although painful, let's be honest, it is welcomed. We need the washout to create opportunity. At the same time, we must remain vigilant and spot names offering opportunity. That takes us to Kohl's (KSS) which was decimated after beaning on the top and bottom line. From a chart standpoint and from a fundamental standpoint, this is a classic bad beat here at $64-65 a share. We like Kohl's but retail is a tough spot to be in.
We are bullish on select names in retail, but as a whole, we are erring on the side of expecting a strong holiday season and a name like Kohl's looks like it may be offering a nice entry opportunity. Of course, if near-term support breaks, next support is way back to 2016 lows in the $40s. So, decide if you want to trade a bounce with a tight stop or build a position to hold for a few months or more. We are recommending both approaches.
In the last few weeks, we have shifted our recent recommendations slightly to have longer outlooks with more value-oriented and position building strategies in this time of need. However, Kohl's fits our approach of finding both a short-term trade opportunity and a longer-term value-oriented investment.
Take a look at the two-year chart:

The name rallied heavily off the 2016 doldrums in retail and triple topped around 80. Now, it is pulling back well below 70 which is a BAD BEAT under 65. We see near-term support at 59-61, but after that, it's down to 44-46.
A recommended play
First, decide if you are trading a bounce or looking to build up for a longer-term hold. Worst case with the latter? It rallies and you get a gain.
For a trade
Target entry 62-64
Target exit 68-70
Stop loss 60
Medium-term hold (months to a year+) <Pyramid build>
Target entry 64-65, -25% of position
Second trance 56-58, -30% of position
Final tranche 45-48, -45% of position
Target exit: (short-term outlook 70, longer-term 80+)
Fundamental discussion
The company beat estimates and guidance was fine. The name is down in a general retail rut. We expect a strong holiday season. The company experienced strength across much of its apparel business, has strong inventory management. This resulted in sales growth, margin expansion, and clean inventory levels. Great quarter. The company is executing extremely well and is well-positioned going into the fourth quarter. How were the numbers in Q3?
Kohl's once again delivered. Adjusted earnings for the three months ending on November 3, the company's fiscal third quarter, came in at $0.98 a share, just ahead of the $0.95 a share consensus and up 37% from the same period last year. Winning. Group sales, Kohl's said, rose 1.3% to $4.63 billion, topping consensus analysts' forecasts.
What about some of the more important metrics other than the top and bottom line? Well, same-store sales rose 2.5%, again beating the Street's expectations and our general expectation of 1-2% for a name like Kohl's. This is fantastic, as the same-store indicator is perhaps the most important we watch. Looking forward, we are forecasting low single-digit increase in this metric, based on current trends, our expectation for a strong holiday, Kohl's promotional strategies, and its selective addition of new product categories to attract traffic. However, same-store sales increases may only be occurring if because of superb promotions bringing in customers, consequently hitting profitability.
Why do we say this? Well, this is because margins expanded from 36.8% to 37%. We were pleased to see this. In addition, long-term debt was lowered, while cash and equivalents are now higher. This is what we like to call 'winning' in our service, as these improvements are setting the company and the stock up for a run higher.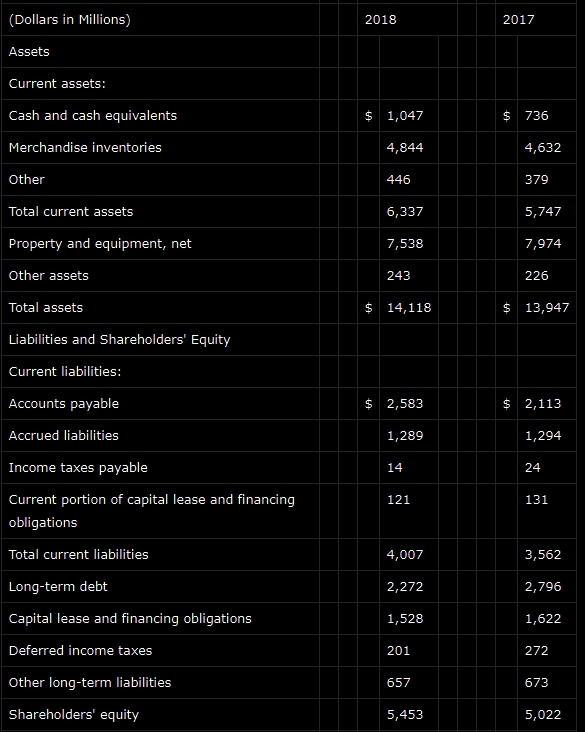 Data source: Kohl's Q3 report (linked above), graphics by BAD BEAT Investing
This is a solid balance sheet and moving in the right direction. Note, the continued reduction in long-term debt and the boost in the company's cash position. Two trends we love to see. We expect a strong Q4 moving forward and the company is entering the holiday quarter from a position of strength.
It raised guidance and we project margin improvement
Expectations are everything in this game, and we have to tell you that Kohl's raised guidance. After a solid year-to-date, we think Q4 will be strong. We mentioned the margins before. We know margins are up 40 basis points so far this year to 37.8% of sales. With Q4 coming, sales will be huge, markdowns everywhere, promotions pushed etc. Thus, we expect Q4 margin to be the lowest of the year, but a newly raised guidance suggests some margin expansion in Q4 once again. We are looking for a year-end gross margin of 36.6-36.7%. We expect strong margins given the guidance.
The company said it now expects its fiscal 2018 diluted earnings per share to be $5.16 to $5.36 compared to its prior guidance of $4.96 to $5.36. If we exclude the loss on extinguishment of debt, fiscal 2018 diluted earnings per share are expected to be $5.35 to $5.55 compared to prior guidance of $5.15 to $5.55. Hello, that's a win. What does this mean for a basic valuation?
We like it
At $65 a share, if 2018 earnings come in at $5.55, then the stock is trading at a paltry 11.7 times 2018 earnings. Considering the niche that Kohl's fills, between a big box store and department store, we think that this is a fairly attractive valuation.
Shareholder-friendly
Since we started following the company back in 2013, the company has been working to reduce debt, which is now a much less levered $2.2 billion. In addition, Kohl's has repurchased almost $2.5 billion since we started following the name. The float is down by 23% in that time. This has helped, of course, to boost earnings per share. On top of the repurchase activity, Kohl's pays out a hefty quarterly dividend. It currently pays $2.44 per share annualized, which translates to a yield of 3.77% at the current share price. This dividend helps fit a defensive strategy of buying a low-multiple name with expanding critical metrics that pays you to wait.
Take home
It is still a scary environment right now but fundamentally Kohl's is delivering. While you may be gun shy, if you initiate a position, consider some long-dated, out of the money protective puts as insurance. Consider a position here in a retailer that is improving its balance sheet, paying a solid dividend, and growing sales and earnings.
Be a winner, and at a huge Cyber Week discount. Join a top performing service at 60% off. Just 3 spots left.
Signup now, and pay 60% off the regular rate that other big money traders pay for access to our team.
Literally $1.08 per day. One trade pays for years of the service.
What we do for you:
Find beaten-down stocks and profit from their reversals.
Defensive plays discussed in chat in this volatile market
2-3 swing trades a week, monthly deep value plays.
Guided entry and exits.
Oh, and it's Free to try for two weeks.
Disclosure: I am/we are long KSS. I wrote this article myself, and it expresses my own opinions. I am not receiving compensation for it (other than from Seeking Alpha). I have no business relationship with any company whose stock is mentioned in this article.