Introduction
PagSeguro (NYSE:PAGS) reported September quarterly results which overall were positive, as revenues were in-line with consensus estimates, while adjusted EPS outperformed prior forecasts. Following the company's reported results, shares sold off sharply on, what we believe, were investor concerns regarding market competition. These fears were likely heightened given the company's sequential net merchant additions were down ~22% to just over ~300k vs. more than 400k in the June quarter and equaled the lowest quarterly net adds since 1Q17.
In our opinion, investor concerns regarding competition may be misplaced during the near-term given the vast underutilization of credit card payments within Brazil. As future growth in credit card usage in Brazil becomes more in-line with developed countries, we think overall market growth can support multiple participants. Share gains are not necessarily tied to share loss from competitors in today's payment processing market. Our view is supported by PAGS noting that ~79% of its merchants had not previously accepted card payments before working with the company.
Following the reported September quarter results, we have revised our projections for the company's future periods. The most notable revision in our estimates is within our forecast for full-year 2019 adjusted EPS, which were negatively impacted by lower estimates for non-GAAP adjustments compared to the figures provided by management's full-year 2019 non-GAAP net income guidance. The change to non-GAAP adjustments increased our forecasted 2019 non-GAAP expenses, which also negatively impacted our estimate for full-year 2019 adjusted EBITDA margin.
While our estimates for adjusted EPS in 2019 have declined, we still believe PAGS is poised for continued growth in the coming years. Relative to other global payment processors, PAGS still offers one of the most favorable estimated growth and valuation metrics. We continue to view PAGS as a company that investors should look at closely for long-term diversification into international growth. We believe the current sell-off in shares is likely overdone and would note that the company still has the majority of its announced $250m buyback available.
September Quarter Earnings and Conference Call Highlights
PagSeguro reported September results which outperformed prior consensus expectations for adjusted earnings per share, and revenues which were in-line with consensus (adjusted EPS of 0.94 BRL vs. consensus at 0.86 BRL, and revenues of 1.12 BRL). (PAGS Investor Results Documents) During the September quarter, active users increased to 3.8m, up ~9% sequentially, but net merchant adds equaled 323k which was down ~22% sequentially from the strong June quarter additions of 417k, which was a company record. While reported net additions were in-line with prior company guidance of ~300-400k, it was near the lower end of the range. Adjusted EBITDA margin increased to 40.1% versus 37.9% in the June quarter. GAAP net income margin declined 3% sequentially, but on an adjusted basis, non-GAAP net income margin increased 1% sequentially. The improvement in both adjusted EBITDA and adjusted net income margins occurred while pricing for terminals has declined and incumbent competitors have become more aggressive in their pricing. We have provided a variance analysis below comparing our estimates for the September quarter, as well as S&P Capital IQ consensus figures, versus actual reported results for key metrics.

On the company's earnings call, management noted that the average take rate declined slightly in the September quarter to 4.9% vs. 5% in the June quarter, due to a higher mix of debit card transactions which offer a lower percentage contribution than other payment options. Management noted on the June quarter earnings call that August had been a record for the company in terms of monthly TPV (Total Payment Volume), and again noted on the September earnings call that TPV records continue to be set each month, with November setting a new company record.
PAGS management provided guidance for net additions in the December quarter to be roughly flat at ~300k, this would imply the company would exit 2018 with ~4.1m active merchants compared to exiting 2017 with ~2.8m, equaling y-y growth of ~71%. In October, the company announced a $250m share repurchase program, but due to the timing of the company's quarterly blackout period, only a small portion of this buyback had been utilized. We would expect management to be more active in its buyback program during the December quarter given the declines in share price following reported results for September.
The company provided net income guidance for the first time since operating as a public company. For the fourth quarter, non-GAAP net income is expected to be in the range of 305-315 BRL, while full-year 2018 should be in the range of 1.05-1.06 BRL. For the full year, based on the mid-point of guidance, it would equal year-over-year growth of ~121%. PAGS also provided non-GAAP net income guidance for FY19, implying a range of 1.32-1.5 BRL, which at the mid-point would generate year-over-year growth of 33%. Management noted that the lower end of the FY19 non-GAAP net income guidance was in-line with estimates provided during the company's IPO roadshow.
Investors' Concerns Focus on Competition
We believe the main concern of investors and analysts remains the potential for increased competition. In our opinion, competition concerns were likely heightened by a meaningful sequential slowdown in net merchant additions during the September quarter and is probably the main driver behind the weakness in PAGS shares since our last article in early November when shares were trading near ~$28/share. The company acknowledged increasing levels of competition during its 3Q18 earnings call, similar to comments made by competitor Stone Co. in its September quarter earnings release and conference call.
While we recognize competition is likely increasing in the Brazilian payment processing market, concerns regarding competition may be misplaced, at least over the next few years. Today, the Brazilian payment processing market is very underpenetrated versus developed countries. As shown in the chart below only about ~56% of the population makes or receives a digital payment, compared to ~92% in the U.S., and only ~32% own a credit card, which compares to ~94% in the U.S. Thus, we believe that there is significant room for payment processing market growth which, in our opinion, can support multiple participants. Given the underutilization of credit cards for payments currently in Brazil, and the potential to grow over time towards similar usage levels seen today in developed countries, we don't believe that market share gains ultimately come at the expense of other competitors serving the micro-merchant and small-to-medium business merchants. As noted by the company, in its earnings presentation, nearly 79% of its merchants did not accept credit card payments before working with PAGS. This figure demonstrates that the company has targeted new merchants for payment processing, not necessarily needing to take material share from any one competitor.
Low Penetration of Digital Transactions in Brazil Implies Multi-Year Growth Opportunities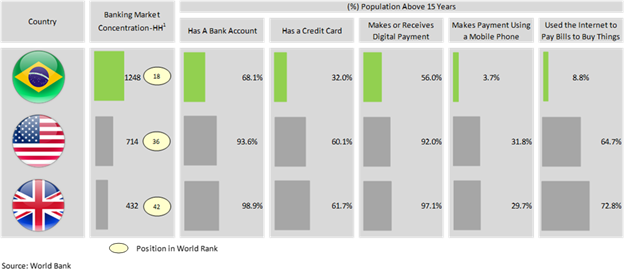 Per management's commentary, the company has penetrated just under ~4% of the total available TPV opportunity of ~1.8T BRL, as of the September quarter. Our current estimates suggest this figure could grow to over 7% by the end of 2019 and potentially reach greater than 11% by the end of 2020. Thus, our future estimates for growth are not predicated on PAGS achieving a substantial portion of the overall market, and likely gaining a portion of the expansion in payment processing in Brazil over the next few years.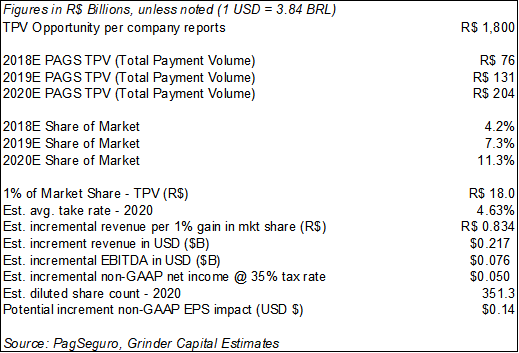 We continue to monitor competitive threats to PAGS's business model, but we believe the company remains well positioned to capitalize on the expansion of credit/digital payments usage within the Brazil economy. The company continues to focus on delivering solutions to its merchants which management believes will provide significant value over the lifetime of its customer base. During its earnings call, management noted the success of its recently introduced bill pay solution, which is only one part of the total ecosystem PAGS provides its merchants. In addition, the company noted that it had begun to introduce lending capabilities to a small portion of its merchant base at rates which were ~3X lower than that offered by Brazilian banks. We view the digital ecosystem offered by PAGS as a key differentiator versus competitors and the long-term driver of future growth.
Estimate Revisions
Following the company's reported September quarter results, we have updated our estimates for PAGS's 4Q18, FY18, and FY19. We have provided changes in key metrics in the table below. Our fourth quarter 2018 estimates now reflect a slightly lower projection for quarterly TPV, revenue, and adjusted EBITDA margin. However, our estimates for adjusted earnings per share has increased due to higher non-GAAP earnings adjustments. (Prior non-GAAP earnings adjustment for 4Q18 of ~17m BRL vs. company guidance of ~24m BRL). The changes reflected in 4Q18 have a similar impact on our current full-year 2018 estimates.
Our estimates for full-year 2019 have been revised higher for projected TPV and revenues but reduced for adjusted EBITDA margin and adjusted EPS. The key driver of the reduction in our adjusted EBITDA margin and adjusted EPS is due primarily to lowering of our forecasted non-GAAP adjustments due to the guidance provided by the company in its projections for FY19 non-GAAP net income. Thus, given the lower offset to GAAP expenses our overall non-GAAP expense forecast for full-year 2019 has increased. Following the reduction in adjusted EPS, our current estimates suggest potential year-over-year growth in 2019 equal to ~25%, which is lower than prior projections which using our updated full-year 2018 adjusted estimates, would have assumed year-over-year EPS growth of ~63%.

Valuation Remains Compelling Versus Other Global Payment Processing Comps
On a comparative valuation basis, PAGS still remains either #1 or #2 for estimated growth in both revenue and adjusted EPS as well as EBITDA margin, versus other global public payment processors. Our comparative valuation analysis does not yet include competitor Stone Co., who recently IPO'd in October, as estimates by Wall Street have yet to be published via Thomson Reuters. In future articles, we will certainly include Stone Co. for valuation comparison. In comparison to current public global payment comps, PAGS is the lowest, or near the lowest, in all valuation metrics based on full-year 2019 estimates, such as EV/EBITDA, Forward P/E, and EV/Sales multiple shown in the table below.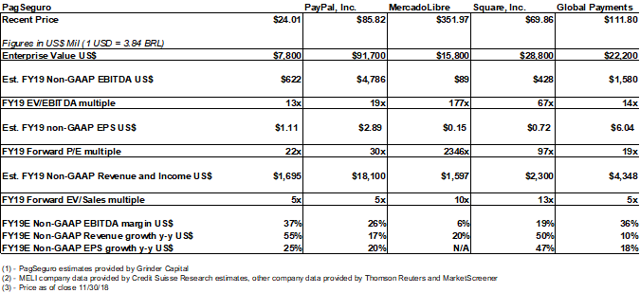 Based on PAGS's closing price of $24.01 on Friday, November 30th, the company is currently trading at only ~22x our revised adjusted EPS estimates with projections for growth of ~25% in full-year 2019 adjusted EPS. This compares to an average ~623x forward P/E for public global payment companies. If we exclude outlier MercadoLibre, the average forward P/E for public comps is still ~48x, more than 2x the current forward P/E currently assigned to PAGS. If PAGS were to trade at a forward P/E multiple of ~30x, still significantly less than public comps, the shares would likely be trading near ~$33/share. Assuming a forward P/E multiple more in-line with public comps, ~40x 2019 estimates, shares would trade around ~$44/share. Based on a forward P/E multiple of ~30x it would imply shares could appreciate ~37% from Friday's closing price of $24.01, or based on ~40x, upside in share price from current levels could equal ~83%. Given the disconnect in the valuation of PAGS, relative to other global public payment comps, we see significant value in shares at current levels for investors looking to diversify into international growth opportunities.

Summary
Following reported September results, we remain steadfast in our positive long-term view of PAGS. While growth will likely slow in full-year 2019 due to a larger 2018 base, we don't believe investors concerns related to competitive concerns are relevant over the next few years, given the potential expansion of card payment processing in Brazil. In our opinion, there remains significant growth opportunities for PAGS to acquire new merchants, many of whom have not previously accepted card payments. With potential forecasted penetration of total TPV TAM at the end of 2018 at ~4%, and our estimates suggesting market share could grow to greater than 11% of TPV TAM by the end of 2020, we don't see growth opportunities negatively impacted by competition in the near-term.
With current valuation significantly lower than public payment comps, but growth and margins near the high-end of comparable companies, we believe investors should utilize the current disconnect as an opportunity to add to current positions or initiate new positions in shares of PAGS. Volatility in shares has been significant since the company's IPO in January 2018, something investors should consider when evaluating PAGS as a potential investment. Assuming the mid-point of potential forward P/E multiples we believe PAGS may achieve over time, share appreciation of ~60% over the coming years. Investors looking to diversify to international growth opportunities should look a PAGS as a core future holding based on our current estimates and what we perceive as a depressed valuation following the sell-off in shares post 3Q18 earnings.