Apple Inc.'s (AAPL) stock may be oversold and due to rise in the coming days and weeks. With the U.S./China trade war now officially put on hold, the risk of iPhone tariffs or a China boycott of the iPhone become less likely. It should help to alleviate fears of more trouble ahead for the stock and allow investors to focus on Apple's valuation which is its lowest in over a year.
Technical analysis also suggests the stock is due to rise after the relative strength index hit oversold levels. Meanwhile, the chart also indicates a breakout is in the works, and that the stock may rally back to technical resistance of approximately $209.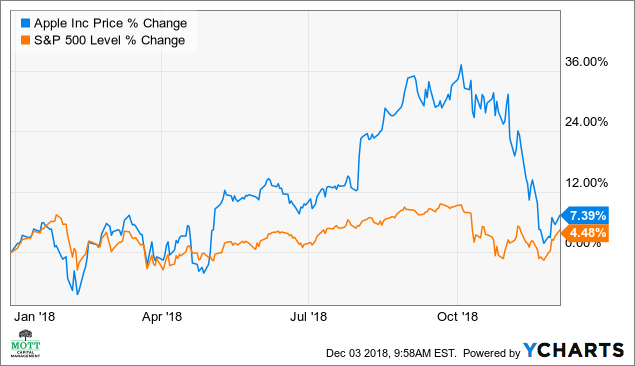 Overblown Fears
Investors have been fearful that the recent iPhone cycle was weak after many Apple suppliers issued weak guidance. However, there are signs that iPhone demand has remained healthy, and the worries are similar to those of last year on the iPhone X release, which were proven to be overblown. On November 14, Dialog Semiconductor (OTCPK:DLGNF) - a German chipmaker, noted that it had not seen a demand hit from Apple, a comment that has gone largely unnoticed by investors. This came after Dialog Semi and Apple signed a $600 million licensing deal. Apple uses Dialog's chips for power management to extend the life of the iPhone's battery.
The group will get a significant indication of just how good or bad Apple may be doing when Broadcom (NASDAQ:AVGO) reports fiscal fourth quarter results on December 6. The company is a major Apple supplier as well. The results will capture a period up until November 4, when Broadcom's fiscal quarter ends. The company noted during its fiscal third quarter call it expected wireless revenue to be up more than 25% sequentially due to a ramp up from its largest North American customer.
Broadcom's wireless results will give investors a clean look into how Apple iPhone units are progressing. To this point, Broadcom has not issued a profit warning or any other indications to suggest that revenue will be short of its previous guidance of $5.4 billion +/- $75 million.
Technical Bounce
Apple's stock has fallen sharply since reporting quarterly results and is now showing signs of breaking out. That is because the stock is rising above a technical resistance level at $180. Also, the stock is rising above a critical downtrend which was created at the beginning of November.
Additionally, the relative strength index has fallen to oversold levels below 30. But now, the RSI is nearing a breakout should it rise above a level of 40. It too would indicate that the stock is ready to advance.
Should the stock rise as the two indicators previously mentioned would suggest the next level of resistance would come around $195, an increase of about 9% from the stock's closing price of $178.58 on November 30. Looking forward, if the stock can manage to rise above $195, then the next level of resistance would be at $209, an increase of 17%.
However, should the breakout not hold and Apple falls below $180, the stock could face an even steeper loss falling to as low as $164, the stock's next level of major technical support.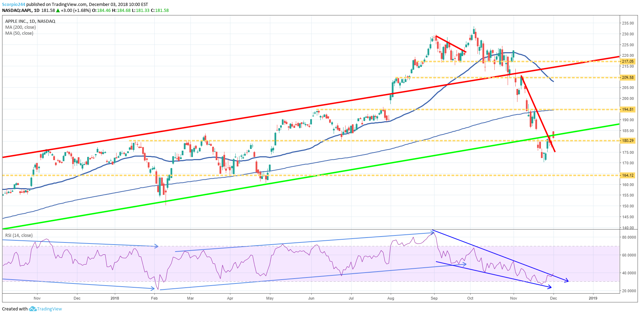 Where Are Estimate Cuts?
What seems most surprising about the entire sell-off, which has resulted in Apple losing nearly $230 billion in market cap or a 21% drop, is that estimates have hardly fallen. According to data from YCharts, since their peak earnings estimates for fiscal 2019 and 2020 have dropped by about 3%. Meanwhile, revenue estimates for 2019 have decreased by just 1.25%, while 2020 has remained flat. With all the iPhone concerns in the market, analysts have hardly cut their earnings or revenue estimates. It surely doesn't seem to make sense.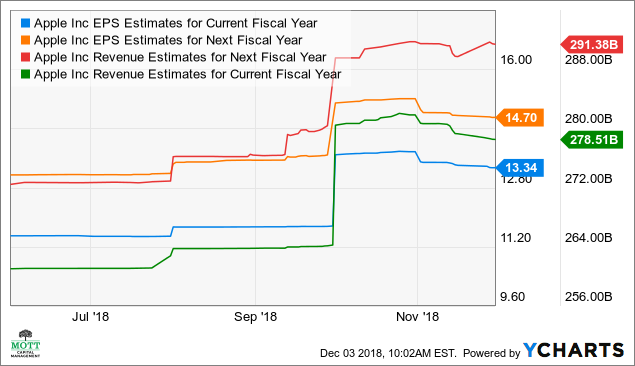 Valuation
All the worries have sent Apple's stock to its lowest one-year forward P/E ratio since January 2017 at just 12. That is well below the S&P 500's one-year forward P/E of around 16. Even when adjusting the stock's earnings multiple for growth using the compounded annual earnings growth rate through the year 2021, shares trade with a PEG ratio of 1.06.
Of course, should earnings estimates fall further, it would cause Apple's valuation to rise, making shares more expensive.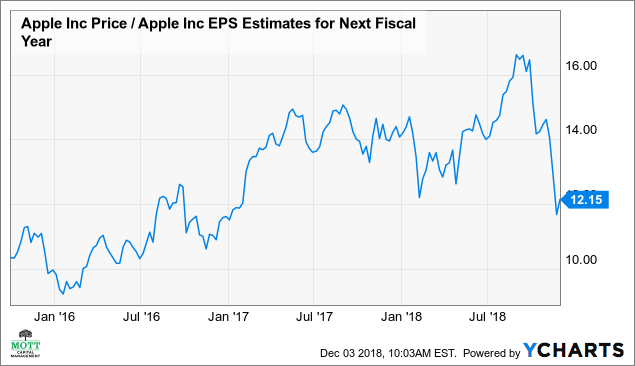 Risks
There continues to be plenty of risks associated with the stock, because sentiment continues to be very bearish. This is not only true of Apple but most of the technology stocks especially the FAANG stocks which have been hit particularly hard. Additionally, there could be further earnings and revenue estimate downgrades to come as analysts analyze Apple's supply chain. Apple suppliers could begin to issue profit warnings due to weak iPhone sales as the end of the fourth quarter approaches. Additionally, trade tension between the US and China could very easily reignite as the two sides negotiate, putting Apple again at risk of a tariff or boycott.
Conclusion
It would seem that much of the recent worries in Apple may be overblown, and similar to the hand-wringing by investors at the same time last year after the launch of the iPhone X. To this point, there have been some signs that perhaps this iPhone cycle will not be the next great supercycle. But remember, Apple never issues iPhone guidance, so it is impossible ever to know if the iPhone is performing better or worse than Apple's expectations. Therefore, all investors have to hang out their hat on is the guidance the company issues, and at that point betting against Tim Cook and company, may not be a wise decision.
Disclaimer: Mott Capital Management, LLC is a registered investment adviser. Information presented is for educational purposes only and does not intend to make an offer or solicitation for the sale or purchase of any specific securities, investments, or investment strategies. Investments involve risk and unless otherwise stated, are not guaranteed. Be sure to first consult with a qualified financial adviser and/or tax professional before implementing any strategy discussed herein. Upon request, the advisor will provide a list of all recommendations made during the past twelve months. Past performance is not indicative of future results
Welcome to the new revamped version of Reading the Markets. The focus is on finding stocks that may rise or fall using fundamental, technical, and options market analysis.
Additionally, we use analysis from stocks, sectors, yields, commodities, and fx to figure out the broader market trends taking place.
We also welcome questions and request to help you with your investing journey.
Join us and try out the service for free for the first two weeks.
Disclosure: I am/we are long AAPL.
I wrote this article myself, and it expresses my own opinions. I am not receiving compensation for it (other than from Seeking Alpha). I have no business relationship with any company whose stock is mentioned in this article.