Johnson and Johnson may not be the sexiest player in the industry in terms of a growth valuation, but the healthcare giant may prove a worthwhile portfolio addition through the combination of growth and value it offers at a potentially undervalued price. The company continues to invest in building its moat by investing heavily in its diverse pharmaceutical pipeline while also expanding through acquisitions. At a forward P/E ratio of 16.3 relative to an industry average of 23.9, investors stand to gain from full realization of Johnson and Johson's earnings value.
Business Description
Johnson & Johnson is the world's largest and most diverse healthcare company. Three divisions make up the firm: pharmaceutical, medical devices and diagnostics, and consumer. The drug and device groups represent close to 80% of sales and drive the majority of cash flows for the firm. The drug division focuses on the following therapeutic areas: immunology, oncology, neurology, pulmonary, cardiology, and metabolic diseases. The device segment focuses on orthopedics, surgery tools, vision care, and a few smaller areas. The last segment of consumer focuses on baby care, beauty, oral care, over-the-counter drugs, and women's health. Geographically, close to half of total revenue is generated within the United States.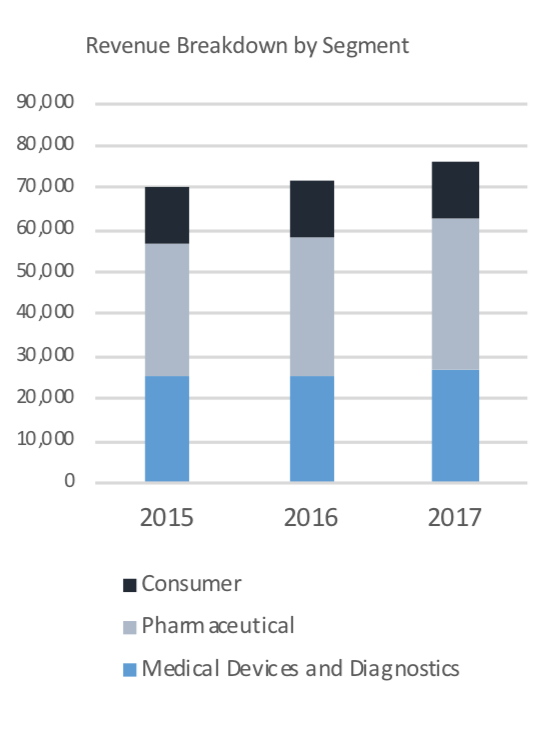 Catalysts: Buyout of Actelion
Johnson and Johnson's recent acquisition of Actelion and its expensive and high-margin pulmonary hypertension drugs for $30 billion has contributed to approximately half of the 15.1% sales growth in J&J's pharmaceutical segment for the first quarter year over year. Before the acquisition, Actelion spun off its drug research and development into R&D NewCo, a Swiss pharmaceutical company- of which, J&J has a 16% equity stake and rights to an additional 16% (as well as an option on a hypertension drug in NewCo's pipeline).
Expansion of Immunology Market
Stelara, an autoimmune disease drug is rapidly becoming the most important drug for J&J. It came out in 2009 to treat Psoriasis but was approved to treat Crohn's disease in 2016, making 2017 revenue for the drug jump 38%. Stelara currently only claims 10% market share for Crohn's patients leaving plenty of room for expansion. Additionally, J&J believes the immunology market is significantly under-penetrated. They plan to grow their immunology franchise by introducing drugs that have greater efficacy and a stronger safety profile in order to create an appeal to people who have been resistant to prescription drugs in the past.
New Indications for Existing Drugs
J&J has been working to develop Darzalex into first-line treatments. Darzalex already claims 20% market share as a second-line treatment for multiple myeloma, but the "next wave of growth" for the drug will happen in the first-line setting. These two existing drugs, with their new branding, will exponentially increase J&J revenue in the coming year.
Potential for Esketamine
J&J's drug pipeline potential is expected to increase as a result of its new antidepressant nasal spray, Esketamine. Esketamine is estimated to bring in $2B during peak sales, boosting its neuroscience drug pipeline value to upwards of $3.5B. Although the drug is not expected to be approved until 2019, its innovative approach to resistant depression makes the drug safer. Unlike competing antidepressant drugs, Esketamine affects the NMDA receptors instead of the serotonin levels in the brain, thus lowering the risk of resulting suicidal thoughts and providing psychiatrists a safer way of treating depression.
Risk Analysis: Pricing Pressures
Insurers, pharmacy benefit managers and the Trump administration are pressuring J&J to lower the prices of their drugs. In fact, Trump claimed Alex Azar, the Secretary of Health, would bring prices "way down". J&J planned to raise list prices of its medicines by 8.1% last year, but they ended up falling 4.6% due to $15 billion in discounts and rebates they handed out. Additionally, lower-priced competition is beginning to have an impact as rivals start launching biosimilar copies.
Threat of Amazon
Johnson & Johnson's consumer health segment, which accounted for 17% of its revenue in the most recent quarter, is facing competition from Amazon. In fact, J&J CEO Alex Gorsky advised "healthcare companies to prepare for competition" from Amazon at the JPM Healthcare Conference in January. On top of this, a few weeks later, Amazon, JPMorgan, and Berkshire Hathaway announced a joint venture to provide "simplified, high-quality and transparent healthcare at a reasonable cost." Furthermore, Amazon CEO Jeff Bezos once said "your margins are my opportunity" and Amazon will continue to pressure J&J on the future.
Remicade Patent Expiration
Johnson and Johnson's has had its patent on Remicade, its top-selling autoimmune disease drug, ruled invalid by a U.S. appeals court in early January of this year. So far, Johnson and Johnson has done a remarkable job of negotiating with insurers to cut costs and maintain its market share by volume of Remicade. Typically, patent expiration is followed by a massive drop off in sales for pharmaceuticals as biosimilars and generic drugs flood the market. But, Johnson and Johnson has largely been able to stave off the competition. While a steady drop off in market share is inevitable in the long run, Johnson and Johnson has so far done an excellent job of handling the patent loss of Remicade.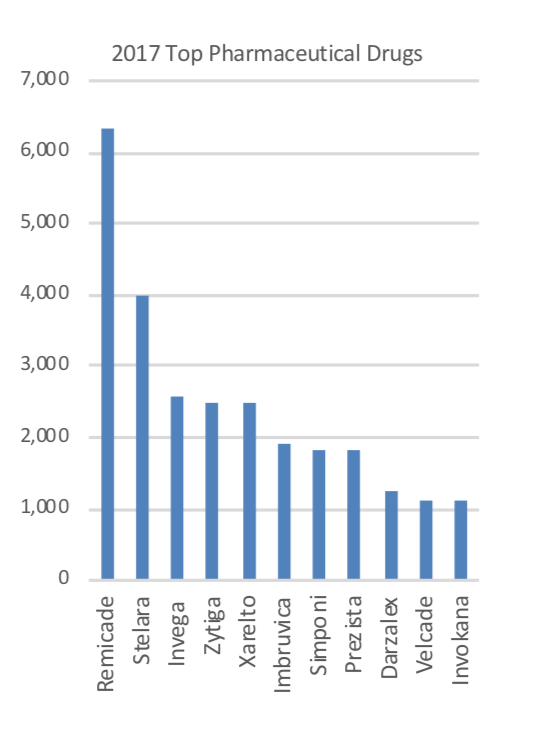 Quantitative Projection
The best case scenario for JNJ has a strong late-stage pipeline and most drugs in this phase are capable of generating more than 1 billion in peak sales. Materialization of JNJ pharmaceutical segment performance will have high revenue growth. Oncology drug sales alone are expected to double if all drugs in the late-stage pipeline are approved. Additionally, we expect to see Johnson and Johnson's continued steady decline of Remicade market volume share through cutting costs. Assuming an EV/EBITDA multiple of 18.1x, Johnson and Johnson is trading at a 26% share discount as of Nov. 22nd, 2018.
Source: Author
Comparable Company Analysis
The Comparable Companies we looked at for Johnson and Johnson are all companies that compete directly with one or more segments of JNJ. We focused on companies that compete in the pharmaceutical segment as well as in the medical technology business. We decided to compare on an EV/EBITDA bases because JNJ has had a high income tax expense in the previous year which skewed its recent PE ratio and EBITDA gives a stronger representation of the core business operations. We found that JNJ is generally trading at a discount to both its Pharma and MedTech peers. Additionally, JNJ has a forward P/E ratio of 16.3 while the industry as a whole as a forward P/E of 23.9. Both analyses may indicate that JNJ is currently undervalued.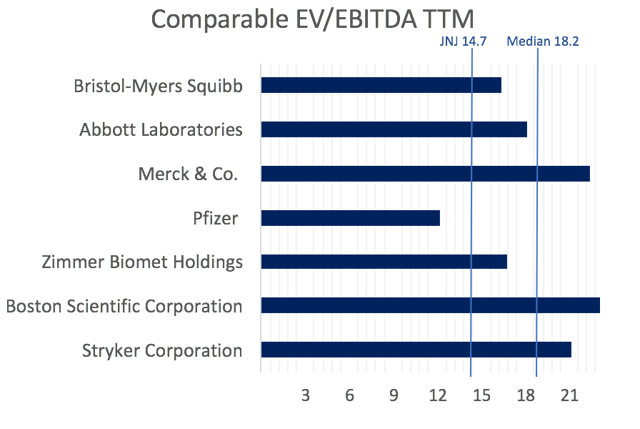 Source: Author
In Short
Johnson and Johnson appear undervalued by both the multiples method and comparable analysis. If Johnson and Johnson continues to invest in its drug pipeline and proactive management, the company is positioned well within the industry as a diversified healthcare giant with strong pharmaceutical growth prospects.