The market was in a tizzy about Tesla (TSLA) on November 30th, thanks to a leaked staff email from CEO Elon Musk. In the email, Elon congratulated the teams that managed to hit the milestone of producing 1,000 Model 3 sedans in a day. The market was immediately enthused at the news. The stock shot up in the afternoon, closing at just over $350 a share - nearly 3% over the previous close.
In this research note, we address another important piece of information revealed in Elon's email: a fresh update on the short-range Model 3, the long awaited mass-market variant of the electric sedan.
According to Elon, the cost to produce the short-range version is still well above the promised sale price of $35,000. It may prove extremely difficult to cut costs much further to make this version cost-neutral, let alone profitable.
Given that these lower-priced Teslas are meant to become a dominant part of the product mix, it will likely mean significant margin compression. That does not bode well for Tesla's aim of achieving 25% gross margins across the Model 3 platform.
Let's discuss.
A Problem of Cost
Cost has been a problem from the beginning for the short-range Model 3. Despite advertising the $35,000 purchase price since 2016, it has proven very difficult to make that price economical.
On several occasions, Elon has claimed that, once Tesla achieved sustained volume production of 5,000 units per week, efficiencies and economies of scale would make this price affordable. But achieving this production rate has proven elusive, thus far. Despite having managed a handful of 5,000-plus production weeks, in addition to the big burst build pushes, average production appears to have plateaued well below that level. The Bloomberg Model 3 Tracker shows this quite clearly: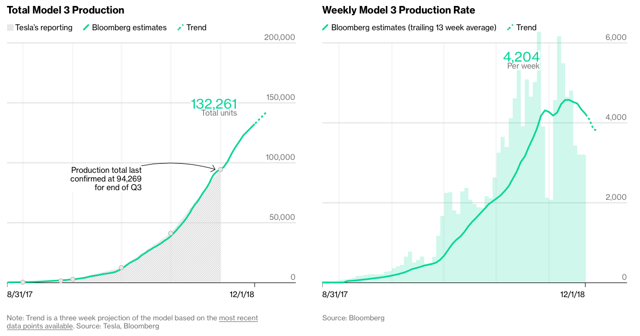 The need for volume production to make the short-range Model viable has been made clear repeatedly. In May, Elon stated that Tesla would die if it tried to sell the short-range version at that time: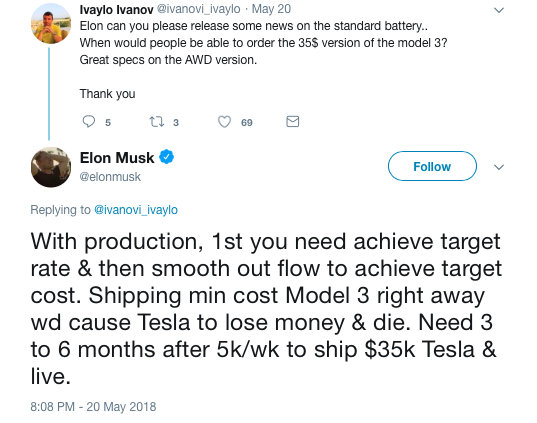 This negative view of the short-term prospects for the short-range Model 3 was repeated during the Q3 earnings call. During the analyst Q&A, CFO Deepak Ahuja claimed that the $35,000 version is not yet economical. According to Ahuja, improvements both in economies of scale of battery production and in manufacturing efficiency were necessary before the mass-market version could be sold at a profit. Elon reinforced Deepak's statements, saying it would take perhaps six months to get there:
"If we could produce a $35,000 car today, we would do it. We need more work, there is more work to do before in order to make a $35,000 car and have it be positive gross margin. We're probably less than six months from that. That's our mission."
It has been more than a month since the earnings call, and Elon's latest email offered the first tangible progress report since then.
Still Too Expensive
In his latest email, Elon exhorted the Tesla team to look for ways to improve production efficiency, no matter how small, to drag down the cost of the short-range Model 3:
"It's important to bear in mind that the cost of the car is made up of about 10,000 unique parts and processes. depending on how you count it, the current cost of a standard range Model 3 would be around $38,000, so each part or process step only costs around $3.80. That means finding cost efficiencies is a game of pennies, even though it might not seem so."
So, we now have an idea of the cost to produce a short-range Model 3 under present conditions: $38,000. That means Tesla has to shave off a further $3,000 - or 8% - from the cost of production just to reach non-negative margin. It would take even more saving to make the lowest-cost Model 3 even slightly profitable. Doing that for a vehicle that is already essentially in production is no small challenge.
The challenge might be even greater than that, depending on what Elon means by the "current cost" of the short-range Model 3. His wording is somewhat ambiguous, so it could refer to the total cost of a unit to point of sale, or simply the manufacturing cost. Even with the staggering reductions in per-vehicle SG&A reported in Q3, we could tack on at least a few thousand more dollars from cost of sales, delivery, etc.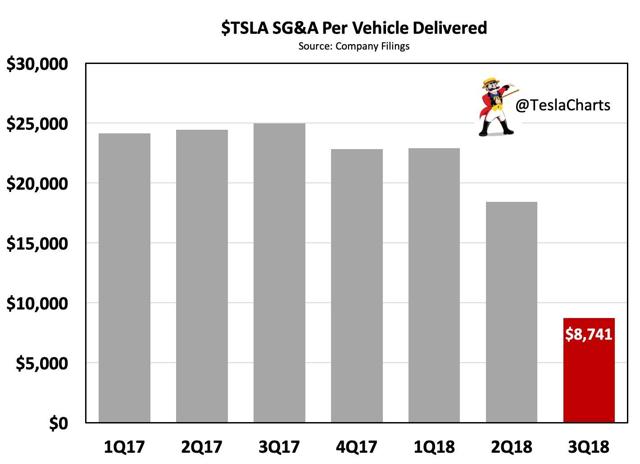 Elon offered no update on the timetable for the rollout of the short-range Model 3, but, if we assume it has not been altered since the October earnings call, then it should be hitting the market in less than five months.
The clock is ticking to find new efficiencies.
Margin Compression
Tesla claimed that the Model 3 had GAAP and non-GAAP gross margins in excess of 20% in Q3. This was a surprise to virtually everyone. The company attributed the remarkable margin improvements to major efficiency gains, especially a 30% reduction in per-vehicle labor hours from Q2.
Seeking Alpha's jaberwock has detailed the various sources of the margin improvement in an excellent article, which included this very helpful illustration: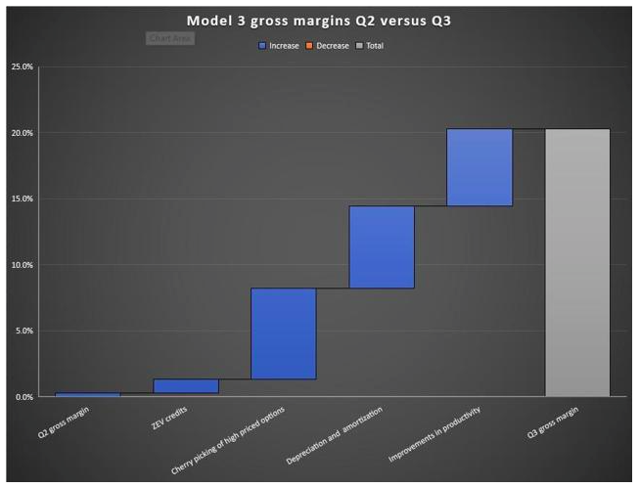 While Tesla bulls have celebrated Tesla's remarkable margin improvement on the Model 3, they frequently overlook an extremely important point: Tesla deliberately prioritized deliveries of the highest ASP units and has been serving this market almost exclusively since the Model 3's commercial launch. All-wheel drive and Performance-upgraded Model 3s made up a big percentage of total sales. Tesla acknowledged this in its Q3 earnings update, but it pushed back against the idea that profits would be affected significantly over the long term:
"Model 3 mix was strong in Q3 due to the launch of AWD and Performance variants. While the average selling price will gradually decline as we introduce lower priced variants, we are not expecting this to impact profitability."
This was always a very strange claim, given that very significant further improvements to production cost would be necessary to maintain the current profit levels after introducing lower priced models to the mix. That is a big ask for a manufacturing process that has already been streamlined and that appears to be near full capacity.
With the introduction in October of a mid-range Model 3, Tesla's claim of stable profitability will be put to a first test when it reports Q4 earnings early next year. A starting price of $45,000 makes the mid-range version $4,000 cheaper than the base price of the cheapest long-range Model 3.
The cheaper mid-range model was not in Tesla's original product roadmap and has been described as a stopgap measure in light of the continued delays to the short-range model. It will provide an illustrative lesson in Q4. It should put downward pressure on Model 3 margins, all else remaining equal. The scale of the impact will depend on how many upgrades mid-range buyers purchase, and the percentage of buyers who opt for this cheaper model over the long-range options.
Investor's Eye View
Ultimately, the impact of the short-range Model 3 on Tesla's margins is a long-term prospect. Even by Elon's (usually too optimistic) timeline, the $35,000 version is not going to be on the market this quarter, and almost certainly not in Q1 2019 either. So, there will be some time before the mass-market model bites into margins.
Additionally, when Tesla starts selling the Model 3 in Europe and Asia, it will again be able to give initial priority to high margin orders in much the same way it has in North America. If rolled out in these geographies expeditiously, Tesla will be able to keep margins inflated for a while. But, as in North America, the margin-boosting backlog of demand for premium models will taper off within a couple quarters.
While it can delay the reckoning, eventually Tesla will have to confront the problem of margin compression. And, despite Tesla's claims to the contrary, it beggars belief that it will be able to maintain - let alone improve upon - the 20% gross margin enjoyed in Q3. Given Tesla's current self-reported cost structure, it is unlikely that a $35,000 Model 3 will ever be more than negligibly profitable, and that will ultimately weigh on the overall profit margin for vehicle line.
An unprofitable - or barely profitable short-range Model 3 could easily cause Tesla's profit potential to evaporate. That would be bad news for a market capitalization that has priced in the narrative of rapid profit growth.
Disclosure: I am/we are short TSLA. I wrote this article myself, and it expresses my own opinions. I am not receiving compensation for it (other than from Seeking Alpha). I have no business relationship with any company whose stock is mentioned in this article.