In February 2018 we had suggested that pension funds were vastly overestimating the kind of returns they would get from a 60:40 portfolio mix and the only place that they might get their 7% returns would be from REITs.
One of the best asset classes over the last half a century has been beaten to a pulp. Yes, we are talking about REITs. Within the REIT sector, there are substantial stocks that are trading at adjusted funds from operations (AFFO) yields far in excess of pension fund required returns. Looking at some of our favourite REITs which include Ventas, Inc. (NYSE:VTR), Welltower, Inc. (HCN), Medical Properties Trust (NYSE:MPW), Sabra Healthcare, Inc.(NASDAQ:SBRA), W.P. Carey (NYSE:WPC), Colony Capital (CLNS) and Physicians Realty Trust (NYSE:DOC), we can see that the AFFO yield on all of them exceeds the 7.5% mark.
What happened since
5 of the 6 recommendations handily beat the broad averages, represented below by S&P 500 ETF (SPY) and Invesco QQQ Trust (QQQ).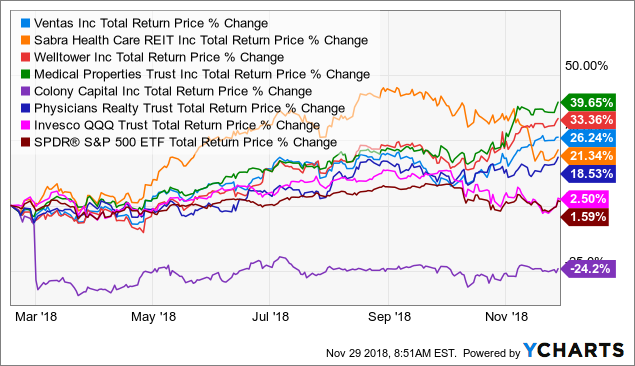 An equally weighted portfolio among these 6 would have yielded 19.15%, outperforming by over 17% with one rather bad outlier.
Why this worked so well
Sentiment helps set up some compelling plays. As interest rate fears permeated the landscape, the NAREIT all equity REIT index yielded more than the Baa corporate bonds in early 2018. This is an extremely rare occurrence and historically REITs have delivered rather good returns following this point. That has happened only at times when investors were most dramatically avoiding REITs, most recently in March 2009 at the lowest point of the Great Financial Crisis—and in the 12 months following that episode, those investors who bucked the market and bought into REITs were rewarded with total returns that exceeded 100 percent. Hence the setup was rather extraordinary and it delivered rather good results.
Where we stand now
We have seen a dramatic compression of this spread, as Baa yields have exploded higher by 100 basis points since February 2018 and the REIT index has rallied strongly and hence yield less.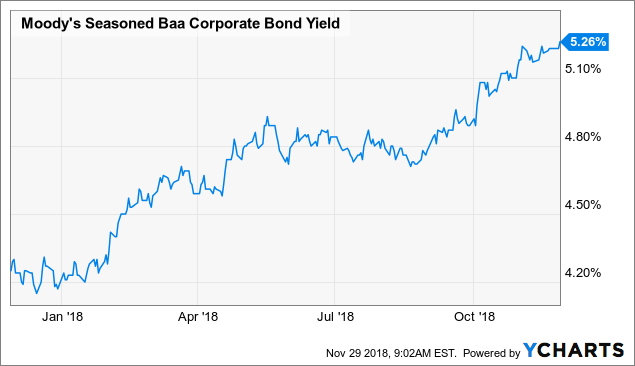 This now has the Baa yield exceeding the NAREIT all equity yield by more than 1.6%.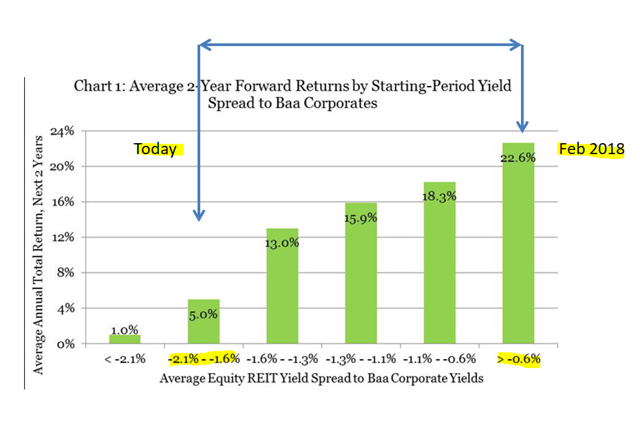 What that means for REITs going forward
As the chart above shows the forward returns are nowhere near as stellar from these levels as they were in early 2018. That does not mean that REIT should be abandoned. But it does mean that one cannot buy with the wild abandon that one did in early 2018. The risks and rewards have to be weighed a lot more carefully. There are still some REITs that are compelling today, like this one that we bought recently, but a larger swath of US REITs have now moved to much closer to fair value.
A pullback from these levels coupled with a pullback in Baa yields could make the broader REIT indices more attractive again. Another general trend that might help would be seeing a pause or even the end to the Fed rate hike cycle. In the interim, it is time to get way more selective and hedge positions using options.
For more analysis such as this, along with real-time alerts on income stocks on both sides of the border along with option income ideas, please consider subscribing to our marketplace service, Wheel of Fortune.

The Wheel of FORTUNE is one of SA Marketplace's most comprehensive services. You can now subscribe to it while taking advantage of our year-end bargain, which includes significant discounts, mega prizes, and a two-week free trial.
We view our service as a "supermarket of ideas" with an emphasis on risk management and risk-adjusted returns.
We cover all asset classes: common stocks, preferred shares, public debts, baby bonds, options, currencies, and commodities.
Our monthly review for October, where you can find all suggestions since launch, is only one click away.
Take advantage of a rare, fantastic offer, before fees going up.
Disclaimer: Please note that this is not financial advice. Investors are expected to do their own due diligence and consult with a professional who knows their objectives and constraints.
Seeking Alpha has changed its policies. Previously "following" someone required a ritualistic commitment and an offering of not less than 4 oxen or 3 breeding horses. Now all it takes is one click! If you enjoyed this article, please scroll up and click on the "Follow" button next to my name to not miss my future articles. If you did not like this article, please read it again, change your mind and then click on the "Follow" button next to my name to not miss my future articles.
Disclosure: I am/we are long DOC, WPC, CLNY. I wrote this article myself, and it expresses my own opinions. I am not receiving compensation for it (other than from Seeking Alpha). I have no business relationship with any company whose stock is mentioned in this article.