Last week, First Lady Melania Trump said, in a Virginia Town Hall meeting:
Opioid addiction is an illness that has truly taken hold of our country. According to the Centers of Disease Control, more than 130 people die each day, due to overdosing opioids. In 2017, this accounted for more than 72,000 deaths...
This, a stark realization that numbers are rising, up from 115-a-day last year, according to the NIH.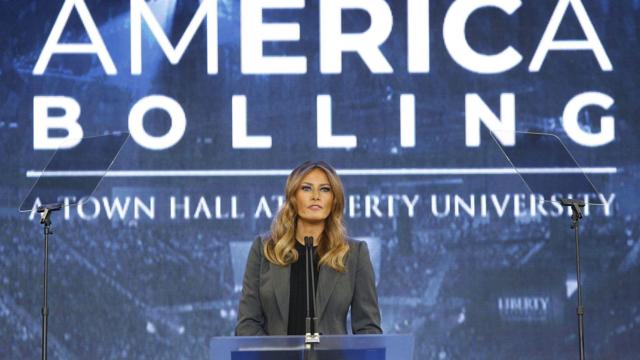 First Lady Melania Trump speaking last week at Liberty University. Source: Fox News
There has been much speculation as to the financial health of the world's largest single weapon to combat this crisis: Acadia Healthcare (NASDAQ: ACHC). They are the largest standalone provider of substance abuse treatment services, serving a multinational population in 39 US States and the UK. This was re-emphasized in an Axios article published Nov. 29, 2018, where Bob Herman cited my comprehensive 14-month findings.
Moreover, there is an overall question of industry ethics, and investment rationale.
Is the weapon pointed in the wrong direction?
There also appears to be an investment strategy to the downside here. However, insiders in the industry truly want better care, and this is an opportunity for special situation investors looking for a proven cost-effective solution. That's what I want, because it will be an economic breakthrough when we beat the opioid epidemic that's costing us over a half trillion annually, according to the White House.
In midst of my efforts to develop that solution, I have received many individual responses to the November 16th article entitled: Acadia Healthcare Very Scary Findings from a 14-month investigation, as well as two follow-up pieces. Aside from a few threats, for the most part, this was a sudden inflow of comments, questions, and support from people concerned with the very same issue.
A Former Patient
A confidential source and former patient of an Acadia facility who received care in 2017, and was discharged upon successfully completing care, stated;
I felt a profound heartfelt gratitude for your article, published two days ago on November 16th on the business practices of Acadia Healthcare Company on Seeking Alpha.
This person elaborated how she bore witness to patient abuse and a grossly understaffed facility. One of the major abuses she witnessed was the manipulation of insurance benefit utilization. She showed evidence that the facility is shuffling patients in and out of various care levels, so as to maximize the patients stay, and level of care in which insurers will reimburse various amounts per day.
In one case, this included prohibiting a patient exhibiting acute psychiatric symptoms from seeing an individually licensed physician, because it poses a risk of the unstable patient being taken to a higher level of care. Thus, another provider outside of Acadia's umbrella would benefit from that billed day. Under most insurance plans, patients are only given so many days in various levels of care per year, or over a lifetime, for that matter.
This patient lodged a complaint with state level regulators. I was provided a copy of the complaint and the response from that state. They stated that they "may have conducted interviews" and that the facility "may have issued a report that identified violations." However, the letter from regulators stated they were ultimately unable to substantiate claims.
More detailed specifics from this case were withheld from this account to protect the anonymity of the patient, at their request.
A Former Executive at Acadia
A former Acadia executive reached out to me via email, confidentially, and urged me to investigate further, by saying:
track down ex-clinicians from Timberline Knolls -- you'll find compelling evidence of the poisonous impact of ACHC's culture.
I will re-iterate from my previous article that:
Two lawsuits have been filed against Timberline Knolls this year. One complaint alleges wrongful death due to the neglect of patient Grace Cho. The other alleges sexual assault by Michael Jacksa, 40, a former counselor at the facility. Another suit, from 2015, alleges child neglect.
An Adolescent-Focused Facility Employee
I interviewed another former employee of Acadia in person. This individual reached out via LinkedIn in a message that simply stated, "keep exposing Acadia, I was (fired) by them in 2017 to simply boost their revenue."
Public companies can, using adjusted EBITDA accounting statements, in theory, "add back" salaries from fired employees to boost revenue.
I asked several questions beginning with a request for their view of how Acadia leadership is affecting the individual facilities, they noted,
As time goes on, the more control the leadership has over the facility, the independence of the facility started getting stripped away by penetrating their model of creating as much revenue as humanly possible.
When asked what they meant by "stripping away" and "penetrating" the model of the facility? They stated,
We're already feeding clients peanut butter and jelly, and then we had to find a way to cut our food service plan. Then we needed to save bucks on living areas, and make them as barren as possible, and then we had to take on more patients, but couldn't add more clinicians.

…That's what's going on with each of their programs, they're trimming the fat off the turkey down to the bone.
I then asked why they started working in the field, and they responded,
When you get well and you want to give back, you have to give back the proper way. So, I spent $100,000.00 on an education and became trained to serve those who needed help.
This individual stated they spent the last several months since termination cleaning up their reputation. When asked what he intended to do next, he said,
I am going back to what needs to be done for clients, and providing quality care, and not rotting a family of their assets but giving them the second chance at life.
The former staff member corroborated the apparent patient-shuffling to maximize insurance dollars and said this practice is not uncommon in the industry, especially since reimbursements dipped, starting, for the most part, in 2015.
"Profiteering from Misery"
On October 27th, 2018, The UK newspaper, The Daily Mail published an article exposing the abuse of patients with autism and learning disabilities. On November 10th, the same paper listed Acadia CEO Joey Jacobs, among others, as one of the "Fat Cat" healthcare operators that is,
creaming off hundreds of millions of pounds from the NHS after muscling in on the cruel but lucrative trade in locking up people with autism and learning disabilities.
The author, Ian Birrell, reports that Acadia is operating at least 10 facilities and three ATUs (through its 2016 acquisition of Priory Group) that are benefiting from high reimbursements from a patient population that consists of,
hundreds of people with autism and learning disabilities are being routinely abused in some facilities, confined in horrific seclusion cells, fed through hatches like animals, aggressively restrained and forcibly drugged."
Patients with autism and learning difficulties are being sectioned off in secretive secure psychiatric units and assessment and treatment units ("ATUS") for average stays of five-and-a-half years costing up to €730,000 ($829,239 USD) per patient annually. Many of these patients are minors and young adults seen as 'cash cows' by providers that decide to section them under mental health laws. Acadia Healthcare operates 61 facilities in the U.K.
Eve of an Industry Contagion
Acadia Healthcare is the largest provider of addiction treatment in the behavioral and mental healthcare industry with over 580 facilities and 18,000 beds around the world. By default, they are the face of the "War on the Opioid Crisis" which has become a popular bi-partisan platform. They are the public lens into the industry. Unfortunately, taking a closer look at the financials and operations, it appears they've prioritized profits over patients, with dangerous repercussions.
The Loose Thread: Profits Over Patients
As a public company, they have a responsibility to the shareholders, but as a medical provider, they have an ethical and moral obligation to the patients and their loved ones. Therein lies the problem and the loose thread that has the potential to unravel a whole industry (and the reason why most hospitals are non-profits). Of course, executing an aggressive LBO strategy to bulk up from six to a Franken-network of 585 facilities in under eight-years racking up $3.2 billion in debt while artificially driving up industry valuations by paying upwards of 36X EBITDA on acquisitions to amass over $3 billion in unimpaired goodwill on the balance sheet was probably not the brightest thing to do, especially in a monetary tightening phase.
Backed into a Corner
Despite the rhetoric of benefiting from the opioid epidemic, the falling EPS and revenues evidenced by the shortfall and lowered guidance on the Q3 2018 earnings report reveals they have clearly backed themselves into a corner. From that corner, three doors of fate await: carve-outs, acquisition or bankruptcy. Acadia is a cautionary tale of what's wrong with the current industry financial and operating model ("heads-on-beds"). It's an infrastructure that's corroding by the quarter on the brink of collapse. When that happens, the war on the opioid crisis will be lost by self-sabotage. While the Mental Health and Parity Act had good intentions, it opened the flood gates for abuse that has been interwoven into the fabric of the industry. As the cliche goes "The road to hell is paved with good intentions." However, hope still survives in the shadows as disruption awaits to materialize...
Disclosure: I/we have no positions in any stocks mentioned, and no plans to initiate any positions within the next 72 hours. I wrote this article myself, and it expresses my own opinions. I am not receiving compensation for it (other than from Seeking Alpha). I have no business relationship with any company whose stock is mentioned in this article.