Corrections in Cleveland-Cliffs (CLF) shares have been notoriously significant, and the most recent one was no exception, taking the stock from $13.00 to $8.50 after a run from $6.50 to $13.00. At this point, I believe that we have already seen the bottom of the current correction and that Cliffs shares may be ready to finally get out of the current downside channel.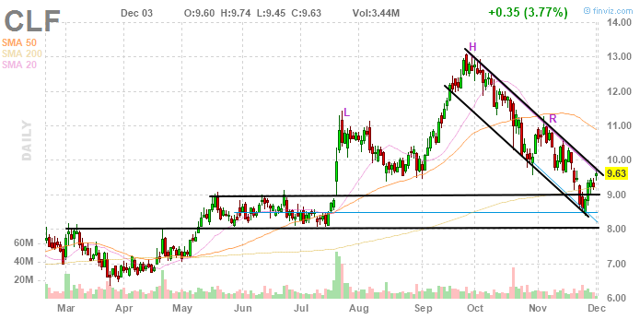 Steel names like U.S. Steel (X), AK Steel (AKS) or Steel Dynamics (STLD) have been under major pressure recently, inflicting downside in steel-related names like Cliffs. The recent blow was delivered by Steel Dynamics' announcement of a major electric arc furnace project, which will add to supply. However, this is the very type of project that uses the hot briquetted iron for which Cliffs is building its new facility. Anyway, the spot steel market is going through a correction after a major previous rally: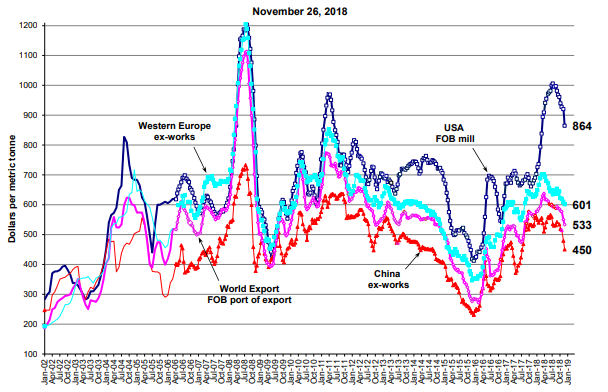 Source: SteelBenchmarker
However, just like the rate of previous spot upside did not immediately lead to upside in Cliffs' realized price for the pellets it sells, the downside in spot price will also be mitigated by the fact that steel producers use contracts rather than selling all their products at spot prices.

Source: Yahoo Finance
Valuation-wise, the stock is still trading at ridiculously cheap levels. Taking next year's earnings estimates into account, Cliffs is trading at less than 6 forward P/E. This reminds me of the time when I wrote "Cleveland-Cliffs Is A Steal At $6" - back then, the stock was also trading at about 6 forward P/E. Such levels provide margin of safety because a profitable firm cannot go to the level of, say, 2 or 3 forward P/E unless the market starts to believe that it will turn to losses in the near future. This is not the case with Cliffs, so I think thereabouts of the $8.50 level (about 5 forward P/E) should serve as the ultimate support for the stock.
The company itself believes that the shares are cheap, judging by a recent $200 million share buyback authorization. At $9.50, Cliffs can buy back roughly 21 million shares, or almost 7% of outstanding shares on a diluted basis. In my opinion, this is also a material support for the stock.
With volatile stocks like Cliffs, timing matters. I have many times reiterated that the shares are better bought on a pullback rather than a breakout, and I'd say this again - the $8.50-9.50 range looks like a good price for a bet on the company's shares due to both valuation and technical reasons. Now that the market received first positive news on the trade war between U.S. and China, the irrational fear that "the world is over due to trade war" will be gone and market participants would be able to pay more attention to valuation and fundamentals.
At this point, I reiterate my target of $15.00 (that's less than 9 forward P/E at current estimates) and I view the current levels as suitable for new entries.
If you like my work, don't forget to click on the big orange "Follow" button at the top of the screen and hit the "Like" button at the bottom of this article.
Disclosure: I am/we are long CLF. I wrote this article myself, and it expresses my own opinions. I am not receiving compensation for it (other than from Seeking Alpha). I have no business relationship with any company whose stock is mentioned in this article.
Additional disclosure: I may trade any of the above-mentioned stocks.