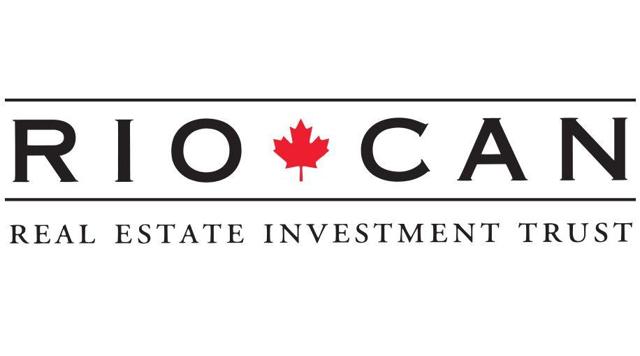 In the past 18 months Riocan (OTCPK:RIOCF) has been pivoting towards apartment rentals. Its new strategy is retail and condo/apartment focused in Canada's 6 major markets. It is well into its process of selling off close to a hundred of its retail properties in secondary and tertiary markets, and switch its focus towards building new apartment rentals.
I believe the market is not properly assessing Riocan's pivot towards apartment rentals. Since announcing its transition from a pure play retail back in Oct 2017, its stock price has flat lined and barely inched upwards. This makes the REIT a good opportunity to buy at the moment.
Future Real Estate Trends: More Apartment Rentals / Less Retail
The disappearance of a large retail chain like Sears Canada or Toys R Us in the U.S. is a clear reminder that the retail landscape is changing. Even Ivanhoe Cambridge is reducing its exposure to traditional retail by selling its stake in 10 shopping malls across Canada. Shoppers nowadays prefer to buy online instead of heading to the mall.
This is why it was a very gutsy move for Riocan to divest $2 billion of its retail portfolio and switch its focus onto just Canada's 6 major markets (Toronto, Montreal, Calgary, Edmonton, Vancouver, and Ottawa). There is a reason why Riocan chose these specific markets and that is because of the potential here. From 1996 to 2016, the overall population growth was 37%:

(Source: Census Canada)
If the population continues to grow like it did in the past 2 decades then the existing retail portfolio is only going to do well also. Higher levels of population in these areas means more consumers will shop in a Riocan property. If there are more consumers in these centers then it also makes sense for Riocan to be in the apartment rental business as well.
Apartment REIT Comparison
The apartment REIT industry has been pretty lucrative recently. Out of the 5 REITS that are pure play rental apartments, 3 of them have seen their earnings per share increase consecutively for the past 5 years, 1 REIT has its EPS stagnate, and 1 REIT saw its EPS fall:

(Source: Financial Statements)
Although there is some mixed results for some of the above REITs, the results does show that there is money to be made in the apartment rental market today.
Riocan's Strategy: Leverage its Retail to Build Up its Apartment Rentals
Riocan has a number of urban retail centers where there is potential to intensify through a mix of more retail and additional residential. Within its portfolio, 74 projects have been identified for intensification opportunities. The following intensification projects are in progress:
Yonge Eglinton Northeast Corner in Toronto
King Portland Centre in Toronto
Glocester rental development in Ottawa
Riocan in March 2018 also launched its residential brand: Riocan Living. Through the brand it now has 8 projects in development that will amount to 2,100 units, 13 additional projects are in early planning stages, with a remaining 25.1 million square feet of development opportunity.
Riocan has Strong Financial Fundamentals
Since Riocan is now in the business to build new apartment rentals and condos, its finances needs to be in order to help fund it. Taking a look at its finances, its debt ratio is low: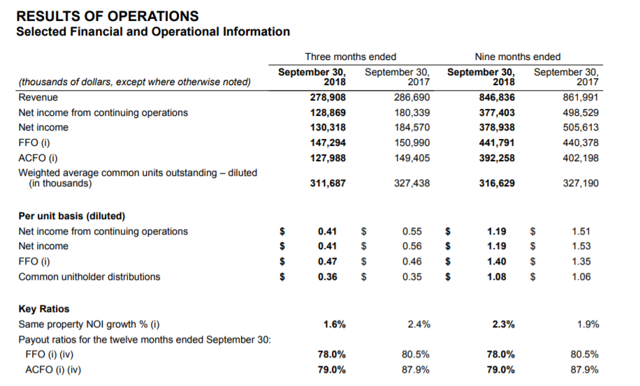 (Source: Riocan Financials)
This shows that the company could take on more debt capacity to help fund intensification in its properties. Also, from a floating interest rate perspective its floating rate to total debt is below 20%. This means the REIT is well-insulated from interest rate hikes.
Its dividend payout ratio also remains below 80%, this means the REIT has enough cash to continue its dividends and build up its cash reserves for future development. The one downside here is because the REIT is focused on building and intensifying, the likelihood of any future dividend increase is going to be low.
Downside: Intensification Projects will be Long
It seems like Riocan plans to build its apartment portfolio through developing it compared to acquiring it on the market. There is a benefit to doing it this way because a newly built rental apartment generally has lower operating costs and is able to charge higher rents. But this type of strategy also takes time to play out. A new rental apartment from beginning to end takes several years as it requires rezoning, city approvals, and arranging construction.
This transformation that Riocan has undertaken will take a long while to fully play out.
Overall: Buy
It is rare for a lot of companies to change direction when things are going relatively well. So I applaud Riocan for making the decision to divest $2 billion of retail and focus solely on the 6 major markets. Research has shown that the main drivers of growth will be in these 6 urban centers.
The company has the money to execute such a strategy and I like its idea of holding just high-quality assets. It's a long road ahead for Riocan, and the market barely budged when the company announced a new strategic direction. The market clearly does not see the real value here and what Riocan is trying to do.
I rate this REIT a buy!
Disclosure: I/we have no positions in any stocks mentioned, and no plans to initiate any positions within the next 72 hours. I wrote this article myself, and it expresses my own opinions. I am not receiving compensation for it (other than from Seeking Alpha). I have no business relationship with any company whose stock is mentioned in this article.
Editor's Note: This article discusses one or more securities that do not trade on a major U.S. exchange. Please be aware of the risks associated with these stocks.