Thesis
JD.com (JD) has seen its share price get devastated over the last couple of months. This share price decline was driven by politics and by a weak performance of the Chinese equity markets, not by JD.com's operating performance.
It continues to execute well operationally, which means that the share price decline, which has led to a valuation of just $25 billion for the company, provides a solid buying opportunity. Shares will in all likelihood remain highly volatile, but I believe that long-term oriented investors will be able to generate attractive share price gains from JD.com going forward.

Reasons for JD's selloff during 2018 are not company-specific
Over the past couple of years, stocks of several Chinese companies, especially tech/e-commerce companies, performed quite well as investors increasingly realized the massive potential for profits in the gigantic Chinese market.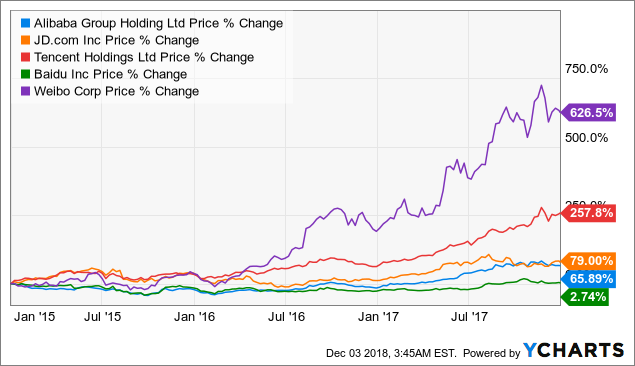 Between January 2015 and January 2018, stocks of companies such as Alibaba (BABA), JD.com, Tencent (OTCPK:TCEHY), and Weibo (WB) rose massively, Baidu (BIDU) being the outlier that did not perform well during that time frame. Things reversed in 2018, though, and shares of many of these companies declined substantially:
The share prices of these five companies have all declined by 24% - 58% from the respective 52-week high over the last couple of months. The broader Chinese equity market has not performed well during that time frame either, as showcased by the relatively weak performance of the iShares China Large-Cap ETF (FXI):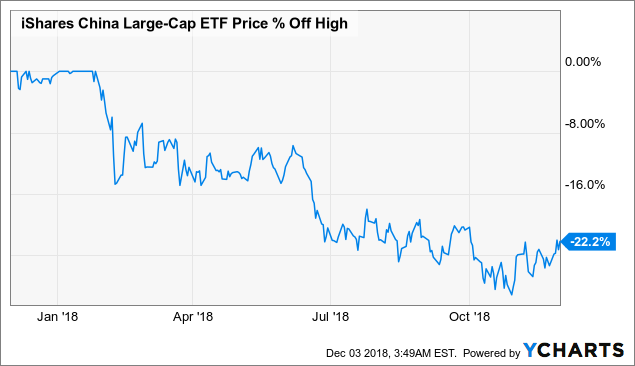 The more tech-focused group of stocks that includes JD.com has performed even worse than the broad Chinese equity markets, though. This is in line with what we have seen in the US, where high-flying tech stocks have underperformed the broader markets over the past couple of months: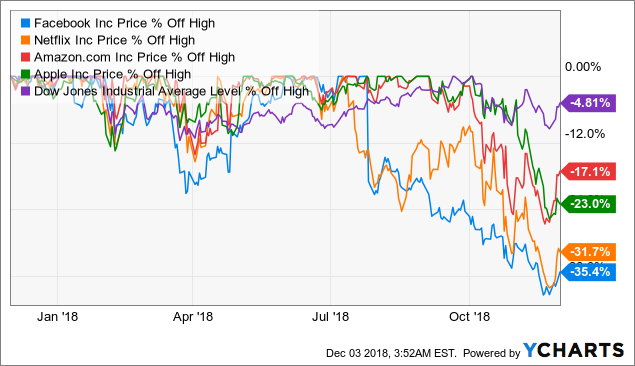 Companies such as Facebook (FB), Netflix (NFLX), Amazon (AMZN), and Apple (AAPL) have declined substantially more over the last couple of months compared to the mundane decline we have seen in the Dow Jones index.
When we combine these two phenomena, i.e., a weak performance of the Chinese equity markets and an underperformance of tech/e-commerce stocks, we see the results that are visible in the share prices of JD.com and other former Chinese high-flying stocks.
JD.com's very weak share price performance - the company has lost more than half of its market capitalization since early 2018 - is not based on its underlying execution.
Underlying performance remains very favorable, and JD.com has a strong growth outlook
JD.com is one of the largest e-commerce players in China, and the company continues to deliver solid growth rates.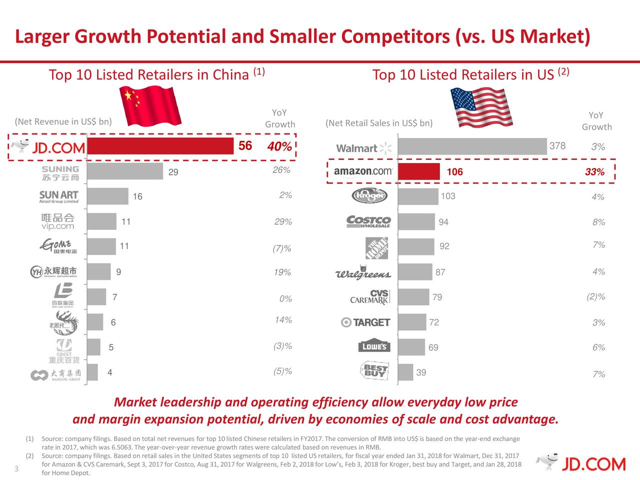 Source: JD.com Q3 2018 presentation
It has grossed revenues of $56 billion during fiscal 2017, which represents an increase of 40% compared to fiscal 2016. This was a little bit more than half the revenues that Amazon has generated during the same time frame, but JD.com's revenues grew at a faster pace. Theoretically, one would assume that JD.com would trade at roughly half of Amazon's valuation, but the difference in the valuation of these companies is significantly larger: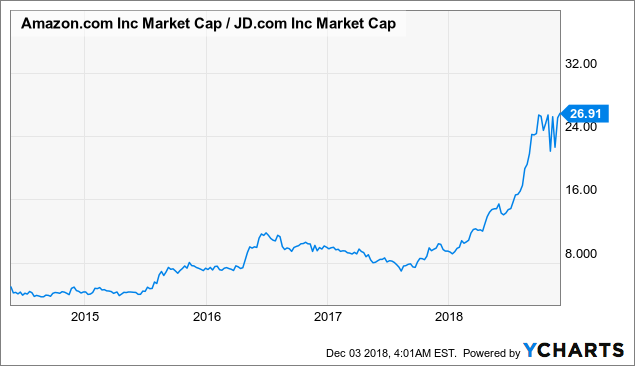 Amazon trades at ~27 times JD.com's market capitalization right now, despite only generating twice its sales. The ratio between Amazon and JD.com's market capitalization has never been this wide, which indicates a substantial undervaluation of JD.com versus Amazon.
During the third quarter of 2018 JD.com grew its revenues by 21% and earned $0.12 per share. During the first nine months of 2018, it has delivered solid revenue and profit growth as well.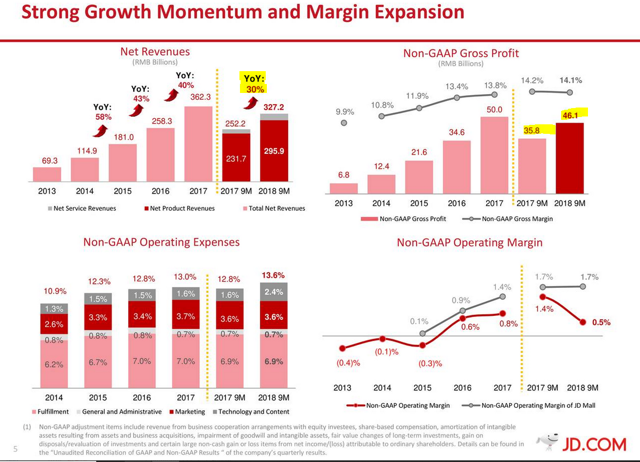 Source: JD.com Q3 2018 presentation
The company has grown its revenues to $49 billion during the first 3 quarters, a 30% increase year over year. When we factor in JD.com's guidance for Q4, it will produce massive revenues during 2018:

Source: Earnings highlights
Using a CNY to USD rate of 0.15, we get to a Q4 target of $20 billion in revenues, which brings this year's expected total revenues to $70 billion. Guidance for Q4 was slightly below what the analyst community has expected, but the forecast still implies a high-teens growth rate compared to the $16.9 billion that JD.com grossed during Q4 2017.
This will, by far, not be the end of JD.com's growth story, though. The company continues to invest for more growth, and due to the fact that the Chinese e-commerce market is one of the most attractive ones in the world, there is ample room for growth over the coming years.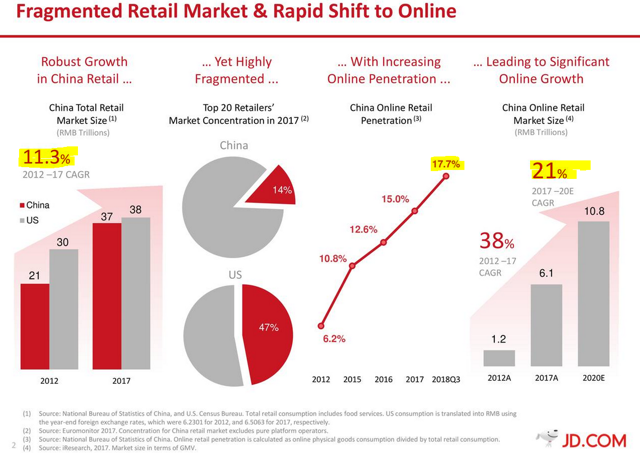 Source: JD.com Q3 2018 presentation
The Chinese retail market has grown by 11% annually over the last couple of years, but thanks to rising online market penetration, the country's e-commerce market has grown at an even higher pace of 38% annually. JD.com forecasts that the market will grow by another 21% annually through 2020.
When we assume that JD.com will not gain any market share and that it will not lose any market share either, the company will gross revenues of $99 billion in 2020. The high growth rate in the Chinese e-commerce market is based on several factors, and as all of these factors will remain in place, it is highly likely that the e-commerce market will continue to grow at a rapid pace going forward, through 2020 and beyond.
The first of these factors is a steep growth rate in China's middle class: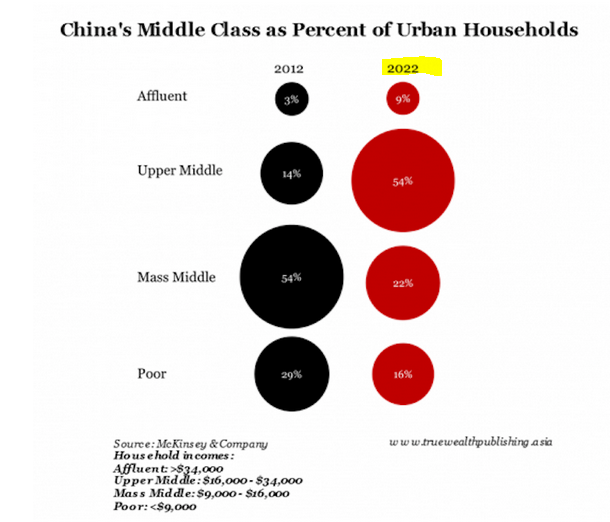 Source: Business Insider
McKinsey & Company forecasts that more than 60% of the Chinese urban population will belong to the upper middle class or the affluent class by 2022, whereas less than 20% of China's urban population belonged to either of these groups in 2012. As the portion of consumers in these upper-income brackets rises at a substantial pace, retailers in the country will be able to sell to a massively growing market. On top of that, the retail industry in China is less brick-and-mortar focused compared to the US and other Western countries: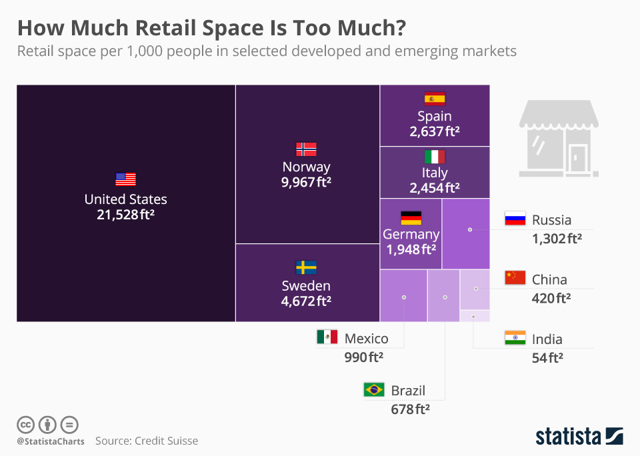 Source: Statista
When we compare the US retail industry with the Chinese retail industry, we see that there is roughly 50 times as much retail space (on a per capita basis) in the US compared to China. In China, where the retail industry got big just a couple of years ago, retailers have put significantly less focus on brick-and-mortar space, but instead, have put a lot of effort into online retail from the beginning. This is why it is the largest e-commerce market in the world. Economic growth in China will likely remain strong for the foreseeable future (compared to countries such as the US and the world average), the middle class will continue to grow at a rapid pace, and retail will remain online-focused. This is why analysts forecast that the Chinese e-commerce market will hit a massive $1.8 trillion by 2022.
The outlook for JD.com thus remains very favorable, as the growth trends in the Chinese online retail market will remain in place. On top of that, it has the option to move into other countries, and the company also seeks to build out its brick-and-mortar network over the coming years.
JD.com trades at a low valuation right here
The steep share price decline that JD.com has experienced during 2018 has made its shares relatively inexpensive.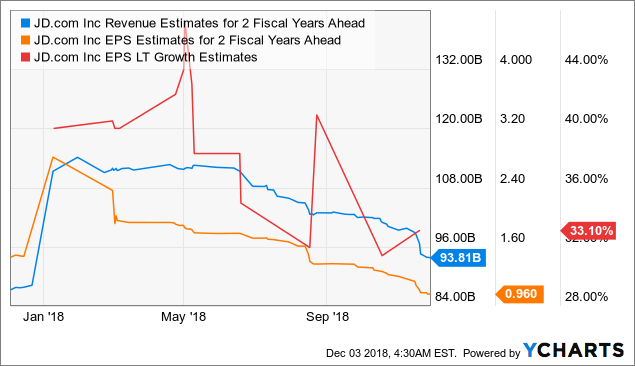 Estimates for 2020 have declined somewhat over the last couple of months, but analysts still forecast revenues of $94 billion and earnings per share of $0.96 for the company in 2020. During Q3, JD.com earned $0.12 per share, or $0.48 on an annualized basis. The company thus would have to double its EPS over the next two years to hit this estimate. When we account for the steep revenue growth rate that it will likely generate, and for some operating leverage on top of that, this estimate seems relatively realistic.
Right now JD.com trades at $21 per share, which means that shares are valued at 22 times 2020's earnings currently. When we account for the forecasted long-term earnings per share growth forecast of 33%, this looks like a relatively inexpensive valuation, as the 2020 PEG ratio is just 0.64.
When we look at the P/E ratio only, the company still trades at a discount relative to how some of its peers are valued: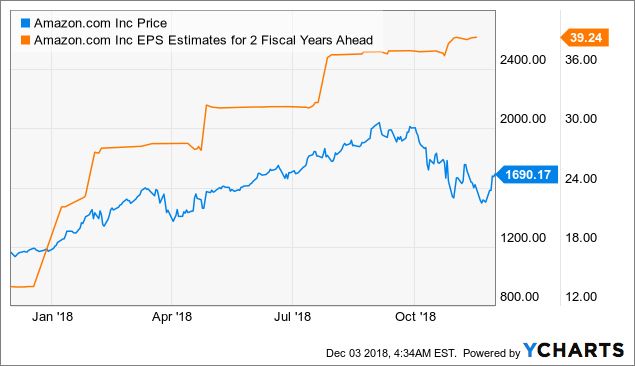 Amazon, for example, trades at 43 times forecasted profits during fiscal 2020 right here, which is ~2 times JD.com's valuation.
Final thoughts
JD.com share price has declined massively over the last couple of months, despite the fact that the company continues to perform well operationally. Investors with a long-term focus (several years) who are not interested in dividend payments have a chance to load up on shares of this high-growth retailer right here.
Due to its strong long-term growth outlook and a relatively inexpensive valuation, I believe that there is a good chance for substantial share price gains over the coming years.
Author's note: If you enjoyed this article and would like to read more from me, you can hit the "Follow" button to get informed about new articles. I am always glad to see new followers!
Elazar Advisors' Tech Stock Service: Nail Tech Earnings
The most profitable tech stocks have delivered revenue and earnings growth meaningfully higher than analyst estimates. Nailing which companies will beat or miss consensus estimates is the key to profits for traders and long-term investors. I work with Chaim Siegel who's a professional tech analyst, originally with SAC Capital. Nail Tech Earnings, our research service, provides actionable calls for tech investors, backed up by rigorous research, to make money for our subscribers.
Disclosure: I am/we are long JD, TCEHY. I wrote this article myself, and it expresses my own opinions. I am not receiving compensation for it (other than from Seeking Alpha). I have no business relationship with any company whose stock is mentioned in this article.
Editor's Note: This article discusses one or more securities that do not trade on a major U.S. exchange. Please be aware of the risks associated with these stocks.