Target (TGT) currently trades for $70.96 per share. The stock traded for $90 as recently as September 2018; this implies a 21% sell-off from the recent high. The biggest move came following the company's Q3 earnings report where according to Seeking Alpha the company missed on both revenue and EPS. Was Target's earnings miss a one-off bad quarter, or is this the start of a new downward trend?
I believe Target is a buy after the 21% sell-off. After digging into the financials, Target appears to be making long-term investments that have hurt its margins but have boosted revenue growth. In the long run, Target will likely be able to maintain revenue growth and expand its margins once it is able to leverage its fixed cost investments in e-commerce. Finally, the stock trades at a significant discount to its peers with a P/E multiple of just 12.7x and carries a fat 3.6% dividend yield.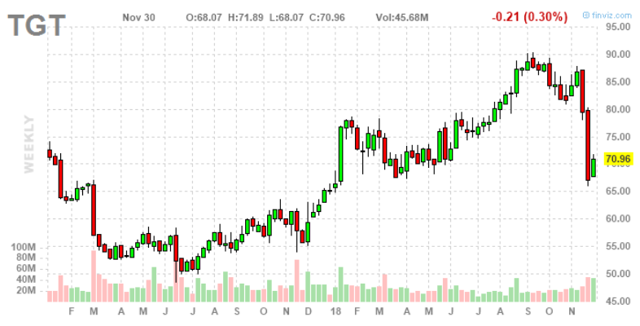 Source: Finviz.com
Target Is Showing Robust Sales Growth
In its most recent earnings report, Target reported total revenue growth of 5.7% y/y. Unpacking this headline number, same-store sales were up 5.1% y/y with store foot traffic up 5.3% and average ticket down slightly. Growth was driven by both in-store and online spending. Online revenue, which gets folded into same-store sales comps, grew 49% y/y and in-store revenue grew 1.9%.
By any objective measure, Target's top line was very strong in the most recent quarter. From 2013 to 2017, the average annual same-store sales comp was just 0.8%; 5.1% comp growth is a significant acceleration. Furthermore, this wasn't a one-off quarter in terms of growth. The first half of the year saw comp sales grow in the high 4% range and management indicated on the earnings call that Q4 comp growth is expected to be around 5%.
There are three key factors driving the strong revenue growth in 2018: a strong consumer spending environment, tailwinds from rival stores closing, and significant investments made in remolded stores and e-commerce.
It should be no surprise that the US consumer is strong this year. The unemployment rate is 3.7%, the lowest rate in 49 years. Wages are rising. And of course, many Americans received a tax break this year. These factors all bode well for a robust spending environment.
Second, Target has benefited from its rivals closing stores including Toy-R-Us, Sears (OTCPK:SHLDQ), Macy's (NYSE:M), and more. On the Q3 call, management noted that the toy category comped over 20% y/y and specifically called out the Toys-R-Us bankruptcy as a catalyst. That being said, toys is a relatively small category for TGT, therefore, it wasn't the sole factor driving top line strength.
Although other stores were not specifically called out, it is well-known that department stores including Sears, J.C. Penney (JCP), and Macy's have been shedding hundreds of stores. Target has been holding store count fairly steady and should benefit from this national shrinkage in physical retail competition.
Third, Target has been aggressively remodeling its existing store base which has resulted in a comp store growth improvement. The company has noted in prior calls that it typically can bump up an individual store's same-store sales growth by 2%-4% after a remodel. This year, Target has remodeled over 300 stores and plans to remodel at least 600 more stores over the next couple of years; this represents roughly half of their total store count.
Finally, Target has made significant investments in e-commerce and omnichannel capabilities to keep up with competitors and market trends in consumer shopping preferences. Target has invested in initiatives including grocery delivery, drive-up pickup, in-store pickup, and shipping to consumers from stores. To help accelerate grocery deliver, last year Target announced it would acquire grocery delivery company Shipt for $550 million. These initiatives are all available in most Target stores today and have contributed to the massive 49% y/y gain in digital sales this past quarter.
Summing up these different pieces, there is a bull and bear argument to make regarding revenue growth. The bear argument is that Target is benefiting from a strong economy and temporary tailwinds from store closures. However, I am more inclined to believe that Target's top-line growth will continue to be robust.
Target is not closing stores for a reason: it has bested the competition. Furthermore, Target is making significant capital investments in remodeled stores and omnichannel capabilities. Consumers certainly appreciate nice stores and additional shopping options which should continue to engender brand loyalty to the store online and offline.
Wage Pressures and E-Commerce Investments Have Hurt Margins
Despite the top-line strength, earnings have been weak because of the all the investments Target has had to make, partly to support sales growth. In the last quarter, operating profits fell 3.3% y/y. This is the second year of margin compression following a peak level in 2016. The primary culprits are rising wages, store remodels, supply chain enhancements, and investments in omnichannel capabilities.
The rising wage story is straightforward. All across the US, minimum wage requirements are rising and a tight job market has made companies pay-up in some cases to lock down unskilled labor in stores and warehouses. Target aims to have minimum wages up to $15 per hour by 2020, this is from $11 currently. Therefore, rising wages will continue to be a headwind for at least another 2 years.
The store remodels described earlier are also a hit to earnings through higher D&A. The company is expected to spend $1.6 billion in capex on remodels in 2018, this is up from a $300 million annual remodel budget previously.
Target is also adjusting and to a degree experimenting with its supply chain. Historically, the company shipped cases of good directly to stores, requiring in-store staff to unload cases and sort the merchandise. The company is experimenting with a distribution center model in the North East where it sends pre-sorted cases to stores, requiring less labor at the store level. Target believes this new supply chain model could save money due to the rising cost of labor, but it needs to invest in distribution centers to support this model. This is another example of a short-term cost headwind potentially yields long-term benefits.
Finally, and most significantly, Target has been spending on omnichannel and e-commerce capabilities. While I cannot confirm, I am highly skeptical that Shipt is a cash flow positive investment for Target. Free 2-day shipping (with a $35 minimum purchase) is almost certainly dilutive to margins.
Furthermore, initiatives such as drive-up or in-store pick up are not yet at scale due to their immaturity and therefore are still net drags on margins because they require additional labor to execute vs. just letting customers pick up items in stores themselves. As Target's omnichannel initiatives mature, the company will be able to leverage the new fixed costs needed to establish these programs and hopefully benefit from overall higher sales growth as a result which could eventually translate into higher earnings.
The question investors are asking is if retail margins will be permanently lower because of online competition. While it is true that online competitors do not need to maintain the cost of a physical presence and do not seem too worried to operate profitably, at some point there will be a shakeout where online competitors no longer have access to unlimited venture capital funding and need to behave more economically rational. I do not think that day is approaching anytime soon due to how nascent e-commerce is (judged by its low overall penetration of US retail).
However, I also think there is a limit to how much lower Target's margins can go now that it has already made significant investments in e-commerce. At some point in the next 1-2 years, large retailers like Target will be lapping their fixed investments in e-commerce and will hopefully be doing so with higher levels of revenue which will translate to higher margins. Therefore, the real question is trying to figure out at what point margins will bottom.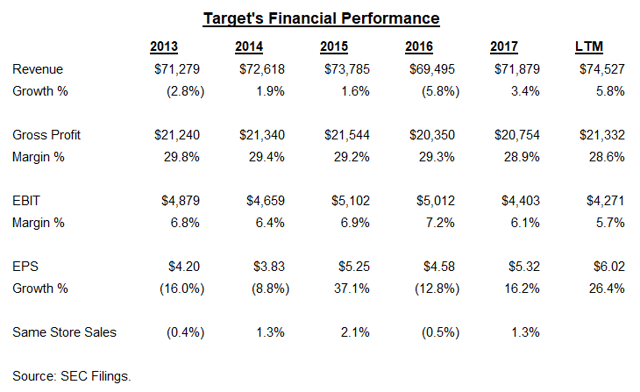 Target's Valuation And Dividend Yield Are Very Attractive
Target currently trades for 12.7x forward P/E and 12.0x forward EV/EBIT. This is a big discount relative to Target's large cap discount retail peers and to the S&P 500 consumer discretionary sector index.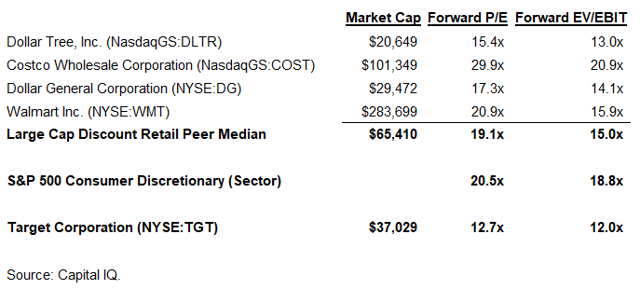 Target also trades at a discount relative to its own historical multiple. The company's current trading multiple is essentially at a 5-year low.
Target's Forward P/E Multiple Over the Past 5 Years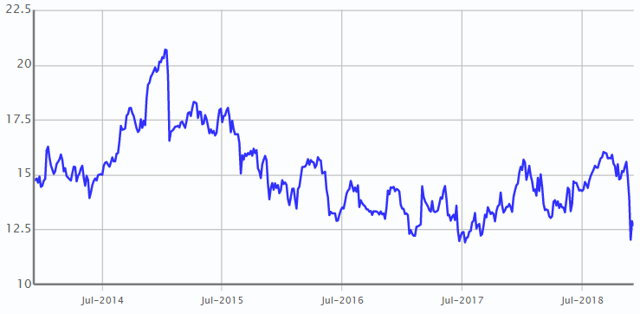 Source: Capital IQ.
In addition to the cheap trading multiple, the stock pays a 3.6% dividend yield and reduces its share count every year by a few percentage points through share repurchases.
Concluding Thoughts: Is Target A Value Trap or A Buying Opportunity?
When one finds a company which for seemingly little reason trades at a significant discount to its peers and to its own historical range, the natural question is to ask whether the stock is a value trap. I really do not think Target meets the definition of a value trap because it is a growing business (despite current margin headwinds), has a strong balance sheet (2x net debt / EBITDA), and generates significant cash flow.
While I am not a raging bull on Target, I am positively inclined on the stock. The 20% move lower over the past 2 months feels like an over-reaction. The relative and absolute valuation feels attractive given the safety in the balance sheet and dividend yield. Finally, I view the capital investments the company is making as wise.
Target has outlasted many of its peers because it has maintained attractive stores and a positive consumer experience. The penny pinchers who would like management to simply save the cash for dividends and repurchases are the same penny pinchers who would have bankrupted Sears. Target is making the right long-term moves but is drinking the painful short-term medicine from the market. Investors who can stomach some quarterly earnings volatility will likely do very well investing in Target at current levels.
Readers note: This article is a continuation of my series covering retail stocks. If you enjoyed this article and would like to read more of my retail and consumer coverage, please follow me for more. I recently wrote about Walmart's e-commerce investments here.
Disclosure: I/we have no positions in any stocks mentioned, and no plans to initiate any positions within the next 72 hours.
I wrote this article myself, and it expresses my own opinions. I am not receiving compensation for it (other than from Seeking Alpha). I have no business relationship with any company whose stock is mentioned in this article.