Tracking How Far They Fell: November Industrial And Financial Edition
Summary
In January, I began publishing articles that examined how far several large-cap industrial stocks might fall during a bear market, and I suggested some alternative investments.
This article will examine how those industrial and financial sector stocks are tracking against the more defensive alternative investment ideas I presented.
11 out of 11 industrial stocks I was bearish about in January and February underperformed my suggested alternatives through the month of November.
3 out of 4 financial stocks I was bearish about this summer underperformed the suggested alternatives.
2 out of 2 of the stocks I've purchased after they fell far enough, Cummins and State Street, are positive and outperforming the S&P 500 through the end of November.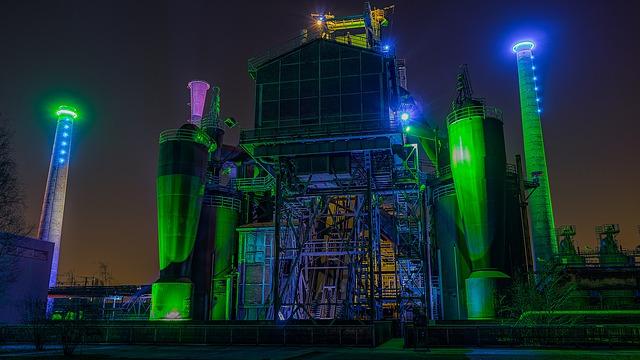 Source: Pixabay
Introduction
In mid-January, I began writing a series of articles that examined how far some popular large-cap industrial stocks might fall if we were to have a downturn within the next three years. I continued writing about stocks in the industrial sector through the month of February, eventually covering a total of 11 popular large-cap industrial stocks: Caterpillar (CAT), Boeing (BA), Cummins (CMI), Deere (DE), General Dynamics (GD), Northrop Grumman (NOC), Eaton (ETN), Emerson Electric (EMR), United Technologies (UTX), 3M (MMM), and Rockwell Automation (ROK).
While all the articles were generally bearish in nature and meant to be a warning to current investors that even the stocks of good companies could fall quite far during a bear market, I didn't stop there. In each article, I suggested alternative investment ideas for the stocks in question. With the exception of 3M, whose suggested alternative investment was Johnson & Johnson (JNJ), those alternative investments either took the form of the Invesco S&P 500 Low-Volatility ETF (SPLV), the Vanguard Utilities ETF (VPU), or a split between the two of them.
This article will examine how those stocks and alternatives are performing so far, and I'll also share some of my observations about the market, as well as some general takeaways or investing lessons we might learn from tracking these results.
The basic strategy I've been proposing in this series is that when the risk/reward - even for good stocks - becomes tilted too far toward the risk end of the spectrum, and the stocks are overvalued once we consider the inclusion of a bear market within the next three years, that investors should rotate out of these stocks and into more defensive positions. The ETFs that I have suggested were chosen because I thought that if the market kept rising, the ETFs would likely capture some of the upside that cash wouldn't.
But, if the market went down, the ETFs would likely fall a little bit less than the S&P 500. I assumed that investors liked the companies themselves, and would like to own more shares of the companies, and also that if investors could manage it, that they would like to avoid holding through very big price declines that might include drawdowns in excess of 50%.
Given these assumptions, the goal of this strategy is to increase the shares of the target companies one owns without spending any more money to do so. For example, if one rotated out of the target stock and into the defensive ETF while they were both priced at $100 per share, then during a bear market the ETF might drop to $80, and the target company to $40 per share.
At that point, you can rotate back into the target company stock and own twice the number of shares at no extra cost. Then when the stock eventually recovers, you have doubled your wealth compared to what it would have been if you held the company through the entire period (minus taxes, of course).
In order for all this to work one needs to 1) identify a quality company 2) understand when it is overvalued 3) get somewhat close at identifying the late-stages of the business cycle 4) correctly identify a more defensive alternative 5) have the guts to rotate back into the stock when it looks like the world is ending near the bottom of the cycle.
My goal is to provide research, strategies, and ideas that help investors do this. I use these tracking updates as a way to both explain the strategy and also to adjust the strategy and improve it.
I'm going to be posting total return YCharts for each one of these stocks and their suggested alternatives in this article. The dates for the charts are from the day of publication of the article until the end of November for each stock. I think it's important to post the charts for each stock because, while the sum of total return is important, it is equally important to see the price relationships between the stocks and their alternatives as they move through time.
I'll also include SPY as a reference point as well. The reason for these parameters is to keep me consistent and honest with the tracking of the performance over time so readers know I'm not cherry-picking dates. Even without a pro-subscription, readers can go to my profile and see the publication dates of the articles if they would like to double-check my work.
I have included a section for the four financial stocks I wrote about in May and June as well.
Cummins
I'll start with Cummins this month since it is probably the best example so far of what I'm trying to accomplish with my long-only rotational strategy. I first wrote about Cummins back on January 22nd with an article titled "How far could Cummins fall?". In that article I warning Cummins stockholders that Cummins stock had historically been subject to both frequent and deep cyclicality, and I suggest that Vanguard Utilities ETF (VPU) was a good defensive alternative. Here is how the two investments have performed relative to the S&P 500 since that article:
After Cummins stock had fallen around -20%, on May 11th, 2018, I wrote a follow-up article titled "Why Cummins Fell (And When I'll Start Buying)" explaining why Cummins stock had fallen, and that I wasn't buying yet because the stock probably had farther to fall. I did explain when I would look to buy Cummins in that article:
Since there is a good chance a recession is farther out than 12 months and that Cummins's business will keep growing between now and then, and because there is an opportunity to play the potential rebound Cummins might experience between now and the next downturn, I will probably nibble and take a 1/4 position (approximately 1% of portfolio value) around $126 per share, which is about 35% off the high, give or take.
For the next couple of months, Cummins stock continued to sell off and in July it had a really big gap down, which felt like a near-term bottom to me. Intraday, the stock price fell below $130 per share, and I purchased my 1/4 position (1% portfolio value) at about $131 per share. (This was a good reminder that even though I calculate exact numbers in my articles they should always be treated as estimates.) I wrote an article about this purchase titled "Buying Cummins for a Bounce" on July 8th. Here is what the stock price had done from the time of my first 'warning' article in January until my 'buy' article in July.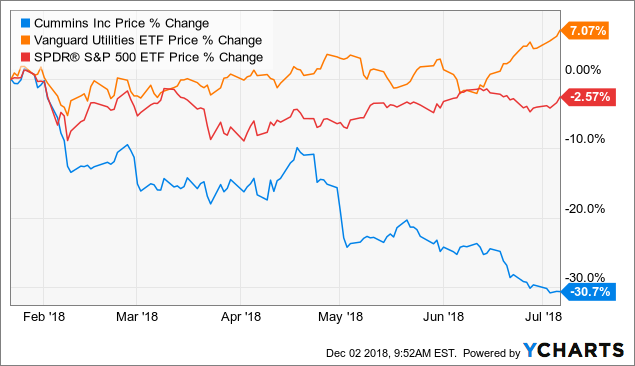 That did indeed turn out to be a good spot to buy, but if I would have waited, I would have gotten a chance to buy at my original $126 price during the selloff in October when intraday Cummins bottomed at $124.72. Here is how my July Cummins investment has done compared to the S&P 500, VPU (the original alternative), and Caterpillar and Deere, two other deep cyclicals I thought would bounce, but didn't think had the same margin of safety as Cummins.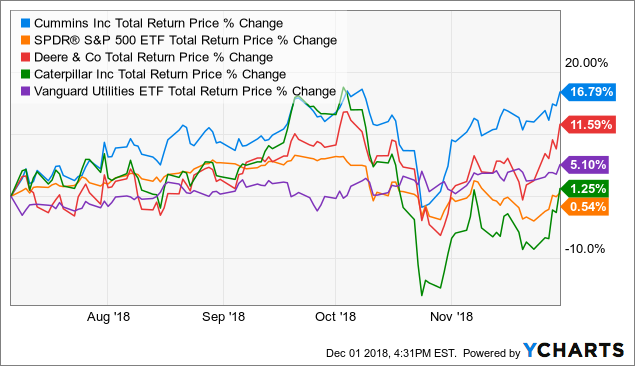 Through November, Cummins is outperforming all of them. Ultimately, I'm looking for 20-25% upside before I take profits on this investment. And I plan to take profits, not because I don't like Cummins, but because we still haven't experienced an end of the cycle, and eventually within the next couple of years, I expect we will.
The Other Deep Cyclicals
Caterpillar and Deere are the two other deep cyclicals (along with Cummins) that I wrote about in January. Both have rallied since their late October lows. I wrote a follow-up on Caterpillar in the spring, but I didn't include any of the backtesting of entry points that I'm now doing, and I also didn't do a close examination of what sort of share gain we should look for using the rotational strategy I suggested, so I might write another follow-up in the future in which I include these things. As it stands, Caterpillar is significantly underperforming SPLV since my original warning article was published even after having a good month in November.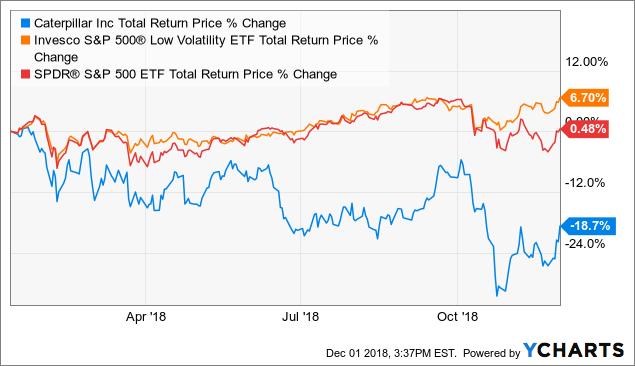 I really want to write a follow-up on Deere, but every time it gets to that -20% area where I usually write follow-ups, the stock rallies. On an absolute basis the stock is only down -7%, but as you can see, a full 20% spread still remains between it and the suggested alternative, VPU.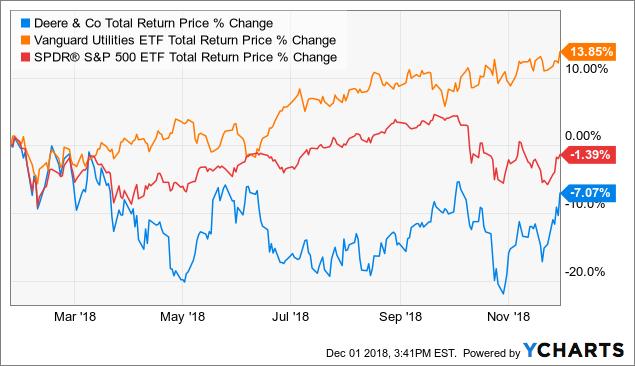 Aerospace & Defense
I wrote follow-up articles on both Boeing and Northrup Grumman in November. Boeing stock immediately rallied and appears to have resumed its normal pattern this year of tracking the S&P 500 (only with more variance). We have started to see some separation between SPLV (the suggested alternative) and SPY, though. I'm not sure, but there is a chance this divergence could become more permanent going forward.
I think the October sell-off scared a few more investors than the February one did. They might not be so eager to jump back into riskier assets. That said, of all the industrials, Boeing has been the strongest this year and investors could pile back into it fairly quickly.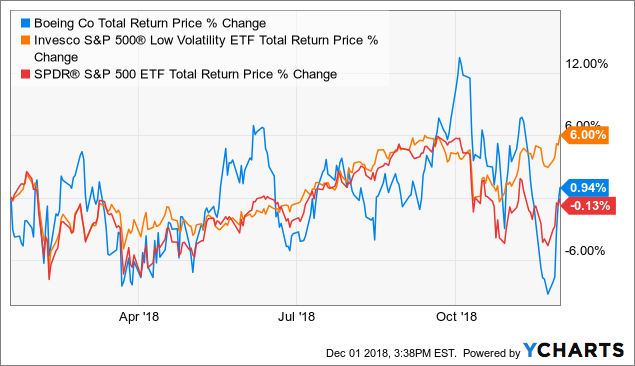 Unlike Boeing, Northrup appears to be weakening. I was unsure what it would do post-election, but so far investors seem to have lost their enthusiasm.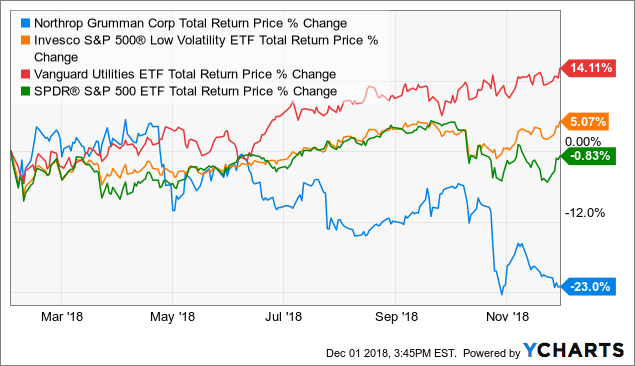 I have General Dynamics at the top of my list to write a follow-up article on. One notable thing you'll see in the chart below is the difference rotating into something defensive rather than going to cash can make. I wrote about General Dynamics during the February lows. Since then, the alternatives have grown nearly 17% while offering pretty good protection to the downside, outperforming both cash and the S&P 500.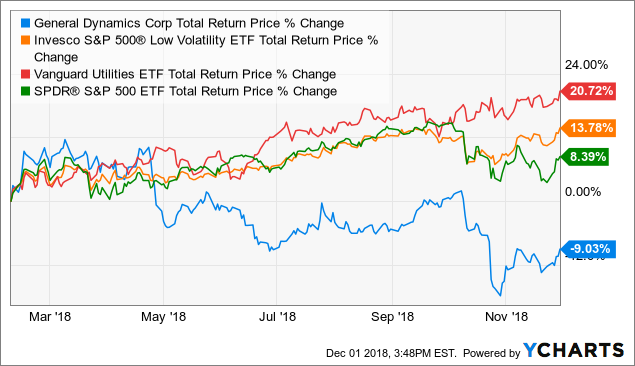 Stocks I've Decided Not to Buy (Yet)
Ever since I wrote the article in October where I decided not to buy 3M, I've been trying to figure out what to do about tracking stocks I've decided not to buy. Most stocks, I investigate in stages. I start with a few basic quality measures, but I focus mostly on getting good prices first because prices are easy to measure and screen, then, once I know I have a good price, I dig deeper to make sure everything else is in place. As a general rule, I don't usually write about stocks I don't like unless there is a very specific issue I want to warn other investors about.
3M was a case where upon further investigation, I didn't like their debt-to-equity ratio dynamics, so during my final examination, I decided to hold off making a purchase. United Technologies, I didn't really like much from the get-go, again because of debt, and because of the high price. Now, it is likely that United Technologies will be breaking up in a couple years, which will also make tracking cumbersome.
So, I think what I'm going to do is keep tracking these ideas from a rotational perspective. I'll assume someone rotated out of the stock after my first warning article, and I'll keep my eye out for a new target stock and write about it if the price hits. I'll wait and see what the market gives us, but for 3M shareholders who rotated into JNJ, there was a good opportunity to pick up shares of Roper Technologies (ROP) during the October lows. It traded down to $263 and I missed an opportunity to buy some shares. I think at $265 or lower it is worth a 1/2 position, so I would keep my eye out for that opportunity going forward.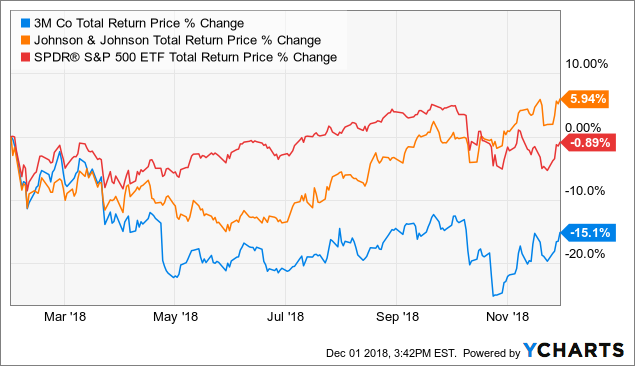 For United Technologies I was skeptical that breaking the company up would produce any extra value that was not already priced into the stock when I wrote about it in February. Now that they've closed their Rockwell Collins purchase, and given more details about a potential break-up, the market has given its initial opinion of the near-term future and it was negative.
United Technologies stock price has now diverged from the S&P 500. My expectation is for it to continue to underperform, and I'll keep my eye out for one or two comparable alternatives going forward for investors to rotate into. Until then, I'll keep tracking it each month until it breaks up.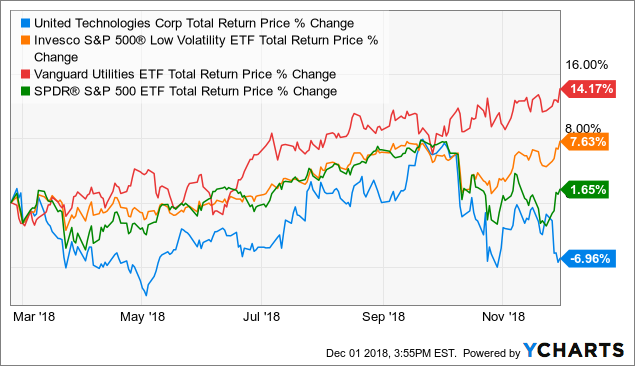 The Rest
Emerson Electric is another good example of the benefits of staying in the market, but just getting more defensive compared to going to cash. I wrote about it during the February lows, and while Emerson has been mostly flat, returning about the same as cash, the alternatives have returned an average of about 15%, about 10% more than the S&P 500 over the same period.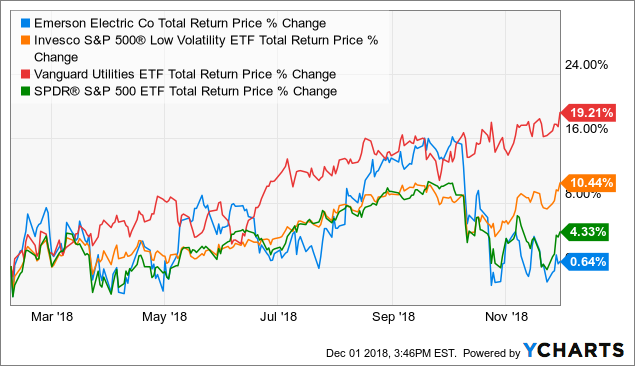 Eaton and Rockwell Automation are both trading in the same pattern. If they keep edging lower and stay below -20% off their highs for a while, I'll write follow-ups on them as well.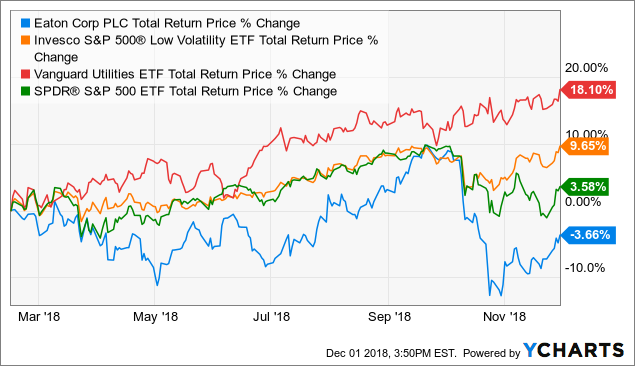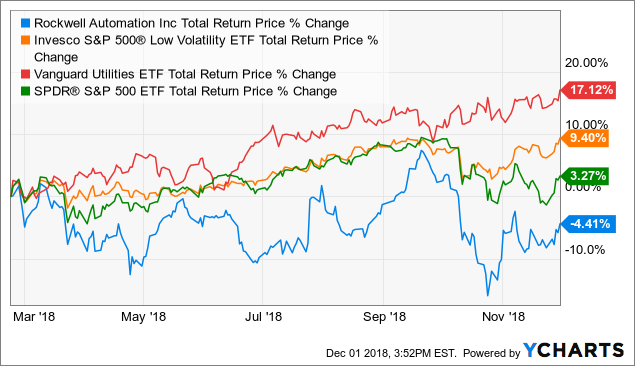 Industrials' Performance
All in all, from the time of their publication dates through the end of November, the target industrial stocks on average have returned -9.48%, the defensive alternatives +11.51%, and the S&P 500 +1.57%.
Last month, the target industrial stocks on average had returned -14.45%, the defensive alternatives +6.86%, and the S&P 500 -0.54%.
What is interesting here is that even though the target industrial stocks rallied 5% in November, so did the defensive alternatives. If this persists, I think it could be a sign that a few investors are starting to get more bearish (or more scared) regarding the market. They might not be in a hurry to rush back into beaten-down names. On the other hand, I think there is still a lot of cash floating around in the market as Ray Dalio noted back during the January peak. As time goes on, investors might start to forget about how they felt in late October and ease back into riskier stocks.
State Street
In October, State Street (STT) became the second stock I purchased after first writing a warning article, and then writing a buy article. Here is how the stock has performed since the warning article compared to the defensive alternative SPLV: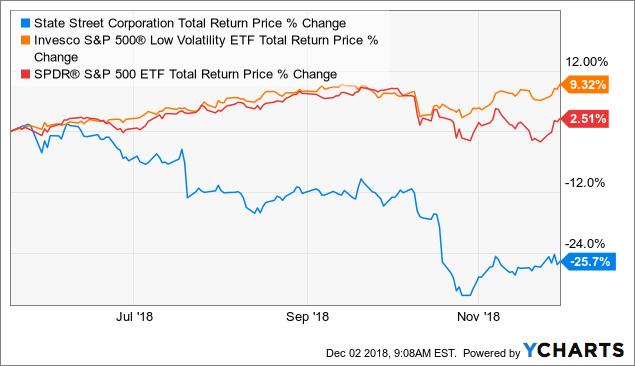 Investors who rotated out after my original article and then back in when my buy article was published in October would have increased their shares by ~36% at no extra cost. (After doing some thinking, in order to keep things relatively simple, for stocks in which I discuss the rotational strategy, I will use a single point at which to rotate back into the target stock, rather than use two entry points as I do for those waiting in cash. So, from a rotational perspective, I count this State Street idea as a finished trade with ~36% gain. If one waited until the end of November to rotate back in, they would have gained ~47% more shares for free.)
Here is how those who, like myself, were in cash and purchased a 1/2 position at the publication of my "Buying State Street" article are doing: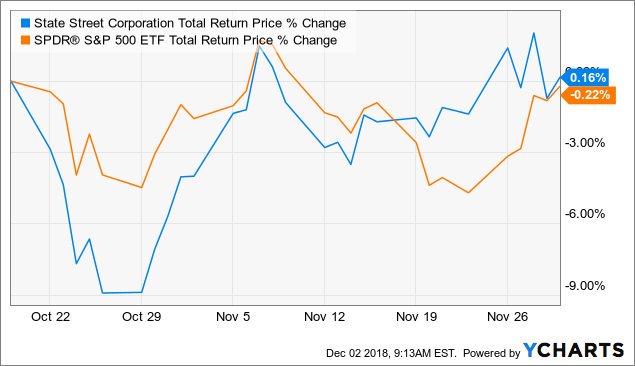 After a 9% dip, State Street has now begun to very narrowly outperform the S&P 500.
The Rest Of The Financials
American Express has probably been one of the best performers in the financial sector since I wrote about it in May. It is the only stock out of the 15 I've covered in this article that is outperforming the defensive alternatives through November. That said, the defensive alternatives are doing fairly well, and only trail AmEx by about 3% or so. During the trough of the October sell-off, the defensive stocks were outperforming, so they are doing pretty much what we would expect.
PNC has staged a big rally from the October lows. I think it could be a while before PNC sees those lows again unless the yield curve inverts. I did write a follow-up article on PNC in October where I shared the prices I'll be looking to buy.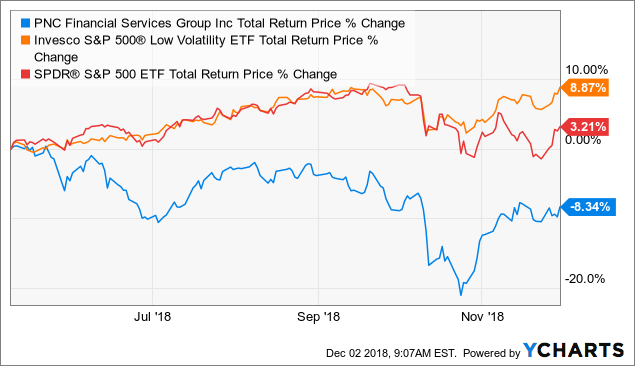 After being really strong through October, Progressive took a dive in November. I'm not sure if this had to do with interest rates, disaster-related insurance claims, or earnings. If it continues to underperform I'll look into it more, but it looks like it's bouncing back pretty strong right now.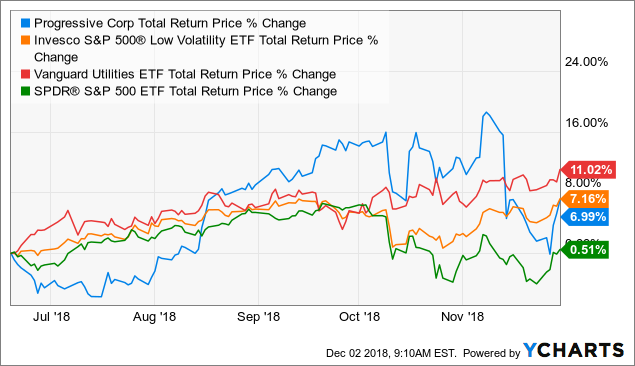 Financials' Performance
From the time of their publication dates through the end of November, the target financial stocks on average have returned -2.85%, the defensive alternatives +9.94%, and the S&P 500 +2.98%.
Last month, at the end of October, the target stocks were -6.20%, the defensive alternatives +2.88%, and the S&P 500 +0.91%.
While we saw some improvement from the financials in November, we saw an even bigger improvement with the defensive stocks. Again, if this continues for another couple months, it could be a sign of a sentiment shift among investors, but I think it's too soon to tell.
Conclusion
In my next article, I'll review how my service sector alternatives are tracking. In that article, I'll calculate the performance of all 28 stocks I've written articles about so far in the series, including the ones discussed here. Thanks for reading, and I'm happy to answer any questions in the comments section.
This article was written by
My analysis focuses on the cyclical nature of individual companies and of markets in general. I've developed a unique approach to estimating the fair value of cyclical stocks, and that approach allows me to more accurately buy near the bottom of the cycle.
My academic background is in political science and I hold a Bachelor's Degree and a Master's Degree in political theory from Iowa State University. I was awarded a Graduate Research Excellence Award in 2015 for my research on conservatism.
Analyst's Disclosure: I am/we are long STT, CMI. I wrote this article myself, and it expresses my own opinions. I am not receiving compensation for it (other than from Seeking Alpha). I have no business relationship with any company whose stock is mentioned in this article.
Seeking Alpha's Disclosure: Past performance is no guarantee of future results. No recommendation or advice is being given as to whether any investment is suitable for a particular investor. Any views or opinions expressed above may not reflect those of Seeking Alpha as a whole. Seeking Alpha is not a licensed securities dealer, broker or US investment adviser or investment bank. Our analysts are third party authors that include both professional investors and individual investors who may not be licensed or certified by any institute or regulatory body.