Consumer goods companies are some of the most well known stocks among retail investors because of how often we interact with their products during every day life. Few brands bring more nostalgia than today's dividend champion spotlight. PepsiCo (PEP) has been refreshing consumers, and feeding investors with dividends that have grown larger every year for the past 46 years. However, PepsiCo's business goes well beyond its signature namesake brand. The company is a conglomerate of profitable drinks and foods that offer investors a robust stream of cash flow. We dive into the fundamentals of PepsiCo to uncover what future years hold for this long time dividend growth favorite.

While PepsiCo is known for its name branded soda product Pepsi, the company produces and sells various beverages and food products across the world. PepsiCo does business in more than 200 countries, and owns 22 brands that generate more than $1 billion in revenues. Pepsi was invented in 1898, but the company as it's known today was formed in 1965. It is headquartered in Purchase, NY.

The company as a whole does more than $63 billion in annual sales. The company reports as six operating segments, based on product group and geography. North American Beverages and Frito-Lay North America are the company's two largest drivers of revenue and operating profit.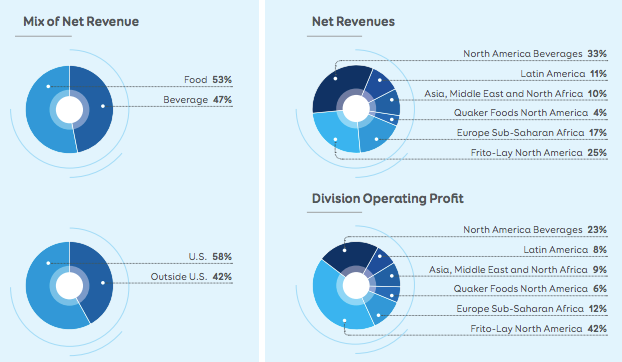 source: PepsiCo.
Financial Performance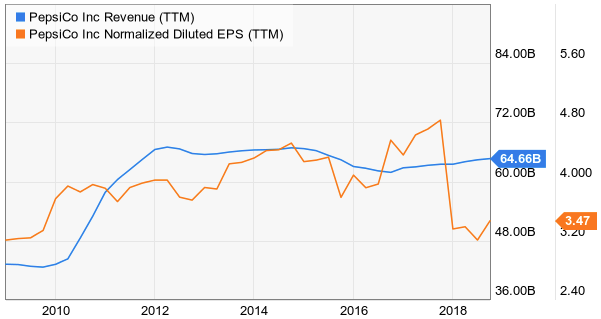 Source: Ycharts
PepsiCo sells food products, which will sell in all economic environments. The business has grown moderately over the past decade. Revenues have grown at a CAGR of 4.87% over this time frame. Earnings per share have steadily grown as well, as analysts are forecasting 2018 earnings per share of $5.66. Over the past decade, this has resulted in an EPS CAGR of 4.15%. With the product being economically resilient, there is a bit of a trade off with growth (less risk, less growth). The company has also had to fight through dietary awareness of the health effects of consuming sugary beverages and salty snacks, which we will expand on later.
Diving into the operational performance of the company, we begin by looking at operating margins and PepsiCo's conversion rate of turning revenue into free cash flow. It's important that a company is consistently profitable in its operating environment, so we look for margins to remain consistent or expand. Meanwhile, a company with a strong stream of cash is able to grow its dividend and invest into growth ventures (hopefully) without leaning too much on debt.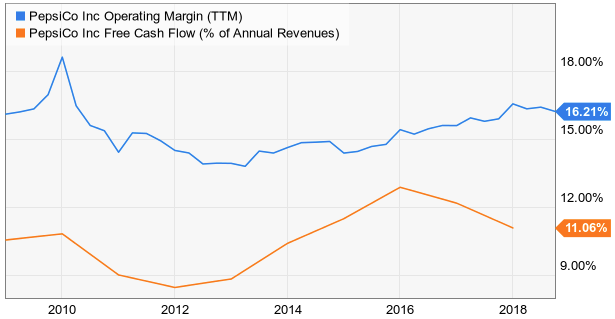 Source: Ycharts
PepsiCo's operating margin has remained pretty consistent, dipping in 2012 but slowly treading higher since. Cash flow conversion is solid as well. The current conversion rate of 11.06% is just above the 10% that I typically use as my benchmark.
The next metric we will review is the cash rate of return on invested capital. This is a useful metric for two reasons. The face value of the CROCI is that it gauges how effective management is at utilizing the company's resources by measuring how much cash is generated from them. This is also a baseline indicator of the strength of a company's competitive "moat". A company with a high CROCI (low teens or higher) is usually well managed, profitable, and not overly capital intensive.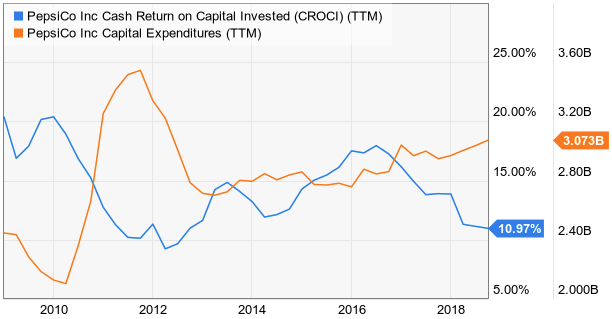 Source: Ycharts
We see that PepsiCo's CROCI has been somewhat inconsistent over the years. The company has seen occasional upticks in capital expenditures, which has suppressed the CROCI at times. Even at its low points the percentage has been solid, bottoming out at 10%.
The last area we will review is the balance sheet. The balance sheet is obviously important because a company with too much debt can become vulnerable to rising interest rates. It can also face a cash flow crunch if the business sees an unexpected downturn.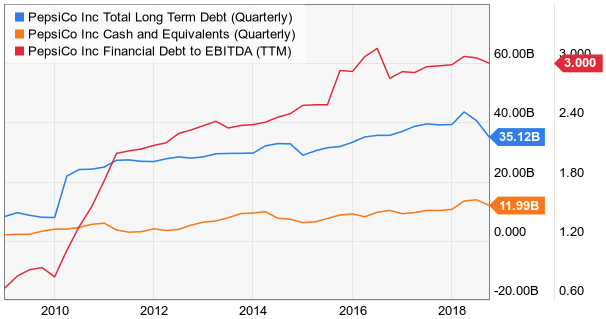 Source: Ycharts
PepsiCo is currently carrying $11.99 billion in cash against $35.12 billion in total debt. The leverage ratio of 3.0X EBITDA is above my threshold of 2.5X. I typically don't like to see companies carry this much debt. However, the stable nature of PepsiCo's revenues gives them a bit of leniency. The company carries an A1 rating from Moody's with a stable outlook.
Dividend Outlook
PepsiCo is a long time resident of the "dividend champions" club, given its 46-year dividend growth streak. The dividend is paid every quarter to shareholders, and totals an annual payout of $3.71 per share. Based on the current stock price, the dividend yields 3.04%. This is essentially on par with 10-year US treasuries, so income focused investors should be pleased. To get strong income with the added upside of capital gains is a nice long-term investment offering.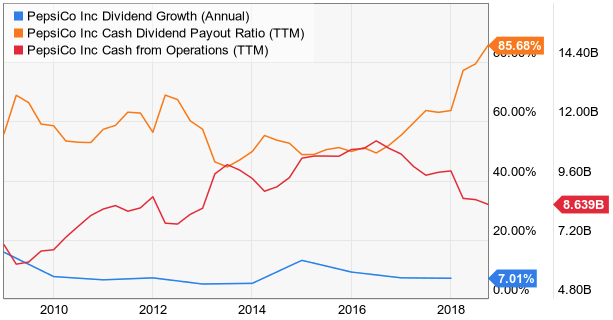 Source: Ycharts
In addition to a healthy yield, the dividend has managed a strong growth rate as well. Over the past 10 years, the dividend has grown at a CAGR of 8.9%. This has been maintained pretty steadily throughout the decade, including this past year when the dividend was hiked a robust 15.2%. The payout ratio is quite high at just under 86%, but this has been caused by a dip in cash flow. The payout ratio had been trending lower until that point, and management's raise this year is an obvious sign of confidence in future growth prospects. A double digit raise, however, will not be the norm moving forward. Investors should expect annual raises in the 6-8% range over the course of the intermediate future.
Growth Opportunities & Risks
PepsiCo has a broad range of assets in its portfolio, which can be leveraged to help find growth engines for the future. Despite being a global player, the company generates a very large portion of its revenues in North America. Approximately 62% of revenues stem from North American Beverage, Frito-Lay, and Quaker sales. The company has enough name recognition and portfolio depth to bring products to emerging markets that fit into the specific tastes and cultures that these markets possess. An example of this is Pakistan, where PepsiCo is said to be ramping up investment within the region.
When it comes to its domestic market, PepsiCo has had to fight through increased awareness of dietary issues that face the country. Conditions like obesity and diabetes have become increasingly common over time, with a finger being pointed at food and beverage companies. The industry saw the United States' first "soda tax" implemented in Berkeley, CA, in 2015. UC Berkeley did a study of the tax's effectiveness and concluded that the law reduced consumption of sugary beverages in low income neighborhoods by 21%. While a nationwide tax is likely a long ways off, the effectiveness of this tax is obviously a large threat to companies such as PepsiCo.
To the company's credit, PepsiCo has been a bit forward thinking in this area, with a published agenda to drastically curb sugar and sodium content in its products by 2025.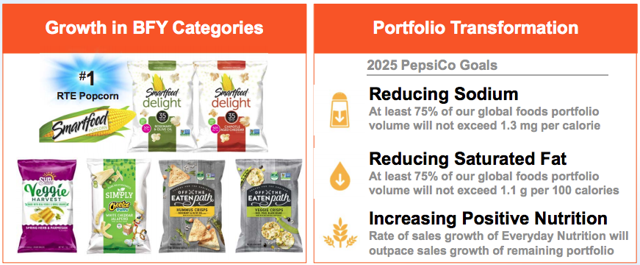 Source: PepsiCo.
The company has also been looking to protect its beverage businesses by absorbing competition. The company recently entered an agreement to acquire SodaStream International (SODA) for a cool $3.2 billion. The deal has not yet closed, but when it does, PepsiCo will have a new asset that has grown earnings at a CAGR of almost 40% over the past five years. PepsiCo will have also swallowed up a competitor to its core beverage businesses. The food and beverage industry is very M&A active, so future deals wouldn't surprise me. They ultimately come down to synergy and execution.
Valuation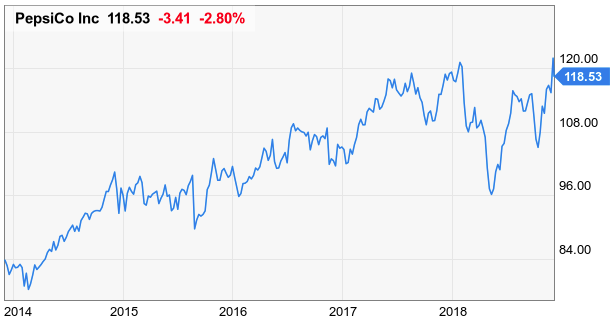 Source: Ycharts
Despite having a pretty tough 2018, PepsiCo's stock is currently trading near 52-week highs at just over $118 per share. Analysts are projecting the company to earn $5.66 per share for the full fiscal year. This places the stock at an earnings multiple of 20.84X earnings. This is just a tad higher than the company's 10-year median earnings multiple of 19.65X.
Considering that the stock is trading in line with historical norms, we will look at free cash flow yield to gain additional perspective. The earnings of a company can be impacted by numerous factors, but cash flow is an organic measure of a company's performance. It makes a great valuation tool because maximizing your cash flow per dollar invested will usually set you up for strong investment returns over the long term.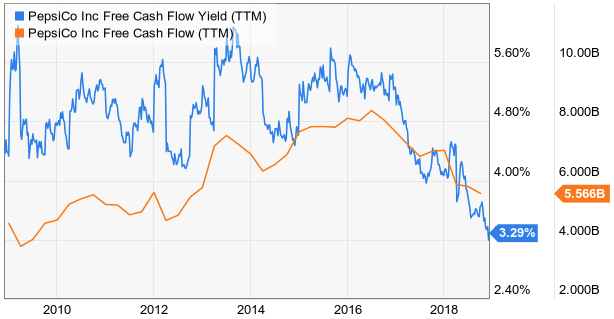 Source: Ycharts
We see that PepsiCo has often traded at a mid-single-digit yield, but the company's recent dip in cash flow has caused the yield to decrease to the 3% range. Between the two metrics, we conclude that PepsiCo's stock is modestly overvalued at the current trading level. Investors looking to initiate a position should wait for a minor correction, in the 10%-15% range. A potential entry point would be near $100-$106 per share, just under 18X this year's earnings.
Wrapping Up
PepsiCo is a true blue chip company, built for a long-term investor that is willing to hold onto the stock and collect those ever increasing dividend checks. The company's robust brand portfolio will allow it to prosper in any economic environment, and PepsiCo is a solid cash flow engine to boot.
The downside to PepsiCo is that the company's safety results in modest growth prospects that make valuation ultra important. Despite some large dips in the price of shares, PepsiCo has rebounded since the summer. Although the valuation window is currently closed, investors should keep this truly wonderful company on their radar for the next buying opportunity.
My insight, analysis, and investment ideas are provided FREE to the Seeking Alpha community. You can receive immediate access to new content by clicking the FOLLOW button at the top of the page. Make sure to follow!
Author Disclaimer: Wealth Insights is an investor and investment author. His content is not geared to anyone's specific investment goals, time horizons, or risk tolerance. Content is for illustrative purposes only and is not intended to displace advice from a fee-based financial adviser. Accuracy of data is not guaranteed.
Disclosure: I/we have no positions in any stocks mentioned, and no plans to initiate any positions within the next 72 hours. I wrote this article myself, and it expresses my own opinions. I am not receiving compensation for it (other than from Seeking Alpha). I have no business relationship with any company whose stock is mentioned in this article.