An oil glut is coming, and that's great news for natural gas bulls.
That's because oil drillers were the single largest source of new U.S. gas supply in 2018, via "associated gas." (Natural gas is often a byproduct of oil production, because the same geologic formations that host oil deposits also typically contain gas.)
Chart 1 tells the whole story. Associated gas from oil drillers made up the single largest source of new production in the U.S. gas market through September (the latest official EIA data). It even outpaces the prolific Appalachian basin: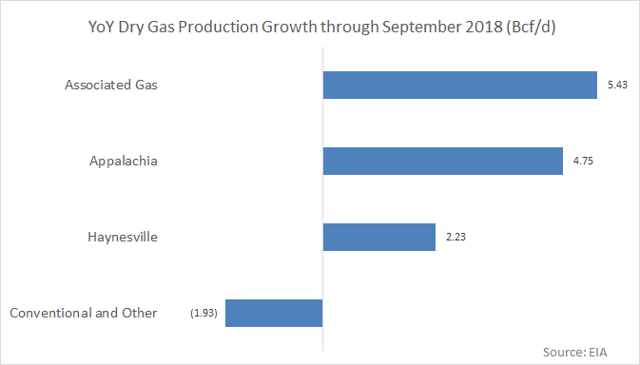 For reference, I'm defining associated gas as all gas production from the top five oil-heavy basins (Anadarko, Bakken, Eagle Ford, Niobrara and the Permian).
Now, this single time period wasn't a fluke. Chart 2 shows how the growth in associated gas has outpaced Appalachia – America's most prolific gas basin - in nearly every month this year: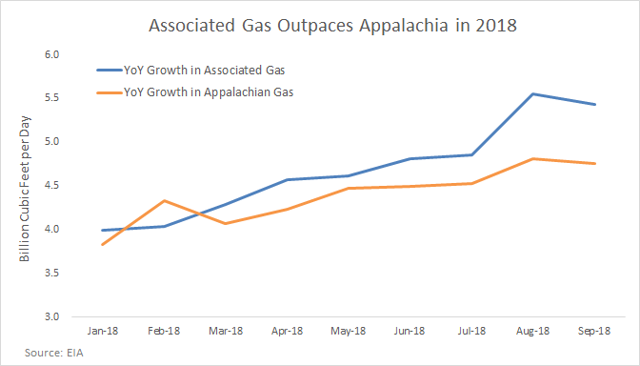 As a final data point, Chart 3 shows how the growth in associated gas production this year has exceeded the previous record high in 2014 by more than 70%, making 2018 a significant outlier: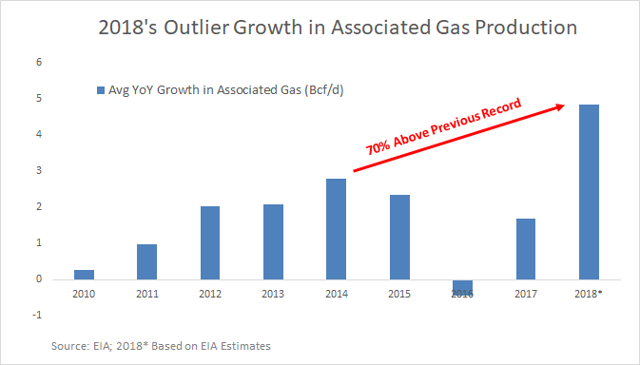 We've never added this much associated gas into the market ever before. The reason? We've never added so much crude oil production onto the market ever before.
And because of the record production binge from U.S. shale drillers, I believe we're now on the verge of another major oil glut. The coming oil glut will cause U.S. oil companies to pull back on growth, and thus put a huge dent in the largest source of new gas supply.
Let me explain…
U.S. Shale Drillers Flood the Market at $60 Oil
A looming oil bear was one of the key reasons for my bullish view on natural gas, as I explained in my original bullish article on natural gas back in April:
As the second wave of the oil glut hits, falling U.S. oil production will take associated gas production down in kind. I expect the oil glut to begin pressuring prices and drilling activity later in 2018 and throughout 2019.
Fast forward to the end of 2018, and crude oil just suffered the longest losing streak in history and the worst November since the 2008 Financial Crisis.
Predicting this outcome wasn't rocket science. Shale companies publicly telegraphed their plans to flood the market with the aggressive capital budgets and drilling plans announced in early 2018.
Of course, these aggressive growth plans made perfect sense at the time. Earlier this year, oil prices held steady above $60 for the first time since 2014. Simply put, the U.S. shale industry fires on all cylinders at $60 per barrel. These prices justify billions of dollars in new drilling programs, as we've seen via the rig count so far this year: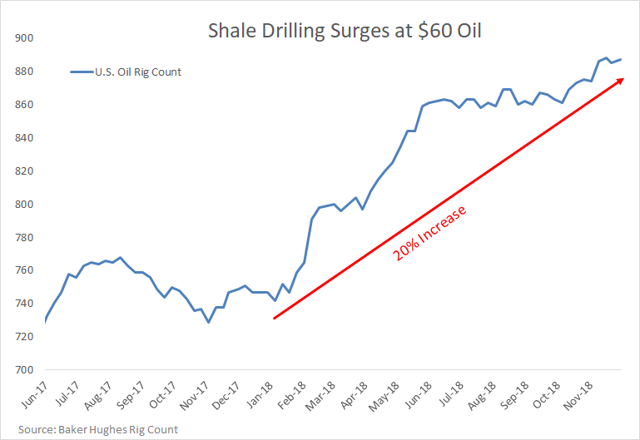 This surging rig count translated into the fastest pace of U.S. oil growth on record. Based on the latest official EIA data, U.S. crude production grew by 1.5 million barrels per day (b/d) in the first 9 months of this year, rising from 10 million b/d last December to 11.5 million b/d in September.
In each month of this year, U.S. drillers added more than one million b/d on a year-over-year (YoY) basis, including a record 2.1 million b/d YoY increase in August. On a percentage basis, that's 23% growth in a single year. This pace is unprecedented, and it continues to accelerate...
Based on preliminary EIA estimates, production surged a massive 400,000 b/d in the single week ending November 2nd. And in the three weeks ending November 9th, shale drillers added an incredible 800,000 b/d, growing production from 10.9 million b/d to 11.7 b/d.
Again, it took U.S. producers nine months to add 1.5 million b/d through September of this year – and that was already a record pace. But it took just three weeks to add another 800,000 b/d onto the market. (You can see the data for yourself here at the EIA website.)
Given this massive acceleration in production, it's no surprise that crude oil inventories are beginning to bulge. In October and November, the market incurred a series of monster storage builds, including a 5.8 million increase for the week ending November 2nd, or more than double analyst estimates of 2.4 million barrels. But that was nothing compared to the 10.3 million barrel inventory build the following week ending November 9th – more than 4 times the analyst estimate of 2.3 million barrels. In total, U.S. crude inventories have increased for the last ten weeks in a row, defying analyst estimates.
Of course, the decision to drill the wells coming online today were made back when oil was trading at $60 - $70 per barrel. But with oil prices falling to $50 in recent weeks, we're seeing the first signs of a producer response in the shale patch. For the first time since the crisis days of 2016, analysts are forecasting the potential for a cut in U.S. drilling budgets next year. Plus, BP CEO Bub Dudley recently commented that the oil supermajor will likely "re-prioritize" its drilling activity given the recent price declines.
Dane Gregoris of RS Energy Group explains how much the economics of U.S. shale change with prices at $50 versus $65:
At a $65 to $70 price deck we had a lot of free cash flow being forecasted but at these levels all that free cash flow is gone.
So at $50 or lower oil prices, shale cash flow evaporates, thereby removing the economic incentive to flood the market with production. If market forces were left to operate, we would likely see a meaningful slowdown in U.S. shale growth in early 2019.
But there's a giant elephant in the room that will likely prevent this rational response, thereby inspiring an even larger glut later next year… OPEC.
OPEC Production Cut = Shale Glut 2.0
For the last few weeks, it's become increasingly clear that Saudi Arabia will lead an effort to cut supply from both OPEC members and Russia.
It started last month at ADIPEC oil summit in Abu Dhabi, when Saudi Arabia's energy minister Khalid al-Falih began talking up a potential OPEC supply cut:
The consensus is we are going to do whatever it takes to balance the market. If that means trimming supplies by a million (b/d), we will.
And now it appears that Russia is also on board with a potential cut. At the recent G-20 meeting in Buenos Aires, Russian President Vladimir Putin made the following comments during a press conference:
Now, about the price of oil and our agreements. Yes, we have an agreement to extend our deal. There is no final decision on volumes, not yet. But we, together with Saudi Arabia, will do this, and whatever final figure we will decide upon, we agreed that we will monitor the market situation and promptly respond to it.
So it appears increasingly likely that we'll see some kind of cut from OPEC + Russia, probably somewhere in the neighborhood of 1 million b/d or slightly more. This could be announced as early as next week at the OPEC meeting in Vienna.
Yes, that announcement will likely inspire a big rebound in crude prices from deeply oversold levels. It will likely temporarily re-balance supply and demand in the global oil market. And, under those conditions, I would expect the WTI oil prices to rally back up to $60 or higher going into 2019.
But here's the problem... this plan will backfire by encouraging an even bigger glut, just a few months later.
Remember, I just showed how U.S. drillers were willing and able to grow production at an annual rate of 2 million b/d back with prices trading at $60+ dollars per barrel. So if OPEC and Russia temporarily balance the market and allow prices to rise back above $60, that simply keeps the shale floodgates wide open. And at the current blistering pace of production, it won't take more than 6 months for U.S. shale to make up that gap and then begin oversupplying the market once again.
That's why I think OPEC, should they support the market and boost prices from here, will only ensure a much larger glut this time around. The data below shows how today's shale production growth is much more aggressive than the increases that led to Shale Glut 1.0, which sets up for an even larger oversupply this time around.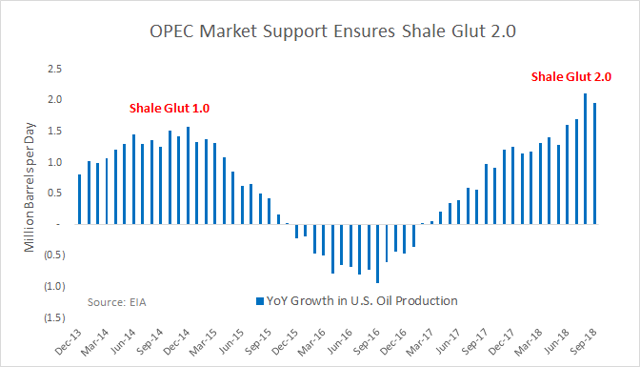 Now, to bring this back to the gas market...
Crude Glut = Gas Deficit
Over the next 2 years, we'll need huge new gas supply growth to meet the demand from LNG exports, pipeline exports to Mexico, and new gas-fired power generation coming online, as I detailed in my previous article. 2018's record pace of associated gas production growth clearly wasn't enough to meet demand this year. So what happens if we lose 5 Bcf/d or more of new supply from the oil drillers when gas demand rises in 2019 and 2020?
The chart below shows that such a scenario could easily unfold, based on the last bear market. Oil prices first fell below $50 per barrel in early 2015, and within a year the growth rate for both oil and associated gas fell to zero, before proceeding into negative territory. From peak to trough, the growth rate declined by about 5 Bcf/d.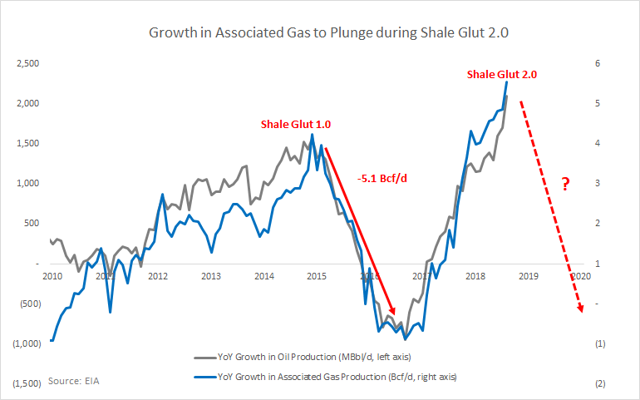 If the looming oil supply glut creates a similar drop off in associated gas production over the next 12 - 24 months, we face the prospect of a significant supply deficit for natural gas in 2019 - 2020. And I haven't even talked about the potential for a slowing global economy to put further pressure on oil prices next year.
As natural gas prices remain supported into 2019 and 2020, this should lift the prospects for natural gas companies across the board, especially my two favorite stocks in the group - Range Resources (RRC) and Cabot Oil and Gas (COG).
Follow me for future updates on the natural gas sector here on SeekingAlpha.