It is time for the November update of the Motorhome Portfolio. So far, I have introduced the permanent portfolio and the high-yield portfolio. You can read the introduction of the permanent portfolio here and the introduction of the Motorhome Portfolio here.
The Motorhome Portfolio
As discussed in my introductory article, the Motorhome Portfolio contains the assets we will use to fund the first stage of our retirement. This stage will start when we are 54 and end at age 59 when we can access our IRA accounts penalty-free. The Motorhome portfolio consists of a high-yield account and cash and cash equivalent investments.
The cash and CE funds are invested in U.S. T-bills, CDs and money market accounts. The plan is to spend down the cash portion of the portfolio for those expenses the income portion does not cover. All the accounts in this portfolio are after tax accounts except the 401(k) accounts which we will withdraw penalty-free when we retire at age 54. The portfolio allocation for these funds are…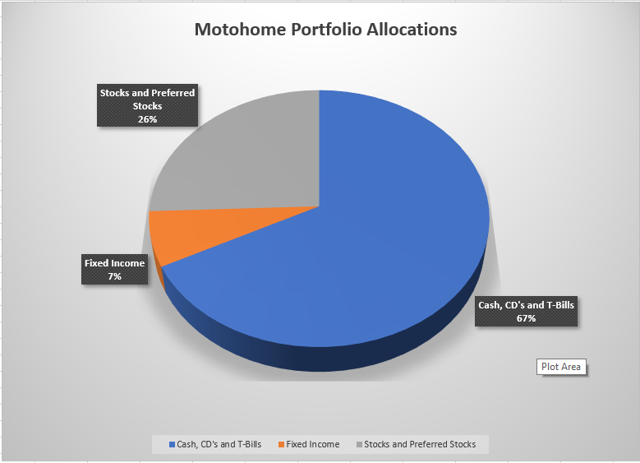 Source: Author
This is a more conservative portfolio than what may be considered normal for our age. Given that we plan on spending it down, I think the allocation is appropriate. For anyone considering an early retirement with spend down of assets, this more conservative approach will reduce sequence of return worries and could allow for a more aggressive approach with funds earmarked for use in 5-10 years' time.
The High-Yield Account
The stocks, preferred stocks and fixed income investments in this allocation are in our after-tax high-yield account. During November, in this account there was one purchase, two sales, and no dividend raises. There were also seven dividends received for a total of $387.39.
Dividends
AT&T (T) - $225.00
Verizon (VZ) – $33.14
American Express (AXP) - $3.99
Genesis

Energy LP (

GEL

) - $29.16

Energy Transfer Partners Preferred C – (ETCPRC) - $46.09
Procter & Gamble (PG) - $35.86
Realty Income (O) – $23.15.
Sales
ProShares S&P 500 Dividend Aristocrats (NOBL)
AT&T
Owens & Minor (OMI)
Purchases
Verizon (VZ)
I am working down the amount of NOBL in the portfolio because of the low yield, around 2%, and replacing it with individual stocks with higher yields. The account had a loss in AT&T so it was sold for tax loss harvesting to balance the gains the portfolio had in NOBL. In all likelihood, AT&T will end up back in the portfolio.
Owens and Minor (OMI) cut the quarterly dividend to $0.075 from $0.26 in October. The dividend cut was not expected. I articulated my thoughts on this dividend cut and the CEO in the October update and also indicated this sale was coming. It is interesting to note the board of directors let the CEO go a few days after the announcement of the dividend cut.
The current composition of the high-yield portfolio is in the table below.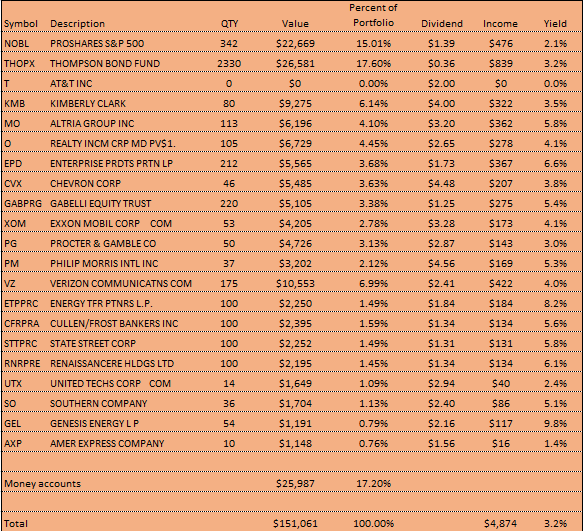 Source: Author Spreadsheet
There was $2,000 added to the account in November. That, along with the transactions bring the cash balance to $25,987. The cumulative effects of account activity reduced the annual dividends to $4,872 down from $5,775. This will recover in the coming months as the cash is deployed.
As noted by some commenters when this account was introduced, there are quite a few stocks in the account. However, with a couple of exceptions, I feel pretty good about the individual issues. Right now, I do not have any rules about the number of stocks in the portfolio, however, that is something I may consider. I would like to strike the right balance between limiting the exposure to negative events at any one issue and the amount of time it takes to follow multiple investments. I welcome your comments on this topic.
How is the Motorhome retirement plan tracking?
The monthly dividend income amount dropped from $481 to $406 in November while the combination of interest and new adds increased the value in the cash accounts by $4,522. The cash accumulation is proceeding better than planned. However, the income portion of the plan is over $100 per month behind schedule. The investible cash of nearly $26,000 would need to be invested at a safe yield of 5.3% in December to catch up. Dividend safety is paramount so catching up in December may not be possible. I'm confident though that we will catch the plan before the end of 2019, if not sooner.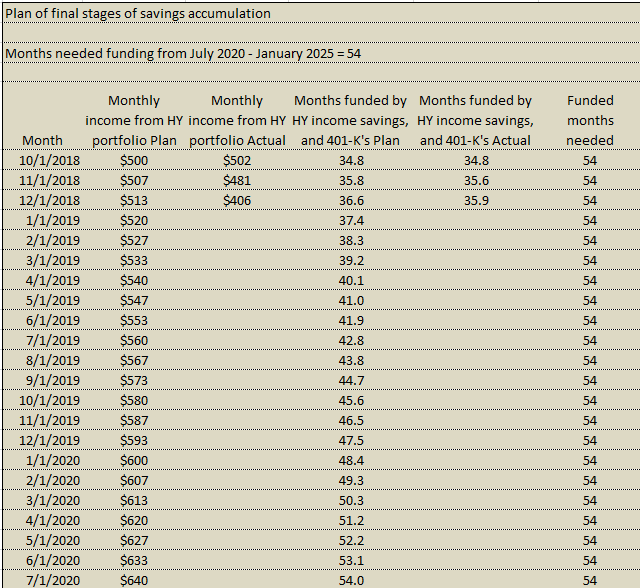 Source: Author Spreadsheet.
In terms of time, the portfolio changes have put Motorhome Retirement behind schedule by a little more than 0.5 months or about 21 days.
Other activity
We looked at General Mills (GIS) for a potential purchase into the high-yield portfolio and offer the following bullet point summary of our thoughts.
Revenue has been declining as General Mills struggles to keep up with changing consumer trends. Revenue 2014 = $17.9 billion; 2018 = $15.7 billion.
GIS has been buying back shares.

Shares outstanding 2014 = 645.7 million; 2018 = 585.7 Million.

Acquired Blue Buffalo hoping to kick-start growth.

Blue Buffalo produces and sells healthy upscale pet food and treats.
Issued stock and debt in the transaction.
Blue Buffalo is energizing top line growth.

1Q 2019 sales up 9% due to Blue Buffalo.
Legacy segments flat.

Operating profit up marginally $609 Million vs. $590 Million.
EPS down and operating cash flow down.
GIS is guiding for FY2019 EPS down 1%-3%.
Combination of debt and shares issued to acquire Blue Buffalo is preventing top line growth from dropping to EPS.
Dividend coverage 1Q 2019.

EPS payout ratio = 75%.

Annual coverage is better at about 65%.

Operating cash flow payout ratio = 48%.
Free cash flow payout ratio = 63%.
Dividend was not increased on a regular schedule.

Hybrid DCF value at $44-$48.

GIS is undervalued as this is written at $42.31.
When I read the conference call transcript, it seemed almost as though management does not believe the legacy products can grow. We decided not to invest at this time to due to the frozen dividend, added debt and marginal dividend metrics. However, we will be watching, and if the price drops to $40 or the dividend metrics improve, or some growth is seen in legacy products, we might take a swing.
Finally, we also took a look at Verizon (VZ) and decided to add shares in the high-yield portfolio. You can read our thoughts in the article here.
Permanent Portfolio – a small recovery.
As a reminder, the permanent portfolio is a very small portion of the overall assets. The reason I have started this experiment is to have a simplified portfolio allocation to transition to in case my mental abilities decline to a point I cannot manage a portfolio of individual equities. The Permanent Portfolio was developed by Harry Browne in the 1980s. Its mission is to have suitable investments for each economic environment. The Motorhome Retirement permanent portfolio was created on October 1st. The portfolio was funded with $10,000, a small portion of the overall retirement funds. Here is what it looked like the day it was created.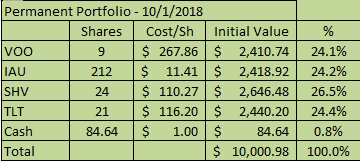 Source: Author spreadsheet.
October was a brutal month for stocks and there was a rapid rise in ten-year treasury from 3.08% to 3.21%. The net effect on the permanent portfolio was a 1.63% loss for October. The portfolio recovered a bit in November. The Vanguard S&P 500 ETF (VOO) rising from about $250 to $253. The iShares 20+ Year Treasury ETF (TLT) rose from $112 to $115.33. The iShares Gold Trust ETF (IAU) fell 10 cents during the month. The portfolio also received distributions from iShares Short Term Treasuries ETF (SHV) and TLT in the amounts of $4.47 and $5.77 respectively.
Here is the 2-month-old permanent portfolio as of December 1, 2018.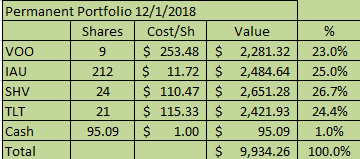 Source: Author spreadsheet.
The net effect on the portfolio in November was a 1.0% gain.
A reader or two have asked about the permanent portfolio. Studies can be found that detail the performance of the portfolio so without going into all the details, they say it returns 5%-9% per year on average depending on the study and time frame studied. The studies also say there are very few negative return years. The portfolio composition is as follows.
25% Gold
25% Stocks
25% Long-Term U.S. Bonds
25% Money Market
This is what Investopedia says:
"A permanent portfolio is a portfolio construction theory devised by free-market investment analyst Harry Browne in the 1980s. Browne constructed what he called the permanent portfolio, which he believed would be a safe and profitable portfolio in any economic climate. Using a variation of efficient market indexing, Browne stated that a portfolio equally split into growth stocks, precious metals, government bonds and Treasury-bills and rebalanced annually would be an ideal investment mixture for investors seeking safety and growth.

Harry Browne argued that the portfolio mix would be profitable in all types of economic situations: growth stocks would prosper in expansionary markets, precious metals in inflationary markets, bonds in recessions and T-bills in depressions."
There are many articles on Seeking Alpha and other sites that explain the portfolio. A link to one of the better ones on Seeking Alpha is at the bottom of this article.
Summary
Although projected annual dividends decreased in the high-yield portfolio due to portfolio cleanup and tax reduction activities, both the high-yield portfolio and the permanent portfolio had decent months.
GrayBeard Retirement writes about retiree appropriate investments, asset allocation and other financial aspects of retirees, especially those that retire early. Please give me a follow and take a look at my article here - one strategy to withdraw from your 401(k) penalty-free as soon as age 54.
This article by Seeking Alpha Contributor David Merkel is one of the better articles on the permanent portfolio I have seen.
This is not investment advice. This is only a review of what we are doing with our situation. Your situation is different and will call for a different plan and a different investment portfolio.