Closed-end fund investors know that a good strategy when purchasing shares of CEFs is to choose funds that are currently trading at a discount. I used CEFconnect's fund screener to narrow in on some potential opportunities that may deserve a closer look. To further help narrow down potential funds worth a look, I added the following three criteria to narrow in on attractiveness:
Funds invested primarily in equity holdings, this is attractive for longer-term investors as equities often offer superior returns over the long-term time horizon.
Market capitalization of greater than $300 million, this offers generally two potential advantages; greater liquidity and lower fees.
Distributions that pay on a monthly schedule, this can help with compounding at a greater frequency and getting cash back to working for investors faster.
The last two editions of these articles can be found from, April 23, 2018 and July 16, 2018, had very little change between those time frames. This time we have three funds that dropped off the list giving us three new funds to take a look at.
Boulder Growth & Income (BIF) has dropped off this list as they have reverted back to making quarterly distribution payments rather than the more attractive monthly schedule. The pay rate has remained the same however, just merely adjusting to a quarterly per share amount of $0.102. Otherwise, BIF would have still made it to the widest discounted fund following the parameters set out above. The discount currently sits at a deep 16.74%. This fund appears to suffer mostly due to its "paltry" distribution yield at 3.67%. This would only be considered paltry in the CEF universe as this is quite low relatively speaking.
Cohen & Steers REIT & Preferred Income Fund (RNP) has fallen off this list due to the fact that other CEFs have fallen further. In fact, RNP has gone from a discount of 11.05% to a deeper 12.68%. When the last update was posted RNP had a share price of $19.57, with a NAV of $22 per share. The fund now trades at $18.60 and a NAV per share of $21.30. This gives us a market decline of almost 5% and a NAV decline of 3.18%. During this time though, RNP investors have received 5 distributions in the amount of $0.1240 or $0.62 per share since the last time we have covered this topic. Meaning, the market decline would have put the returns at 1.8%, with a NAV decline of 0.36%, helping to offset some of the share depreciation.
The last fund to be removed from the list is Tekla Healthcare Opportunities Fund (THQ). I have actually just recently released an article on my full opinion of THQ. At the time of the previous "5 Funds Trading At A Wide Discount" article, this fund was trading hands at $17.62 and a per share NAV price of $19.80 or an 11.01% discount. THQ, as of 11/30/2018, is trading at $18.57 for the market price and a NAV of $20.56, giving the fund a 9.68% discount. This fund has also paid out 5 distributions of $0.1125 or $0.5625 during this time period, further driving the returns of this particular fund. I am impressed at the success of this fund and other healthcare related funds as well, with the Trump Administration seemingly keen on changing regulations on pharmaceutical companies.
This covers the funds that have fallen off this list and the reasoning behind not making the cut to this update. As I list off the 5 funds, I will list them in order of lowest to highest discount. Also, this is not an all-inclusive list as I know there are many funds that trade at discounts but these are the 5 widest, with the above criteria.
Kayne Anderson Midstream/Energy Fund (KMF)
KMF makes this list with a discount of 12.95%, currently trading with a market price of $10.96 and NAV price of $12.59. KMF states their investment objective is to "provide a high level of total return with an emphasis on making quarterly cash distributions to its stockholders." Wait...quarterly? Well, this fund has recently had a couple of changes, an important one being that the fund has switched to a monthly pay schedule. The other change that this fund has recently gone through is a merger with a similar Kayne fund, the Kayne Anderson Energy Total Return Fund, Inc. (KYE). KMF was the acquiring fund, while KYE was the acquired and deceased fund. These two funds had a very similar investment strategy and investment objective and seemed to make sense just combining the funds.
The fund invests primarily in the energy sector and more specifically MLPs. They further this focus in the energy sector by declaring "KMF anticipates that the majority of its investments will consist of equity investments in Midstream MLPs and Midstream Companies. KMF lists on their fund website that they have total assets of $951 million, with leverage making up $309 million of the total.
Being that KMF is in the energy sector and the fact that the price for a barrel of oil has been crashing as of late, it is no wonder that some MLPs will make this list. These types of over reactions are when opportunities may present themselves. It doesn't help the fact that MLPs have struggled to recover since oil prices first started to crater in 2015. And of course, whenever their is a large drop in the price of oil, there is the corresponding chatter of "production cuts" coming from OPEC. This time is no different.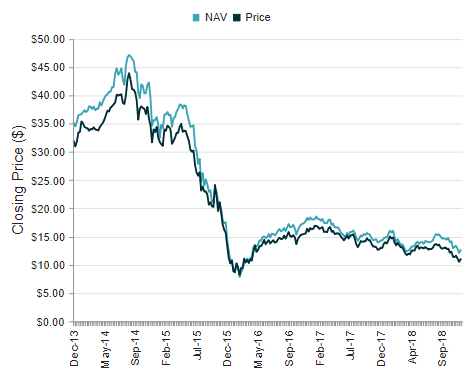 Source - CEFconnect
BlackRock Resources & Commodities Strategy Trust (BCX)
BCX makes our list as fears of a slowing global economy add pressure to what this fund primarily invests in; commodities and natural resources companies. This fund also utilizes an option writing strategy to generate income to fund a higher distribution. This also relates to the same reason KMF has been struggling as of late, due to the price of oil falling, being that oil is a commodity then BCX also has exposure to the energy sector. According to CEFconnect, BCX is invested 38.16% in the mining sector, 35.77% in the energy sector, and 25.93% in the agriculture sectors. These are highly correlated sectors that need strong economies in order to perform profitably.
The current share price of $7.72 and a NAV price of $8.93 give BCX a deep discount of 13.55%. The fund may be compelling to some investors but I've never really been too big of a fan of funds that invest in natural resources, not pertaining to energy and MLP focused funds. Still, with a monthly distribution and a current yield of 8.02% some income investors can be comfortable by furthering their diversification.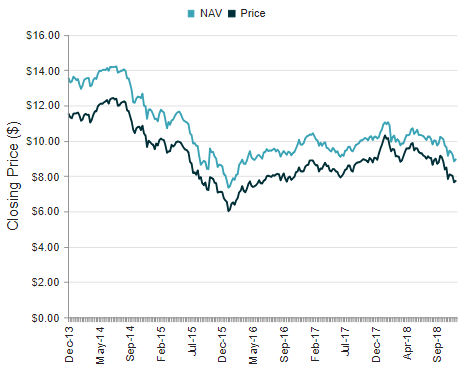 Source - CEFconnect
Neurberger Berman MLP Income Fund (NML)
As the name would suggest, this fund also falls victim to the sell-off that has been experienced recently in oil prices. They further state that "MLP investments are currently expected to emphasize companies that portfolio managers believe have growth potential and operate in the midstream natural resources sector." This would primarily be comprised of oil related MLPs. The fund has total net assets of $655 million and utilizes leverage of $161 million.
With its current share price of $7.53 and NAV price of $8.72, this gives us a discount of 13.65%. This is interesting as the fund had actually traded at a premium as recently as April of 2018. There was also no information as to why this may be, no distribution cut or rights offering that I could find a press release about that could have indicated causing such a drop. NML does look interesting and I think I need to take a deeper look into the fund in the future. The distribution rate is currently at 8.76%, with a monthly rate of $0.055.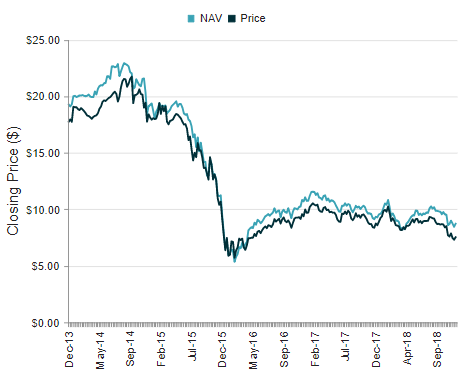 Source - CEFconnect
Nuveen Real Asset Income And Growth Fund (JRI)
JRI makes a return to this list again, like it had the previous one before that as well. JRI "seeks to deliver a high level of current income and long-term capital appreciation by investing in real asset-related companies across the world and the capital structure." Meaning, they have a broad choice of options if the manager so chooses. JRI does utilize debt as leverage and also they leave the door open for writing call options as well.
The fund previously had a discount of 13.31% and back in June it had been 12.69%, JRI now sits at a whopping 14.10% discount. The current share price of $14.87 and NAV price of $17.31 can be compared to its prices back in July of $16.15 and a NAV of $18.63 at that time.
As I previously stated in the prior article, I believe that this fund is hurt by its large holdings in preferred securities and corporate bonds that still make up a large percentage of its total assets. This is also coupled with the assets that are invested in equities having heavy exposure to REITs , all assets that are very sensitive to interest rates.
As I did then, I want to reiterate that I don't want to bash all preferred securities or REITs, because I do own funds that focus on those areas. JRI just can't seem to catch a break though. I want to quote my words from the last article again because I feel the same way, " I believe this could possibly be an enticing entry point, but I'd rather just throw this fund on the watch list. If you are a holder, however, you are getting paid a distribution of 7.88% while the fund waits for brighter days."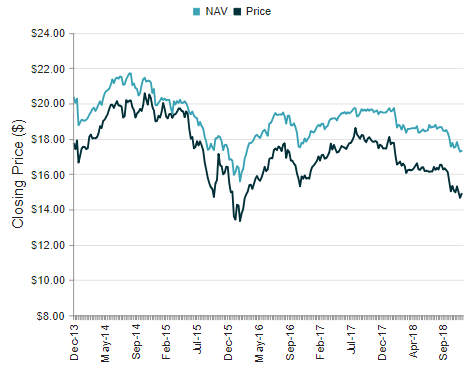 Source - CEFconnect
Clarion Global Real Estate Income Fund (IGR)
IGR is the other fund that was on the previous list and suffers from some of the same issues that plague JRI from above. IGR is a fund that invests primarily into just REITs from around the globe though. This fund is quite a large fund too, at $1.104 billion in assets, as of 11/30/2018. This fund suffers like many other REIT focused funds due to interest rate increases, this appears to be further hampered by having a global focus. Although, it does appear IGR has been ratcheting up exposure to U.S. securities as of their latest Fact Sheet on September 2018, with about 62% of holdings listed as U.S.
The discount was last at 11.87% when we last took a look, this has widened drastically to 14.30%. The current share price stands at $6.83 and NAV per share of $7.97. IGR has taken a whacking this year, with the NAV down 5.34% and market price decline of 7.05%. I am still avoiding IGR at this time as I believe their are better opportunities out there and the market would appear to agree as the discount continues to widen for this fund.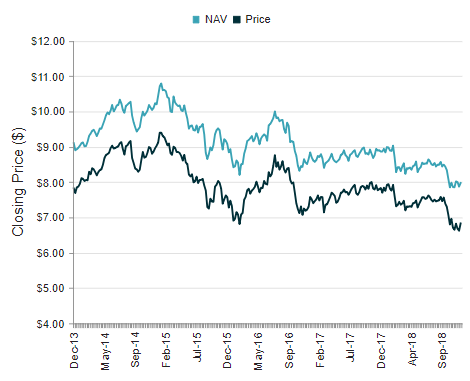 Source - CEFconnect
Conclusion
These 5 CEFs may be worth looking into further for anyone looking to get started with CEFs. Discounts/premiums are not the only consideration to follow through with a purchase but are an important part and helping to make sure you are not overpaying for assets that have market prices beyond what the NAV even are. What attracts most people to CEFs is the chance for enhanced yields beyond what typical securities hold. The monthly income is tremendously attractive and can help a person during retirement for income, or help a younger investor compound investments more frequently by reinvesting those distributions back into the securities or purchasing other securities.
The changes to the list can help show that not all discounts are here to stay perpetually. There was two funds that did repeat on this list, and these funds were even on the prior article of this style ironically enough. But, running the screen did give us the chance to see some new funds appear that need further digging.
Please feel free to leave any questions or comments below in the comment section! If you like this article, please consider clicking the "Follow" button above to stay up-to-date on future articles.