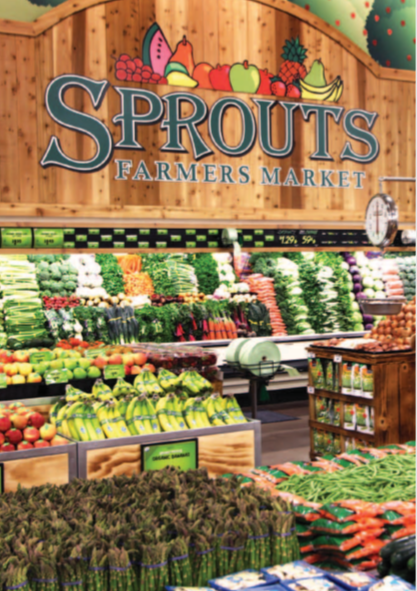 After market close on November 29th, 2018, Sprouts Farmers Market (SFM) announced its CEO of three-plus years, Amin Maredia, would " transition away from the Company on December 30, 2018 to pursue other interests".
Mr. Maredia
Prior to assuming the CEO position, Amin Maredia was Sprout's CFO from 2011 to 2015. He's a CPA and 2011 Harvard Business School graduate. Before he joined the natural and organic retailer, his career included stints at Burger King, Dynegy and PriceWaterhouseCoopers.
Mr. Maredia became CEO in August 2015 as a purposeful step in Sprouts' succession planning. Doug Sanders, the company's prior president and CEO, proceeded to the executive chairman of the board position. Sprouts' COO, Jim Nielsen, assumed the additional responsibilities of president.
Mr. Sanders had led the company for 13 years from the time it operated but a single store in Chandler, Arizona. At the time of procession, Sprouts was operating 212 stores in 13 states.
Under Mr. Maredia's leadership, Sprouts opened another 103 stores in 6 more states. The retailer now operates 315 stores and has plans to open 30 per year for the next few years. Sprouts' research indicates the U.S. could support approximately 1,200 locations.
In January 2018, Mr. Maredia was named the first of 18 leaders to watch in 2018 by Retail Leader.
"Maredia is now planning to lead Sprouts through several growth initiatives, including a digital makeover, as prospective buyers wait in the wings...For now, Maredia says his company is focused on maximizing the reach of a smaller footprint of stores by investing in its grocery delivery game."
Sprouts launched its new website and mobile app in January. By November, 2018, it is reaching over 2.4 million subscribers digitally. It is also offering home delivery from more than 200 stores.
Top Reasons For Unexpected CEO Departure
In true David Letterman fashion, the following ten reasons were offered by OMG Top Tens for an unexpected CEO departure.
10. They can't take the pressure.
9. They lose time for their families.
8. They don't get compensated well.
7. They want to run their own businesses.
6. There is always public outrage.
5. They resign for the sake of the company.
4. They are bound for termination anyway.
3. They are not getting the credit they deserve.
2. The company itself is bound to close.
1. They don't see any room for personal growth anymore.
With three-plus years of opportunity to observe Mr. Maredia, half of the list, items 2 through 6, can be easily eliminated. According to this list, the remaining culprits center on compensation and personal reasons.
CNBC's Mad Money host, Jim Cramer, vigorously waves a warning flag when CEOs, CFOs, COOs and the like unexpectedly depart a company.
"When C-suite executives leave for undisclosed personal reasons, it's almost always because there's something wrong at the company. Hence, my rule: When high-level people quit a company, something's wrong."
Mr. Cramer recommends investors conduct an immediate sell on the news. He supports his recommendation by stating the only exception he can remember was when Charlie Scharf left Visa (V) in October, 2016. Visa was still a recommended hold at the time.
The market either heeded his advice or felt its own anxiety about the change. On Friday, November 30th, Sprouts shares dropped 15%, the largest percentage decrease in a day for the grocer.
Another Exception?
But, is something truly wrong? Or, is Sprouts another Visa, another exception?
The grocer has delivered a compound annual growth rate ("CAGR") of 18% for sales from 2013 to 2017. Through three quarters in 2018, the year-over-year sales growth is still double-digits at 12%. Its performance is due to geographic expansion and is complemented by an expansion of private-label brands (now 13% of total sales) and expansion of its deli, meats and seafood offerings. For twelve consecutive years, Sprouts has produced positive comparable store sales growth,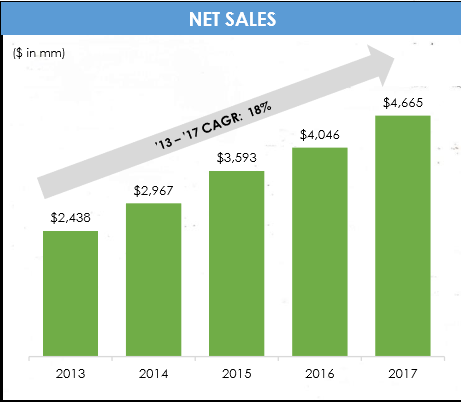 Source
With the adoption of operational systems such as its fresh item management program implemented in the 2018 second quarter, Sprouts' margins are better than most grocers. Its ROIC (return on invested capital) through the first nine months of 2018 has improved to 16.2%. Sprouts defines ROIC as net operating profit after taxes divided by average invested capital.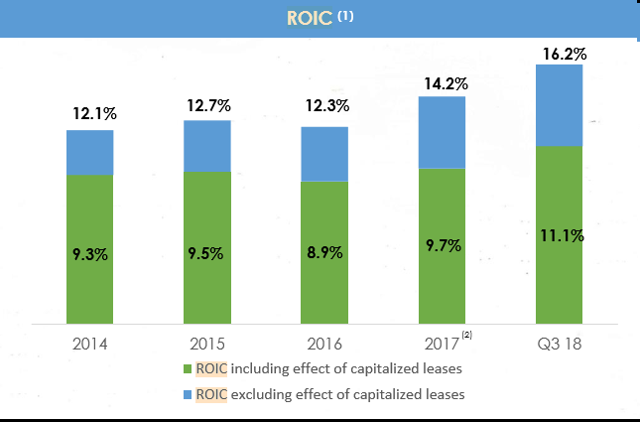 Source
Diluted earnings per share has improved at a CAGR of 8% from 2014 through 2017. Through the first three quarters of 2018, diluted EPS increased 28% compared to the first three quarters of 2017. Of course, tax reform has had a positive impact. As well, its earnings per share improvement has been aided by Sprouts' active execution of its share repurchase program. From 2015, the grocer has repurchased approximately $716 million worth of shares reducing the outstanding share count by approximately 21%. It still has $283 million left on the authorization.
Thus, with Sprouts growing both organically and geographically, driving ROIC higher, and protecting shareholder returns, it seems premature to declare something "wrong" at the company simply because Mr. Maredia is leaving.
The "Potential Acquisition Target" Possibility
In early 2017, it was rumored Albertsons approached the grocer about a merger. Then, when Amazon (AMZN) purchased Whole Foods Market, it was quite natural to declare Sprouts the next target for an industry acquirer.
Thus, it follows that some would speculate Mr. Maredia's departure is signaling an upcoming transaction. The same would point to Mr. Maredia's Form 4 submission dated November 19, 2018 as support for the supposition even though the form clearly details these sales occurred due to a Rule 10b5-1 trading plan. He sold 165,213 shares at an average price of $27.52 while retaining 192,998 shares.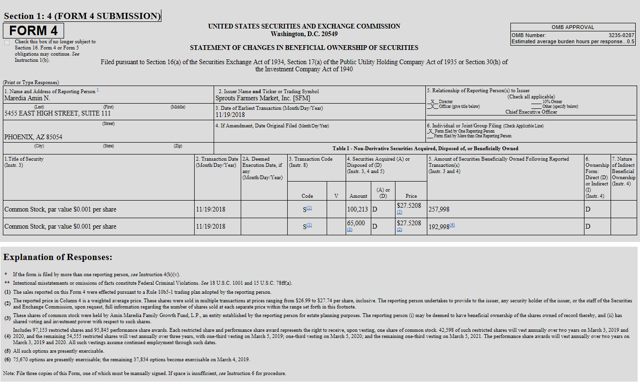 Source
The "Job Offer You Can't Pass Up" Possibility
Perhaps the man named as the top candidate of 18 to watch in 2018 should be the focus.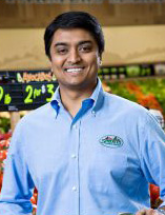 Source
There is a strong possibility Mr. Maredia simply received a job offer he can not pass up.
For example, Unilever (UL) began preparing for the retirement of its CEO, Mr. Paul Polman, in late 2017. When Nestle SA (OTCPK:NSRGY) lost its Chief for Zone AOA: Asia, Oceania, and sub-Saharan Africa, Ms. Wan Ling Martello, in October, 2018, there quickly was conjecture she was pegged as Mr. Polman's successor. Martello is scheduled to step down in late December, 2018.
However, Mr. Polman's retirement date and successor were named November 29th, the same date Mr. Maredia resigned. Ms. Martello will not replace Mr. Polman. Rather, he is to be replaced by Unilever insider, Mr. Alan Jope. Thus, Ms. Martello's next position is still unknown (though Uber Technologies and Alibaba Group Holding (BABA) are media guesses).
In October, Nestle immediately filled Ms. Martello's position with insider Chris Johnson. However, shareholder activists have been calling for the company to consider bringing in outsiders. Bank Vontobel AG analyst, Jean-Philippe Bertschy, was quite direct in expressing both disappointment and hope.
"We regret the departure of Wan Ling Martello, and are surprised by the choice of Chris Johnson. We believe that this represents a temporary solution to guarantee a smooth transition."
Another reason Ms. Martello's departure was surprising is because there has been little executive churn since CEO, Mark Schneider, took the helm in 2016. Mr. Schneider was a surprise appointment from outside Nestle, the first since 1922. Mr. Schneider is also a 1993 graduate of Harvard Business School.
There is a possibility the Martello move actually represents the first domino of several key changes to transpire in the near future. In September, 2018, Nestle reaffirmed its strategic direction.
"As part of its regular strategy review earlier this year, the Board of Directors assessed Nestlé's Nutrition, Health and Wellness strategy. The Board fully confirmed the company's strategic direction and resolved to sharpen its focus on food, beverage and nutritional health products. By enhancing the Group's focus, the Board expects to deepen resource commitment to its key growth initiatives and facilitate the implementation of its accelerated long-term value creation strategy."
Now, consider this answer Mr. Maredia offered in a 2014 interview about Sprouts.
"The way we go to market is really focus on four things: We're health, selection, value, and service. To break that down a little bit, when we think about healthy foods, Sprouts is not a grocery store, which just happens to sell healthy foods; it's what we do." (emphasis added)
To draw a straight line between Mr. Maredia's experience and approach at Sprouts and the strategic direction at Nestle is not at all difficult. In theory, Mr. Maredia would most certainly have his thumb on the pulse of the food, beverage and nutritional health products market in the United States.
Suppose Nestle, in an effort to bring in outsiders and appease activists, decided to create a position to lure Mr. Maredia away from his CEO post at Sprouts. Suppose top performer and U.S. citizen, Ms. Martello, was eager for change and interested in the same said position. Suppose disappointment led to her departure, especially if it is true she was also passed over when Mr. Schneider was appointed. Such a series of events doesn't require the imagination of soap opera writers.
Nestle has made a handful of acquisitions since 2017, all headquartered in the United States. Few should know better than Mr. Maredia which food, beverage or nutritional health product company to target for acquisition next. Who may be better able to facilitate acquisition negotiations with these targets than Mr. Maredia?
To be fair, the company actually has a Chief of Zone AMS: Americas, Mr. Laurent Friexe. The native Frenchman has been with Nestle since 1986 and in his current position since October, 2014.
Then again, perhaps Mr. Maredia is actually pegged to take on some portion of Ms. Martello's former position.
To be clear, I'm certainly not privy to insider "dirt" or even suggesting Mr. Maredia will work for Nestle. Though, it would not surprise me if he did. Then again, if Nestle has not considered creating an opportunity for Mr. Maredia, it probably should. After all, the AMS Zone is responsible for 45% of the company's revenue.
Perhaps, this type of speculation is too far-fetched. But, what I am trying to suggest is that it is quite possible, using Nestle as an example, that Mr. Maredia is simply leaving for a job offer he just could not pass up. It's true there would not be dozens of opportunities which could be regarded as such. But, there only has to be one.
Disclosure: I am/we are long SFM. I wrote this article myself, and it expresses my own opinions. I am not receiving compensation for it (other than from Seeking Alpha). I have no business relationship with any company whose stock is mentioned in this article.
Additional disclosure: I belong to an investment club that owns shares in SFM.