Today's release of the ISM Manufacturing report for November broke a string of back to back declines in the index and easily surpassed expectations. While economists were forecasting the headline index to come in at a level of 57.5, the actual reading came in at 59.3.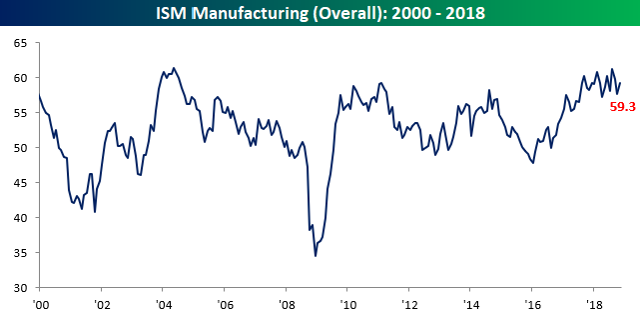 Breadth in this month's report was pretty much split right down the middle as five categories showed increases, four declined, and one was unchanged. On a y/y basis, it was less positive. Although the headline index is higher than it was at this time last year, seven out of ten components are down. The biggest decliner on a m/m and y/y basis was Prices Paid. In November, Prices Paid declined from 71.6 down to 60.7, which was the largest m/m decline since June 2012. For those worried about rising inflation, this month's decline provides some comfort.
Finally, with the November jobs report coming up Friday, we wanted to note that the employment component of this month's report increased from 56.8 up to 58.4, indicating another healthy jobs reading for the manufacturing sector at least. We'll be paying closer attention, however, to the ISM Services report which will be released on Thursday morning. The Services sector makes up roughly 80% of the US economy compared to just 20% for the manufacturing sector.