Some thoughts on the G20 meeting over the weekend:
On US-China Trade Talks...
The elephant in the room was always Trump and Xi's working dinner, with both expected to touch on bilateral trade issues. Trade has been a major sticking point between both global superpowers, with China's persistently large trade deficit against the US irking the Trump administration (and many administrations before Trump's). The difference is that Trump has ratcheted up bilateral tensions by imposing tariffs on China's imports, while previous administrations have taken a more tolerant stance.
G20 has been productive though. Even prior to the grand event, there have been constructive noises coming out from both US and China camps that some sort of trade consensus may be reached. Personally, investor sentiment has been so downtrodden over the past few weeks with respect to US-Sino relations, that a somewhat affable outcome to the weekend talks was more than likely to be viewed as a positive surprise.
The outcome was much more than a positive surprise. Trump has agreed to hold back on raising tariffs from 10% to 25% on $200bn of Chinese imports in January, as previously planned. In exchange, China has promised to buy a "very substantial" amount of farm, industrial, and energy goods from the US. Both sides have also set a 3-month deadline to discuss thorny issues such as intellectual property theft and forced transfer of technology.
Talks certainly appear to have been very affable, it seems.
Of course, the devil will be in the details. How much of aforementioned US products will China end up buying? Would that sufficiently reduce the trade deficit with the US, and will the Trump administration be happy with it? Will a 3-month deadline be sufficient to discuss aforementioned sensitive state-and-security-related matters, when both sides have failed to make any headway for the bulk of 2018?
All in all, the surprisingly constructive trade talks should boost animal spirits in the financial markets, especially when expectations going into these talks were relatively subdued. However, with uncertainty still lurking around the corner given the lack of clarity on those details, investors should still take advantage of any pre-Christmas bounce to offload some risk in their portfolios. Trade tensions will most likely still remain as a persistent subject in 2019, and I would not expect the Trade Monster to rear its ugly head again early next year.
On Oil Prices...
The second interesting development over the weekend was that Russia and Saudi Arabia had agreed on oil production cuts, clearly in a bid to prevent oil prices from slumping further.
Brent Crude entered a bear market this year, with prices now about 30% down from its 52-week high. With such a sharp and massive slide in prices comes great opportunity for investors. Saudi Arabia and Russia have already shown their cards over the weekend, with both major energy producers determined to halt the slide in oil prices. OPEC meets next week, and the organisation should follow Saudi Arabia's lead and tone.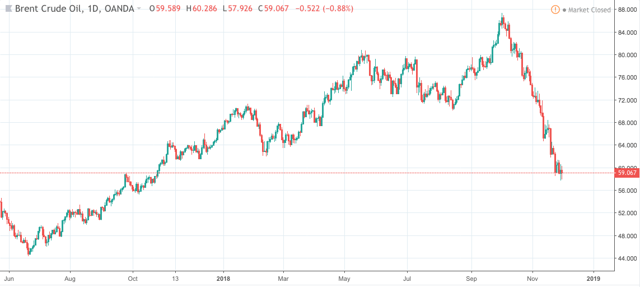 Even if we do see a 50% retracement in the recent sell-off in oil prices, we are looking at a c. 15% rebound in oil prices, a sufficiently large enough move to pique most investors' interests. I hence suggest picking up some oil names which are likely to benefit from oil prices going higher from here. You can consider the SPDR Energy Select ETF (XLE) which gives broad, diversified exposure into the energy sector. Valuations are inexpensive, with the ETF trading at 8x P/E, while paying a dividend yield of 3%.
An alternative is to buy into single stocks such as Exxon Mobil (XOM), a terrific oil major with diversified operations across downstream and upstream activities. It pays an attractive dividend yield of 4%, which means you will be handsomely rewarded for waiting for oil prices to rebound.
In conclusion, this weekend's G20 threw up two positive surprises which are likely to reignite animal spirits in the financial markets next week. Perhaps this will help us end tumultuous-2018 on a happier footing and give investors an early Christmas present.
Disclosure: I/we have no positions in any stocks mentioned, and no plans to initiate any positions within the next 72 hours. I wrote this article myself, and it expresses my own opinions. I am not receiving compensation for it (other than from Seeking Alpha). I have no business relationship with any company whose stock is mentioned in this article.