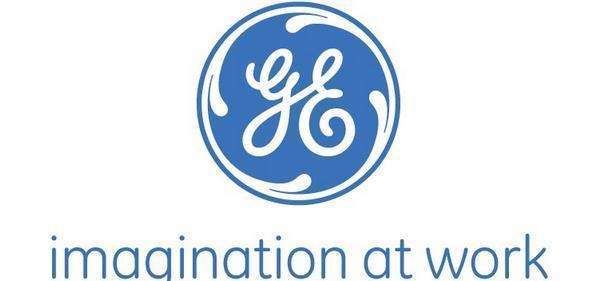 I more than doubled my long position in General Electric (GE) on Friday after shares once again dropped precipitously. Investor sentiment has not recovered since the industrial company slashed its dividend payout earlier this year. The turnaround in the power division may take time, but should eventually yield positive results. General Electric is also on track to cut its net debt in half by 2020. GE has an appealing risk/reward-combination, and shares sell for just ~9.0 next year's estimated profits.
General Electric had yet another weak day on Friday when shares slumped 5.5 percent. Year-to-date, General Electric's shares have now lost a whopping 57 percent of their value. According to the Relative Strength Index, RSI, which flashes a value of 29.72, GE is again oversold, potentially offering investors another entry point into the stock.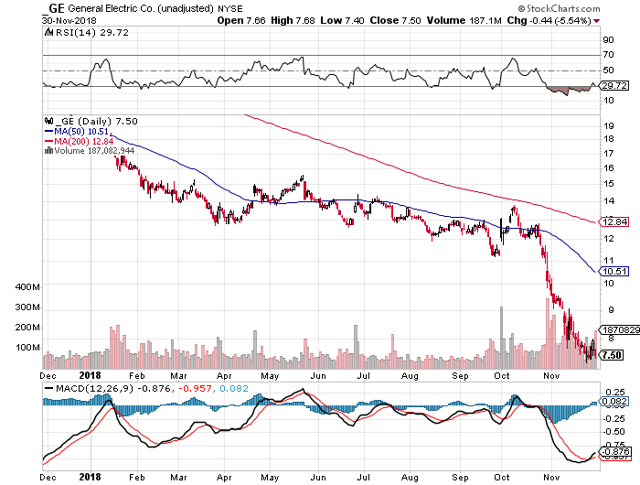 Source: StockCharts
I realized some profits last week by selling 50 percent of my long position in business development company Prospect Capital Corp. (PSEC). I have used the proceeds from the sale to increase my position in General Electric by ~110 percent. I added to my existing long position in GE on Friday at prices ranging from $7.44-$7.50.
There are four reasons why I doubled down on GE.
1. The power business will be restructured, or maybe even sold.
In November 2019, General Electric said that it will split the business up into two operating units, GE Gas Power and GE Power Portfolio. General Electric has also said that it will restructure the power business, in light of a weak gas turbine market. The restructuring so far has included lay-offs and cost cuts (GE has guided for $1.0 billion in structural cost cuts in 2018) and other measures to improve efficiency.

Source: General Electric
The power business has performed extremely poorly in 2018, and the trend continued in Q3-2018. As a resul, the power business remains GE's biggest headache heading into 2019. Aviation, healthcare and renewable energy, for instance, have delivered much better results in the third quarter than General Electric's power division.
See for yourself.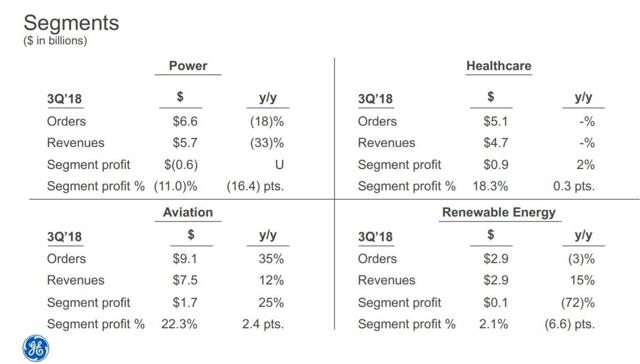 Source: General Electric
If General Electric fails to restructure its power division, management retains the option to put one of its new power businesses on the bloc. Siemens, for instance, could be a potential acquirer of General Electric's power assets.
2. The new GE will not look like the old GE
After selling GE Capital's financial assets, General Electric's management is now further reorganizing the industrial company. The company has sold transportation assets and will establish GE Healthcare as a standalone company. Baker Hughes, which GE bought in 2016 in order to boost its oil and energy business, will also be divested.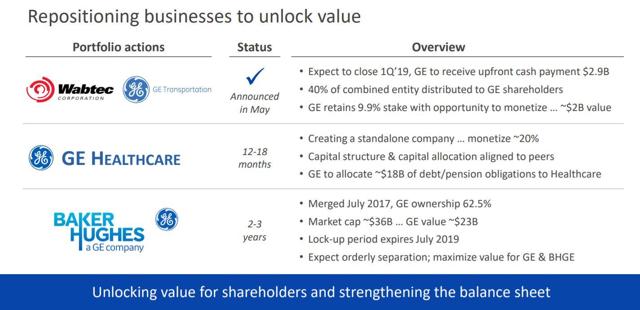 Source: General Electric
The new GE will be a much smaller, much more focused industrial company consisting of core businesses aviation, power and renewable energy. The new GE will also have considerably less debt on its balance sheet.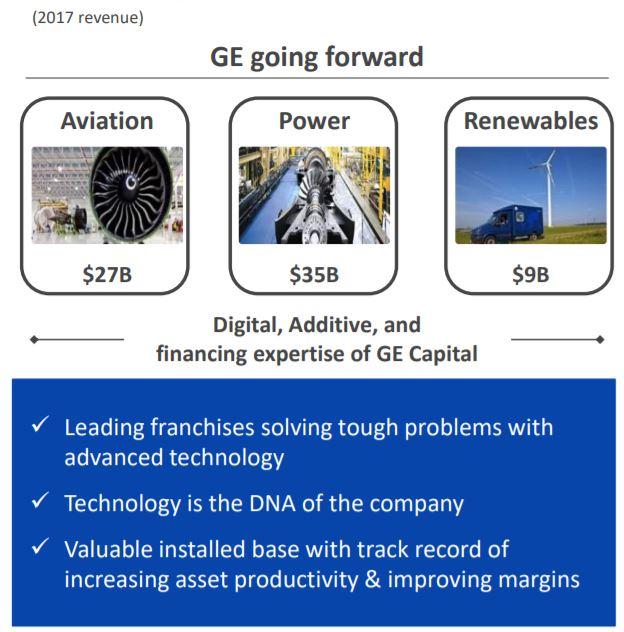 Source: General Electric
3. Deleveraging
A combination of asset sales, cost cuts and the dividend cut this year allows General Electric to redirect cash flow towards debt repayments.
The company has outlined that it will reduce its net debt from $50 billion now to $25 billion by 2020, reflecting a debt reduction of ~50 percent. As a result, a newly restructured GE with much lower leverage ratios should be able to command a higher valuation multiple going forward, in my opinion.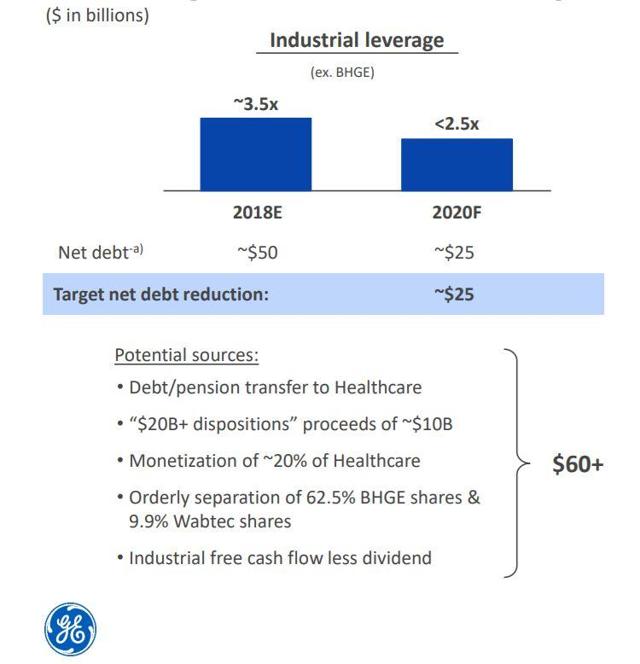 Source: General Electric
4. The valuation is very attractive now.
It's the combination of a low valuation with oversold sentiment, that really makes General Electric a 'Buy', in my opinion.
General Electric sells for just ~9.0x next year's estimated profits. Though GE has its fair share of problems, shares have become too cheap compared to Honeywell International, Inc. (HON) and 3M Company (MMM).
General Electric's forward P/E-ratio is just about half the P/E-ratio of its industrial peers.

Source: Achilles Research
In addition, the gap between consensus price target and General Electric's share price has widened considerably in 2018, potentially pointing contrarian-minded investors to an opportunity to earn high risk-adjusted returns going forward.
The consensus price target for GE sits at $13.40, according to Marketbeat, a website that consolidates analyst research and their target prices. The consensus price target implies ~78 percent upside.

Source: Marketbeat
I think GE, at today's price point, offers investor with a high risk tolerance an attractive risk/reward-combination. I expect GE's valuation multiple to expand as the company executes its strategic plan to restructure power, spin-off its healthcare business, sell other assets, and reduce leverage. For investors with a 1-3 year investment horizon, GE is worth a closer look as long as the industrial company is out-of-favor.
Your Takeaway
GE deserves the benefit of the doubt. Though General Electric is no longer a dividend play after the company slashed its dividend payout, General Electric's shares have an appealing risk/reward for investors with a contrarian bent. I think General Electric will be able to restructure its power division and reduce leverage gradually going forward, which should eventually be reflected in a higher equity valuation. GE's shares are widely oversold and undervalued, and I was comfortable doubling my position in GE last week.
If you like to read more of my articles, and like to be kept up to date with the companies I cover, I kindly ask you that you scroll to the top of this page and click 'follow'. I am largely investing in dividend paying stocks, but also venture out occasionally and cover special situations that offer appealing reward-to-risk ratios and have potential for significant capital appreciation. Above all, my immediate investment goal is to achieve financial independence.
Disclosure: I am/we are long GE.
I wrote this article myself, and it expresses my own opinions. I am not receiving compensation for it (other than from Seeking Alpha). I have no business relationship with any company whose stock is mentioned in this article.