By James Knightley, Chief International Economist ING
Jobs growth
Given the US economy's strong momentum, we expect the underlying trend in payrolls growth to remain very firm. On average, we have seen payrolls increase by 212,500 per month in 2018, 30,000 more than the average monthly gain in 2017. However, we have been through a particularly choppy period over the past few months, which is primarily due to swings caused by a recent spate of hurricanes.
Hurricane Florence, which hit the Carolinas and Virginia in September, meant many employees couldn't get to work so were not counted as being 'on the payroll', hence the depressed 118,000 outcome. However, they did return for the October payroll report, while the clean-up and rebuild efforts stimulated additional employment gains in the region with payrolls nationally rebounding 250,000 last month.
It would have been even better had Hurricane Michael not hit Florida and Georgia that month and led to a weaker payrolls figure in that region. The recovery/rebuild story could, therefore, add to upside risk to our forecast of November payrolls growth of 200,000. The consensus range of analysts is 136,000 to 228,000 with a median estimate of 196,000.
Monthly US payrolls change
Wage growth
Pay has been grinding higher this year, but we had a major breakthrough last month with the annual rate of wage growth rising to 3.1% - the fastest rate since April 2009. With businesses complaining of a lack of available workers with the right skill sets, pay pressures will continue to build. The National Federation of Independent Businesses reports that the net proportion of firms unable to fill current vacancies remains at an all-time high of 38% while a net 34% of firms are looking at raising worker compensation.
In addition, the Federal Reserve's Beige Book commented on the demand-supply story in the jobs market, stating that there is growing evidence of firms competing on benefits packages too, including vacation days, signing bonuses and healthcare. As such we look for wage growth of 0.3%MoM /3.1% YoY this month, which is in line with consensus.
Pay versus unemployment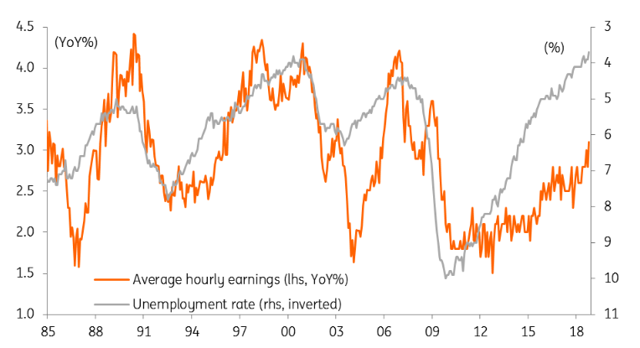 Unemployment rate
The household survey, which is used to calculate the unemployment rate, has also been showing impressive employment gains. In fact, the unemployment rate is at a 49-year low of 3.7%. We expect it to stay here, but there is the outside chance it drops to 3.6% while underemployment could also fall too, given more part-time positions are being converted to full-time roles.

What it means for the Federal Reserve
2018 has been a fantastic year with the US economy expanding at the fastest rate for thirteen years and the unemployment rate dropping to its lowest level since November 1969. The strong economic momentum means there is little reason to expect a significant drop-off in demand for workers anytime soon and given the tightness of the jobs market this suggests further upside for wages.
This will add to inflationary pressures in the US economy and ensure a December interest rate hike from the Fed. There will be more headwinds in 2019, but for now, we continue to predict three further 25bp interest rate increases next year.
Content Disclaimer: This publication has been prepared by ING solely for information purposes irrespective of a particular user's means, financial situation or investment objectives. The information does not constitute investment recommendation, and nor is it investment, legal or tax advice or an offer or solicitation to purchase or sell any financial instrument. Read more
Disclosure: I/we have no positions in any stocks mentioned, and no plans to initiate any positions within the next 72 hours. I wrote this article myself, and it expresses my own opinions. I am not receiving compensation for it. I have no business relationship with any company whose stock is mentioned in this article.