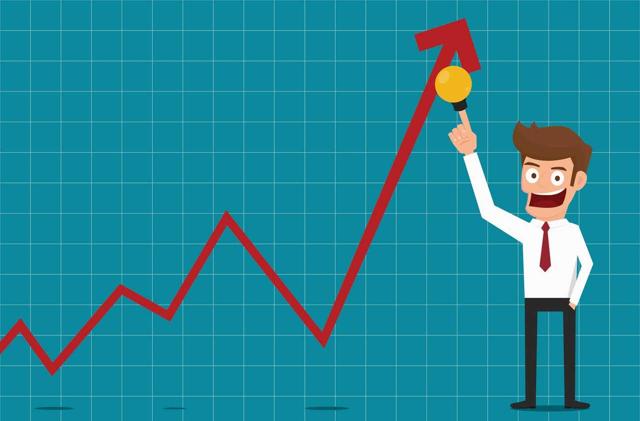 Background
Last December, I wrote this article describing how I pick stocks to invest for the long run using a quality-focused ranking approach. The ranking model contained a few quantifiable factors covering different dimensions of business fundamentals, some of which I would like to reiterate below:
Return on capital;
Historical earning and FCF;
Financial health;
Margins;
Growth;
Dividend;
Cash flow;
Capital intensity;
(Business) momentum;
Business performance compared to peers.
In the article, I also mentioned 13 names that topped my ranking at that time. Almost one year passed. Let's review how my ranking model worked out by looking at the performances of those 13 stocks.
Performance Review
From December 2017 through November 2018, a portfolio with equal weights in the 13 stocks would produce 9.9% annual return with dividends reinvested. This performance more than doubled the S&P 500 index (4.5%).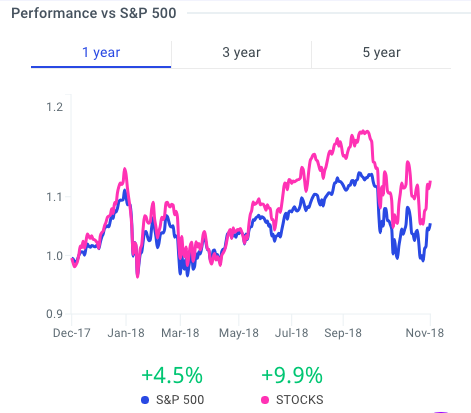 Source: Finbox.io; data as of 12/1/2018.
Among the 13 picks, there come 7 leaders beating S&P 500 (6 of them by a wide margin) and 6 laggers (3 of them by a wide margin). As you may notice from the breakdown below, the technology sector is the biggest loser in my picks, followed by the health care stocks.
Most of the winners here possess some characteristics of recession-proof-ness, such as Rollins (providing pest control services no matter how the economy goes), Ross Stores (a discount retailer), Credit Acceptance (the auto subprime loan provider with a dealer partnership model).
We also find that most of the losers ranked high by the model run the businesses that may be relatively easily disrupted by the advancement of technologies and sciences, such as drug discovery, internet.
From another angle, all the foreign stocks on the list lagging the US stock benchmark in terms of USD performances. In the meantime, 70% of my US picks outperform the S&P 500 index (see the table below). That is, should the model only have applied to US stocks and then compared to the US equity benchmark, the outperformance would be of much larger significance.
| | | |
| --- | --- | --- |
| | Leaders | Laggers |
| US | 7 (ROL, PAYX, NKE, ROST, AMGN, CACC, ISRG) | 3 (AAPL, WAT, GILD) |
| Non-US | 0 | 3 (NTES, TCEHY, NVO) |
Leaders
7 out of 13 stocks outperformed the S&P 500 index during the period. Rollins is the biggest winner.
Rollins (ROL)
Performance (Dec. 2017 - Nov. 2018, excluding dividends): 37.13%.

Source: WSJ.
Rollins is the global leader in providing pest control services and protection against termite damage, rodents, and insects.
The business is an extremely rare case that has been growing revenue and earnings every year for nearly two decades. There was no exception for the past year, where Rollins grew its top line and bottom line by 6.4% and 6.5% respectively.
Rollins is a "boring" story, meaning it's quite often neglected by Wall Street and media, which could be a good thing to long-term investors. After all, most people would not have guessed a year ago that Rollins would be the top performer among all the 13 names on my list. They may have been even more surprised if having known which would be the worst performer one year later (yeah, it is one of the hot Chinese internet stock).
Ross Stores (ROST)
Performance (Dec. 2017 - Nov. 2018, excluding dividends): 15.22%.

Source: WSJ.
Operating Ross Dress for Less (Ross) and dd's DISCOUNTS in the US, the company is one of the very efficiently run off-price retailers, which are both relatively recession-proof and Amazon (AMZN)-proof - great ROE with a strong balance sheet.
For the past year, the business experienced high-single-digit revenue growth as well as double-digit EPS growth. Meanwhile, the management was able to keep the FCF margin above 10% and 40%-50% returns on equity and invested capital.
Intuitive Surgical (ISRG)
Performance (Dec. 2017 - Nov. 2018, excluding dividends): 32.79%.

Source: WSJ.
Intuitive Surgical designs, manufactures and markets its flagship da Vinci Surgical Systems, and related instruments and accessories. The company demonstrates a proven track record of fantastic and stable profitability with high growth prospect ahead.
Over the past year, the business generated low-single-digit growths in revenue and operating income. Meanwhile, Intuitive Surgical produces rich cash (28 cents of FCF out of one dollar of sales) and consume little (5 cents in CapEx needed to generate one dollar of sales).
Credit Acceptance (CACC)
Performance (Dec. 2017 - Nov. 2018, excluding dividends): 35.17%.

Source: WSJ.
Credit Acceptance offers "subprime" financing programs that enable automobile dealers to sell vehicles to consumers. This is another wide-moat case with huge economies of scale: Credit Acceptance heavily partners with local dealers through its unique business models to capture the auto subprime loan market no matter when the economy is good or bad - unlike traditional banks. Credit Acceptance is a typical capital un-intensive business.
For the TTM, the company generated over a 50% FCF margin while growing its revenue and operating income at low-double-digit rates.
Amgen (AMGN)
Performance (Dec. 2017 - Nov. 2018, excluding dividends): 18.55%.

Source: WSJ.
As a leading biotech company, Amgen discovers, develops, manufactures and delivers various human therapeutics. This is another healthcare stock with a wide moat, proven growth capability, high profitability, and the demonstrated willingness of delivering returns to its shareholders (AMGN increased its dividend per share almost 10x for the past seven years).
Amgen is currently earning its investors 45 cents of FCF on every dollar of sales with the CapEx need of only less than 3 cents to generate that dollar of revenue. However, for the past year, the business experience negative or very low-single-digit growths in revenue and operating income. So we would like to put this stock on our close watch list and may adjust its ranking accordingly.
Paychex (PAYX)
Performance (Dec. 2017 - Nov. 2018, excluding dividends): 5.13%.

Source: WSJ.
As a leading provider of integrated human capital management solutions for payroll, human resource, retirement and insurance services for small-to-medium-sized businesses in the US, Paychex offers great products with high user loyalty/stickiness/growth. This is another example of high capital efficiency and no debt. Automatic Data Processing (ADP) is the competitor in the sector with a close score in our ranking system.
Paychex delivers over 40% returns on equity and invested capital as well an over 10% return on assets while growing its revenue at 7.29% and operating income at 3.86%.
Nike (NKE)
Performance (Dec. 2017 - Nov. 2018, excluding dividends): 24.33%.

Source: WSJ.
Nike is engaged in the design, development, marketing and selling of a range of performance equipment and accessories under the Nike Brand name. The company's continuous expansion in the Asia Pacific (especially China) along with great brand unlocks further growth of its relatively high-margin businesses.
Nike experienced a negative growth in operating income for the past year, which shall raise some warning flag to our ranking model. Meanwhile, the business improved the cash generation capability (i.e., FCF margin = 12.29%, CapEx % on sales = 2.95%).
Laggers
6 out of 13 stocks underperformed the S&P 500 index during the period. NetEase is the biggest loser.
NetEase (NTES)
Performance (Dec. 2017 - Nov. 2018, excluding dividends): -30.92%.

Source: WSJ.
NetEase is a leading provider of Chinese language content and services through its online games, Internet media, e-mail, e-commerce, and other businesses. The company was a key pioneer in the development of Internet services for China, and today, it is one of the largest Internet and video game companies in the world.
The company runs a business in a highly competitive sector within a highly competitive region (i.e., the China market). For the past year, NetEase delivered an over 40% increase in revenue but its margins faced pressures in terms of operating income and cash flow. Hence, there will likely be an adjustment to its ranking per our model.
Novo Nordisk (NVO)
Performance (Dec. 2017 - Nov. 2018, excluding dividends): -9.95%.

Source: WSJ.
This is the leading healthcare provider to tackle diabetes and obesity, which are huge and fast-growing markets. According to Statista, around 326.5 million people aged 20-64 years had diabetes in 2017, and it is projected that this number will increase up to 438 million by 2045.
The management has done a superior job in allocating capitals to generate high returns for its investors (e.g., 80% ROIC, 81% ROE), although, for the past year, the business experienced a negative YoY growth in revenue and a low-single-digit one in operating income. Novo Nordisk has unparalleled margins (e.g., an over 80% gross margin, an over 40% operating margin, an over 28% FCF margin) with no debt on its balance sheet.
Gilead Sciences (GILD)
Performance (Dec. 2017 - Nov. 2018, excluding dividends): -3.8%.

Source: WSJ.
Gilead Sciences is a research-based biopharmaceutical company that discovers, develops and commercializes medicines in areas of unmet medical need. The company focuses primarily on antiviral drugs used in the treatment of HIV, hepatitis B, hepatitis C, and influenza.
The stock is a turnaround play in my view, which I do not recommend investors do a lot of. However, Gilead Sciences does possess great cash generation/reserves with prudence in M&A spending. For the past 12 months, the business produced 36 cents FCF on every dollar of sales, with 44% of assets in cash (or cash equivalents) on the balance sheet as of the latest quarter. The company is increasing its presence in China, which is a potential growth story.
The risk is, however, that the margins (gross, operating, FCF, EBT) and asset turnover are still trending down.
Tencent (OTCPK:TCEHY)
Performance (Dec. 2017 - Nov. 2018, excluding dividends): -21.68%.

Source: WSJ.
Tencent is an investment holding company principally involved in the provision of value-added services and online advertising services. Its flagship product WeChat provides superior brand recognition with wide moat through social network effect and extremely high user stickiness. As one venture capitalist puts it, WeChat is there "at every point of your daily contact with the world, from morning until night." Around 95% of the total population in Tier-1 cities and over 70% in Tier-2 cities in China can't live without WeChat. The users are so "sticky," checking the app over 15 times on average per day and spending more than 300 hours in total per year connecting with their friends, family, colleagues, and even business clients through text/group chats and instant voice/video calls (don't be surprised if you see almost nobody using emails in China these days).
For the past 12 months, the company's FCF margin has been trending down, although still staying at around 20%. The management has produced superior returns on capitals (e.g., 20% ROIC, 31% ROE, 14% ROA). The stock has been hammered down due to fear of the tighter regulation on China's gaming industry, which we think is over-rated.
Apple (AAPL)
Performance (Dec. 2017 - Nov. 2018, excluding dividends): 3.92%.

Source: WSJ.
Apple is an example of another well-recognized global brand. The company designs, manufactures and markets mobile communication and media devices, personal computers, and portable digital music players, and a variety of related software, services, peripherals, networking solutions, and third-party digital content and applications. Apple has been continuously developing consumer loyalty towards its products/services and possesses the potential to capture the high growth in the Asia Pacific (particularly China).
The company improved its returns on equity and on capital over the TTM while growing at double digits in revenue, operating income and EPS. It is also worth mentioning that Apple has been able to convert more than 100% of its earnings to free cash flow for the owners.
Waters (WAT)
Performance (Dec. 2017 - Nov. 2018, excluding dividends): 0.72%.

Source: WSJ.
As a leading manufacturer of analytical instruments, such as high-performance liquid chromatography (HPLC), Waters is also a healthcare play but from a different angle. The company does not pay a dividend (yet) but has been reducing its shares outstanding consistently over the years (like most of the others on the list here).
The business had a moderate year for the period, growing its revenue by 6.5% and its operating income by 6%. Waters maintains superior FCF margins (currently 22%) and gross margins (currently 59.2%). While the debt/equity exceeds my comfort zone of <0.5x, there is plenty of cash on the company's balance sheet with the current ratio over 6.6x.
Summary
Overall, our ranking model worked to produce index-beating results for the past 12 months as described above. In the meantime, we believe the model can be constantly improved over time, which will be shared here at the Seeking Alpha community. The only factors our model look at are business qualities rather than valuations or market conditions. After one year since disclosing our top-ranked picks, there are certainly some adjustments to their rankings as those businesses evolve. Therefore, we are going to cover this new list in the near future.
Disclosure: I am/we are long MOST OF THE STOCKS MENTIONED. I wrote this article myself, and it expresses my own opinions. I am not receiving compensation for it (other than from Seeking Alpha). I have no business relationship with any company whose stock is mentioned in this article.
Editor's Note: This article discusses one or more securities that do not trade on a major U.S. exchange. Please be aware of the risks associated with these stocks.