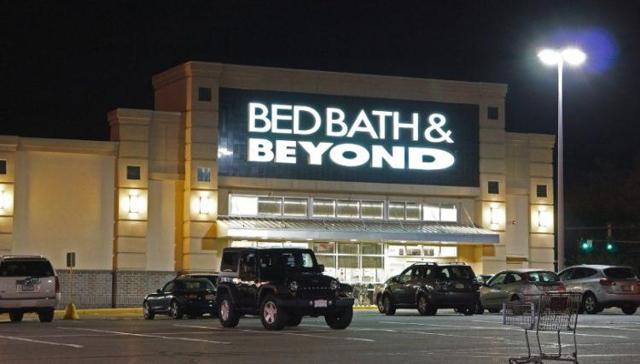 Source: Money Inc.
Investment Thesis
Bed Bath & Beyond (NASDAQ:BBBY) has fallen 80% in the last five years due to laggard e-commerce expansion and expensive inefficiencies. BBBY's price has tumbled sharply several times this year in response to weak guidance, and it was an early victim of Red October. Since the middle of November, the price has plateaued in the $12-$14 range - the minimum level it will hit for a firm its size generating consistent cash flows. Improving efficiencies, innovative turnaround efforts, and the nearing holiday spree will energize BBBY and make its 55% upside a reality in the next few years.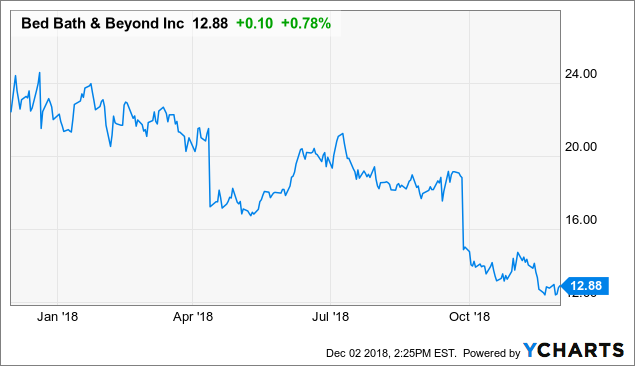 Strengths
BBBY remains a cash cow amidst harrowing circumstances for retailers. The company has managed to crank out free cash flow in the range of $500 million consistently for the past three years. While operating cash flow has been squeezed in recent years, BBBY countered with keeping expenses as low as possible but did not shut off its e-commerce development pipeline - a mistake that has proven fatal for other retailers.
CEO Steven Temares and his executives have fully shifted their attention on acquiring and retaining customers. They announced the closure of approximately 40 core stores as a trimming measure to free up cash during the turnaround. According to their most recent 8-K, 70% of their $182 YTD capital expenditures was attributable to IT improvements in the areas of in-store efficiency and e-commerce amelioration. Through increased online traffic, BBBY have reduced their massive $2.7 billion inventory by 1.7% in Q2 as opposed to 2017's Q2. They are on track to reduce YOY inventory by $150 million, or 5%, by the end of FY18.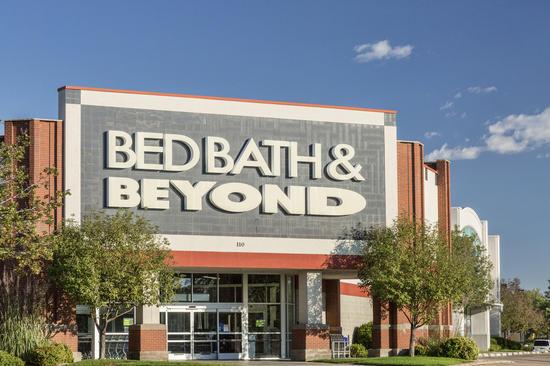 Source: GuruFocus
BBBY's fairly clean balance sheet includes $1.5 billion in debt bolstered by $826 million in their cash account. Rising rates are a very remote threat for the equity-heavy company. With their consistent cash flows, BBBY has appeased investors with their massive $2.5 billion share repurchase program and a growing dividend. Worth noting is that BBBY has a tangible book value worth roughly $12.52 a share after subtracting their $716 million goodwill and $445 million in intangible assets. With such a comfortable buffer, management should have no problems implementing their long-term turnaround plan and still reward investors.
In the age of Amazon's dominance, BBBY has developed a membership program that rivals that of Amazon Prime. The program, BEYOND+, entails a $29 annual fee with a 20% discount and free online shipping. While the program lacks Prime's golden 2-day shipping, BBBY's advantage lies in the availability and offering variety of its 1,550 nationwide stores. Launched in June, BEYOND+ membership is expected to hit a staggering 1 million members by the end of 2018. As with their popular coupon-based sales strategy, BEYOND+ members spend 2.5x more and generate 4x more revenue than the average customer. BEYOND+ tackles an issue that has plagued BBBY for years: low customer switching costs.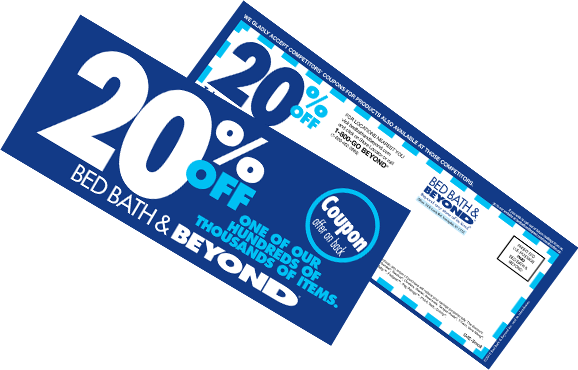 Source: Bed Bath & Beyond
Weaknesses
BBBY's price has relied on their substantial share buyback program, and that has drawn capital away from other potentially profitable endeavors. Fortunately, management has recently doubled down on efforts to expand and diversify BBBY's reach, but they are not the prominent home supply retailer they once were. They have fallen well behind other e-commerce retailers, but they should use their legacy status as the industry's leading brick-and-mortar to carve out space for themselves in e-commerce.
Inefficiencies continue to plague BBBY's margins, although the firm has made strides in slowing down falling sales. Comp sales for Q2 fell 0.6% against expectations of a 0.4% rise. That was up from a 2.6% fall in Q2 a year earlier. Comp sales have seen -1.3%, -0.6%, and 1.0% growth in FY18, FY17, and FY16, respectively. Meanwhile, foot traffic has been steadily declining by mid-single-digit percentages annually before BBBY doubled down on their store refurbishments and fleshing out their omni-channel offerings.
BBBY's relatively young dividend program pays only $0.16 a share. For a company of their size, age, and cash flow, a 4.86% yield does not represent a value-add for many investors on the fence about entrusting the company with their money. The yield is low from a risk-benefit standpoint, while a 6%-7% yield would better mitigate BBBY's precarious position.
Opportunities
BBBY's investments in IT have started to pay off as they start to solve their inventory buildup problem. Q2 saw inventory optimizations of $100 million, or a 6% decline YTD, and helping their goal of a 5% inventory reduction by the end of FY18. With greater speed and efficiency in their stores and centralized warehouses, overhead and shipping times should decline simultaneously.
BBBY's share of revenue from e-commerce has been growing. The most recent data available, Q1 2018, revealed that e-commerce's share of BBBY's total revenues hit a record 18.3%. Management's intentional investments in building an online base are paying off. Revenue's growth rate free fall has finally stopped and is starting to recover. Now, the question remains whether management can keep this new momentum going.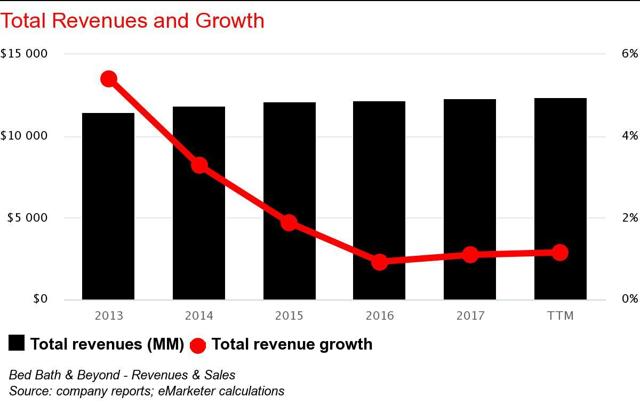 Source: eMarketer.com
Threats
BBBY is in an unfriendly investment climate. Growth stocks have vastly outperformed value, as they often do in the late stages of a boom. Until the animal spirits align behind financially-driven value - which may not happen without a drastic economic catalyst - BBBY may very well languish at its current price without much return for investors in terms of dividends.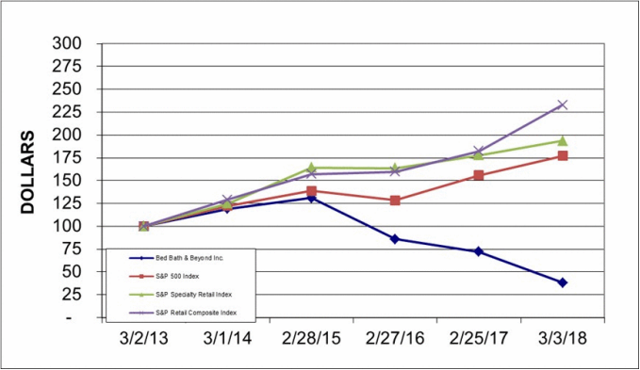 Source: Bed Bath & Beyond Annual Report
Firms like Wal-Mart have incorporated free shipping as the standard of business, while non-BEYOND+ members remain limited at the $39 minimum order amount. While smaller brick-and-mortar home suppliers are a negligible threat to BBBY, even tiny firms with well-designed e-commerce incentive structures could damage BBBY's emerging share.
BBBY has continued to struggle with inefficiencies that hinder their margins and stock price. Q2 comp gross profits were 2.7% lower, SG&A expenses were 0.4% higher, and operating profits were 3.1% lower, and net earnings were 1.5% lower. The company expects capital expenditures in the range of $375-$425 million for 2019, so efficient cash flow will be key. Another miss on earnings would be disastrous for BBBY's growth prospects.
Retail's Thanksgiving Weekend
The National Retail Federation reported a 1 million-shopper increase for Thanksgiving Weekend, up to 165 million for 2018 from 164 million in 2017. Average spending was down 6.6% at $313.29 for 2018 from $335.47 in 2017. Shoppers who shopped both online and in-store was up 40% from last year, and these multi-channel shoppers spent $93 more than single-channel shoppers on average. 57% of shopping was directed towards items that BBBY specializes in. Cyber Monday saw the most sales volume overall with 67.4 million shoppers, while Black Friday saw the most in-store shoppers with 65.2 million shoppers. These results reinforce BBBY's decision to focus on providing customers with omni-channel offerings and the eye-catching BEYOND+ membership program.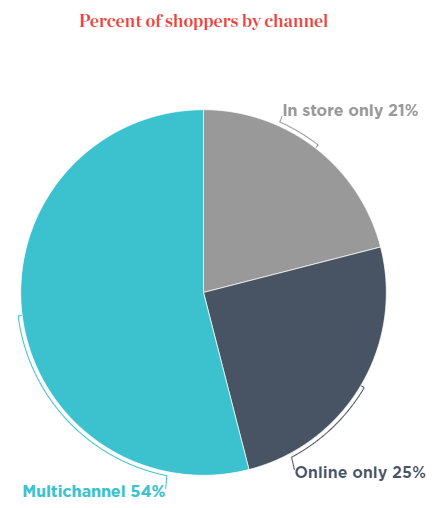 Source: National Retail Federation
Growth Strategy
BBBY strives to be the "expert for the home and heart-felt life events" for their customers, per their mission statement. To do this, they are focused on attracting and retaining customers. They are investing heavily into expanding their online presence, and their competitive BEYOND+ rewards program remains their best chances of surviving the e-commerce revolution. Luckily for BBBY, the e-commerce revolution has not been as devastating for brick-and-mortars as previously predicted. Instead, BBBY is engaging with the newest trend in retail: decking out their physical locations. BBBY's Next Generation stores promise an even more immersive shopping experience with an emphasis on marketing personalization, and they are set to open 40 new locations by spring 2019.
BBBY sorts its product line into two segments: domestics merchandise and home furnishings. Domestics merchandise includes items such as bed linens, kitchen textiles, and bath items. Domestics merchandise made up 35.5% of net sales in FY17, 11% of FY17 net sales consisted of bed linens alone while no other category made up more than 10% of net sales. Home furnishings includes tabletop items, basic housewares, general home decor, and consumables. Home furnishings made up 64.5% of FY17 net sales. BBBY's focus on increasing the outflow of its top-dollar items has shown positive results. Decorative furnishings sales, which falls under the home furnishings segment, increased roughly 18% YTD.
College students' 4-year migrations into their dormitories and apartments requires a lot of the necessities BBBY specializes in. In their Q2 earnings call slides, management discussed orienting their services offerings around college demand. Management's key focus areas will include innovative product offerings, a college registry, an interactive college checklist, and a College Savings Pass program. BBBY is positioning itself for a college demand tailwind. According to the National Center for Education Statistics's Projection Report, enrollment rates are projected to increase 13% between 2015 and 2026. The Projection Report's graph below demonstrates how BBBY could capture up to 22.6 million customers in the next seven years.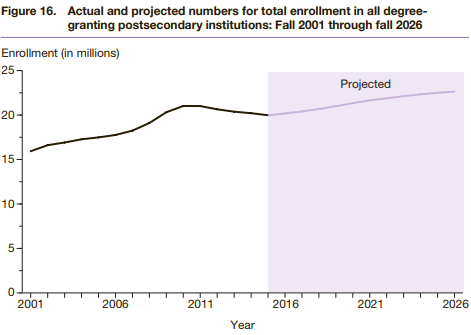 Source: National Center for Education Statistics Projection Report
Comparable sales have been the thorn in BBBY's side. Comps decreased 1.3% from FY16 to FY17, while both their three- and six-month comps fell 0.6% against expectations of 0.4% growth. However, comps for three- and six-month sales a year beforehand had been down 2.6% and 2.4%, respectively. BBBY's traditional brick-and-mortar model is unsustainable in the long run, but management's investments in both their physical and online stores have started to turn the tide. BBBY is starting to emerge as a competitive player in the 21st century.
Valuation
My DCF model assumes the pessimistic view of management's inability to maintain its newfound momentum and miss on cash flow projections. Facing significant headwinds from online competition and shoddy margins, I gave them 3 years of low growth at -5% and a -2% terminal growth rate. I calculated their $417 million net debt using their most recent 10-Q's $869 million cash and $206 million short-term investments subtracted from their $1,492 long-term debt. Levered FCF of $753 million, at an 11.70% cost of equity, yielded an intrinsic value of $32.93, or a 155.7% upside.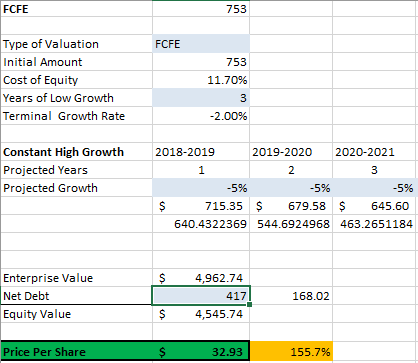 I am assuming management will polish their lackluster 4.81% yield by marginally increasing their dividends in the coming years. While repurchasing their heavily-discounted shares would create some momentum, a lot of cautious investors would appreciate an unexpected dividend increase. In the DDM, I assumed dividends would continue to grow for 2 years at their current rate of 7%, then increase to 10% for two more years, and then assume a terminal growth rate of 0%. Their TTM dividend of $0.62, at an 11.70% cost of equity, yielded an intrinsic value of $6.99.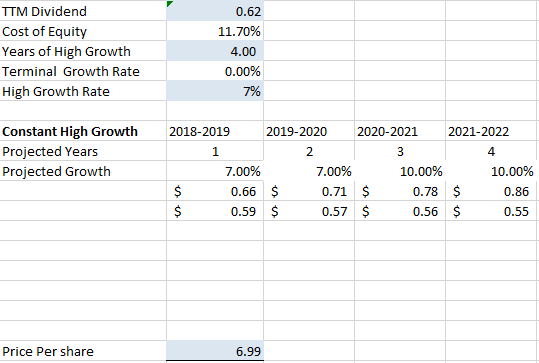 I will quickly lay out my reasoning for including terminal value in my models. BBBY has had to undergo years of painful CapEx cash burn along with the rest of the retail industry to avoid falling prey to the e-commerce revolution. However, management's billion-dollar omni-channel investments have started to pay off as BBBY has begun turning the tide on falling sales. As the company's IT efficiencies start to take effect, I predict BBBY's SG&A margins will begin to improve. An excellent article from SA contributor Oyat explores this phenomenon in greater length. Additionally, BBBY's strong cash inflows, $869 million cash pile, and conservative dividend policy insulate the company against their $1.5 billion in debt. Bankruptcy is a highly unlikely event, especially in the near-term.
To get my target price, I weighted the DCF and DDM equally at 50% each. BBBY's current price is heavily reliant on both the sturdiness of their cash flow model, but a positive or negative fluctuation in their emerging dividend policy would entail serious ramifications for investors as well. BBBY currently pays out $85.6 million in dividends, or about 17.7% of FY17 FCF. They evidently have room to run with a considerable increase in dividends, and many investors are looking for a more attractive yield to justify the risk. On the flip side, a cut in a dividend policy that is less than 20% of FCF would likely signal a serious deterioration in BBBY's financial structure. Under these assumptions, my model yielded $19.96 per share, or a healthy 54.97% upside.

The sensitivity table below tells the greatest story of all. Even at an extreme 14% cost of equity and a -15% growth rate, BBBY's doomsday price retains a $3 premium above its current price. Market sentiment has entirely deviated from financial basics. BBBY gives investors the opportunity to exploit one of the modern market's rare inefficiencies. Benjamin Graham would be thrilled.
Source: Author's Calculations, Numbers from Morningstar
Conclusion
Negative market sentiment has evidently pushed the price down beyond any reasonable discount. BBBY has hit its price trough. Its price cycle, by all financial measures, is set to swing upward. BBBY's attractiveness is found in its cheap price. My conservative valuation outputs a target price of $19.96, or a 54.97% upside. Even the doomsday scenario of a 14% cost of equity at -15% growth provides investors with a price of $15.78, or a 22.52% upside.
The greatest risk to investors is found in BBBY's inability to maintain its current cash flows. BBBY's business model has weathered the online shopping revolution relatively well, but without innovation it will slip further behind. Their generous share repurchase program still has a little over $1 billion left in the tank, but share buybacks are not a successful long-term strategy. Management must dedicate more capital towards expanding their e-commerce segment, BEYOND+ membership growth, and Next Generation strategies.
The market appears poised to pounce on any EPS improvement. That would involve dissolving any inefficient blockage along the operations pipeline. An unexpected improvement in BBBY's lacking dividend policy would put a lot of positive pressure on the price, especially considering BBBY has more than enough cash to satisfy this option. Finally, the name of the game is reversing the trend in cash flows. An improvement in EPS, dividends, or cash flow would place a lot of positive upward pressure on BBBY's price within the next two years.