AT&T Inc. (T) has a storied history dating back to the invention of the telephone in 1879. The number of name changes and restructurings over the period deserves a textbook but thankfully is consolidated into a nice Wikipedia page. After building out its dominance in the U.S. communications sector for the past 130 years, its just in the last five years that the company really began to turn heads with bold acquisitions. Notably; in 2014 it announced the the purchase of DirectTV and also created AT&T Mexico as an opening to expand into Latin America. The recently regulator approved purchase of media giant Time Warner is already a case study becoming the first vertical integration to be challenged by the Department of Justice since the late 1970s.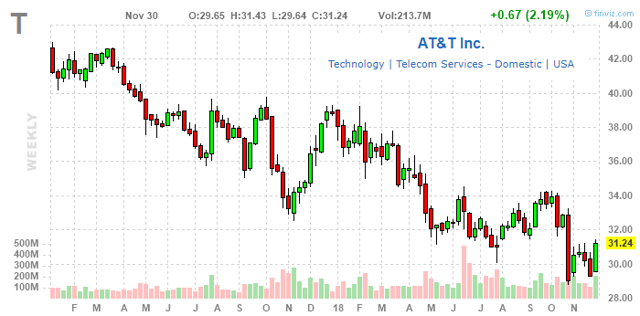 AT&T weekly stock chart. source - Finviz.com
On one hand; AT&T can be commended for at least thinking outside the box to reach for growth but there's also the argument that the timing and terms of these recent mega acquisitions have been overall misguided. 2014 was likely the peak of traditional pay-tv providers like DirecTV which began to lose subscribers from its satellite service in mass as the phenomenon of cord-cutting just began to take off. AT&T's venture into Mexico could also not have come at a worst time as the Mexican Peso trading at approximately MXN 15 per Dollar in late 2014 was just in the early stages of a major re-balancing that would see it depreciate about 30% to current levels. Presumably AT&T could have saved billions between DirecTV and in Mexico by waiting.
Did AT&T get a lemon with HBO?
Looking at the latest Time Warner deal, for all its complexities one of the more interesting aspects is Home Box Office "HBO". I sort of wish HBO was its own company with an independently traded stock just to see how it would trade on the ebb and flow of media headlines, subscriber growth, and monthly ratings. Continuing with the theme; I'd likely be bearish on HBO based on a number of concerns I have with its standalone outlook.
What's next after Game of Thrones? Game of Thrones is one of the most successful TV-series of all time in terms of viewership, ratings, and awards. Problem is; 2019 will be its last year with a final season of six episodes. The conclusion will leave a void for marquee program that draws the same type and size of audience. The last aired episode of Game of Thrones in 2017 drew a program record 12 million people on the initial airing and 30 million including delayed viewing across all platforms. Nothing else in the current programming even comes close. Worse; according to Nielsen Company (NSLN) TV ratings counting live and same day viewers, it appears nearly every other show for the latest season saw year over year declines. HBO is just about a one-trick-pony when it comes to content. There have already been discussions regarding increased content spending to presumably find the next big hit including a planned prequel to Game of Thrones already in production. Still, investors should be mindful of the risk that nothing ever again matches the draw of Game of Thrones. HBO show ratings. Nielsen Company data compiled by tvseriesfinale.com
It's not keeping up with Netflix. HBO subscription revenue growth was reported by AT&T as 7.5% y/y which compares to about 33% y/y for Netflix total revenues in Q3. A smaller content budget at HBO of "just" $2.5 billion for 2018 compared to an upwards of $18 billion for Netflix simply means Netflix is producing much more original programs an offering more variety. In terms of awards, which I don't necessarily place too much value but is the industry's way of self affirmation, a big headline this year was that Netflix finally topped the Emmy Awards for the first time tying with HBO for the most wins by a production company. Of the 23 awards both companies each received, 9 of HBO's were for Game of Thrones again highlighting the concentrated risk of one show to the company.
Subscription service not priced competitively. HBO's monthly package price across different platforms is $14.99 in the United States compared to $10.99 for Netflix basic plan and $12.99 for Amazon Prime (which includes a host of services including Video). It's a mystery to me how HBO justifies this price point given a relatively smaller content library beyond its number 1 hit show. AT&T Warner Media Segment - Source 2018 Investor Day Presentation
Easier than ever to cancel the service. The combination of the above leads me to believe that HBO is going to have a difficult time growing growing subscriptions after the series finale of Game of Thrones ends. Historically canceling a premium channel subscription added on to a traditional cable package was a hassle involving long term contracts and phone calls to customer service. At least with HBO Now, just open the app and the opportunity for consumers to save $179.88 for the year is just a click away.
The thing about AT&T is that its walking a razor thin line in terms of revenue growth, margins, and earnings. Call it an increase in churn or eventually blame it on seasonality; but i'd bet there will be a not-insignificant number of subscribers who let go of the service at some point next year leading to a Game of Thrones hangover. There's downside here to whatever the market is modeling. The actual impact of a noticeable slowdown in HBO subscriber growth beyond Q2 of next year may be minimal in terms of financial impact to AT&T as a whole given the segment only represents 3.6% of total revenues but it would weigh on sentiment and that's something AT&T can' afford to lose.
AT&T's Potential Tequila Crisis
Don't look now but emerging markets including Latin America have been particularly weak in recent months and this is a problem since AT&T has expanded in the region. The Latin America segment revenues represent 4% of AT&T's total and the numbers show overall good operating growth in Mexico. In Q3 Mexico mobile subscribers reached 17 million, nearly double the level in 2015.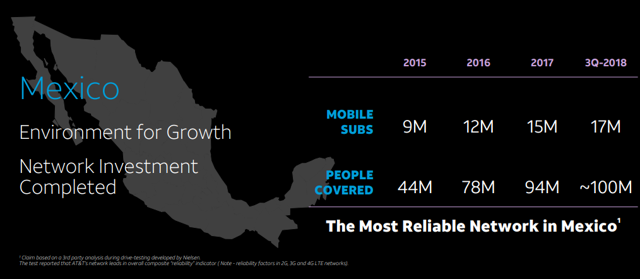 AT&T Mexico Wireless Highlights - Source 2018 Investor Day Presentation
The challenge has been the weak Mexican Peso depreciating about 30% over the period. In Q3 AT&T reported Latin America revenues of $1.833 billion down 11.5% y/y with the note that on constant currency basis revenues were actually up. AT&T effectively lost USD $242 million in Q3 revenues because of FX volatility in the region.

AT&T Q3 Revenues Breakdown - Source Q3 earnings press release
I'm pointing out that this trend could continue into next year and beyond. Among weak commodity prices, plunging oil, rising US rates, expectation of FED tightening and a stronger Dollar; LatAm region currencies have been pressured and in some cases trading near historical lows. The Mexican Peso faces its own challenges including relatively GDP growth (2% in 2018) but also disturbing political risk since the election of left-wing populist President Andres Manuel Lopez Obrador. Fitch Ratings changed the outlook to negative on Mexico's BBB+ sovereign rating in October. The ratings report cited:
deteriorating balance of risks to the sovereign credit profile associated with scope for policy uncertainty and deterioration under the incoming administration, and growing risks of contingent liabilities against a background of economic under-performance in recent years.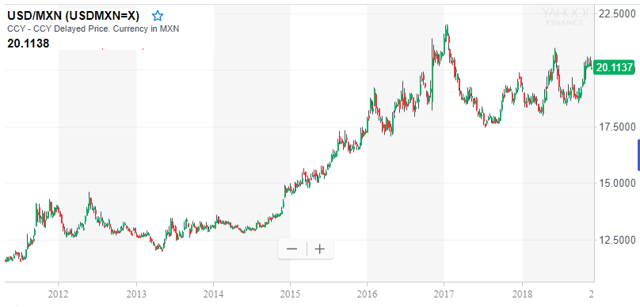 Mexican Peso per US Dollar (2011 to present) - source yahoo finance
Forecasting foreign exchange movements are exceptionally difficult, even more complex than equity returns in my opinion. I'd like investors to at least be aware of possible downside in the Mexican Peso and other Latam currencies and how this can impact AT&T revenues. In Q3 AT&T revenues grew 0.2% y/y, the Latin America segment (Mexico and Vrio businesses) had a negative contribution of about 0.5% to the year over year change.
Again, the actual financial impact to AT&T revenues and earnings of a potential 10% or even 20% depreciation of the Mexican Peso in the future are overall limited but it wont help sentiment. This segment will continue to be a drag on earnings.
Estimates
AT&T revenues growth between 2019 and 2020 are expected to essentially flat while EPS growth will likely be under 2%. This article was intended to highlight two specific areas of the business that are less discussed which I believe could cause headaches for management and shareholders down the line. HBO and Latin America together represent about 7.6% of total revenues and face headwinds into 2019 and should be monitoring points going forward.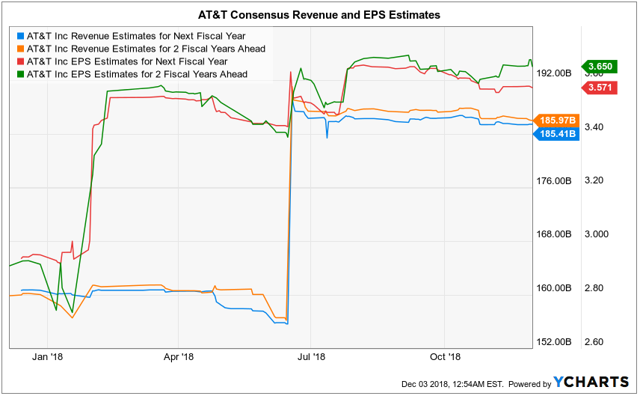 AT&T consensus revenues and EPS estimates. Source: ycharts
Takeaway
Looking at AT&T stock today at $31, down 20% from its 52 week high, the contrast with competitor Verizon (VZ) is night an day. To me the biggest difference is that the quality of earnings and confidence in growth is much stronger with Verizon. Shares of Verizon are approaching an all time high above $60 pushing its dividend yield under 4%. You have to think that the absence of a non-core media venture and lack of exposure to emerging markets at least partially explains some of that premium for VZ. Overall, I recommend staying away from AT&T favoring Verizon for its higher quality earnings. The extra 2.5% in yield from AT&T does not compensate for its higher risk profile.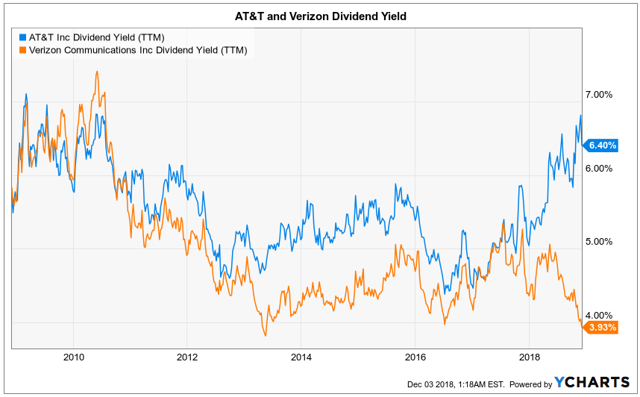 AT&T and Verizon Dividend Yield. Source: ycharts
Disclosure: I am/we are long VZ. I wrote this article myself, and it expresses my own opinions. I am not receiving compensation for it (other than from Seeking Alpha). I have no business relationship with any company whose stock is mentioned in this article.