Week in Review
The big news this week took the shape of comments from US Fed Chair Jerome Powell, who stated that the Central Bank's benchmark rate was "just below the broad range of estimates of the level that would be neutral for the economy". Investors hate uncertainty, so his clarification that the pace of rate hikes should soon slow makes this is good news for stock and bond bulls alike. It may even mark a turning point in terms of stabilizing market volatility, and allow a trend to develop over the coming year as confidence returns.
The US markets have outperformed their global counterparts this year, but we never quite managed to breakout and hold the gains and I believe this is in part to do with poor equity market performance everywhere else. In a real bull market everything rises. One explanation for this is that the tightening cycle this time around has increased demand for US Dollars from those countries making repayments on dollar denominated debt, which has in turn reduced liquidity in and pressured emerging markets.
Mr Powell's comments immediately sent the dollar lower and stock markets around the world responded with a sharp move higher. Although momentum will probably carry the buck higher into year end, there is a sense that we may now see a correction (or at least some consolidation) over the next few months. If that materializes it is sure to relieve the selling pressure in the EMs, and that should give us a chance to kick-start a global equity market rally.
In a year dominated by negative headlines we probably need more than one bullish piece of news to catalyze the bulls. This weekend we have the G20 meeting, with talks between President Trump and President Xi Ping scheduled to take place just after. The trade war has remained in the news for months now, and like many I expected it to have been resolved prior to the mid-term elections in the US, thinking that Trump would wish to use the deal as positive reinforcement for his administration and party. In hindsight we probably should have expected the delay as it was the most likely course of action for China to punish Trump for the tariffs he put in place.
The news on Sunday morning has been positive, with China announcing that both countries have agreed to 'open up their markets' and the US announcing the suspension of their plan to raise tariffs (from 10% to 25% on January 1st) for a period of 90 days to allow talks to take place. They also stated that China had agreed to 'purchase a not yet agreed upon, but very substantial, amount of agricultural, energy, industrial, and other products from the United States to reduce the trade imbalance between our two countries'.
In turn Chinese Foreign Minister Wang Yi stated that 'the principal agreement has effectively prevented further expansion of economic friction between the two countries', and of course the equity market bulls around the world hope he is right. After the better part of a year in a sideways holding pattern, this may be the start of a new period of positive sentiment and a generally upwards trend for the S&P500 (SPY).
Price Factors
Trader Positioning:
One of the most important factors governing the short term movement in price is the put/call ratio (the ratio of bearish market bets to bullish market bets). When positioning hits a relative extreme price tends to reverse in the opposite direction. Standard put/call charts tend not to average the data, but I find that this is important in order to pick out the major extremes in positioning.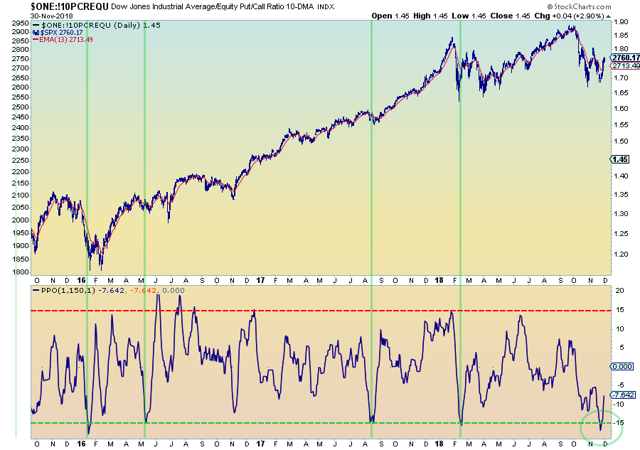 The chart above is not of my own making, but embarrassingly I forget who first passed it my way. If it is yours feel free to make contact and I'll add some attribution into this article. Anyway, it takes the 10 day moving average of Dow Jones put/call data, and on top of that we overlay the price percentage oscillator. Readings above 15 often mark correction tops, and readings of -15 or more tend to mark swing lows. There have been only 5 swing low readings in the last 3+ years - noted on the chart - and price motored higher a short time after.
Market Breadth:
Market breadth has started to turn higher after a period where most stocks have suffered relatively substantial declines. Even in a bear market, which many are now calling for (I am not), we would normally see some kind of mean reversion take place. However, should the indicators in the following two charts turn higher we will have more evidence of a swing low in place.
The first is based upon NYAD which is broad market advance-decline data. It captures the number of stocks advancing versus the number of stocks declining each day. In this case I use the weekly timeframe and overlay 2 lots of the MACD indicator onto the NYAD data, then 2 moving averages onto the MACD indicators. By hiding both the raw data and the MACD indicators we are left with the 2 moving averages, and in essence we are looking for a bullish cross to confirm a low of some sort. I have marked prior crosses on the chart with arrows.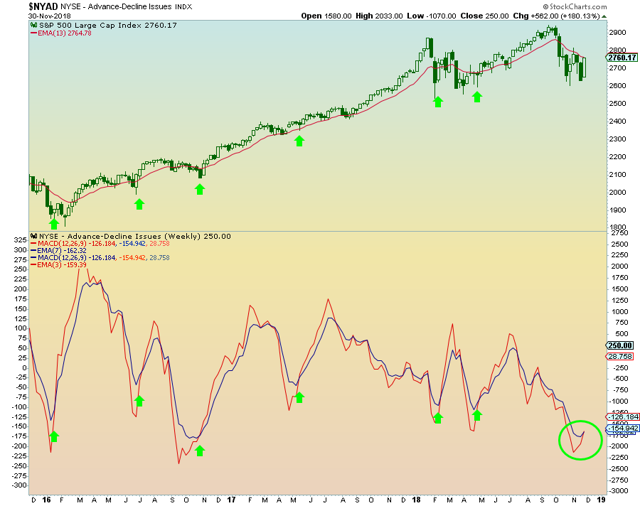 The second is based upon the number of S&P500 stocks trading above their 200 day moving averages. You can view this data in its raw form and use it to assess market conditions. When the number is falling it indicates general bearishness in the market, and SPX tends to fall with it. However, by overlaying a stochastic oscillator you get the added benefit of being able to see where the raw data might turn. A reading above 80 followed by a turn lower in the indicator often gives you a correction top, and a reading below 20 followed by a turn higher gives you a swing low. I have marked these occasions with arrows on the chart, and you'll see that we had a bullish turn two weeks ago.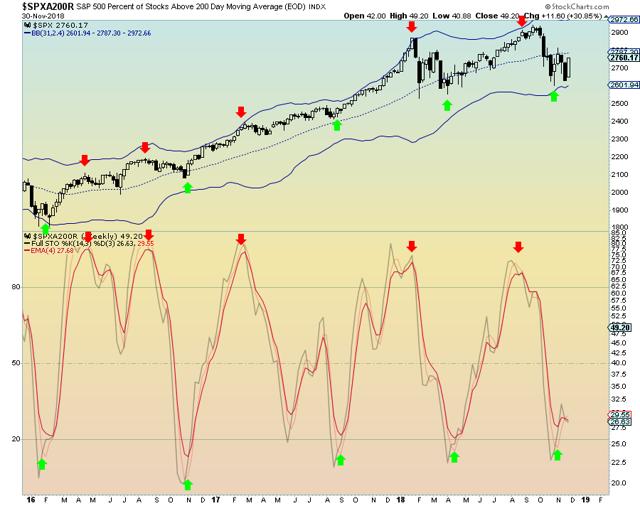 Ratio Oscillators:
A ratio oscillator is just as it sounds - a stochastic oscillator overlaid onto ratio data. This methodology can be applied to any ratio data set, but in this case the first chart we will look at is based upon the ratio of the S&P500 to the VIX.
When this ratio rises it tells you that a majority of investors/traders are buying the stock market as opposed to protection against a decline, and the SPX price tends to rise along with it; when the ratio falls it indicates that the bears are now outnumbering the bulls, and the SPX price often declines.
Overlaying the oscillator gives you a range to indicate where we may see a short term top or bottom in the ratio (and thus price), with readings above 80 signalling caution to bulls and readings below 20 hinting bears should take profits.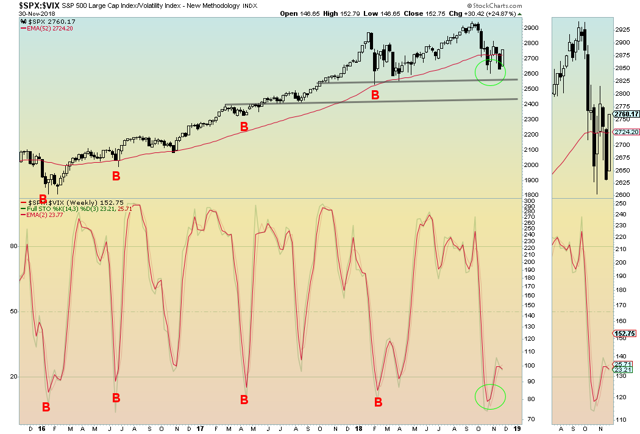 This chart is based on the weekly timeframe, and we have seen only 5 oversold readings in the last 3 years (marked on the chart). The last reading came 4 weeks ago and indicated that the selling pressure was about to reverse.
The next chart is based upon the ratio of the Direxion S&P500 3x Bullish Fund vs. the Direxion S&P500 3x Bearish Fund (SPXL:SPXS), this time on the daily timeframe which is the one I use most often to position for short term trades.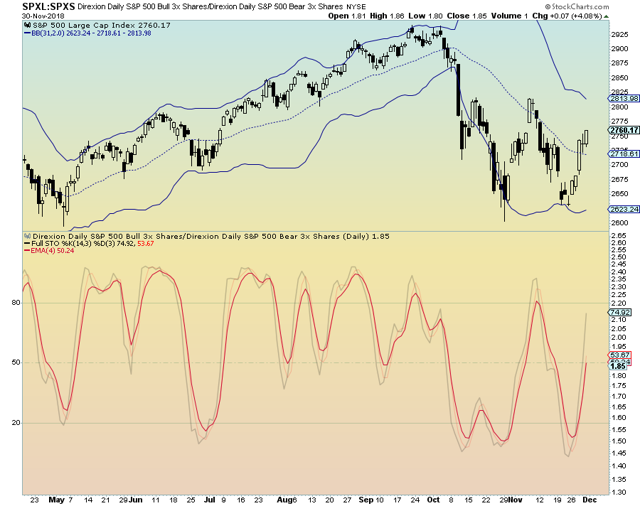 Using the weekly timeframe to gauge overall direction, I use the daily timeframe to position accordingly. So if the weekly indicator is in bearish mode (or overbought) I take on short positions only, using the daily indicator to help with the timing; and when the weekly indicator is rising or in oversold territory I take on long positions only. I am currently long and expect to hold for most of this week.
Price Pattern & Expectations For The Coming Week:
Although I prefer to use my indicator sets to time my entries and exits, I have annotated a price chart below with the EW pattern I think best fits with the current market landscape. The correction in play for most of this year counts reasonably well as an ABC, meaning we still have new all time highs to look forward to.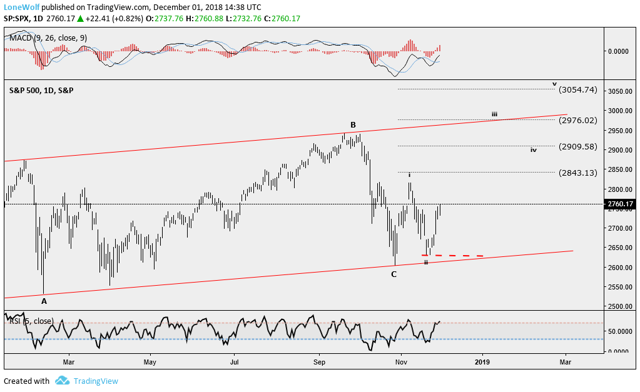 Short term resistance lies at 2787 then 2814, but with the positive trade deal news this weekend I think we may well push through it, and if so 2843 becomes the next target followed by 2909. The daily ratio oscillator should be overbought by Thursday at the latest, and an overbought reading at resistance would prompt me to take short term profits and wait for the next long entry.
I wish you good luck for the coming week.
Disclosure: I am/we are long SPY.
I wrote this article myself, and it expresses my own opinions. I am not receiving compensation for it (other than from Seeking Alpha). I have no business relationship with any company whose stock is mentioned in this article.