Should You Worry About The Entire Yield Curve Or Just The 2s10s Spread?
As the tightening cycle appears to be coming to an end, with traders pricing in only one rate hike in 2019, some parts of the Treasury curve have officially surpassed the dreaded inversion level with shorter maturity bonds trading with higher yields than longer maturity paper. An inverted yield curve is typically a harbinger of slowing growth or a recession, but some growth bulls claim the most popular 2s10s spread is the one that has to invert in order for recession risk to elevate meaningfully.
The spread between the 10-year Treasury rate and the 2-year Treasury rate hit 13 basis points, a cycle low.
2s10s Curve:

Source: Bloomberg
While the 2s10s spread is the most popular, the concept of any part of the yield curve inverting should give investors pause.
The short-end of the yield curve has been flattening rather dramatically and has officially inverted. The spread between the 5-year Treasury rate and the 3-year Treasury rate hit a low of -1.2 basis points.
Yield Curve Inverting: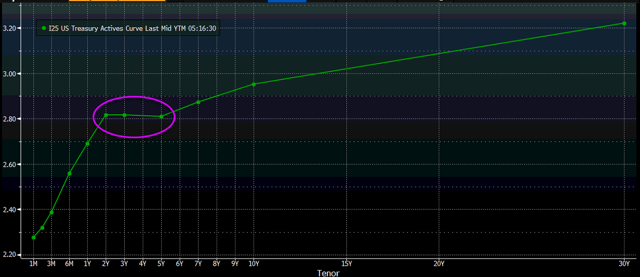 Source: Bloomberg
It is not only the 2s10s spread that should worry investors. The spread between the 5-year Treasury rate and the 2-year Treasury rate has inverted before the last two recessions and moved into inversion territory as well. This development marks the first time since 2007 that the front-end of the Treasury curve has inverted, a bad omen for stocks and the economy.
An Inversion Has Occurred (2s5s):


Source: Bloomberg
Furthermore, the 5-year TIP yield is higher than the 10-year TIP yield, an inversion in real interest rates.

Source: Bloomberg
When the yield curve nears inversion, with short-term rates higher than longer-term rates, it is typically a bearish sign. Investors should consider the implications of a yield curve inversion. After the curve inverts, the clock starts until the next economic downturn. It is debatable which spread needs to invert in order to start the clock, but an inversion in the TIPs market and a front-end inversion in short-term Treasuries should give you something to ponder.
The recent weakness in economic data globally and domestically is worrisome. In addition, plunging oil prices and declining commodities more broadly, coupled with an inverting yield curve, are perhaps signs of something more ominous looming as we head into 2019.
If these developments, in fact, signal the end of the tightening cycle, perhaps the time is near to step in and start buying short-term bonds, namely 5-year notes (IEI).
ETF IEI: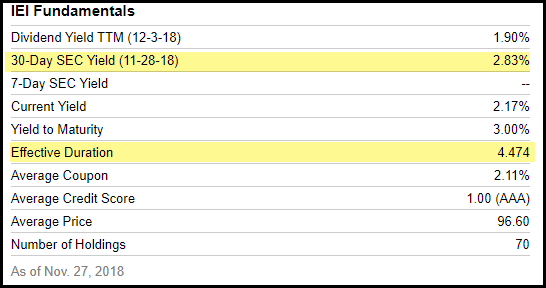 Source: YCharts
The ETF IEI has an effective duration of 4.4 and offers a yield of 2.83%, just below the cycle high of roughly 3% but if short-term rates have topped out, the chance to capture nearly a 3% yield with limited downside and large potential capital appreciation will not last long.
Investors often underestimate the capital appreciation that can come with Treasury bonds in addition to the yield. If timed properly, and the cycle high for rates has been made, even short-term bonds such as 5-year Treasuries can offer over 20% gains.
Looking back to 2007, after rates topped out, ETF IEI rallied nearly 25% in total return terms from 2007-2008.
IEI Can Rally: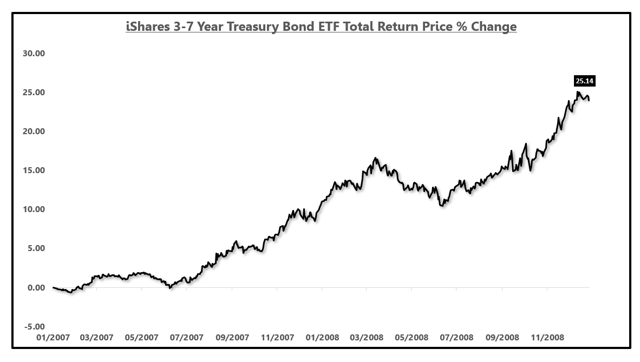 Source: YCharts, EPB Macro Research
With some parts of the yield curve inverting and the 2s10s spread compressing near a cycle low, as well as the market reducing 2019 rate hike expectations to just 25 basis points, the downside in short-term rates is becoming minimal.
The potential upside, however, of stepping in and buying short-term paper could be dramatic, with very little risk.
If the Fed does, in fact, raise rates 2-3 more times, the downside will still only be a fraction of the potential upside if the cycle high in 5-year rates has been made.
5-Year Rates Possible High?:

Source: Bloomberg
Buying short-term bonds is a trade that can offer more gains than most investors realize. A curve inversion is just one sign that this trade opportunity may be closing.
Quick Housekeeping Note:
Please note that articles are now only being sent out to those that have chosen to "Follow" me. So, if you would like notification as to when my articles are published, please hit the orange button at the top to "Follow" me. Thank you.
Risk Management & Portfolio Allocation Strategy
EPB Macro Research uses macroeconomic data to identify inflection points in the economy and provides two asset allocation models that are best suited for the current environment so that your portfolio is always protected from the next downturn.
If you would like to see the complete asset allocation model with exact percentages, consider joining EPB Macro Research.
There is no risk in trying EPB Macro Research for a free two weeks.
Be prepared for the next major market move.
Disclosure: I am/we are long IEI. I wrote this article myself, and it expresses my own opinions. I am not receiving compensation for it (other than from Seeking Alpha). I have no business relationship with any company whose stock is mentioned in this article.