In November, I wrote an article about the Magic Formula screen. A new name on that list was SP Plus Corporation (SP). It appeared on the list after its valuation has come down sharply in October and early November.
At first sight, SP Plus is a very uneventful company with relatively stable revenues, some cost control that aided margins over the past years, and very minor M&A activity. In this article I will look into SP Plus and its recently announced acquisition that will add 30% to its EV.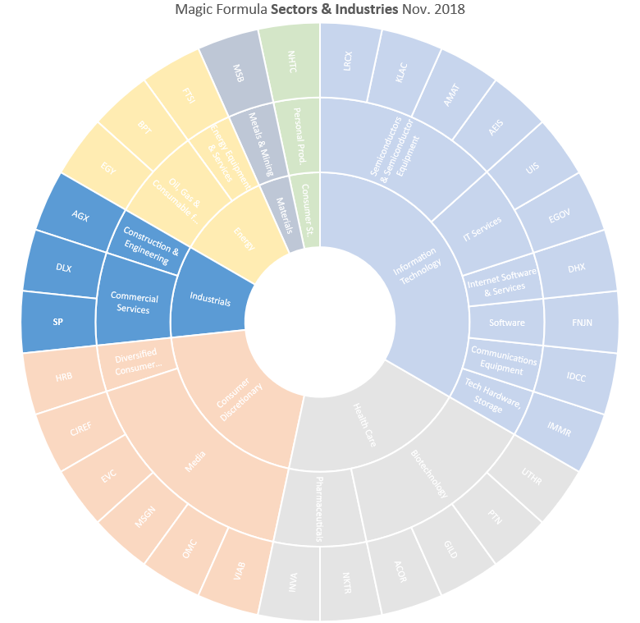 Source: made by author using GICS sector and industry data from Bloomberg
Competitive moat
The main problem with SP Plus' business model is that there is a very limited competitive moat. For example, in the last earnings call the company shed a little bit more light on why they recently lost three big municipality contracts. The reasons is that in all three cases a bidder undercut them on pricing. Management also said that the contracts were theirs for a very long time before they lost them. This worries me. Based on service, customer relationships, familiarity, etc. SP Plus should be able to retain a customer on more than just pricing. But in this case, a competitor observed the expenses of SP Plus, and undercut them on pricing. This does make sense, it's staffing a parking lot, not rocket science. If a competitor sees a company that makes good money on a task that can be copied easily and with a low initial investment, it will enter the competitive arena. The main reason SP Plus makes a decent return on equity of 13% (2017) is because it sharply controlled overhead over the past years, adding important percentage points on its razor thin margins. The cost-control efforts and their effects on company profitability are well visible in the tables below.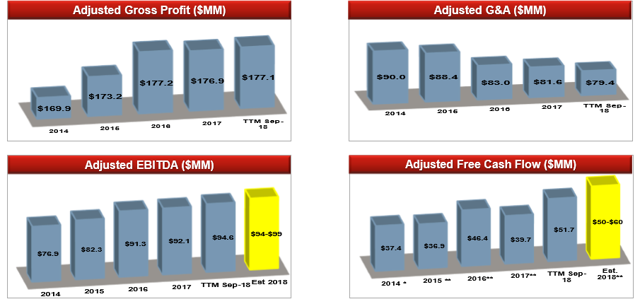 Source: SP Plus presentation
Apart from controlling costs and striking the right balance between service quality and pricing, there is little more the company can do to improve its competitiveness or increase profitability.
What the charts above don't show is that gross profit went down in the first 9 month of 2018 versus the same period in 2017 or that revenue hasn't grown since 2015.
Stand-alone valuation
Because the business is so straight forward, organic growth is absent, and because cost-cutting measures are exhausted, the valuation is simply a matter of numbers.
I believe that the right equity cash flow figure to work with going forward is close to but under 50 million. To get to operating cash flow, I took the net income to equity holders, added D&A, subtracted lease accretion, and gains on asset sales, while I ignored working capital for net cash provided by operating activities. For the last 12 months my calculation would amount to $58.6 million, and I will use this in my pro-forma calculation. The year-over-year bottom line numbers are surprisingly and increasingly stable on a cash-flow adjusted basis. For example, gross profit went down by just $0.9m bit in Q3 2018 versus Q3 last year, while SG&A decreased by the same amount.
For investing activities, I used the average of the past three years as a proxy for the future. The average net purchases of equipment for the past three years were $8.3m, and contracts purchased were $2.7m, added together that makes an investment run-rate of $11m. The table below shows the calculations.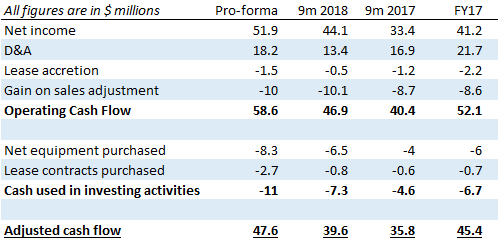 Source: author's own calculations and estimates
Let's say the adjusted cash flow going forward is $48m, that would give the stock an equity cash flow yield of 7%. I'd say that this figure is in the ball park for a very low-growth business that has some sense of stability and low leverage, like SP Plus. Of course, this is not where the story ends. The big news from SP Plus in October was the acquisition of Baggage Airline Guest Services (Bags).
The acquisition of Bags
Unfortunately, the announcement of the acquisition contained little financial information about the target company. Bags is a private company and few people in the financial community have written about this acquisition. Therefore I will try to figure out if the 30% addition to EV is beneficial to SP Plus shareholders.
A good place to start is by asking: what does Bags do? Essentially, it offers added luxury and convenience for (business) travelers, with luggage pick up/delivery services and valet services as their main line of business. They posted a nice video about it on their website. They have special partnerships with airlines, but also offer the luggage service stand-alone. Besides usual peers, competition comes from start-ups, and some airlines that offer their own pick-up services. Their main line luggage service starts from $30, which doesn't seem like a lot considering the labor and logistics involved of timely delivery within a 40 mile radius.
The financials
The company doesn't disclose financial details of the target yet, except its price tag of $275m (to be financed by issuing debt) and Bags' annual sales of $145m. In addition, the market has been told there will be acquisition related expenses in Q4 and the impact of the deal on full year results will be negligible but the acquisition will be accretive to cash flow next year. No mention was made of the deal being accretive to earnings.
The most useful of the little we know about the financials of the acquisition is that it was priced at 1.9x sales. At first sight, this looks expensive compared to SP Plus, which trades at 0.46x sales.
I can easily imagine that this service is a bit more innovative and complex than managing parking lots and probably carries a higher margin and better growth prospects too. Also note that Bags has a brand value to consumers. So we cannot based solely on a higher price-to-sales ratio discard the valuation as too expensive. It is still worthwhile to take a shot at the earnings yield (EBIT/EV) of the deal which is an important component of the Magic Formula.
We can take a guess at the margins using average margins by industry compiled by professor Damodaran of New York University.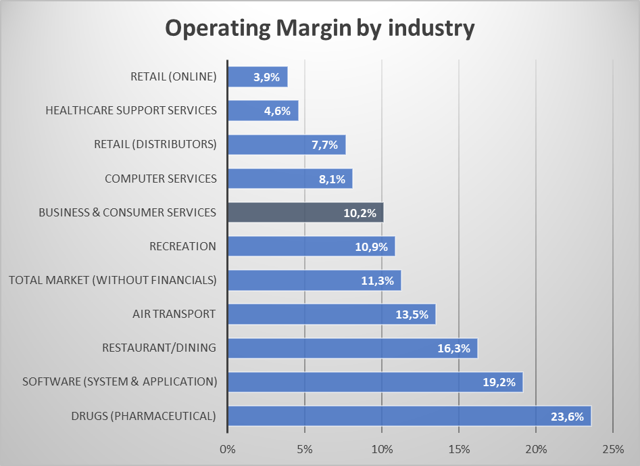 Source: data from Damodaran, NYU.
I selected a range of industries above to let the reader get a grasp for what industries command a high or low margin. Industries that have a competitive moat and have to invest in their competitiveness often have higher operating margins. Industries with high asset turnover ratios have low margins. Bear in mind that SP Plus has been hovering around an operating margin of 5% for the past year. I think that Bags would not be lower than that, but also not be higher than the average of all companies, which is 11.3%. The most relevant industry for Bags is Business & Consumer Services. The EBIT margin there is about 10%, which would leave an EBIT of $14.5m on $145m revenue. This figure could be a bit higher or lower but it should be in the ball park.
The trailing earnings yield (EBIT/EV) of SP Plus is about 8.9% (80/900). The earnings yield of the deal, using industry average margin mentioned above is 5.3% (14.5/275). The deal would lower the earnings yield of SP Plus by a tenth to 8%. The same cash flow calculation as before would be incomparable to the new situation due to the increased leverage. Based on the lowered earnings yield, SP Plus would probably no longer appear on the Magic Formula list.
On cross selling opportunities, the company has a story, but not a convincing one. Management came up with ideas like picking up luggage from parking lots. And they say they have 70 airport clients in parking that could be introduced to Bags. The implication here is that somehow Bags wasn't able to market itself or be visible to those airports, though it is already present at 250 airports across the US. Interestingly, they were also represented at 250 airports back in 2013 (source). I think Bags already optimized its network and doesn't need more airports, so I don't really see the synergy yet.
The standstill in number of airports covered brings us to the next thing to look for: past revenue growth.
Growth of Bags
SP Plus mentioned more than 5 million bags handled by Bags. Interestingly, a blog on Bags' website titled The History of Bags mentioned that the 5 million figure was first crossed in 2011. That would suggest not much growth ever since. Of course, they may want to keep their current numbers under the rug, but I think the October press release would've mentioned it if it was significantly more. Also, the charge is $29.95 for the first bag and $39.95 for two. Revenue was $145m, divided by 5 million bags makes $29 on average, and this excludes revenue from the 2 million valet transactions and surcharges for extra miles. Consider also that the company targets domestic business travelers who less often travel in groups and have shorter trips (and less luggage) than most other travelers. Either way, the number of bags handled this year should be quite close to the 5 million figure of 2011 based on average revenue per bag.
Revenue growth also hasn't come from price increases. A CNBC news article about Bags from 2013 mentions the same prices as visible on the website today.
SP Plus will be a different company
Another important issue is that Bags' line of business is much more cyclical than managing parking lots. The convenience it offers are a travel luxury. Airlines are a cyclical industry for a reason. That also adds further question marks to the modest growth of Bags.
Because the acquisition is debt-financed, it materially changes the profile of the company to investors. It will not be the same stable cash cow anymore, but rather a company that is more exposed to economic downturns due to higher leverage and added cyclicality.
Given the poor recent growth track-record of both SP Plus and Bags and the financials of the acquisition, it is probably best to stay away from this not-so-magic stock.
Disclosure: I/we have no positions in any stocks mentioned, and no plans to initiate any positions within the next 72 hours.
I wrote this article myself, and it expresses my own opinions. I am not receiving compensation for it (other than from Seeking Alpha). I have no business relationship with any company whose stock is mentioned in this article.