Introduction
Welcome to my natural gas weekly report. In this report, I discuss my views of the natural gas market. I use the VelocityShares 3x Long Natural Gas ETN (UGAZ) to fully capture the movements of the underlying. As you may know, UGAZ seeks to provide long exposure to 3x the daily performance of the S&P GSCI Natural Gas Index and manages $760m in assets. This ETF is not recommended for long-term holding, since its rollover costs and expense ratio of 1.65% slowly erodes its value. UGAZ makes up for this high cost with strong daily volume and tight spreads of only 0.11%.
In this brief report, I analyze based on the Energy Information Administration estimates, recent changes in natural gas inventories and net speculative positioning (released by the Commodity Futures Trading Commission) developments to evaluate the impacts on natural gas futures and UGAZ. Then, I assess latest weather developments to identify the effects on UGAZ share price.
Natural gas stocks
U.S natural gas stockpile continues to deteriorate, following latest cold wave striking the country. Indeed, gas storage declined 1.9% (w/w) to 3 054 Bcf on the November 16-23 period, according to latest EIA report. This marks the second pull of the 2018-2019 autumn season. The early gas pull and the one-month injection delay last winter, deteriorated global natural gas storage picture and brought strong tailwinds to the flammable commodity. With this withdrawal, gas seasonality weakens compared to last week, establishing 17.3% or 639 Bcf below last year stocks and 16.3% or 593 Bcf down of the five-year average, but is still considerably bullish for natural gas futures and UGAZ shares.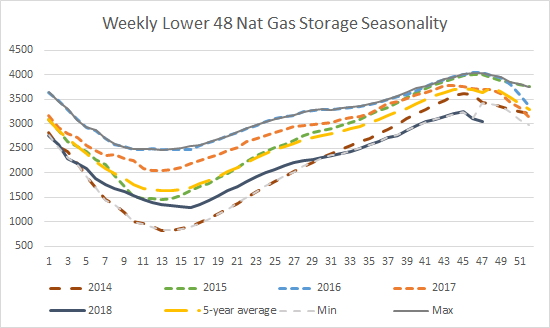 Source: EIA - Weekly Natural Gas Storage Report
Aggregate daily natural gas demand slightly eased, down 2.3% (w/w) to 101.1 Bcf/d on the November 22–28 period, while daily supply accelerated 1.8% (w/w) to 92.9 Bcf/d. For the moment, demand remains strong, following latest cold wave, prompting robust residential and power intakes.
In the interim, natural gas futures price jumped, following mounting worries about current depressed underground storage.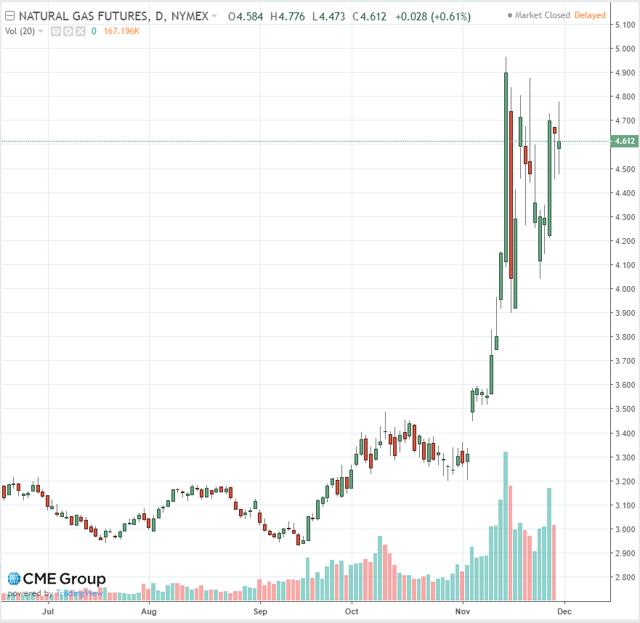 Source: CME Group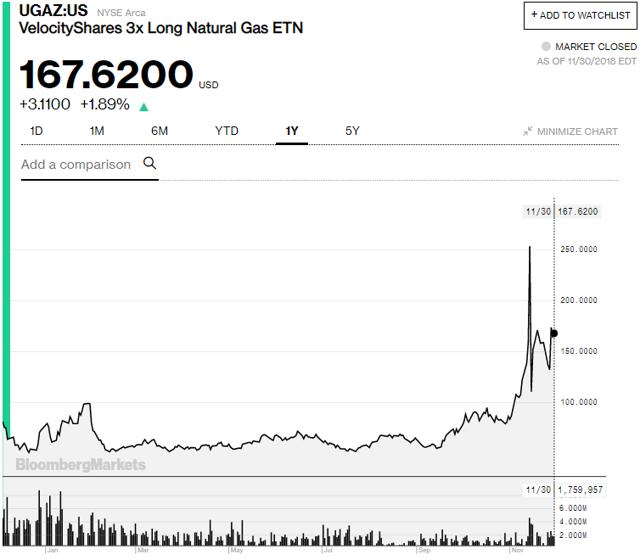 Source: Bloomberg
Speculative positioning
According to latest Commitment of Traders report (COTR) release by the CFTC on the November 20-27 period, net speculative length on natural gas future contracts continued to build up, advancing 16.24% to 4 209 net long contracts, whereas UGAZ price dipped 19.6% to $131.96 per share. With current U.S depressed natural gas storage and surging speculative positioning, UGAZ shares are still benefiting from a strong support.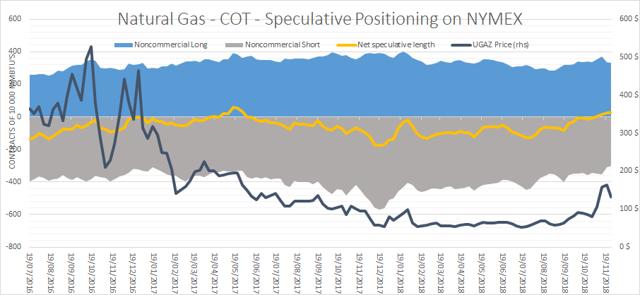 Source: CFTC
This week, net speculative forces changed significantly. While speculators accumulated long positions during the last two weeks, short covering is now prevailing. Indeed, long liquidations declined 1.06% to 330 659 contracts on the period, whereas short positioning winded 2.52% to 300 525 contracts, offsetting completely the decline of long speculative bets.
Since the beginning of 2018, net speculative length on natural gas futures continues to rise steadily and is now up 121.45% or 170 635 contracts, whereas UGAZ's YTD performance reached 66.34% to $131.96 per share.
Surprising weather theories gather around colder than expected winter season
Since my last note, UGAZ gained 10.88% (w/w) to $167.62, indicating that natural gas bulls have lost ground following a better than expected storage pull and warmer meteorological projections in the U.S.
According to latest Natural Weather Service guidance, mild temperatures are set to develop across much of the eastern two thirds of the U.S, on December 9-15 period. This will likely propel U.S natural gas complex into a short-term oversupply. For the time being, the market remains highly sensitive to weather forecasts, given current storage deficit, however long-term forecasts continue to show frigid conditions for the Northeastern U.S.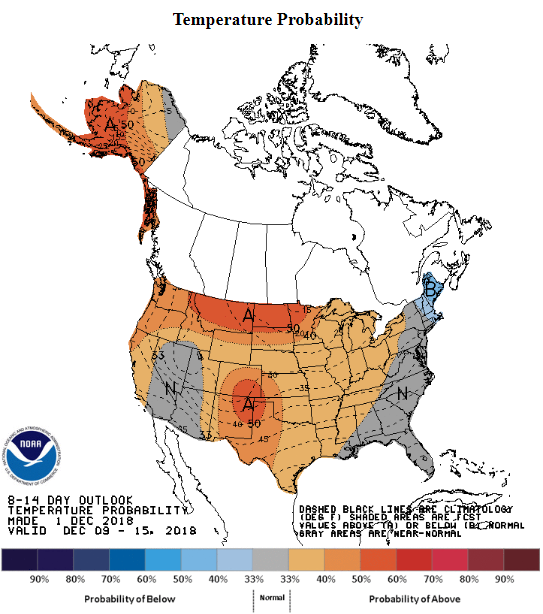 Source: National Weather Service
Besides, recently, unusual catalysts gained ground among bullish investors. A looming El Nino effect in the Pacific and fewer observed sunspots on the sun call for higher than normal snowfalls and icy temperatures. Even if these theories might have an impact on future weather, forecasts exceeding 10 day remain highly speculative.
Given the above, I prolong my short-term bearish view on UGAZ shares, despite the regained interest in natural gas futures seen at the end of last week. In order to benefit from natural gas pullback, I prefer to use UGAZ bearish equivalent, DGAZ.
I look forward to reading your comments. If you enjoyed the article, thanks for showing your support by following my account or sharing the article.
Disclosure: I/we have no positions in any stocks mentioned, and no plans to initiate any positions within the next 72 hours. I wrote this article myself, and it expresses my own opinions. I am not receiving compensation for it (other than from Seeking Alpha). I have no business relationship with any company whose stock is mentioned in this article.