Over the past five years Energy has missed the bull market. Energy has underperformed the S&P 500, Dow Jones and Nasdaq markets over this time period which I believe has created a long-term opportunity. Before the most recent correction in oil 2018 was a year of rising and stabilizing oil prices yet the sector really hasn't climbed out of the decline it participated in. For investors who are seeking dividend yield with share price appreciation the Energy sector is providing some attractive opportunities. Investing in Exxon Mobil (XOM), Schlumberger NV (SLB), Enterprise Products Partners L.P (EPD) and Dominion Energy (D) would provide diversified coverage across the energy sector with a 4.89% yield. This four-stock combination will generate generous dividend distributions while possibly providing upside appreciation as the sector reverses its downward trajectory.
The Energy Select Sector SPDR Fund (XLE) compared to the major indexes
The XLE is an index which includes securities of companies from the following industries: oil, gas and consumable fuels; and energy equipment and services. Over the past five years the XLE has lagged the Dow Jones, Nasdaq and S%P 500 by a considerable amount. An investment in the XLE would have lost around 25% while the others would have generated returns between 55-80% for investors.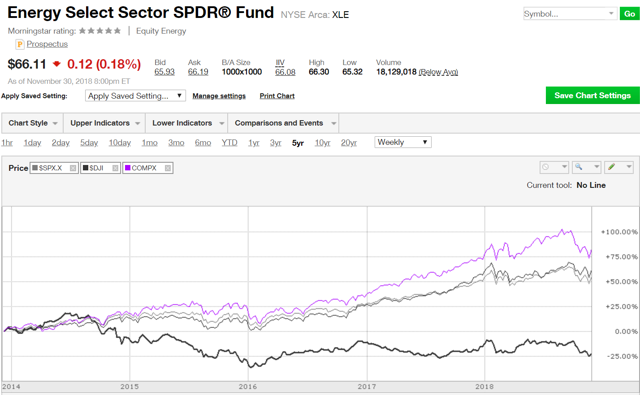 (Source: TD Ameritrade)
Looking at the five-year chart the energy trade has been stabilizing since the downturn in commodity prices. I believe as the world energy needs continue to grow there is room for energy stocks to appreciate while collecting healthy dividends.
Why I choose XOM, SLB, EPD and D as my four energy picks
It's quite simple as each of these in my opinion are the top-quality picks in their sectors. All four are best in class and have a long track record of paying and increasing dividends. By diversifying into these four names the exposure is spread across energy equipment and Services, Utilities, Oil, Gas & Consumable Fuels and Midstream energy services. XOM & SLB covers everything from exploration and development of properties to produce oil, natural gas and natural gas liquids to the technology products and services for oil and gas exploration. EPD provides midstream energy services through NGL Pipelines & Services, Crude Oil Pipelines & Services, Natural Gas Pipelines & Services, and Petrochemical & Refined Products Services which covers transportation. D produces and transports energy throughout the United States and has one of the first LNG export facilities with Cove Point.
Global energy outlook and why this matters
The energy supply mix which will meet the future global demand will continue to be diverse. This will be comprised of oil and natural gas from America's shale regions throughout the deepwater fields in the Atlantic and Pacific Oceans, nuclear power and renewables including hydrogeneration, wind turbines and solar arrays. The global consumption of energy will continue to grow through 2040 which will drive the entire energy industry. I believe XOM and BP PLC (BP) provide the best energy outlook reports and energy investors should read through them.
XOM's 2018 Energy Outlook is projecting that the Global Energy Demand will increase significantly from now until 2040 growing at a rate of 0.9% per year using Quadrillion BTUs as their metric.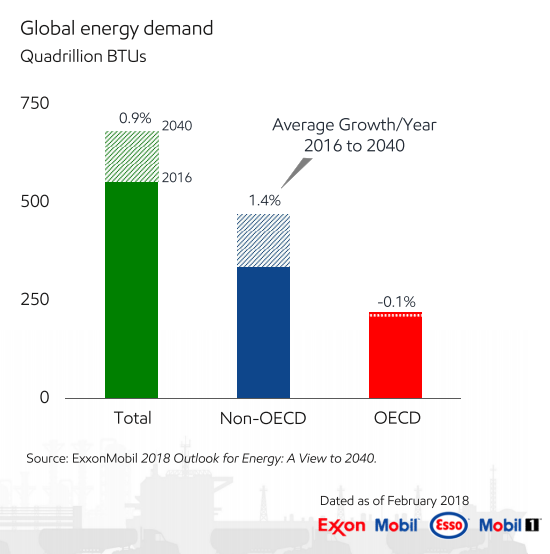 (Source: ExxonMobil 2018 Energy Outlook)
XOM is projecting positive growth in Oil, Gas, Nuclear, Solar & Wind and Other Renewables such as Hydropower through 2040 with a minimal decline in Coal. From their projections renewables will still be a small percentage of the global energy mix in 2040. Oil will remain the dominant energy source while Gas overtakes Coal for the 2nd spot.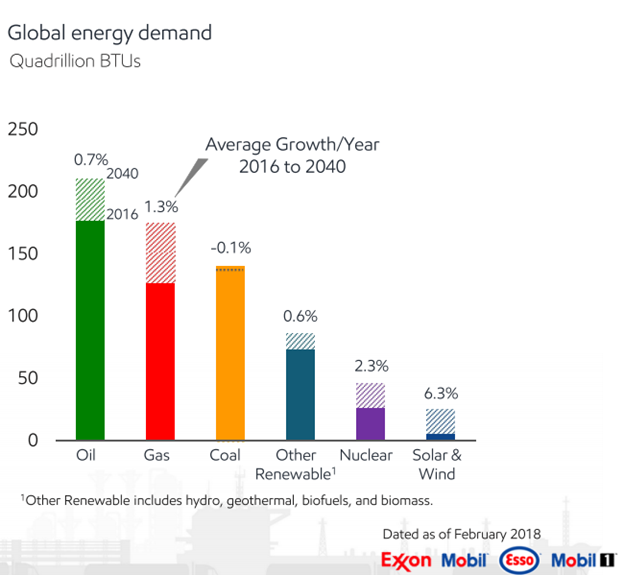 (Source: ExxonMobil 2018 Energy Outlook)
When looking at the projections by XOM about how the global energy mix will evolve between now and 2040 there is huge upside potential for Oil, Gas and Renewables. As the global population grows, third world countries industrialize, and overall global growth occurs the global energy demand will grow as well. The global picture will always be dependent on energy the real question is in what form will the supply be generated from? There is no question that Renewables are becoming more important in the overall picture but they are not going to outpace traditional fossil fuels for a very long time. The energy sector has a runway for growth as the demand for global energy increases along with technology and products which can lower the breakeven points and help generate better returns.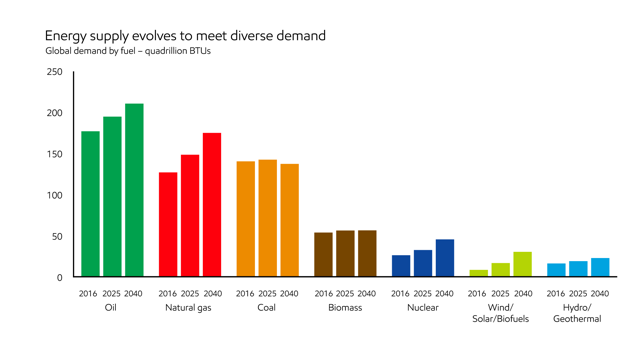 (Source: ExxonMobil 2018 Energy Outlook)
I always like having multiple sources of information to help validate an analysis. BP who is another of the Oil Majors does a fantastic job generating free reports on their website about the energy markets. In their 2018 Energy Outlook they validate XOM's claims about how the global demand for energy will increase from now until 2040. BP sees a large demand in natural gas, Oil and Renewables while China and India will play a large factor in the growing demand for years to come.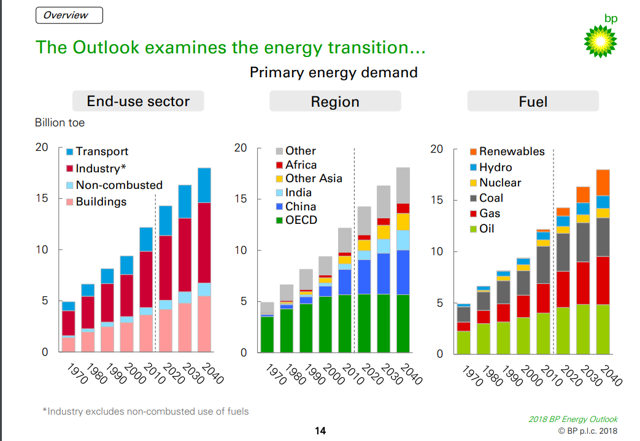 (Source: BP 2018 Energy Outlook)
Nobody can predict the future but the global energy outlook from XOM and BP is important because it is the best guess to what the energy demand and supply will look like in the future. They have some of the largest investments in the field and one could argue that when one of the largest oil majors puts projections out, they are probably close to accurate. When a second oil major validates another's information in their own energy outlook I would think it is safe to say that at least the trajectories are accurate.
The China and India Factor
China is currently the largest importer of natural gas on the global stage. China has imported 72.06 million metric tons of natural gas in the first ten months of 2018 which is an increase of 33.1% from the same period in 2017. As the demand for energy in China grows their biggest energy producers will be tapping more tight oil and gas wells to increase domestic oil and gas production. The Chinese Government is driving citizens to switch from coal to natural gas which is adding to their increased demand for energy. Even with their major oil companies increasing production it won't outpace demand and China will need to increase their imports sequentially between now and 2040.
India imported 21.02 million tons of crude in October 2018 which was a 10.5% increase from October 2017. India will be importing more crude oil and natural gas from the United States to expand bilateral trade. Following a meeting between Vice President Pence and India's Prime Minister Narendra Modi, India's Foreign Secretary Vijay Gokhale stated "There was a lot of discussion on energy, this is a new sector in the Indo-US relations. We have begun importing oil & gas from United States." Gokhale also revealed "It is expected to be valued about $4 billion this year and we expressed our readiness to import more oil and more gas from the United States as a way of expanding our trade." By 2022 India is looking to more than double the natural gas in their energy mix to 15%. India will build 11 Liquified Natural Gas terminals over the next seven years to help make this a reality.
When you look at the energy news coming out of China and India it validates what XOM and BP are predicting for the future global energy mix. All of the indicators are showing an increase in energy consumption and a huge jump in natural gas usage. BP is predicting that The United States will become the largest exporter of natural gas by 2040.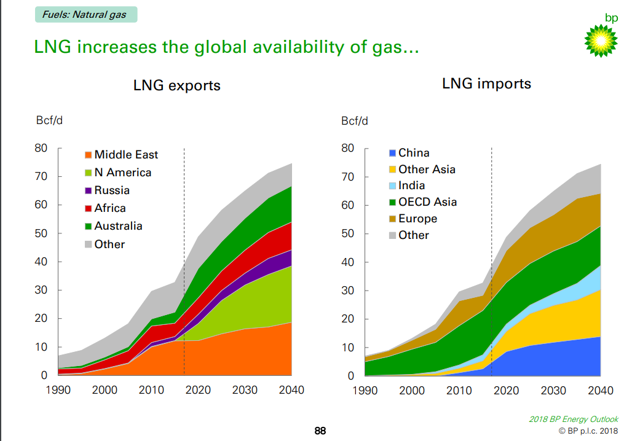 (Source: BP 2018 Energy Outlook)
A look at why XOM, SLB, EPD and D can turnaround and generate appreciation for shareholders
Just as I showed with the XLE vs. the indexes individual energy companies have not provided much comfort for investors as only D is in positive territory over the past five years of the four. I believe a sector rotation occurred with new money going into big-name tech giants instead of energy plays while investors sold what was red in their portfolio to invest in growing tech companies as commodity prices dropped. Looking at the Vanguard 500 Index Admiral fund (VFIAX) which has $431.47 billion under net assets six of their top ten holdings are tech companies. Only one energy company is in their top ten and its XOM at spot #8.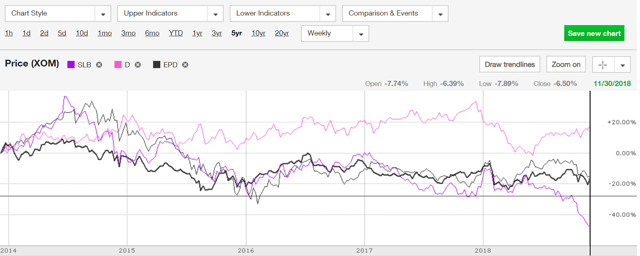 XOM has a marketcap of $336.59 billion which yields a 4.15% dividend. XOM is dedicated to creating value for their investors by investing in their most profitable businesses. Their upstream portfolio could see 3X in earnings between now and 2025. They will have 25 startups adding net 1 MOEB per day, a fivefold increase in Permian tight oil production while having added 10 BOEB high-value resources in 2017. Their downstream portfolio could increase by 2X by 2025 as they see a 20% margin improvement as they shift to higher value products, a 20% improvement in project returns due to proprietary technology improvements and by capturing an integrated advantage in the Permian. XOM also sees a 2X improvement in earnings within the Chemical growth segment between now and 2025 as the growing capacity in North America and Asia is expected to increase by 40%. They have 13 new world-class facilities which will be starting up and their perforce products will deliver 50% earnings growth. XOM is predicting that even at a $40/bbl price earnings can increase by 35% and cash flow can grow by 50%. At $60/bbl XOM could see 135% increase in earnings and 105% increase in cash flow by 2025.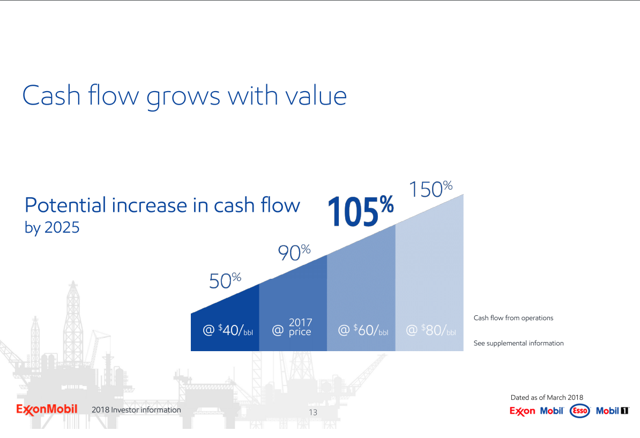 (Source: ExxonMobil 2018 Investor Information)
SLB has been the worst performer out of these four with the worst chart. SLB is the largest U.S Oilfield serviced company with a marketcap of $64.54 billion and a dividend that yields 4.16%. SLB employees more than 100,000 people representing 140 different nationalities across 85 countries. The key to success is always people. You need the right people to make a company run and SLB has embraced just that and is well versed on the international level because black gold or crude oil is found throughout the global community. Schlumberger operates in each of the major oilfield service markets including Reservoir Characterization, Drilling, Production, and Cameron. Each Group consists of a number of technology-based product and service lines, or Technologies. In Q3 of 2018 revenue increased by 2% sequentially to $8.5 billion with cash flow from operations of $1.8 billion and free cash flow of $1 billion. Their North American Revenue increased by 2% sequentially and 23% year-on-year while their international revenue increased 3% sequentially and 1% year-on-year. These numbers show that SLB could be close to bottoming after the shareprice has dropped from a 52-week high of $80.35 down to $45.10. I think it is time to add SLB because the space is going to continue to grow as the global energy demand increases and SLB is the best positioned oilfield service play on the global stage.
Master Limited Partnerships (MLPS) have been treading water after the downturn a few years back. Investors have felt the pain especially in EPD as the share price has dropped from $40.63 on 8/1/2014 to $26.25 as of 11/30/18. Even though the shareprice has decreased EPD has grown since its IPO in July of 1998. From 1998 to 2017 EPD's asset base grew from $715 million to $52 billion which are diversified. EPD operates 50,000 miles of natural gas, NGL, crude oil, refined products and petrochemical pipelines. Their storage facilities encompace 260 million barrels (MMBbls) of NGL, refined products and crude oil storage capacity and 14 billion cubic feet (BCF) of natural gas storage capacity. EPD has 26 natural gas processing plants and 22 NGL and propylene fractionators. EPD also has two NGL Import/Export Terminals which include Houston Ship Channel Import Terminal offloading capacity – 14 MBbls/hr and the Houston Ship Channel Export Terminal loading capacity – 27.5 MBbls/hr.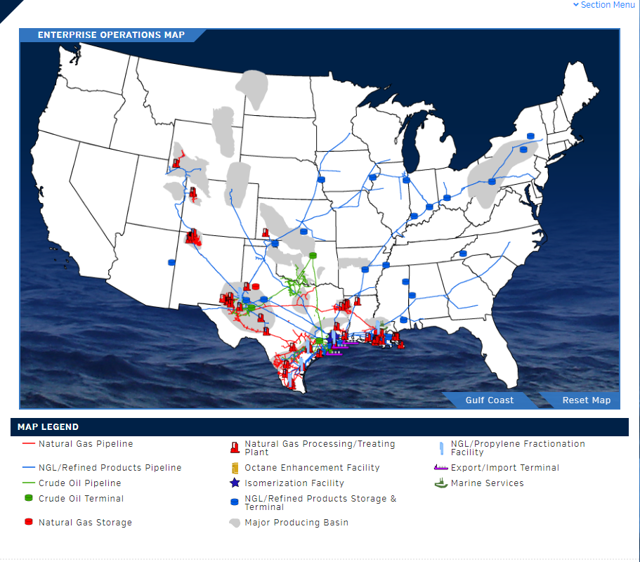 (Source: EPD System Map)
Even though commodity prices have been decreasing recently EPD makes their money by storing and transporting these fuel sources. With global growth on the rise for demand the need to transport will increase. The more that EPD transports the more money they will make. EPD is a fully integrated midstream energy company which is connected to the U.S major shale basins, every U.S ethylene crackers and 90% of the refineries east of the Rockies.
The last of my four is D which is a utility. I put a utility in here because it rounds out the four quite well as an energy transmission company. D has nearly six million customers in 19 states who power their homes and businesses with electricity or natural gas from Dominion Energy. D is one of the nation's largest producers and transporters of energy with over $80 billion of assets providing electric generation, transmission and distribution. In addition to electricity they operate in natural gas storage, transmission, distribution, and import/export services.
D operates one of the nation's largest producers and transporters of energy. Their portfolio consists of approximately 26,000 megawatts of electric generation; 14,800 miles of natural gas transmission pipeline; 51,800 miles of natural gas distribution pipeline; 6,600 miles of electric transmission lines; and 57,900 miles of electric distribution lines. Dominion Energy also operate one of the largest natural gas storage systems in the U.S. with 1 trillion cubic feet of capacity.
The theme of why I am bullish on energy is because of global growth in energy demand. D has constructed Cove Point which is an Liquefied Natural Gas terminal. Cove Point has a storage capacity of 14.6 billion cubic feet (BCF) and a daily send-out capacity of 1.8 BCF. D is diversifying even more and has one of two current operational export facilities. This should generate considerable revenue and profits as exports increase from The United States.
Dividends and more Dividends from XOM, SLB, EPD and D
XOM, SLB, EPD and D generate generous dividends which have a track record of growth and long distributions.
| | | | | |
| --- | --- | --- | --- | --- |
| Ticker | Dividend Yield | Annualized Payout | Payout Ratio | Consecutive Years of Dividend Growth |
| XOM | 4.13% | $3.28 | 69.49% | 36 |
| SLB | 4.43% | $2.00 | 118.36% | 0 |
| EPD | 6.59% | $1.73 | 93.91% | 20 |
| D | 4.80% | $3.34 | 81.70% | 14 |
(Source: Steven Fiorillo, Data Source: Seeking Alpha)
Since 1993 XOM has increased their quarterly dividend from $0.18 to $0.82 and with a payout ratio of just under 70% there is no reason why the annual increase won't continue. With 36 years of consecutive dividend growth this could be a core holding in any dividend portfolio.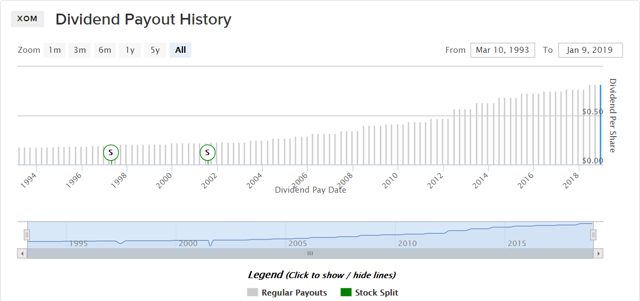 (Source: Dividend.com)
Even though SLB hasn't increased their dividend since 2014 their quarterly dividend has increased from $0.07 to $.50. As the global energy demand increases SLB should be able to increase their earnings to start their dividend growth program once again.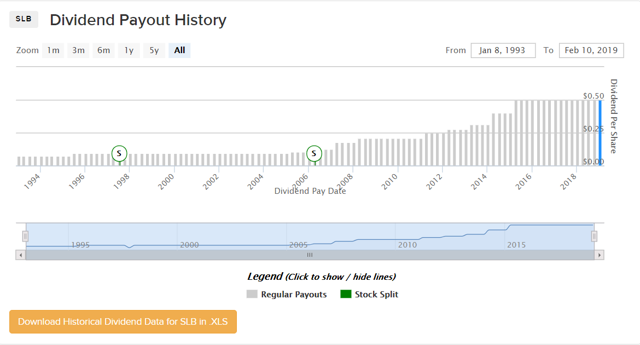 (Source: Dividend.com)
Since 1998 EPD has increased their quarterly dividend from $.08 to $.043. In most cases EPD has increased on a quarterly not an annual basis and has twenty solid years of dividend growth under their belt.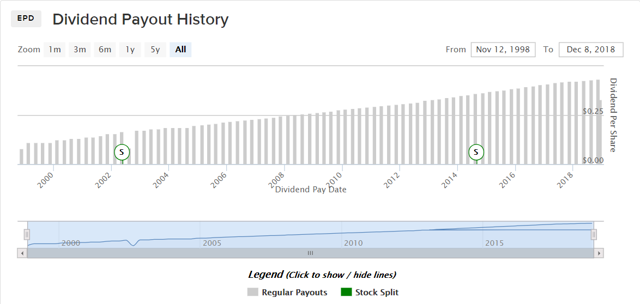 (Source: Dividend.com)
Dominion Energy has also paid a dividend for a long time which has increased from a $0.31 quarterly dividend in 1993 to $0.83 in 2018. D currently has nine years of consistent dividend growth and a long payout history.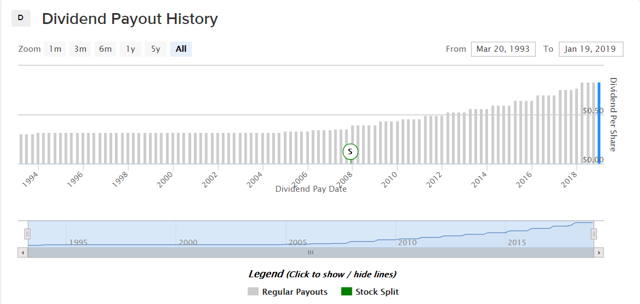 (Source: Dividend.com)
If you were to purchase 100 shares of each XOM, SLB, EPD and D your initial investment would be $22,535 and you would yield $1,034 in dividends without accounting for compounding. This would provide you with a 4.59% yield.
Buying 100 shares of each company
Ticker
Price
Shares
Investment
Dividend per Share
Yearly Dividends
Dividend Yield
XOM
$79.50
100
$7,950.00
$3.28
$328.00
4.13%
D
$74.50
100
$7,450.00
$3.34
$334.00
4.48%
EPD
$26.25
100
$2,625.00
$1.72
$172.00
6.55%
SLB
$45.10
100
$4,510.00
$2.00
$200.00
4.43%
Totals
$22,535.00
$1,034.00
4.59%
(Source: Steven Fiorillo, Data Source: Seeking Alpha)
I also extrapolated the dividend distributions out for a year to show compounding. Since I can't predict the future I did the reinvesting off of the current share price. With compounding your initial investment would generate $1,052.39 in dividends.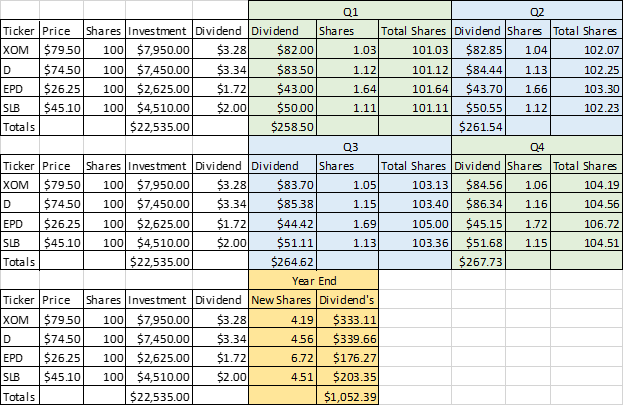 (Source: Steven Fiorillo, Data Source: Seeking Alpha)
Conclusion
If you're looking for dividends in 2019 then check out XOM, SLB, EPD and D. These four energy powerhouses are operating in a depressed industry with significant catalysts looking forward. Commodity prices have been recovering since they bottomed but have witnessed another recent downturn. With the global energy demand increasing and projections showing it should continue throughout 2040, there is a good chance that the energy sector will recover. By purchasing the same number of shares of all four companies you build a diversified energy play covering four of the energy cornerstones which will yield 4.89% and upside potential in an industry which is here to stay. For dividend investors this is something to consider as you are paid handsomely to wait patiently for these stocks to rebound or add to your income-generating stocks.
Disclosure: I am/we are long XOM, SLB, EPD, D, BP.
I wrote this article myself, and it expresses my own opinions. I am not receiving compensation for it (other than from Seeking Alpha). I have no business relationship with any company whose stock is mentioned in this article.
Additional disclosure: I currently am a shareholder of EPD, BP and D. I do not own shares of XOM or SLB outside of ETF's or Mutual Funds. I may initiate a position in XOM or SLB in the future.