Written as at November 30th, 2018
After a blowout quarter, is Lululemon (LULU) still a good buy for Q3? LULU released Q2 FY18 results on August 30th and introduced their new CEO, Calvin McDonald. LULU posted very strong EPS growth of 97% YoY, closing 13.1% on the same day. Since then, the stock has risen to a high of $162 before falling back to the low 130s due to the recent broad market selloff. While we believe that LULU will likely continue to meet its forecast targets going into Q3 on December 5th, we initiate a SELL recommendation mainly due to valuation as much of the growth has been priced in already by our estimates.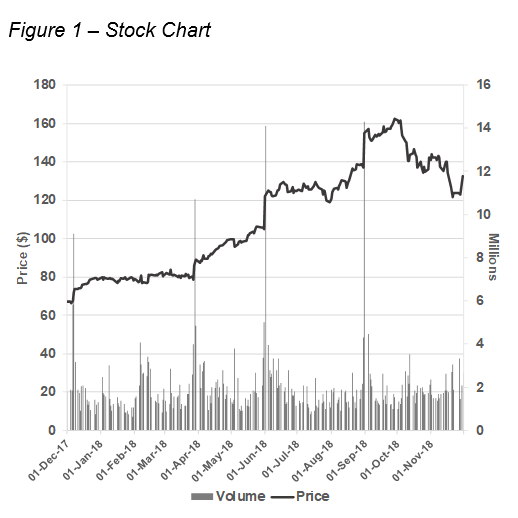 Q2 Review: LULU reported impressive Q2 results with reported revenue of $723MM (25% YoY, 11% QoQ) and a net gain of $95.8MM (97% YoY, 27% QoQ). In addition, LULU opened 4 net new stores to a total of 415 (U.S., UK, Germany, first in Sweden). We also saw LULU show impressive gross margin (357 bps YoY, 170 bps QoQ) and operating margins expansion (672 bps YoY, 250 bps QoQ), where peers have seen flat or receding performance.
FY 18 Guidance: The Company increased its Full Year 18 guidance, with revenue of $3.185B–$3.235B, and diluted EPS of $3.45–$3.53. In addition, management has reaffirmed its guidance to achieve $4B in revenue by 2020, which we forecast ~25% growth in a 2-year period. Given strong historical performance and future areas of investment, we believe it is well within reason. However, we continue to see LULU as a moderately valued, medium-term growth story that would need to continue to exceed its already impressive results.
Catalysts: 1) Digital Ecosystem – Stores have seen steady expansion excluding the shutter of its Ivviva stores in Q3'17. Direct to consumer revenue grew at 48% YoY compared to 18% for company-operated stores. Under McDonald's leadership, we believe this direction will accelerate due to (1) Product Innovation – While women and men's pants posted comps over 30%, LULU continues to expand in other collection lines including Align for Women, ABC for men, and On the Fly. (2) International Growth – LULU has a near-term focus to expand in Asia, opening a WeChat store in China and an e-commerce site in Korea and Japan this year, with Q2 revenue outside of North America growing at 47% YoY compared to 25% overall.
Valuation – Growing digitally and internationally could overcome Mr. Market's mood swings: Our $122 target price (which LULU has touched last week) is based on our DCF analysis, in which we roll out our estimates to 2022 that takes into consideration management's forward guidance. However, if LULU continues to over-deliver with improving margins from e-commerce while replicating its North American success to a growing affluent consumer base in Asia, LULU could possibly regain its 52-week high.
Operations

Revenue, Products And Stores
New CEO with Sephora's DNA: We anticipate McDonald to accelerate digital and customer engagement strategies which would result in higher revenue and capital expenditure mix in e-commerce. During the Q2 call, McDonald noted, "I look forward to how we continue to develop our guest ecosystem connected via digital across all of our channels and geographies, and extending our capabilities in loyalty." McDonald's strategy at Sephora resonates with LULU including (1) Teach – connecting with clients through makeup tutorials and classes, and (2) Inspire – app with virtual augmentation to one's camera and with ease of purchase. We remain optimistic for LULU to maintain brand loyalty and its solid inventory turnover rate amongst peers (fig. 3). With McDonald's experience, we hope PR blunders at LULU are a thing of the past.
Customers show affinity to new products: Q2 earnings call noted women and men's pants both posted comps over 30%, while women tops had double-digit increases. Guests were also responding well to the On the Fly (office travel) collection. The expansion out of Yoga wear will help diversify its product offerings which will help build a lifestyle brand and deepen customer relationships, while continuing to drive strong return on investment (fig. 5)
Stores and Square Footage Highlights: (1) Stores saw high single-digit lift in traffic, (2) four net new stores, (3) seven co-located remodels averaging 40% growth, (4) opened first store in Sweden, (5) combined comps in Asia increased 50%, and (6) comps were in the strong double digits in Europe (fig. 2).
Outlook: Square footage – FY18 and FY19 low double-digit (+12% each year)
Stores: FY18 +40 stores (+15 North America, +25 international); FY19 +20 (flat North America, +20 intl.)
Revenue Mix And Gross Margins
E-commerce Push in Revenue Mix: LULU's e-commerce continued to outpace store revenue, growing at 48.1% compared to 17.5% YoY, respectively. As a result, e-commerce made up 23% of revenue compared to 19% in the prior year (fig. 4). E-commerce highlights include (1) double-digit conversion, (2) LTM doubled number of guests to be communicated with 80% growth in email file, (3) excluding warehouse sale, comp was up 65%, and (4) buy online/pick-up initiative.
Outlook: LULU recently launched a WeChat store in China (Tmall launched in 2015) and is on track to launch its e-commerce site in Korea and Japan later this year.
While management has been coy on the channel mix outlook, we believe that the focus to expand in Asia and investments in digital could see e-commerce grow to as much as 30%, similar to some peers.
Gross Margins: Q2 reported gross margins was 54.8% (+310bps YoY) mainly due to lower product costs, product mix and lower markdowns in the prior year (fig. 6). LULU remains to be a strong leader compared to its peers, as competitors such as Nike (NYSE:NKE) and Under Armour (NYSE:UA) have seen flat or slightly declining margins.
Outlook: Management expects Q3 and FY18 margins to land in the mid-50s. We believe this is possible from ongoing supply chain initiatives including a new distribution center opening outside of Toronto, while providing scale efficiencies.

Expenses And Capital Deployment
SG&A: LULU maintains a solid 36.2% SG&A margin (compared to NKE 31.6%). However, SG&A decreased by 260bps YoY, driven by more efficient spend and higher than planned sales.
Outlook: Management expects 100bps improvement in Q3, and FY18 to leverage modestly.
Q2 EBIT Margin: While LULU continues to maintain strong EBIT margins amongst its peers (fig. 7), we caution that international store expansion could lead to higher fixed costs in prime and dense areas in Asia. We have also seen revenue per square footage levelling off, suggesting that margin expansion would likely come from lower variable costs and its digital channel infrastructure.
Outlook: Given its revenue mix will lean towards the more profitable e-commerce business, which would drive margin expansion, we believe there is still potential to grow. We model SG&A margins to maintain at 34%, while improving 100 bps in each year until 2020.
Other Assumptions:
Capex: Expected to grow to ~$245MM for full year 2018 (55% higher from FY17) from higher store openings and renovations, as well as IT spend.
Effective Tax Rate: Q318 and FY18 effective tax rate is expected to be 30%.
Valuation
Our target price is based on a Discount Cash Flow model (DCF). Comparable Multiples included for reference (see appendix).
DCF: Our base case analysis, with a Discount Rate of 7.4% and a Terminal FCF Growth Rate of 4%, or alternatively, a Terminal EBITDA Multiple of 16x, produced an implied share price of $122.
Multiples: FY 18E EV/EBITDA of 25.0x, and FY 19E EV/EBITDA of 22.6x, both relatively higher than comparable public companies.
Other: Mid-Year Convention used, and FCF from Q2 stub period was subtracted from all calculations.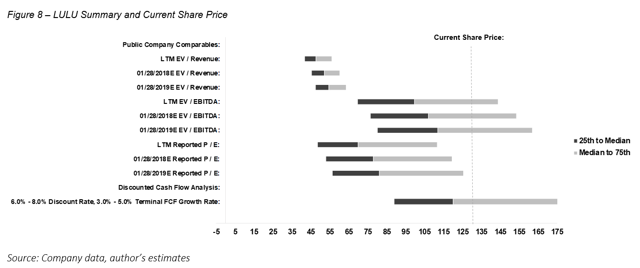 Current Share Price: At $132.55, LULU appears moderately overvalued relative to its peer companies as well as to the implied intrinsic value from our DCF analysis. As shown above (fig. 8), we believe a share price closer to $122 would be more reasonable to the median EBITDA multiples from the comps and the DCF output.
Catalysts: Management is doing all the right things to create shareholder value including protecting its strong margins from focusing on its digital infrastructure. Our assumptions are generally in line with management's guidance going into Q3 and until 2020, but the catalyst that we are focused on is their execution in Asia, where premium American brands could still have difficulties in competing with affordable alternatives, including copyright infringement.
Investment Risks
LULU intends to open more stores internationally compared with flat net openings in North America by 2019 (see stores outlook). While Nike has seen growth in China, the jury is still out on whether Yoga and LULU would become a long-term household name, and whether consumers would continue to consistently pay a premium for branded athleisure wear as they have in North America.
Appendix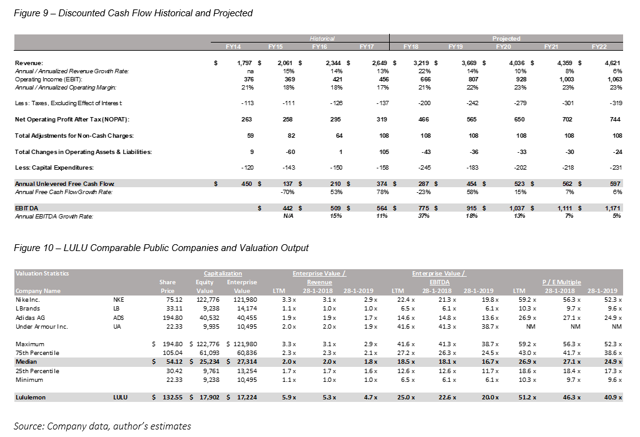 Source
Disclosure: I/we have no positions in any stocks mentioned, and no plans to initiate any positions within the next 72 hours.
I wrote this article myself, and it expresses my own opinions. I am not receiving compensation for it (other than from Seeking Alpha). I have no business relationship with any company whose stock is mentioned in this article.